Personal loans may have developed a bad reputation over time, but like any financial tool, it's how you use it that can actually benefit you immensely!
When managed properly, many of us will find that personal loans can be a true blue lifesaver, even helping us with key milestones in our lives such as:
Renovating your first dream home
Breaking free from credit card debt
Making that time-sensitive investment
Emergency funds for life's unexpected curveballs
But what if you could achieve or fix any of the above with your very own cash cushion? This is where SingSaver's Exclusive Standard Chartered CashOne Loan Promotion comes in:
Win up to S$10,000*.
3 winners chosen at random each month, for 3 months.
In short, your next personal loan could be on us. T&Cs apply.
*Each winner's total prize value includes interest incurred from their principal loan amount, capped at S$10,000.
How can I participate in SingSaver's exclusive Standard Chartered CashOne Loan promotion?
It's happening right now!
From 6th April 2020 to 30th June 2020 (inclusive), simply apply for a Standard Chartered CashOne Personal Loan through SingSaver here, and you're good to go. As long as your loan has been approved, and you've submitted the Rewards Redemption Form, you'll stand a chance to win.
What if I'm not a winner during my first month?
Not to worry! If you didn't win, your chance will automatically be rolled over to the next month, and again in the third month of the promotion.
April's $10,000 Cash Cushion winners are in! See what each of our 3 lucky winners had to say about why they chose the Standard Chartered CashOne Personal Loan and what they plan to use their prize money for.
Standard Chartered CashOne Loan promotion May and April winners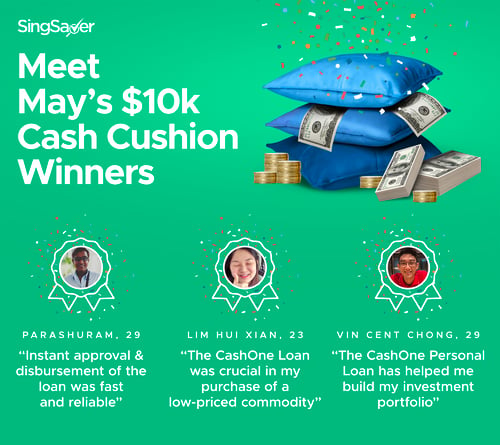 Parashuram, 29: "The instant approval & disbursement of the CashOne loan meant that I had the emergency funds to cushion me just in time. I plan to spend some of the prize money on my family while saving."
Lim Hui Xian, 23: "The flexibility and quickness of the funds received meant that I could immediately catch and purchase the low price of a commodity. I plan to invest most of my prize money while spending the rest on family."
Vin Cent Chong, 29: "The instant approval and disbursement of the loan within 10 minutes meant that I could build up my investment portfolio. I plan to use the prize money towards marriage."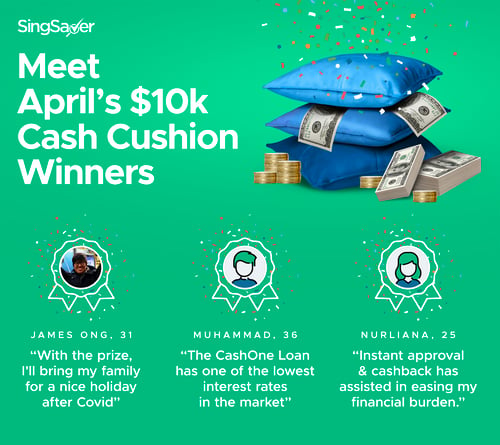 James Ong, 31: "The INSTANT approval & disbursement of the loan was attractive to me as there is no WAITING TIME! With my prize money, I plan to bring my family on a nice holiday once the COVID-19 situation is over."
Muhammad Bin Abdul Karim, 36: "The CashOne Personal Loan, with one of the lowest interest rates in the market, has helped me to tide out the pandemic with extra cash."
Nurliana, 25: "The instant approval & cashback received has assisted in easing my financial burden during this trying period. Some of my prize money will be used to travel with my family once international borders open up."
There are 3 more winners-to-be remaining for the final round of our lucky draw, so be sure to secure your chance at winning up to $10,000 by simply applying for the CashOne Loan by 30 June 2020. YOU could be the next winner featured on our blog!
Why choose the Standard Chartered CashOne Personal Loan?
Apart from a chance at having your loan paid for, the Standard Chartered CashOne Personal Loan offers a range of benefits that include:
Instant approval and cash disbursement
Low interest rates starting from 3.48% p.a. (EIR 6.95% p.a.)
Additional S$20 cashback when applying via MyInfo
50% off your first month's instalment amount in the form of a cashback
Standard Chartered Bank Terms and Conditions apply.
I'm interested! What should I do?
Step 1: Apply for the Standard Chartered CashOne Personal Loan below.
Step 2: Register your email address and complete the online application form.
Step 3: Complete the Rewards Redemption Form sent to your registered email address.
To qualify, complete and submit your Rewards Redemptions Form within 14 days from the day you've applied for your loan. If you have not received it, please:
Remember to check your spam or junk mail folder for the Rewards Redemption Form. In order to prevent such occurrences from happening, you can whitelist us by adding this email to your safe senders' list: no-reply@singsaver.com.sg.
If you still have NOT received your Rewards Redemption email, please notify us immediately at info@singsaver.com.sg.
When filling up the Rewards Redemption Form, you will need your unique application reference number from the bank/financial institution. For your personal loan application, Standard Chartered's format is SGYYYYMMDDxxxxxx.
And you're done! We will announce the winners via this blog post, our contest winners page, as well as in a major daily newspaper by 31st August 2020, so be sure to have it bookmarked and check back to see if you're one of the 9 lucky cash cushion winners. Otherwise, we'll be in touch within 1 week from the date of the lucky draw, whichever is later, if you're one of our winners. Read our Terms and Conditions or FAQ here.
To be the first to be informed of more exciting contests, promotion and personal finance content, sign up for our newsletter below!
Read these next:
Best Personal Loans In Singapore With The Lowest Interest Rates (2020)
When to Use a Personal Loan for Education
Will My Travel Insurance Cover Novel Coronavirus (COVID-19)?
If I Get COVID-19, What Will I Need To Pay?
Food Delivery Promo Codes 2020: GrabFood, Deliveroo, Foodpanda, WhyQ
Best Standard Chartered Credit Cards in Singapore