On 15th April 2023, Seedly held their annual Personal Finance Festival to help participants level up their personal finance game. Here are some key takeaways from the Side Stage!
Best credit cards: Citi PremierMiles Card | Maybank Horizon Visa Signature Card | UOB PRVI Miles Card | OCBC 90°N Card | KrisFlyer UOB Card | American Express Singapore Airlines KrisFlyer Ascend | DBS Altitude Visa Card
In an attempt to help make Singaporeans make more educated and financially-savvy decisions when it comes to personal finance, Seedly held their annual Personal Finance Festival on 15th April 2023, at Suntec Convention Centre.
This year, some of the Singsaver team were given the opportunity to try our hands at becoming moderators, attempting to navigate panel discussions with key panelists, and draw insights from these experts on the various concepts.
Covering a wide range of topics like investments, home loans, credit cards, budgeting, insurance and more, Seedly's event saw a huge turn up of more than 3,000 participants, eager to learn more about personal finance.
If you didn't get to attend the event or didn't manage to go for all the panels you were interested in, fret not. Here are some key takeaways from the side stage panel discussions in case you missed out!
Table of contents:
---
Budgeting: How to Super Optimise Your Savings and Spending to Build Wealth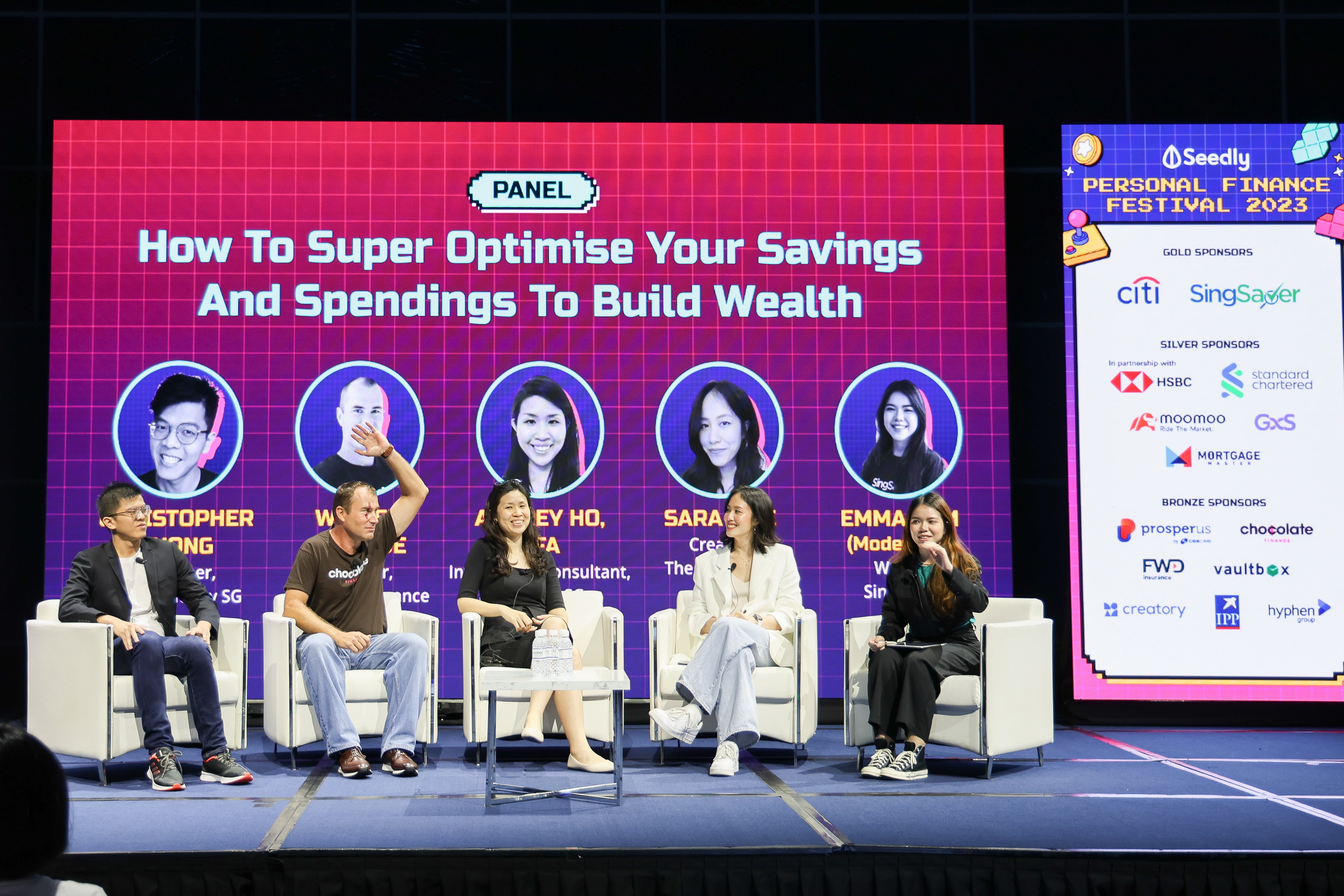 Are you taking advantage of the products out there to make your savings work harder? In this panel, Christopher Chong (HoneyMoney SG), Sara Wee (The Weeblings), Walter de Oude (Chocolate Finance) and Audrey Ho (Citibank) shared about some tips on how to maximise their savings, as well as their secrets to building wealth.
Sara and Christopher touched on the importance of emergency savings as a foundation to your wealth, as it helps you to tide over any unexpected circumstances like a retrenchment or medical ailment. It should also be your priority when it comes to financial allocation before you start looking into growing your wealth.
They also shared some of their favourite credit card and savings account combinations, and one highly popular one would be the UOB One Account as it provides one of the highest and easiest to achieve effective interest rate, paired with the UOB Lady's Card since it offers the highest miles rate to date of up to 6mpd.
When it comes to starting your investment journey, Audrey mentioned the importance of taking note of your cashflow in and out to know exactly what you're working with, as well as being very clear on your investment objectives and your investment horizon in order to find the right products for your portfolio.

SingSaver's Exclusive Offer: Enjoy 3x chances to win your share of up to S$200,000 in prizes in our epic 101! Milestone Giveaway, including S$5,000 bonus cash each week on top of ongoing promotions. Valid till 20 December 2023. T&Cs apply. Click here to check out our past Lucky Draw winners!
Receive an Apple iPad 9th Gen 10.2 Wifi 64GB (worth S$503.65) or Dyson Supersonic (worth S$699) or Dyson V8 Slim Fluffy (worth S$509) or S$300 cash via PayNow upon activating and spending (min. S$500 spend) within 30 days of card approval. Valid till 14 December 2023. T&Cs apply.
Plus, enjoy up to 2% cashback on all qualifying spend and up to S$656 cash when you apply for the Citi Cash Back+ card and join Citi Plus. T&Cs apply.
Our Best Deal Guarantee promises you the best deal only with SingSaver. If you find a better offer elsewhere, submit a claim, and we'll reward you with double the difference. Valid till 7 January 2024. T&Cs apply.
Read these next:
The Only Credit Card Guide You Need in Singapore 2023
​​Credit Card Welcome Offer: A Comparison of the Best Gifts
Best Credit Cards Promotions in Singapore
5 Credit Cards That Will Save You The Most Money In 2023
---
Savings: Managing your Finances as a Household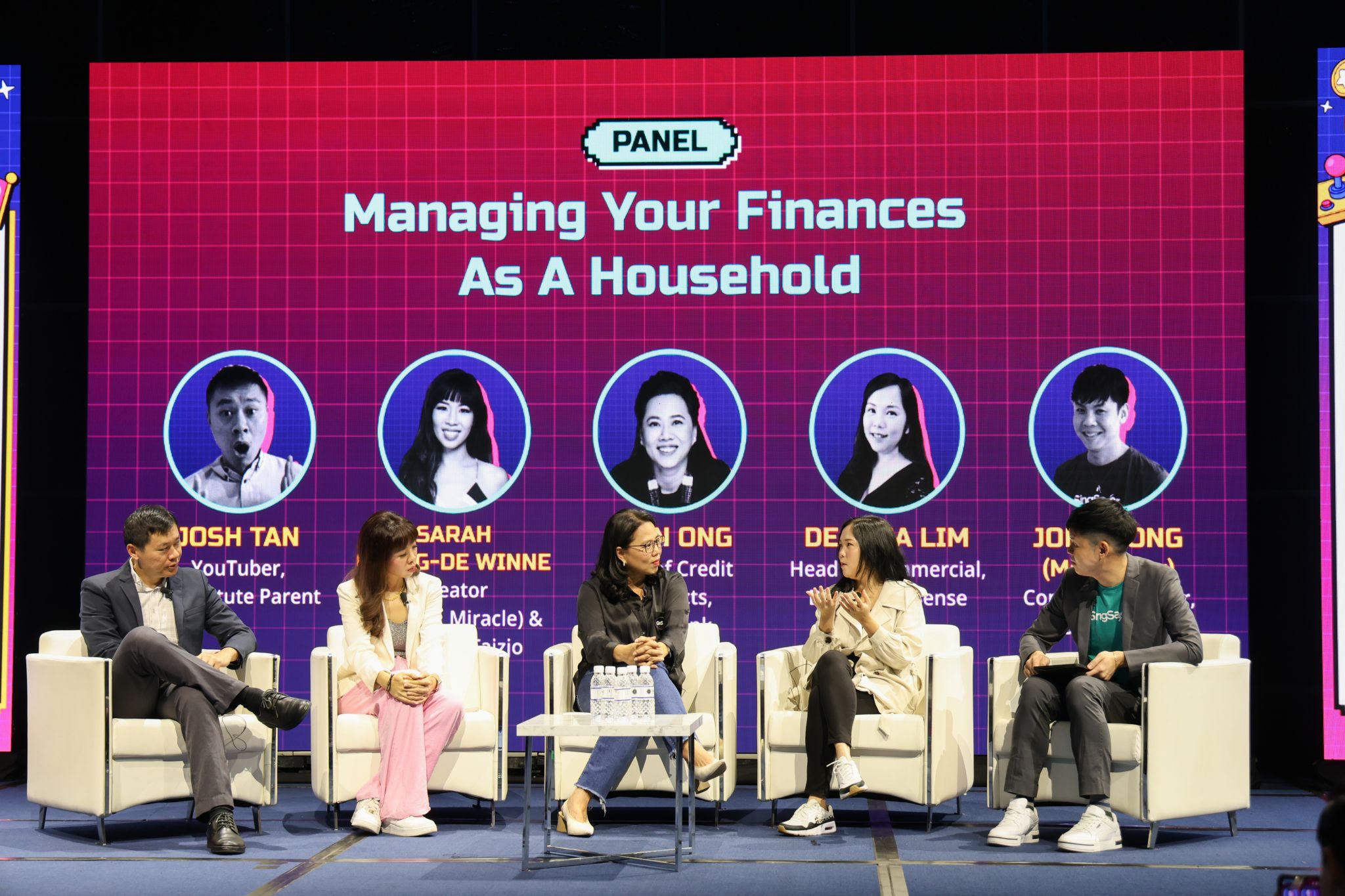 Managing your finances individually is already tough as it is, but it becomes even harder when you add your significant other to the mix.
This panel touches on how we can all better navigate couple finance management, as we gain insights from our experts — Josh Tan (The Astute Parent), Sarah Cheng-De Winne (Creator SARAH X. MIRACLE), Deanna Lim (DollarsAndSense) and Jenn Ong (GXS Bank).
All panelists shared that they do advocate for joint accounts, where both particles contribute to the funds. Jenn added that instead one one account, she has multiple accounts for different expenses like groceries and daily expenses. However, they did touch on the importance of having your own savings as well for financial independence.
In terms of splitting bills and financial contributions, Josh touched on the importance of having an open communication and finetuning a system that works for the both of you, especially when one partner is earning significantly more. Jenn shared that allocating a percentage of your income works the best for her household, where the common funds can be used to pay any shared expenses that they have.
Sarah also shared that when it comes to her children's education fund, she started them on a savings plan that she and her spouse contributes annually, to give them a head start in life. On the other hand, Deanna mentioned that getting an insurance plan for them once they are born is her utmost priority.
Above all, the panelists highlighted the importance of being generous and avod being too calculative with your partner, as it could lead to a lot of unnecessary tension. With all that said, there's no one-size-fits-all solution for all partners, and finding one that works is crucial.
Check out the UOB One Account that offers one of the highest achievable effective interest rate in the market!
Read more:
How To Handle Finances As A Couple - Managing Money
Should You and Your S.O. Get A Couple's Credit Card?
Financial Lessons After Moving In With My Partner
Money Confessions: We Blew Our Wedding Budget
---
Credit Cards: Maximise Your Travel With Credit Card Miles (Keynote)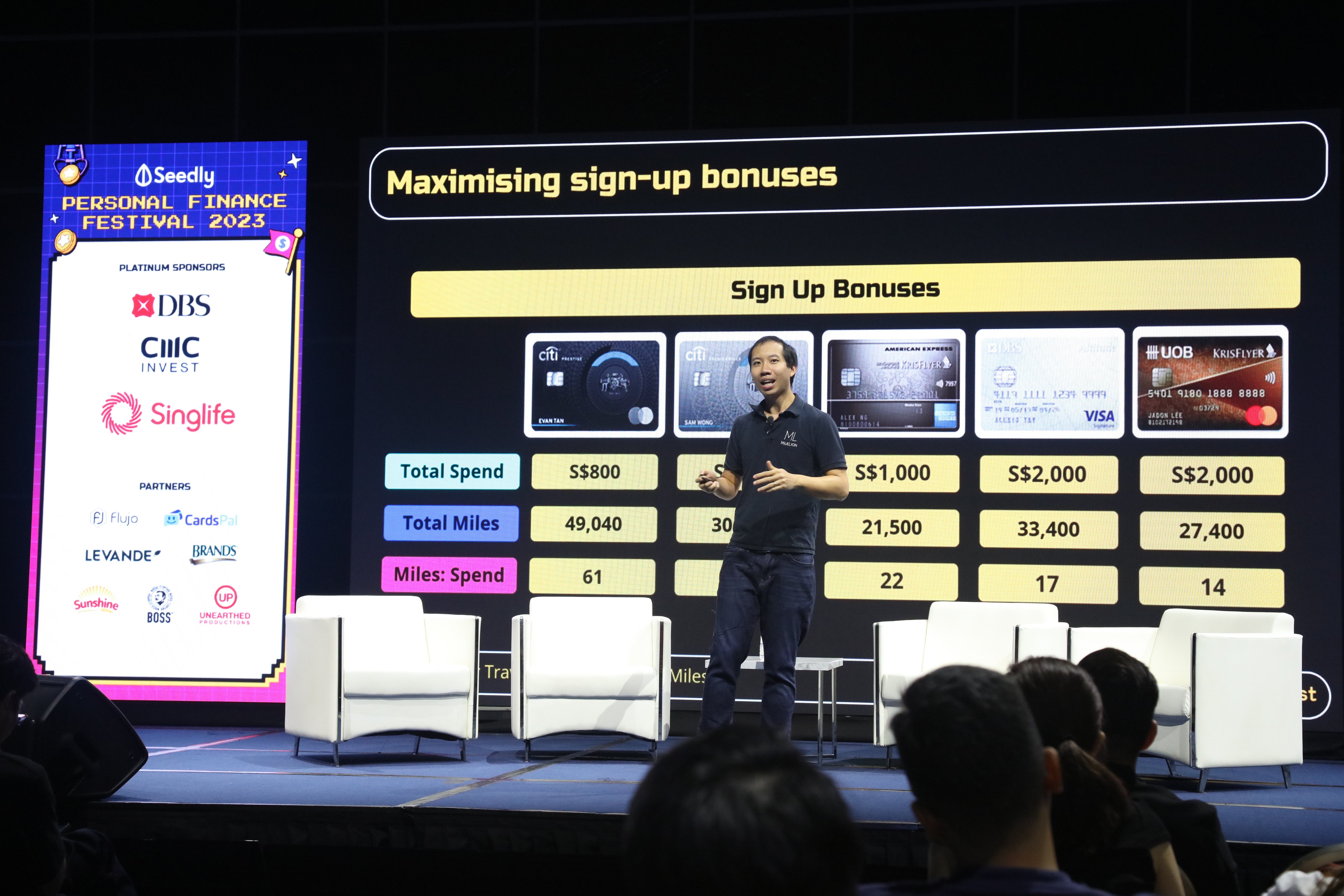 Not sure how you can maximise your miles on your spending? Hear it from the expert himself — Aaron Wong (the Milelion) as he shares his best kept secrets on how he aces the miles game, as he aptly defines it to be travelling better for less, and the notion that you don't need to be rich to fly First Class or Business Class.
Aaron prefaces that you can't just use one card to beat the miles game as there is no single best card. In order to maximise your miles, you'll need an arsenal of miles cards for different categories to make full use of its potential.
He breaks down miles cards into two categories — specialised spending cards like Citi Rewards Card that gives you high miles rates for specific categories, and general spending cards like the UOB PRVI Miles Card that gives you a decent medium-tier miles rate for your everyday spend. So in order to maximise your miles, you should be having a combination of both specialised and general spending cards, and leveraging on sign-up bonuses and category bonuses.
If you and your partner are working together to earn miles, as he coins it to as "two-player mode", both of you can opt to sign up for separate principal cards if you guys tend to spend higher, or opt for a principal and a supplementary card for lower-spenders.
The Milelion also offers some suggested card combos based on your spending:
Small spenders (<S$1,000) — Citi Rewards + amaze
Medium spenders (S$1,000 - S$5,000) — HSBC Revolution / DBS Woman's World Card / UOB Preferred Platinum Visa
Big spenders (>S$5,000) — UOB Lady's Card / UOB Lady's Solitaire Card / UOB Visa Signature

SingSaver's Exclusive Offer: Enjoy 1x chance to win your share of up to S$200,000 in prizes in our epic 101! Milestone Giveaway, including S$5,000 bonus cash each week on top of ongoing promotions. Valid till 20 December 2023. T&Cs apply. Click here to check out our past Lucky Draw winners!
Get up to 31,000 miles plus a first-year annual fee waiver of S$194.40 for new-to-UOB credit cardmembers who apply and make a min. spend of S$2,000 within 2 months from card approval date. Valid till 31 December 2023. T&Cs apply.
Our Best Deal Guarantee promises you the best deal only with SingSaver. If you find a better offer elsewhere, submit a claim, and we'll reward you with double the difference. Valid till 7 January 2024. T&Cs apply.
A fan of The Milelion? Here are other articles written by him on our site:
MileLion: 5 Credit Cards I Never Leave Home Without
How To Maximise The Miles Earned On Big Ticket Spending
7 Common Mistakes People Make When Redeeming Miles
---
I

nsurance: How Much Insurance Is Too Much?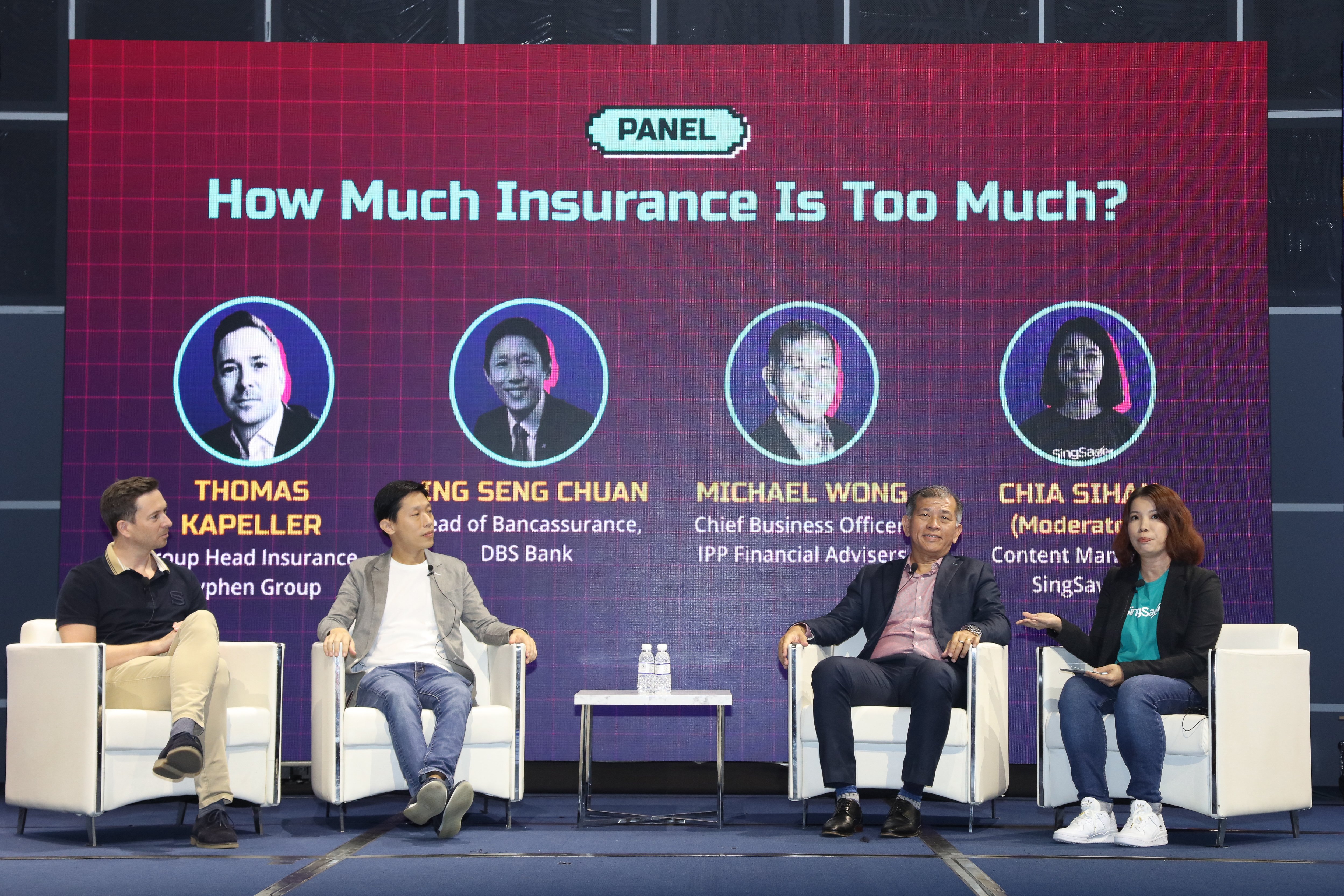 Insurance is something that all of us would have to buy to safeguard our wealth. But it can be hard to discern how much is too little, and even how much is too much? For the panel discussion, Thomas Kapeller (Hyphen Group), Ling Seng Chuan (DBS) and Michael Wong (IPP Financial Advisers) touched on everything under the sun when it comes to insurance policies.
Michael shared that at each life stage, your needs are very important so the types of insurance policies you require also greatly differs. He recommends talking to your financial advisor to get their advice on the right kinds of policies you should get, and he mentions that insurance planning is an ongoing process.
Tom added that there are five main insurance policy types, and it generally boils down to your own lifestyle and needs. Though it its recommended to get covered on all fronts, the level of coverage greatly differs from person to person.
In order to ensure that you don't get too much insurance, Seng Chuan shared that you'll have to understand the objective of insurance first — which is to defray any medical costs when you get into an accident, fall sick or meet with death, and not to provide large payouts as income supplements. When you follow these guidelines, you'll most likely avoid over-insuring.
He also highlighted the importance of being protected early for three reasons — you can enjoy lower premiums, you will have less coverage exclusions and you are paying during your economically viable years to accumulate more wealth for other needs in the future.
Seng Chuan mentioned that it is important that we proactively review our insurance policies from time to time to layer on more coverage if we need. He also added that we should also make use of government schemes like the Dependent Protection Scheme, CareShield, ElderShield and CPF LIFE to complement your insurance portfolio.
See also:
Best Integrated Shield Plans in Singapore (2023)
Changes to Cancer Coverage of Integrated Shield Plan
Best Critical Illness Insurance Plans In Singapore
What Kind Of Critical Illness Insurance Do I Really Need?
---
Career: Chasing Your Passions While Getting The Best Salary (Keynote)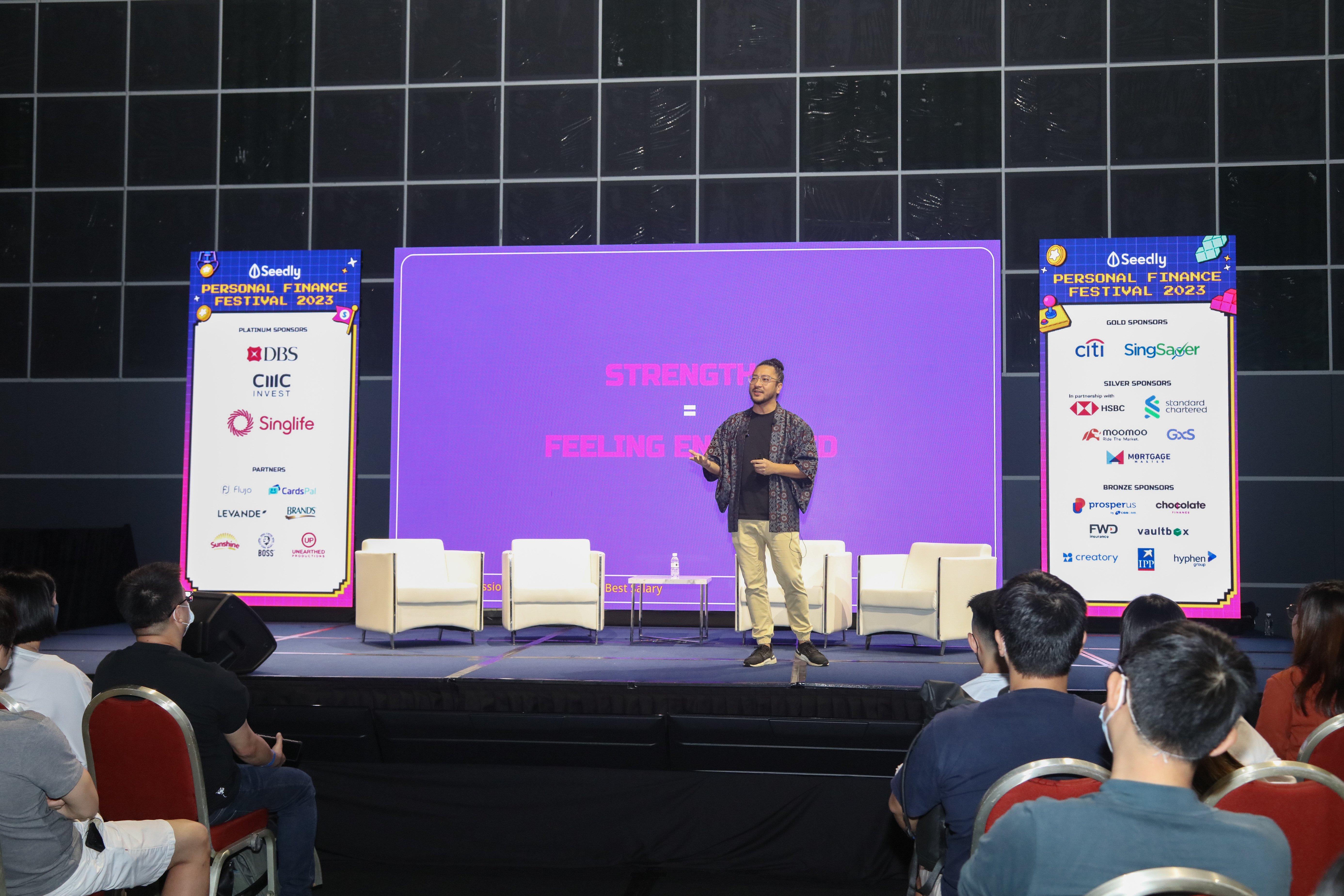 Does choosing money over passion qualify you as a sellout? But what if we told you that you could do both together? Jason Ho (Performance Capital) touched on what to consider when you're chasing your dream career, and shared some tips on how to play to your strengths.
Jason shared that there are three components to a job: performance, pay and passion. And when these three areas intersect, that's what he terms as a "calling". Finding passion in a job has been a widely-debated topic for years, but to Jason he recognises that passion is the key to performance. Once you're passionate about something, you'll be able to achieve the highest level of performance and grow exponentially.
He also talks about all of have strengths, and they belong under the umbrella of passion. However, they are not the same strengths that our bosses, colleagues, friends or families tell us. They are instead things that make you feel energised, and the only way you can find out what they are is by trying out new things, even when they are out of your comfort zone.
In order to audit and identify your strengths, you can simply rank each task that you do based on a scale from 0 to 10, with 10 being the most happy and satisfied. Once you find out what your strengths are, you will naturally get closer and closer to your calling.
He also urges yu to have more conversations about your strengths to your boss and HR department to give you more opportunities in areas where you can showcase your strengths. The truth is, no one knows what your strengths are, only you do.
SingSaver's Exclusive Offer: Enjoy 2x chances to win your share of up to S$200,000 in prizes in our epic 101! Milestone Giveaway, including S$5,000 bonus cash each week on top of ongoing promotions. Valid till 20 December 2023. T&Cs apply. Click here to check out our past Lucky Draw winners!
Receive a Samsonite ZELTUS 69cm Spinner Exp with built-in scale (worth S$680) or S$150 cashback when you spend at least S$1,000 by the end of the following calendar month after the card account opening date and provide marketing consent when you apply. Valid till 31 Dec 2023. T&Cs apply.
Our Best Deal Guarantee promises you the best deal only with SingSaver. If you find a better offer elsewhere, submit a claim, and we'll reward you with double the difference. Valid till 7 January 2024. T&Cs apply. Applicable to HSBC TravelOne and HSBC Revolution Credit Cards only.
See also:
Guide To Starting Salaries In Singapore
What is The Average Salary in Singapore And Are You Earning Enough?
7 Ways To Stop Living Paycheck To Paycheck In Singapore
How to Turn Your Hobby Into A Career
Highest Paying Jobs In Singapore 2023
---
Home Loans: Tips and Tricks For Your Home Loan (Keynote)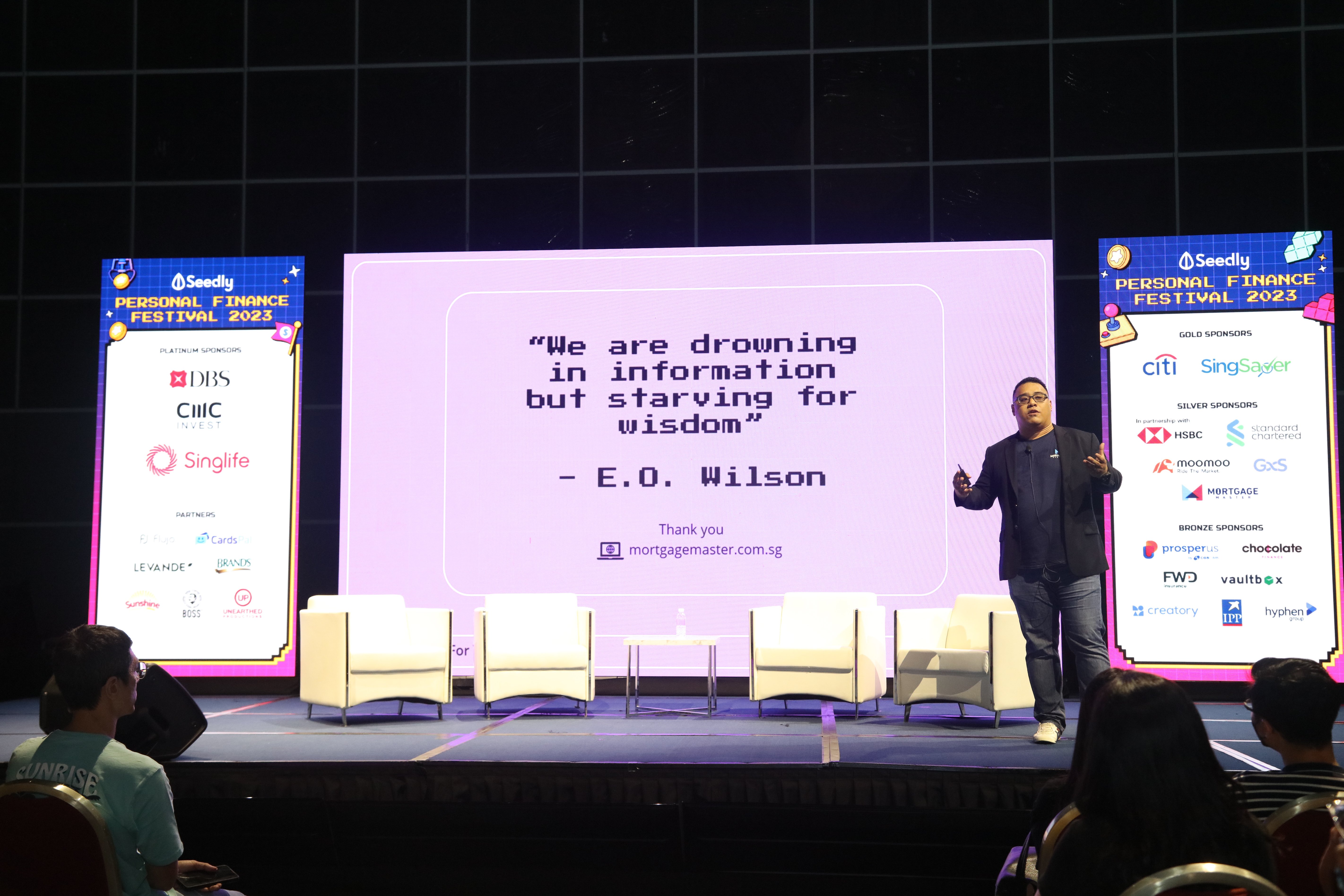 If you are purchasing a house, there's a high chance that you'll need to take up a home loan, unless you're cash rich to pay off the full amount. David Baey (Mortgage Master) shed light on the home loan environment today, and shared with us some tips on how to get the best rate for your home loan.
David iterates that the interest rate environment now is extremely high due to the economic boom after coming out of the pandemic. On top of that, since US is witnessing both inflation and recession, Singapore's interest rates are extremely high now in an attempt to maintain the value of our local currency.
Since inflation is more or less under controlled, coupled with other factors like the Credit Suisse and Silicon Valley saga, he expects interest rates to go down in the near future. He purports that interest rates should still remain high in 2023, stay stagnant for a while, and start dropping when 2024 rolls around.
David recommends getting a home loan with a shorter fixed rate period, since he believes that interest rates are going to drop soon. However, if you're deciding between a fixed and floating rate based on SORA, it really depends on your risk appetite.
When it comes to choosing a home loan for a building-under-construction (BUC), he says that it should be determined based on your home's Temporary Occupation Permit (TOP). This is because a new development has progressive payments, of which a lot of your loan is only dispersed at TOP and Certificate of Statutory Completion (CSC).
He also debunks the "myth" that the cheapest home loan is the best one. Instead, he recommends you to get a home loan based on the property you buy and your risk level. This is why engaging a mortgage broker will help you make the best choice when picking your home loan.
Read these next:
Best Home Loans In Singapore 2023
How Will Rising Housing Loan Interest Rates in Singapore Affect Me
Home Loans In Singapore: How Do They Work?
Getting A Bank Loan For HDB vs. A HDB Housing Loan
Mortgage Rates in Singapore are on the Rise. Here's How It Affects You
---
Investment: REITS - Can REITs Do Well in an Era of High Interest Rates?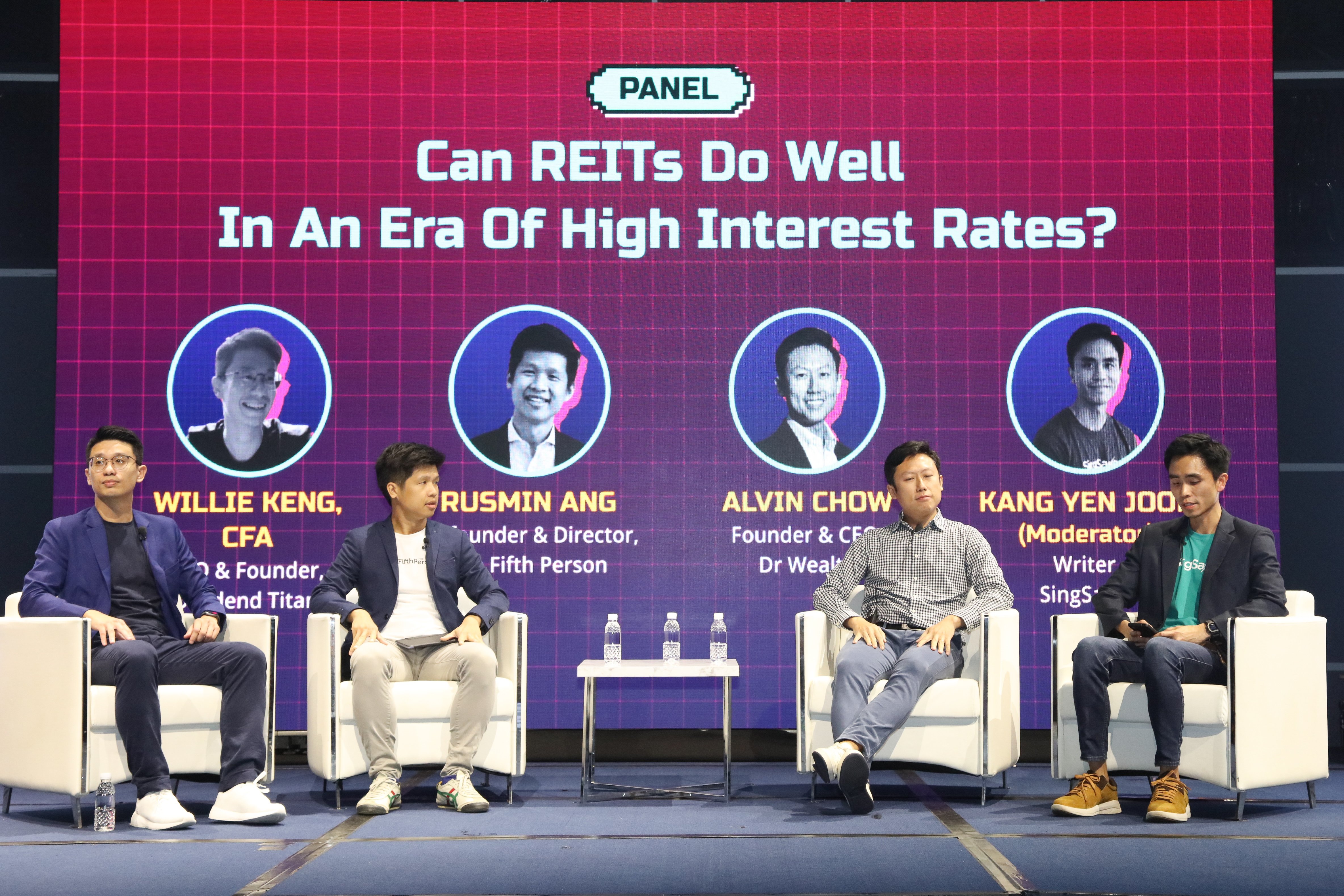 In this bear market and high-interest climate, is it advisable to include REITs in our investment portfolio? Willie Keng (Dividend Titan), Rusmin Ang (The Fifth Person) and Alvin Chow (Dr Wealth) share with us their insights on whether 2023 is a buying opportunity of REITs and their predictions on how REITs will continue to perform.
Alvin shared that the reason why REITs went downhill was because of the high interest climate, and since it is a yield instrument, it is very sensitive to the interest rate movements. because of the uncertainty, many investors may flock to bonds which are more stable and also benefit them in terms of higher dividends when interest rates increase.
Alvin predicts that the REITs market will gradually improve, as he mentions that we are nearing the interest rate peak, meaning that any increase in interest will be minimal. He iterates that it is a very good opportunity to get back into REITs as prices of REITs are starting to fall.
Rusmin stated that the REITs in Singapore that hold quality assets has actually been doing well, looking back at past performance, and agrees with Alvin that this is a great opportunity to pick up good quality REITs again as they are most likely able to get through times of volatility.
Willie also agrees with their sentiments about buying into REITs, as he mentions that during bear markets, you're getting a discount on them as what you're paying for is much lesser than the value of the properties that they hold.
However, he is more cautious when it comes to higher-risk REITs that invest in overseas assets. He makes use of three simple rations — whether the REIT has high gearing, whether its rental income is able to cover the interest they're paying, and whether it is able to protect itself against high interest rates by pushing out refinancing on borrowings.
See also:
A Complete Guide To Real Estate Investment Trusts (REITs)
Best REITS In Singapore 2023 For Your Investment Portfolio
REITs VS Commercial Real Estate In Singapore
Growing A Passive Income Portfolio In Singapore: A Guide
---
Renovations: Finding The Right Fit to Renovate Your Home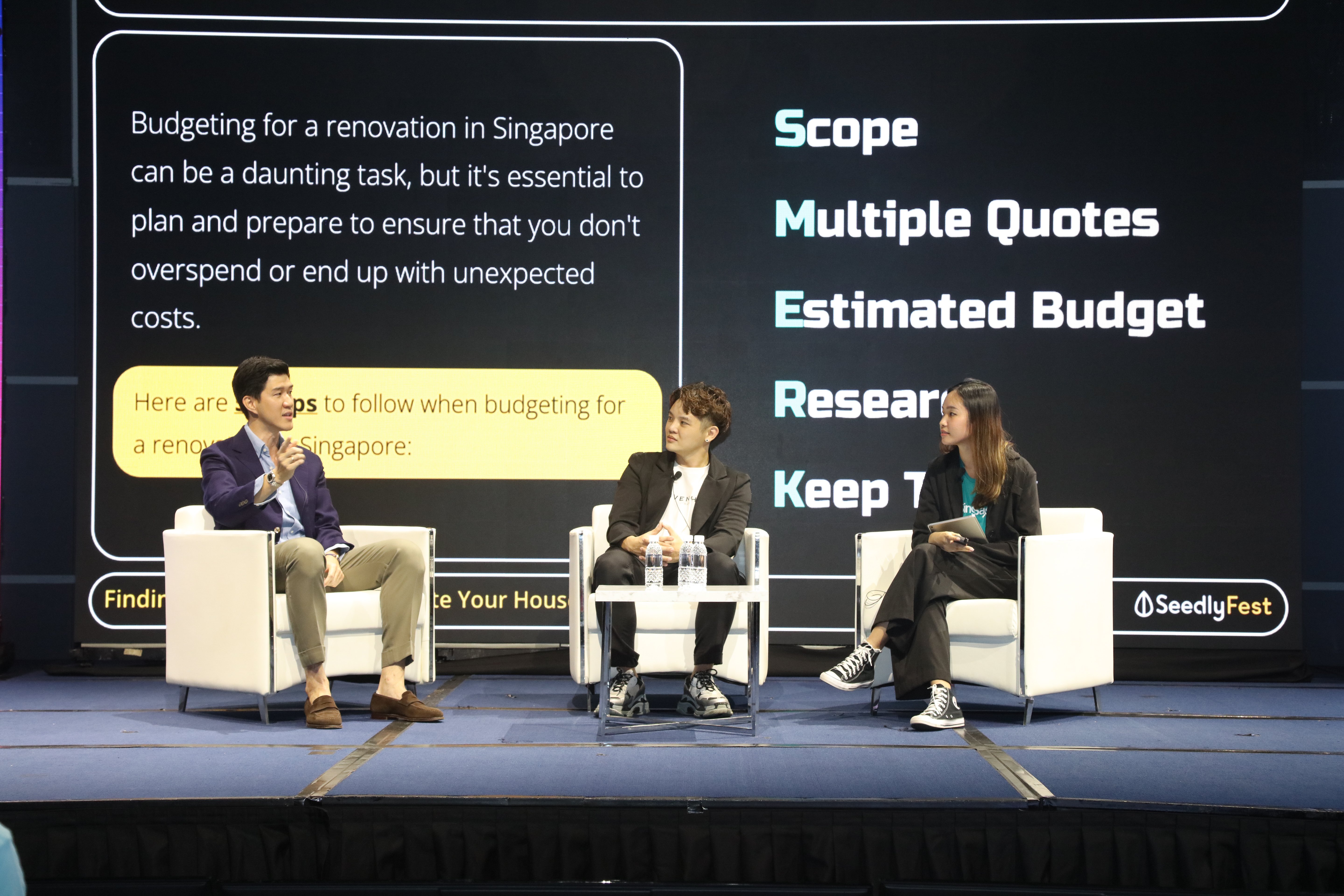 It is no secret that home renovations can be very expensive these days, with some spending up to S$100k for their newly-built 5-room BTO flats. So the question begets: what's the best way to reduce costs for your home renovation? Our experts James Soh (Renopedia) and Daniel Lim (Qanvast) give us a lowdown on all we need to know.
Daniel highlighted that the average home renovation prices have increased over the years, and it differs according to each housing type. For a typical 4-room BTO flat, the expected cost in 2023 is S$49,500 to S$62,800 while a 4-room resale HDB is about S$60,700 to S$72,500.
James shared that in order to budget for our home remodelling, we should take note of these things:
Scope — how extensive your renovation is going to be
Multiple quotes — to get the best price
Estimated budget — set a budget and stick to it
Research — find out how else you can save money on your renovation costs
Keep track — track your expenses to avoid blowing your budget
They also advised to decide whether an interior designer or a contractor would fit your needs and budget. Despite interior designers being more expensive, they provide more value than you think, including project management and overseeing the entire project, as well as helping to make your home more suited to your lifestyle — say you need more space, or you want to make your kitchen bigger for your cooking needs.
They both also shared some tips up their sleeves to cut down on renovation costs. One big factor shared by Daniel is to cut down on built-in carpentry as it really racks up the costs, and another highlighted by James is to invest in eco-friendly appliances that can save you money in the long-run.
More on this topic:
Best Renovation Loans in Singapore
The Cost of Interior Designers in Singapore
Should You Take a Renovation Loan or Personal Loan?
How To Renovate Without A Renovation Loan
How To Save Thousands Of Dollars On Home Renovation
Should You Take an In-house Renovation Loan
---
Mental Wellbeing: Protecting Your Mental Health at Work and at Home (Keynote)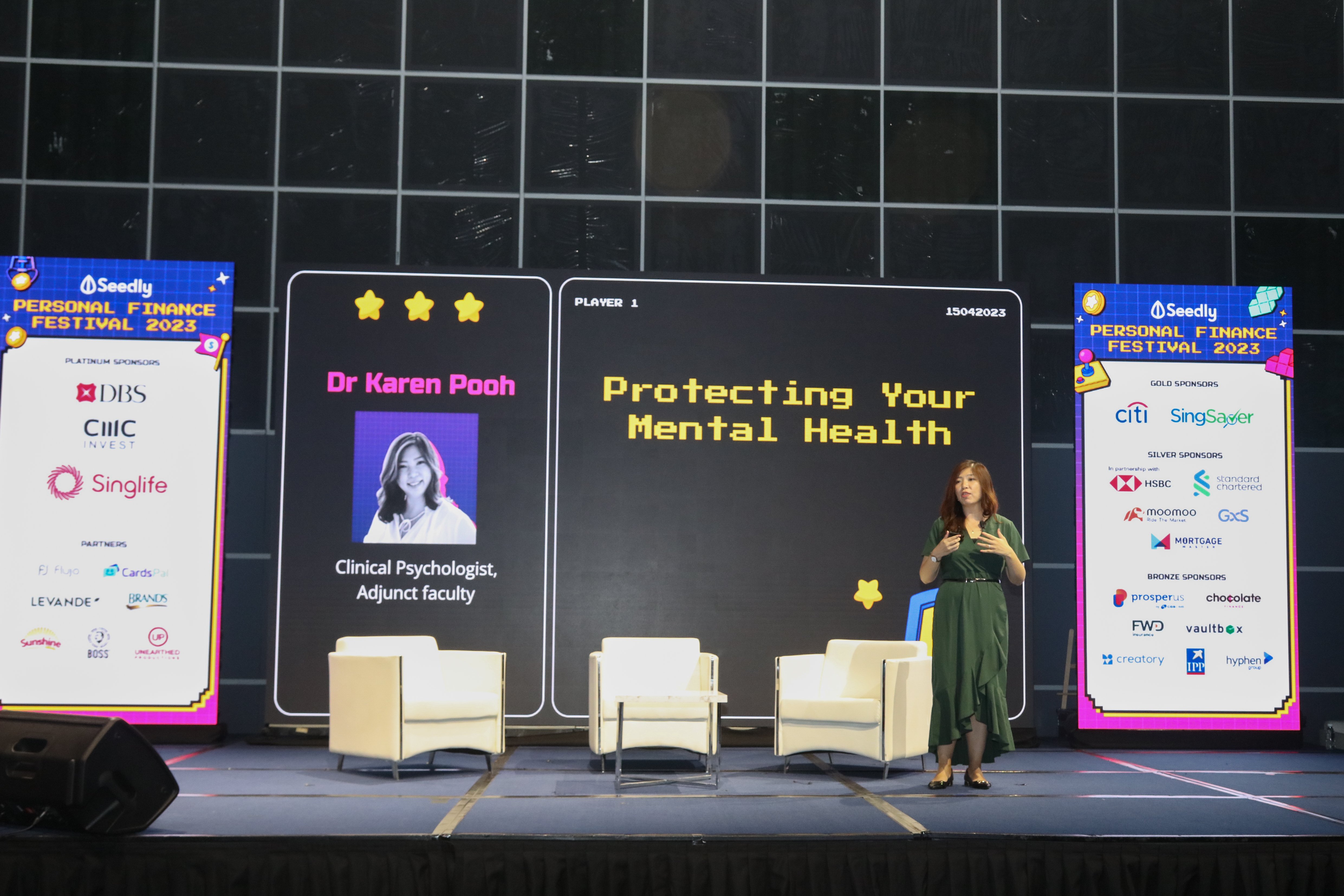 Health is wealth. Protecting your own mental health should be our utmost importance especially as we attempt to juggle all our responsibilities at once. In this panel, Dr Karen Pooh (Clinical Psychologist) walked us through the appropriate boundaries to set with our boss/colleagues and how to practise self-care at home and work.
Dr. Karen urges us to practise self-compassion. Akin to us wearing an oxygen mask, it helps us making sure that we have what we need before we can successfully tackle our own challenges in life. Some of these practices include:
Mindfulness — being aware of the physical, emotional or mental pain of the moment
Self-kindness — treating ourselves with kindness and considering our needs
Common humanity — recognising that these experiences are a normal part of being human
She recommends incorporating self-compassion into our daily lives, and making sure that our physical, spiritual, emotional, mental and relational needs are met.
One important aspect that we often overlook is the lack of boundaries set for ourselves in different areas — conversational, time, mental, emotional, physical, internal and material. When we set clear and healthy boundaries, we have to clarify our values and priorities, communicate our needs and committing to it so it becomes easier with time.
She sums up her segment with an apt quote "when you say 'yes' to others, make sure you are not saying 'no' to yourself".
Read these next:
School Didn't Teach Me: How to Balance Wealth VS Mental Health
Mental Health Insurance: What Insurers Are Covering
The Real Cost Of Mental Health Treatment in Singapore
Free Counselling Services In Singapore