Other new updates include the removal of SHN requirements for non-vaccinated travellers.
Singapore will be lifting its indoor mask-wearing mandate from next Monday (29 August 2022) onwards, according to an announcement made during a press conference by the Multi-Ministry Taskforce (MTF) on 24 August 2022.
This move comes after Prime Minister Lee Hsien Loong's National Day Rally 2022 speech last Sunday, where he first announced the relaxation of Singapore's mask-wearing requirements.
Mask-wearing mandatory only in selected indoor settings from 29 August 2022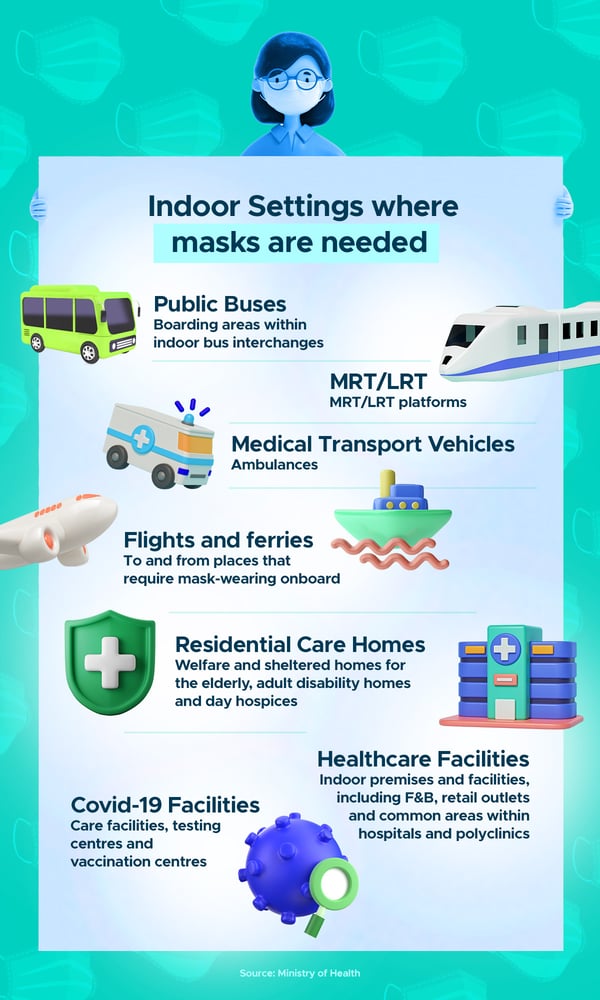 Despite the relaxation in Safe Management Measures (SMMs), face masks will continue to be compulsory in selected indoor settings.
Places where you MUST wear a face mask in Singapore:
On public transport such as MRT, LRT and buses
Indoor public transport facilities including boarding areas at bus interchanges and MRT platforms
Healthcare facilities

Specialist clinics
Traditional Chinese Medicine (TCM) clinics
Clinical and radiological laboratories
Renal dialysis centres
COVID-19 facilities, testing centres and vaccination centres
Private primary care
Dental facilities

Residential care homes

Welfare and sheltered homes for the aged
Adult disability homes
Day hospices

Emergency ambulances and medical transport vehicles
Retail, food and beverage outlets, common areas and other indoor facilities within hospitals and polyclinics
Places where you don't have to wear a face mask in Singapore:
Private transport

School buses
Private buses
Taxis
Private-hire vehicles

Naturally-ventilated bus interchanges
Retail areas located in bus interchanges and MRT/LRT stations
Commercial flights and ferries to and from Singapore (Unless the destination requires mask-wearing onboard)
Airport
Singaporeans must continue to take precautions and not let their guard down
Even though mask-wearing may no longer be mandatory in Singapore, the public is still encouraged to continue to exercise responsibility and caution, such as wearing masks when in crowded places or when visiting or interacting with vulnerable persons.
Experts have advised that the elderly and immuno-compromised should continue to wear masks in crowded indoor settings to reduce their risk of catching any respiratory infections.
Should you feel unwell, go home immediately or see a doctor. If you have come into close contact with an infected case, you should take an Antigen Rapid Test (ART) self-test and make sure you test negative before going out over the next five days.
PCR test and SHN no longer a requirement for non-vaccinated travellers entering Singapore
During the same conference, it was also announced that long-term pass holders and short-term visitors aged 13 and above would not be required to apply for approval to enter Singapore from 28 August 2022, 11.59pm onwards.
They also do not need to undergo a seven-day Stay Home Notice (SHN) upon arrival and undergo an exit-SHN Polymerase Chain Reaction (PCR) test.
However, ​​non-fully vaccinated travellers must present a negative pre-departure test within two days before departing for Singapore. Short-term travellers also need to buy COVID-19 travel insurance to cover the duration of their stay in the country.
Read these next:
Best Covid-19 Travel Insurance Plans (2022)
What Happens If: I Get COVID-19 — What Will I Need To Pay?
What Happens if You Catch COVID-19 Overseas on a Holiday?
Money Confessions: I Travelled During Covid-19 Without Travel Insurance
Money Confessions: My Wallet Is Not Looking Forward To Post-COVID-19 Life (Especially Going Back To Office)