Still think cancer insurance is optional? A look at Singapore's cancer statistics and rising costs of treatment might say otherwise.
Not to be the bearer of bad news but our national statistics are rather sobering: cancer is not just the top killer in Singapore, it may strike 1 in 4 Singaporeans.
The dreaded C-word is a broad category with more than 100 types recognised; if we were to further break it down and underline another sobering statistic, it is that breast cancer is the most common type of cancer among women: it affects as many as 69% of women in Singapore, and only 2 in 5 keep up with their mammogram screenings.
Given how prevalent it is, we've put together this guide on everything breast cancer, including what you ought to do post-diagnosis and a handy comparison of the different insurance types to consider.
Breast cancer screening cost
Mammography screenings at hospitals cost anything from $50 to $200 depending on the facilities. You'll probably have to get a referral from your GP, which increases the price even more, considering you would have to pay the consultation fees.
One way to mitigate breast cancer screening costs is through government schemes. Women above 50 can use their own or their immediate families' Medisave accounts to cover up to S$400 in mammography screenings a year, which would cover both examinations that you're recommended to do.
As part of the Screen for Life initiative by the Health Promotion Board, a mammography screening for those above 50 and haven't had an examination in the past 24 months will cost only S$50 for Singapore citizens. You can choose to have it at one of the 16 participating polyclinics. For Singaporean PRs, the cost would be S$75.
To get an appointment, you'll have to book it through the BSS hotline, email them or visit their site.
What to do post-diagnosis
If your tumour is found to be malignant, your oncologist may recommend any (or a combination) of the following as a course of treatment: surgery to remove the tumour, radiation therapy, chemotherapy, biological therapy (immunotherapy) or hormone therapy.
| | |
| --- | --- |
| Treatment | Average costs |
| Chemotherapy | S$75 (day centre) - S$3,338 (private hospital) per cycle |
| Surgery | S$1,615 to S$11,864 |
| Radiation | S$25,000 to S$30,000 |
| Immunotherapy | S$3,000 to S$5,000 per month |
| Hormone therapy | Unpublished |
The thing about cancer treatment is that it can balloon to high figures if the disease is recurring, and if you don't respond favourably to treatments and require a longer course or multiple surgeries.
In the meantime, there are still bills to pay and loans to service, in addition to other commitments such as your children's needs.
The only way to navigate this quandary is by:
National health insurance plans
Cancer insurance
Critical illness (CI) plan
Early stage critical illness (ECI) plan
Gender-specific cancer policy or rider (optional)
MediSave and MediShield Life
How can you pay for cancer treatments? All Singaporeans have MediSave as well as MediShield Life, a basic health insurance plan that covers hospitalisations and certain outpatient treatments. You do have the option to enhance your MediShield Life coverage with an Integrated Shield Plan that will give you more benefits (such as being able to stay in an A-class ward at a private hospital).
While MediSave does cover treatment such as radiosurgery and chemotherapy as well as hospitalisation, what you have in your account may or may not be sufficient to foot the entire bill. There are also allowable limits on what you're able to claim.
You can find out fee benchmarks here. Most patients prefer to stay in a B class ward, so if you're the type that prefers privacy or more personal treatment, you'd be looking at a much higher estimate.
But MediSave and MediShield Life can only go so far. This is where private insurance plans come in.
Comparing critical illness, early-stage critical illness and cancer insurance
All of the three plans above cover breast cancer, as it is listed among the 37 common critical illnesses acknowledged by insurers.
With critical illness (CI) plans, insurers don't expect you to fully recover – to put it bluntly. That's why there is a sum assured payout that you claim. When a certain benefit limit is paid out, your plan terminates thereafter. That is, at least, the traditional practice; these days, CI insurance plans have innovated to pay out in stages, so your plan doesn't completely lapse. An example is AXA's Super CritiCare plan, which offers up to six stages of payout.
This arrangement may or may not work for you. What happens if you recover? Or what happens if you enter remission but then get sick again with another major illness (or a different type of cancer)?
This is where early stage critical illness (ECI) plans come in. When a disease like breast cancer is detected early, you're able to claim a sum of money and your plan remains in force.
Unlike hospitalisation plans where you are paid according to the charges incurred, the CI plan pays out a lump sum for you to use at your discretion.
A general CI plan, or gender-specific ones as mentioned above, may home in on coverage for treatments such as breast reconstruction. The latter may also be covered under selected IPs.
For cancer insurance, the good thing is that whether you're diagnosed at an early or late stage, your treatment and surgery costs can be defrayed.
Pros and cons breakdown


Pros
Cons
Critical illness
Covers a wide range of diseases and illnesses (37 types)
Premiums are relatively affordable
Depending on the insurance plan purchased:

- Even if you detect the illness early, you might only be able to claim at a late (thus critical) stage when there is little or no chance of recovery

- If you're diagnosed at an early stage, you might not access the payout to pay for your treatments or defray other costs

- Once you receive a payout, your policy is terminated
Early-stage critical illness
You get a payout upon diagnosis, even at early stages.

Payout can defray other lifestyle expenses (not just for medical expenses or hospitalisation)

Can claim multiple times (possibly when you relapse, or if you're diagnosed with another major illness)

Small lump sum death benefit
Some plans include annual free health checks
The cover might only be for specific types of illness and not others

Premiums are expensive as there is a higher incidence of claims/multiple claims
Cancer insurance
Covers both early and advanced stages of cancer, assuming it is diagnosed to be malignant.

Useful as a specific type of protection that you may need (i.e. for breast cancer, if you're a woman or prostate cancer if you're a man)

Valid for stage 0 cancer (carcinoma-in-situ)

Added peace of mind if cancer is hereditary in your family
Doesn't give protection against other disease types so this is should only be considered in addition to a CI or ESCI plan

Additional expense to your health insurance portfolio
Many insurers offer both CI and ECI plans, an optional breast cancer rider or even a standalone cancer insurance plan. As for which you should be looking at, it depends on your budget, age as well as family history with regards to cancer.
---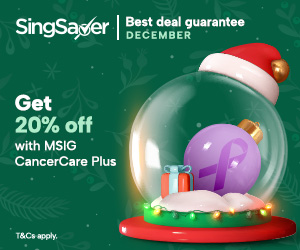 MSIG Cancer Insurance Promotion: Get 20% off with MSIG CancerCare Plus when you purchase NOW! Valid till 17 December 2023. T&Cs apply.

---
A general rule of thumb: a CI insurance plan is essential in your health portfolio, while an ECI is a 'good-to-have' bolster, if you have a comfortable budget and you want to take extra precautions.
You could start the process by speaking with a trusted financial advisor or compare some of the top cancer insurance plans on SingSaver.
Conclusion: Cancer insurance is a must-have
Think of cancer insurance as a cheaper, stripped-down version of critical illness insurance. In the event of a cancer diagnosis, it will pay out the sum assured, just like critical illness insurance. If the full sum assured is not paid out initially (e.g. because of an early-stage diagnosis), it can still be paid out in the future should the cancer return.
But most of all, it is far more cost-effective than critical illness insurance. In fact, depending on your age and health, it is possible to get a sum assured of S$50,000 for less than S$100 in premiums each year. The sum assured can also reach as high as S$200,000—enough to compensate for years of lost wages.
The bottom line—if you are worried about the financial costs of getting cancer, but don't want to pay out high premiums each year, then cancer insurance might just be what you need.
Read These Next:
Best Cancer Insurance Plans In Singapore (2021)
Best Women's Health Insurance Plans In Singapore And What They Offer
5 Critical Things You Need to Know About Cancer Insurance
Critical Illness Plans vs Early Critical Illness Plans: Which Should You Get
Critical Illness vs Cancer Insurance Plans: A Critical Comparison