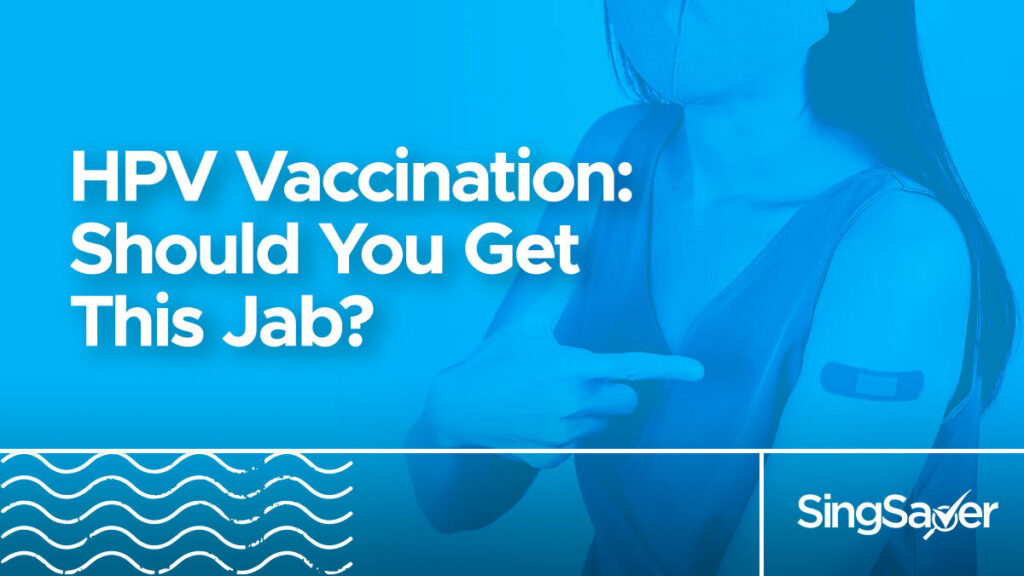 A vaccination largely for (but not exclusive to) women, the HPV jab is one that can help prevent cervical, anal and penile cancer. Here's what all women and men need to know about the HPV vaccination in Singapore.
The COVID-19 vaccine isn't the only vaccination we should be taking. Besides our seasonal flu jab, the HPV vaccination is highly recommended for all persons from adolescent age, especially if you are sexually active.
In this article, we'll cover the following:
What is the HPV vaccination and what can it protect you from?
HPV stands for Human Papillomavirus, a common virus that can infect many parts of the body, in both women and men. It is transmitted by intimate skin to skin contact.
HPV infection is very common, with an estimated 8 in 10 people getting HPV infections at some point in their life. Most HPV infections go away on their own without requiring treatment or leaving severe health impacts.
However, prolonged HPV infections can lead to cancer and other diseases over time. Almost all cervical cancer cases are linked to genital infection with HPV. Other cancers caused by HPV include anal, penile, mouth, throat, vaginal and vulvar cancers.
The HPV vaccination helps prevent cervical cancer in women, penile cancer in men and anal cancer in both genders.
Dr Lim Li Min, a member of SCS Women's Gynaecological Cancer Awareness Committee and Associate Consultant at the Department of Obstetrics & Gynaecology in National University Hospital (NUH), shared: "The HPV vaccinations are highly effective with 98-100% reduction in HPV-related diseases in target populations, such as pre-cancers and cancers of cervix and genital warts."
How prevalent are these cancers?
Cervical cancer: In Singapore, cervical cancer is the tenth most common cancer among women, with almost 200 new cases diagnosed and 70 deaths each year. According to the latest available Singapore Cancer Registry Annual Report, cervical cancer is the fifth most common cancer for women in their 30s and the sixth most common in the 40s.
Here's what the survival rate looks like should you get cervical cancer.
Thankfully, the chances of surviving cervical cancer can be more than 90% when detected early, as abnormal or pre-cancerous cells can be prevented from developing into cervical cancer with appropriate treatment. However, with the survival rate dipping past stage 1, it's best to get protected against cervical cancer while you can.
Compared to cervical cancer, the incidence of penile cancer in men and anal cancer in both genders is low. For example, penile cancer represents just 0.3% of all cancers in Singapore, typically occurring in older men.
---
For those worried about getting HPV-related cancers, perhaps it's time to get a cancer insurance plan that can provide financial support for both early and late stage cancer detection.
---
Who needs to take this vaccination?
While the HPV vaccination is particularly important for those that are sexually active, women who aren't sexually active are still encouraged to go for it. The vaccine is also most effective if it was given before your first sexual exposure.
For the ladies:
Aged 9 to 26: The HPV vaccine is not compulsory. However, women between 9 to 26 are the age group that are highly encouraged to get the jab. Here in Singapore, Secondary 1 and 2 female students are given the vaccination for free under the National School-based HPV programme.
You might be wondering, if secondary school students take it at such a young age, will it be too late to take the jab after 26 years old?
"Gardasil 9 has been approved both in the USA and Singapore for use in all males and females between 9 to 45 years, for prevention of genital warts as well as pre-cancers and cancers of the cervix, vulva, vagina, anus and throat." Dr Lim says.
"For individuals after 26 years old, they can still derive benefit from the vaccine although the efficacy will likely be reduced compared to those between 9 to 26 years, especially if they have already been sexually active or have already been infected by certain HPV strains."
In essence, you should get the jab as early as you can and preferably before you are sexually active.
But, what about men?
While the HPV vaccination is often promoted to the female population to prevent cervical cancer, HPV is a virus that is just as infectious to men as it is to women.
Cervical cancer aside, men are also at risk of getting anal, penile, oral and other types of cancers — about 90% of anal cancers are caused by HPV strains. HPV subtypes 6 and 11 are also responsible for 90% of genital warts in both genders.
Dr Lim explained: "It is important for men to take the HPV vaccination for the prevention of genital warts as well as pre-cancers and cancers of the anus and throat. Vaccination of males may also indirectly benefit females by producing a more rapid and greater degree of herd immunity. Therefore, males should be encouraged to take the HPV vaccination."
As there is no screening test for HPV-related cancers besides the pap test for females to detect cervical cancer, men do face added risk of HPV infections. Hence, the HPV vaccination is important to protect men from these conditions and also reduce the risk of transmitting HPV to their partners.
What else can you do to protect yourself?
#1 Go for regular checkups and screenings
Even if you've gotten the HPV vaccination, women should still follow through with regular cervical cancer screening (also known as HPV test or Pap test) as early cervical cancer may have no symptoms at all. The pap test will help detect cervical cancer and allow you to get treatment for it early on.
Women aged 25 to 29: Go for screening once every three years
Women aged 30 and above: Go for screening once every five years
Cervical screening can be done at all polyclinics and selected CHAS GP clinics. You can also get the HPV Test and Pap test done for free at the Singapore Cancer Society Clinic in Bishan. More details here.
For men, unlike the pap test, there is no screening test for HPV-related cancers. The next best thing you can do to protect yourself is to get the HPV vaccination.
#2 Look out for symptoms
Know your body and look out for symptoms of major HPV-related cancers. For example, some HPV infections may cause genital warts.
Other signs of cervical cancer may include:
Vaginal bleeding or pain after sexual intercourse
Abnormal discharge
Pelvic or back pain
#3 Double the protection with cancer insurance
You can still get cervical cancer, penile cancer or anal cancer even if you've taken the HPV vaccination. This is because HPV immunisation only protects against 70% to 90% of high-risk HPV strains.
In a country where cancer is the leading cause of death, you should get yourself a cancer insurance plan to give yourself additional peace of mind and to support your family financially should you get cancer.
For example, MSIG CancerCare Plus offers a lump sum payout of S$100,000 if you're diagnosed with major cancer. It also provides accelerated benefit for some early stage cancers, allowing you to receive a S$50,000 payout. The major cancer coverage isn't limited to HPV-related cancers, but other types of cancers as well, such as breast cancer, prostate cancer, lung cancer, colorectal & rectum cancer and more.
This lump sum payout can be used however you deem fit. This includes using the money to cover living expenses, pay for transport fees, offset the potential loss in income or savings and more.
The premiums are also highly affordable during your younger years — annual premiums for those aged 20 to 29 starts from S$53.50 for men and S$108.43 for women.


MSIG CancerCare Plus
Lump sum payout
S$100,000 if diagnosed with major cancer
Accelerated benefit
S$50,000 if diagnosed with early stage cancer
Features to know about
- Covers early stage cancer with accelerated payout
- Automatic renewal even after payout of accelerated benefit for early stage cancer
- Fast online application process, just 3 simple health declarations required
Premium
Age 20-29: S$53.50 (men), S$108.43 (women)
Age 30-39: S$94.16 (men), S$282.48 (women)
Age 40-44: S$194.03 (men), S$468.09 (women)
Age 45-49: S$325.28 (men), S$812.49 (women)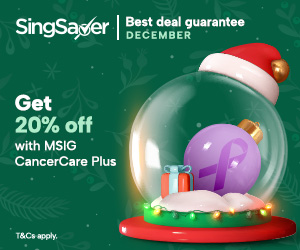 MSIG Cancer Insurance Promotion: Get 20% off with MSIG CancerCare Plus when you purchase NOW! Valid till 17 December 2023. T&Cs apply.
You can also approach your regular MSIG representative or visit the MSIG site to find out more.

Getting HPV vaccinations in Singapore
There are 3 types of HPV vaccines available in Singapore.
HPV vaccination type
Types of HPV subtypes it protects you from
Additional information
Doses required
Cervarix (2-valent vaccine)
16, 18
Protects against HPV infection from the two most common cervical cancer-causing HPV types (16 and 18) that account for about 70% of cervical cancer cases.
3 doses (0, 2, 6 months)
Gardasil (4-valent vaccine)

6, 11, 16, 18
Similar to Cervarix, it protects against HPV infection from the two most common cervical cancer-causing HPV types (16 and 18) that account for about 70% of cervical cancer cases.
Gardasil also provides protection against HPV types 6 and 11, which can cause genital warts, premalignant cervical, vulvar, vaginal and anal lesions (but not cervical cancer).
3 doses (0, 2, 6 months)
Gardasil 9 (9-valent vaccine)

6, 11, 16, 18, 31, 33, 45, 52, 58​
The most expensive of the three HPV vaccines, also covering the most number of HPV strains, protecting against 90% of high-risk HPV strains.

Approved by the HSA to be used by both men and women from ages 27 to 45, thus covering both genders from ages 9 to 45.
3 doses (0, 2, 6 months)
Source: Singapore Cancer Society
Cervarix and Gardasil are currently recommended to Secondary 1 and 2 female students under the National School-based HPV programme. Three doses of the vaccination are recommended if you're above 15 years old, with just two doses required for females 9 to 14 years old.
HPV vaccination price: Between S$140 to S$220 per dose, it can also come in a packaged price for all three doses. The cost differs depending on which HPV vaccine you choose to take.
Singaporeans can use up to S$500 per year from your own or your immediate family member's MediSave to pay for the HPV vaccination (Cervarix or Gardasil only — Gardasil 9 is currently ineligible for MediSave use).
While the vaccine might not be cheap, it certainly is far more affordable than the cost of getting cancer in Singapore.
Where can you get the jab? It is offered by many general practitioners (GP) in Singapore, as well as polyclinics. Currently, only the Cervarix vaccine is available in the polyclinics, while the type of HPV vaccine offered by private GP clinics could vary. For example, in NUH, only Gardasil 4 and Gardasil 9 are available.
It is recommended that you call to enquire about the price and book an appointment for the jab in advance, to ensure that there are stocks for you.
If you're unsure whether the vaccination is suitable for you, you should speak to your doctor to find out more before committing to the vaccination.
This article is written in partnership with MSIG.
Read these next:
Best Cancer Insurance Plans In Singapore (2021)
Here's Why You Should Seriously Consider Getting Cancer Insurance
Everything You Need To Know About Breast Cancer: Screening, Treatment Costs & Insurance
Critical Illness vs Cancer Insurance Plans: A Critical Comparison
How Much Do Health Screenings In Singapore Cost?