From choosing a BTO unit to purchasing a flat in the resale market. Here's how you can own your own HDB flat if you're 35, single, and Singaporean.
What is HDB?
A statutory board under the Ministry of National Development (MND), the Housing & Development Board (HDB) is Singapore's housing authority responsible for planning and developing affordable public housing for Singaporeans. Formed on 1 February 1960, HDB has since built over 1 million homes, which houses 80% of the nation's population.
The HDB currently offers Singaporeans three 99-year lease housing options, namely Build-To-Order (BTO), Design, Build and Sell Scheme (DBSS) and Executive Condominiums (EC) to suit different housing needs and budgets.
New Measures
As of December 16th 2021, Singapore announced their new property cooling measures:
Higher 'Additional Buyers Stamp Duty' (ABSD) rates: raised for Singaporeans and PRs buying second and subsequent property, and raised for all foreigners and entities
Tighter loan limits: lowered from 90% to 85% for HDB housing loans
Tighter TSDR threshold: lowered from 60% to 55%
HDB announced also a raft of new measures in September to help first-time owners buy new and resale flats. Since 11 September 2019, the following measures have been taken into effect:
Higher income ceilings for both families and singles to qualify for HDB housing grants.
A new Enhanced CPF Housing Grant (EHG) will replace the existing Additional and Special CPF Housing Grants (AHG and SHG).
Eligible first-timers can benefit from the EHG when buying new or resale flats, regardless of flat type and location.
Let's break down what these new measures mean.
Higher income ceilings for families and singles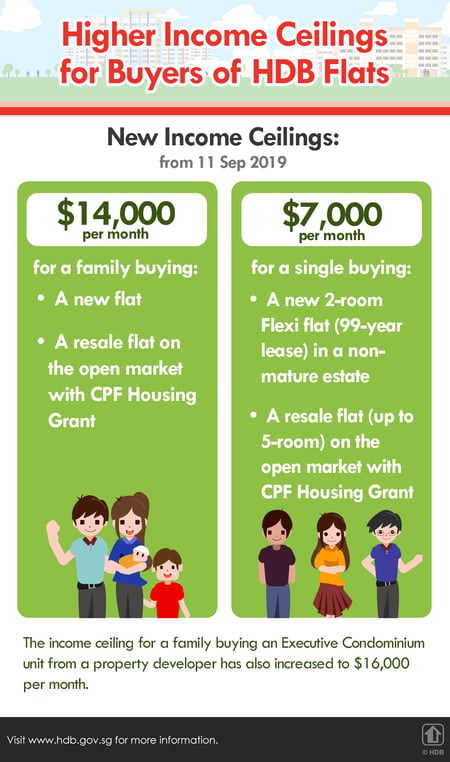 The monthly household-income ceiling for eligible first-time HDB flat buyers who are singles aged 35 and older will be raised from S$6,000 to S$7,000. Eligible singles may choose to buy new two-room flexi flats or resale flats (of up to 5-room) with the CPF Housing Grant for Singles on the open market.
That's good news if you're currently single and your next milestone is to get your own HDB flat. You can finally avoid the pointed questions from your parents. Or, you can get bumped up another rung on the #adulting ladder.
HDB will also raise the monthly household-income ceiling for first-time families getting their new or resale HDB flats from S$12,000 to S$14,000.
What is the Enhanced CPF Housing Grant (EHG)?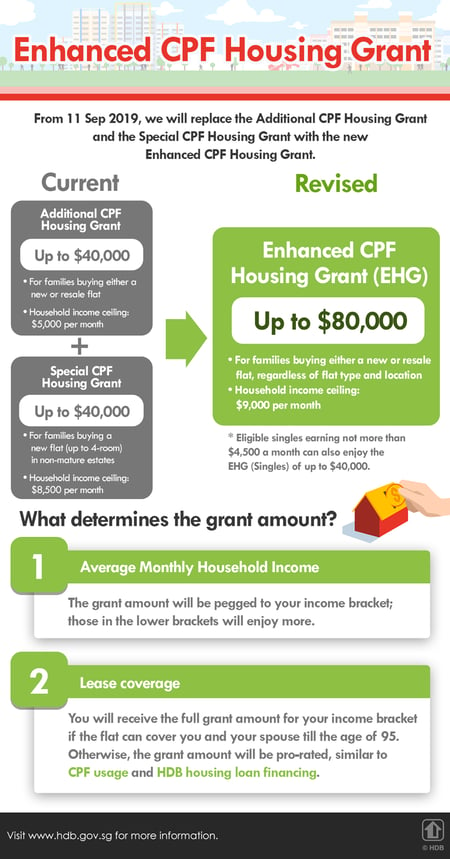 The EHG will replace two previous schemes, the Additional CPF Housing Grant and Special CPF Housing Grant. The EHG amount will be pegged to your income bracket. The less you earn, the higher the grant. The EHG amount for first-timer singles buying new or resale flats under the Single Singapore Citizen Scheme will be up to S$40,000 (eligible household income ceiling raised to S$4,500) and up to S$80,000 for first-timer families, or singles jointly purchasing new or resale flats (eligible household income ceiling raised to S$9,000).
Here's what that looks like, broken down by household income, in an infographic by Channel News Asia.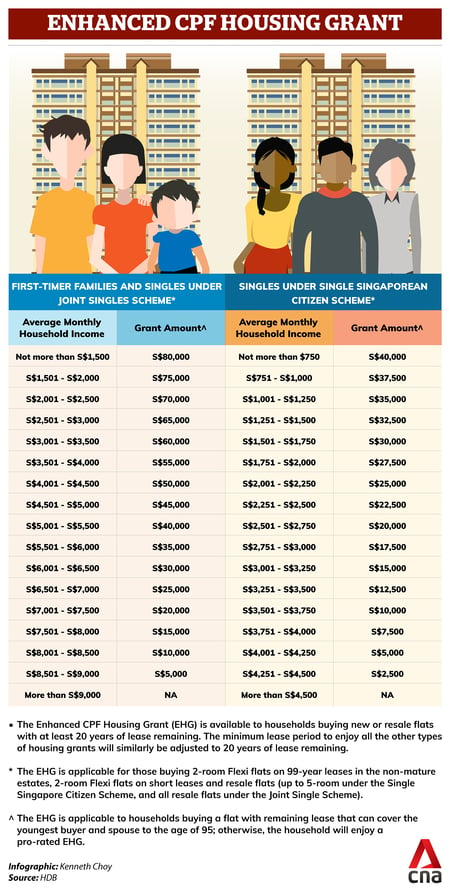 Am I eligible for the Enhanced CPF Housing Grant?
To be eligible for the EHG, applicants or their spouses must have been employed continuously for at least 12 months, as with other HDB schemes including the Special CPF Housing Grant.
They must also buy flats that they can call home until age 95 (based on HDB's maximum 99-year-old lease). Those whose flats fail to meet this condition will have their subsidies prorated based on the extent that the flat's remaining lease can cover them until that age.
Here's how that works: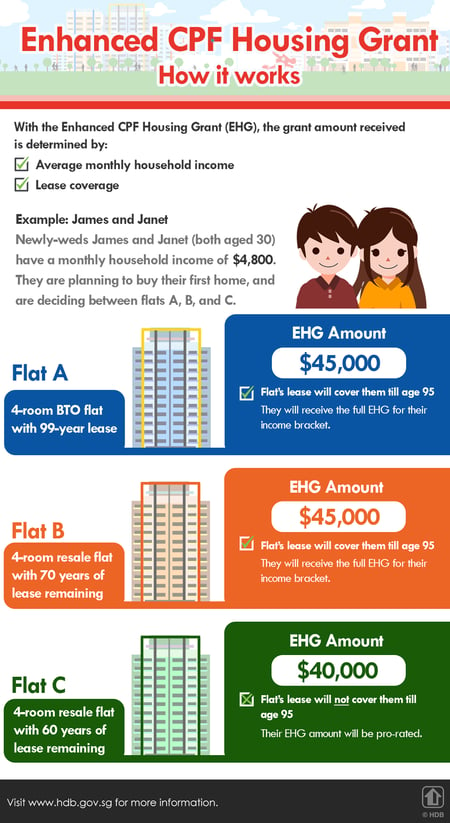 ---
---
What are the HDB eligibility requirements for singles?
First things first, you have to be a Singapore citizen, aged at least 35 years old to apply as an unmarried or divorced individual. The only exception is if you are an orphan with no siblings; you may apply for your own flat upon turning 21 under the Orphan's Scheme.
Unrelated singles citizens who are 35 years or older can also jointly apply for an HDB flat, up to 4 such individuals can co-own a flat this way under the Joint Singles Scheme.
The other eligibility requirement is the Ethnic Integration Policy (EIP) and Singapore Permanent Resident (SPR) quota (used to encourage and maintain social cohesiveness). However, this is more likely to impact your flat's location, rather than act as a hurdle against your eligibility to apply for one.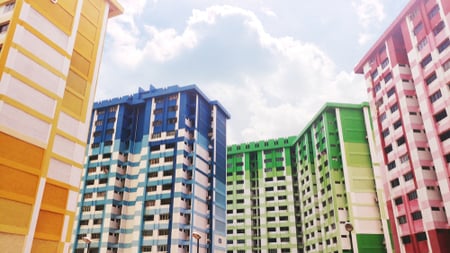 What HDB flats can singles buy?
As a single buyer, you have 2 choices when it comes to HDB apartments - a 2-room flexi HDB BTO flat in a non-mature estate, or a resale HDB flat. The table below presents a quick summary of the pros and cons of both options.
Which type of HDB flat should singles get?
2-Room Flexi HDB BTO Flat
(99-year lease)
Resale HDB Flat
More affordable


(approx S$90,000 to S$240,000)

More expensive


(approx S$340,000 to S$690,000 for a 3-room resale flat)

Longer waiting time


(average 4 to 6 years)

Shorter waiting time


(You can complete your purchase in as little as 4 months)

Restricted to 2-room Flexi flats (35 sqm to 49 sqm)

No restrictions in flat type, starting from 2-room flats (size depends on age of flat)

Lower availability

Higher availability

Brand-new apartment

Pre-owned apartment

Full 99-year lease

Shorter lease period remaining

Cannot rent out

Can rent out
Related to this topic:
Here's Why The Price of These HDB BTO Projects Are Rising
How Much Do You Need To Buy Your First Home In Singapore?
Step-By-Step Guide To Buying Your First HDB BTO
HDB BTO 2-Room flexi flats are more affordable, but restricted in size
The biggest advantage of getting a BTO flat is a financial one - BTOs are priced significantly cheaper than those on the resale market. However, unmarried individuals are restricted to 2-room* flexi units in non-mature estates only, even if there are multiple co-applicants.
With 1 bedroom and 1 living room, the total floor space of such units range from 35 sqm to 49 sqm.
Clearly, a 2-room flat is small, but if you apply for one under the BTO scheme, you'll be getting a brand-new apartment that you can renovate to suit your needs.
The May 2022 HDB BTO exercise saw a 2.9 and 6.6 application rate for 2-room Flexi units under the Singles Scheme for the Lakeside View and Yishun Beacon projects respectively.
But beware of the waiting time. Even if you're lucky enough to be successful in your HDB BTO ballot, you'll still need to wait around 4 to 6 years for your flat to be built before you can move in, with some up to 8 years, particularly during the pandemic.
Pro-tip: When referring to HDB flats, always subtract 1 from the name to determine how many bedrooms you'll be getting. So a 3-room flat means 2 bedrooms + 1 living room, 4-room means 3 bedrooms + 1 living room, etc.

Resale flats cost far more but are available immediately
If balloting (and waiting) for a 2-room flexi HDB BTO unit doesn't appeal to you, you can try looking for a suitable apartment on the resale market. Singles—whether individually or jointly—can purchase any type of HDB resale they desire, provided they can afford it.
The main disadvantage of buying a resale flat is the cost. At present, and reasonably for the next 30 years or so, the smallest resale HDB you can probably buy is a 3-room unit. (HDB flats have a minimum occupancy period of 5 years or 10 years under the Prime Location Housing (PLH) model, and with current supply not yet meeting demand, it is unlikely you'll find any 2-room units on the resale market anytime soon.)
The prices of HDB resale flats have been increasing recently, for the 8th consecutive month straight. So you can expect to pay around S$340,000 to S$690,000 for a 3-room HDB resale unit, according to the prices available on PropertyGuru.
If your resale flat has less than 60 years remaining on its lease, you'll be limited in how long you can use your CPF to pay for your mortgage. The latest update in May 2019 stipulates that the amount of CPF you can use to pay for your home is pro-rated based on whether or not the remaining lease can cover the youngest homeowner till age 95. However, as of the January 2022 CPF updates, you can now leave up to S$20,000 in your CPF OA as a safety net.
The latest update in May 2019 also stipulates that CPF can only be used to finance your property if its remaining lease can cover the youngest buyer till age 95. If these criteria are not met, the use of CPF will be pro-rated.
This means the lease should ideally cover the youngest buyer until age 95. A buyer can then use CPF to pay for a property up to its valuation limit if the criteria are met. If not, the use of CPF will be pro-rated. No CPF can be used if the remaining lease is less than 20 years
After you've located and purchased your own HDB resale flat, you'll most likely have to/want to carry out some major renovation work. Anecdotal evidence suggests that you should budget S$30,000 for a 3-room flat, S$40,000 for a 4-room flat, and S$50,000 for a 5-room flat for renovation.
As a single homeowner, you'll undoubtedly find a resale flat more expensive to own. However, a resale unit offers you one financial advantage that a 2-room BTO does not.
If you don't need the extra rooms, you can rent them out to generate some additional income. Granted, there are pros and cons to sharing your home with renters but don't underestimate the financial possibilities that leasing can open up.
To sum it up...
Owning your own place in Singapore is a big decision due to the amount of financing it involves. Whether you get a flat at 35 through the Singles Scheme or the Joint Singles Scheme, it is important to check the criteria for eligibility in each scheme.
By being informed of these grants and loans that you can apply for, you may find ways to cushion the costs of purchasing your own home – allowing you to fully relish the freedom that comes with being a homeowner.
Affordable Home Loans On SingSaver
Buying your first home? Compare and apply for a home loan through SingSaver to enjoy interest rates as low as 1.80% p.a. with a 2 years lock-in.
---