Home insurance is far more comprehensive than you think. Learn the five little-known pieces of home content you (probably) didn't know you can claim for with the right home insurance plan.
Best Home Insurance Plans in Singapore on SingSaver
AIG Enhanced Public Housing Contents Insurance (For HDB only) | AIG Homes Complete Insurance | AIG Home Advantage Package | MSIG Enhanced HomePlus | Singlife Home Lite | FWD Home Insurance | TIQ Home Insurance | Sompo HomeBliss | HL Assurance Home Protect360 | Great Eastern HomeGR8 Plus
If you own a home, most likely, you already have some form of home insurance.
For instance, if you live in a HDB flat, it is mandatory for you to buy the basic HDB fire insurance. But as you probably know, this is hardly enough.
If you want things like furniture, renovation, home appliances, and loss of money to be covered, you'll need a more comprehensive home insurance.
But while those are the main home content that home insurance covers, they're far from the only things. In fact, there are many things that home insurance can cover that you might not know about.
Already have a basic home insurance plan? Check if you have recently done any of the following:
A renovation
Installed an expensive new sound system in your home
Acquired a vintage wine collecting habit before lockdown or
adopted a pet
If your answer "yes", upgrading the coverage of your current plan is definitely necessary. You might need to go up to a higher tier or get a rider that covers you for your home improvements.
Here, we've done the work and outlined five pieces of home content you didn't know you can claim for under home insurance (and some of the specific plans that cover them).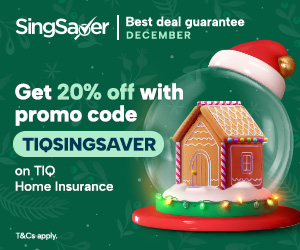 TIQ Home Insurance Promotion: Use promo code TIQSINGSAVER to get 20% off when you apply now. Valid till 31 December 2023. T&Cs apply.
---
#1 Locks, keys, and security systems
Singapore is one of the safest cities in the world, but how safe would you feel living in a home without locks and keys? Probably not that safe.
Fortunately, in the event something happens that damages your home's locks and keys—such as a burglary—home insurance has you covered.
For instance, MSIG's Enhanced HomePlus offers some of the most generous coverage of locks, keys, and security systems, totalling up to S$1,500.
On top of that, they also have a 24-hour hotline you can call which can provide you with emergency locksmith assistance.
Related to this topic: What Does Home Insurance Cover During Fire Incidents?
---
#2 Your ATM and credit cards (if used fraudulently)
If your house gets burgled and your ATM or credit cards get stolen, the first thing you should do is to call your bank and cancel the cards.
In some case, it might be too late. But fear not; if you have the right home insurance, you will be able to claim for such fraudulent use.
MSIG's Enhanced HomePlus, TIQ's Home Insurance, and Singlife Home are three examples of home insurance plans that cover unauthorised uses of ATM or credit cards stolen from your home.
MSIG offers coverage of up to S$750 while TIQ offers up to S$1,000.
Singlife's coverage is much more comprehensive, covering identity fraud in general for up to S$2,500.
Having such protection in place definitely provides additional peace of mind in today's cashless society.
Related to this topic: Thinking of Renting? Getting Home Insurance Can Pay Off More Than You Think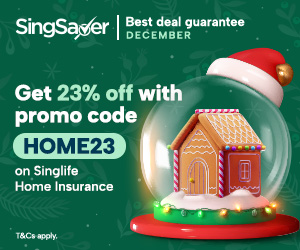 Singlife Home Insurance Promotion: Get 23% off with promo code HOME23 on Singlife Home Insurance (for new businesses only). Valid till 31 Dec 2023. T&Cs apply.
---
#3 Legal documents
Because losing ATM and credit cards are relatively common, replacing them is also quite easy.
This is not the case with other legal documents, which can get stolen or destroyed in your home. One example is your home's title deed.
Here's a list of fees you might have to pay if you need to apply for a replacement title.
Another example is shares certificates.
Did you know that if yours is lost or destroyed, you will have to place an ad in a newspaper stating as much before you can apply for a new one (presuming the value of the certificate exceeds S$500)?
That costs money.
Luckily, under the 'household contents' umbrella for some plans, coverage includes securities, certificates, and documents, meaning you could claim for such costs.
Related to this topic: When Should You Review Your Home Insurance Policy -- What Happens If You Don't
---
#4 Your pets
Is it a little insensitive to lump pets in under 'home contents'?
Perhaps, but that's just the industry terminology, and it's not our intention.
Our intention is to show that home insurance can cover something that, to many people, is worth far more than any valuable.
Statistics show that there were almost 200,000 pet dogs and cats in Singapore in 2019, a number that will only grow as demand continues to outpace supply.
TIQ's Home Insurance and FWD's Home Insurance are just a few home insurance plans that cover your pets.
Note that not all them require your pets to be deceased for claims to be made—many provide coverage in the case of injury or theft as well.
Related to this topic:
Etiqa Tiq Home Insurance (Review): Fuss-free Home Protection Plan With Extras
FWD Home Insurance (Review): Comprehensive Cover At Low Premiums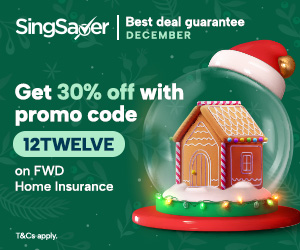 FWD Home Insurance Promotion: Use the promo code 12TWELVE to get 30% discount on your plan. Valid till 12 Dec 2023. T&Cs apply.
Get complimentary cyber insurance coverage for online shopping fraud & fraudulent electronic transfers of S$5,000 upon purchase or renewal of FWD Home insurance.
---
#5 Frozen food
Imagine this: you go out and buy a kilo of prime A5 wagyu beef and stash it in your freezer, in anticipation of unleashing your steak grilling skills (which you learned from Gordon Ramsay videos on YouTube) over the weekend. It cost you hundreds of dollars, but it's worth it. It's a once-a-year kind of splurge.
And then, disaster strikes.
While you're at work, your freezer fails. That prime A5 wagyu beef is now more subprime than the mortgage loans that precipitated the 2008 global financial crisis.
And your vision of the perfect weekend night spent savouring every morsel of that juicy slab of beef? Utterly ruined.
But with the right home insurance plan, you can actually claim for spoiled food.
MSIG's Enhanced HomePlus, for instance, will cover up to S$750 (Singlife has an add-on that covers up to S$500). That should be enough for at least a kilo of more wagyu beef.
Related to this topic: MSIG Enhanced HomePlus (Review): Home Insurance That Covers Everything And Everyone

---
Can't decide which home insurance plan is best for you?
Almost every single insurance provider in Singapore has some form of home insurance plan, meaning you are spoiled for choice.
On one hand, it's a plus. But on the other, it makes choosing the best plan for your needs much more difficult—think of all that research you have to do!
Let SingSaver do the heavy lifting for you. Head over to our home insurance page for a fast and easy comparison that you can use to immediately narrow down your choices.
---
Read These Next:
Home Insurance Promotions and Discounts To Protect Your Home
Best Maid Insurance Promotions and Discounts
Home Insurance: Why Is It Important And How Do You Compare The Best Plans?
How Insurers and Banks Are Helping You Survive COVID-19 (Whether Quarantine or Debt)
Home Insurance: Why You Should Be Reviewing It During Circuit Breaker