Protects your home, possessions and family members too (even pets!).
What makes a house a home? More than furnishings and personal possessions, it's the people and pets we share a living space with that turns it into an abode.
If you feel the same way, you'd probably want your home insurance plan to protect not just material objects but persons and pets too.
MSIG Enhanced HomePlus insurance is designed to cater to that need, being packaged with not only generous third-party liability but also hospitalisation allowances, accidental death benefits and cover against fraud or dishonesty from domestic helpers.
The plan also provides benefits for damage to security systems. It has a relatively high payout for replacing locks and keys, which should prove useful to homeowners who invest in smart locks and high-calibre security systems.
But how does this plan measure up in fulfilling its primary purpose, that of protecting your home and contents against disastrous occurrences?
Let's take a closer look to find out.
Pros and cons of MSIG Enhanced HomePlus Insurance
Pros
Cons
Separate claims limit for home contents and renovations

Provides worldwide accidental death benefits and hospitalisation allowance for family members

Offers benefits rarely seen in other home insurance plans, such as for temporary coverings and security systems
Building damage cover only available as optional add-on
---
Key features of MSIG Enhanced HomePlus
#1: Protection for property, people and pets
MSIG Enhanced HomePlus not only covers your dwellings, it also offers some degree of protection for your family members and pets too.
Apart from the customary personal liability coverage, (here separated into third-party liability for tenants, and property owner's liability for homeowners), the plan also adds daily hospital cash benefits, and worldwide accidental death benefits for you and your family. A modest benefit is also offered should you lose your family pets in an accident.
#2: Generous allowance for alternative accommodation and/or loss of rent
The MSIG Enhanced HomePlus plan makes it easier to find alternative accommodations or to replace lost rental income, due to its relatively generous allowance for this category.
You may claim up to 10% of the sum insured for Home Contents and Renovations, or up to $12,500 for the basic plan. Higher-tier plans offer higher limits.
#3: Includes benefits for security systems, locks and keys and temporary coverings
This plan also offers relatively high claims limits for replacing security systems, lock and keys, a boon for homeowners who believe in protecting their homes with innovative smart locks and sophisticated home security systems.
Additionally, the plan also offers a separate claims limit for temporary coverings, which are essential in the course of restoring the damaged property.
Important exclusions to note
The exclusions that come with the MSIG Enhanced HomePlus Insurance are pretty stock standard; here are some of the more noteworthy ones.
For a full list of exclusions, be sure to refer to the policy documents.
Loss, damage or theft to your home if let or loaned, or unoccupied for over 60 days
Claims arising from malicious acts by you or your household members, wear and tear, insects, domestic animals and etc.
Loss or damage of home contents or property while being loaded, unloaded or transported, removed for sale or exhibition or left in any vehicle
For whom is MSIG Enhanced HomePlus Insurance best for?
The MSIG Enhanced HomePlus plan is designed for homeowners who wish to protect not only their property and possessions but also people and pets.
The inclusion of hospital cash allowance and accidental death benefits that cover family members and pets — along with a slew of benefits focussed on household security — should prove attractive.
However, you should note that the benefits offered for accidental death do not match up to a proper life insurance package, and hence this plan should not be used in place of such.
Overall, MSIG Enhanced HomePlus does a good job of protecting homes and the contents therein, offering reasonable claims limits at competitive premiums.
The one downside is that building cover is only available as an optional add-on, but this shouldn't affect HDB dwellers who are required to purchase fire insurance (which covers building damage) by default.
Plan tiers, premiums and latest promotions
Below, we've summarised the MSIG Enhanced HomePlus Insurance plan for a quick and easy reference. The full details are available here.
Both homeowners and tenants are eligible for this plan.
Item covered
Claim amount
Home contents
$50,000 to $120,000
Renovations
$75,000 to $150,000
Worldwide accidental death cover
Adult: $20,000 to $30,000
Child: $10,000 to $15,000
Subject to aggregate cap of $50,000 to $75,000
Pet: $500 to $750
Hospital cash benefit
$50 to $75 per person per day, maximum of 90 days
Worldwide personal liability and property owner's liability
Up to $1 million
Alternative accommodation or loss of rent
Up to 10% of sum insured under Home Contents and Renovations
Temporary protection and coverings
$1,500 to $2,000
Damage to security systems
$500 to $750
Replacement of lock and keys
$500 to $750
How much does MSIG Enhanced HomePlus Insurance cost?
MSIG Enhanced HomePlus is available in three tiers:
Standard: S$119.88 (includes 8% GST)
Superior: S$178.20 (includes 8% GST)
Ultimate: S$235.44 (includes 8% GST)
You may also opt for additional cover as follows:
Building: $4.32 per $10,000 sum insured (min $50,000)
Contents: $16.20 per $10,000 sum insured (Ultimate plan only)
Renovations: $4.32 per $10,000 sum insured (Ultimate plan only)
What promotions are there for MSIG Enhanced HomePlus Insurance?
Thinking of signing up for a plan? The following promotions are available, so don't miss your chance to save on your premiums.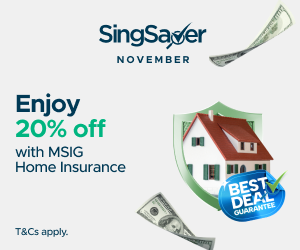 SingSaver Exclusive Promotion: Enjoy 20% off for MSIG Home Insurance when you purchase NOW! Valid till 30 Nov 2023. T&Cs apply.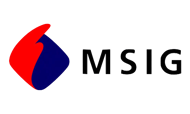 How to claim
Should you need to make a claim under your policy, you may do so via MSIG's website. You may choose to download and submit a claims form or request for a hardcopy form to be sent to you. For speedy claims, MSIG recommends you submit an online claim instead, which will enable FAST or PayNow claims payment.
Alternatively, you may contact MSIG via:
24/7 Home Emergency: +65 6337 6776
Customer Service: +65 6827 7602
SMS: +65 9158 1660
---
Protected up to specified limits by SDIC.
Note: This is only product information provided. You may wish to seek advice from a qualified adviser before buying the product. If you choose not to seek advice from a qualified adviser, you should consider whether the product is suitable for you. Buying an insurance product that are not suitable for you may impact your ability to finance your future healthcare needs.
If you decide that the policy is not suitable after purchasing the policy, you may terminate the policy in accordance with the free-look provision, if any, and the insurer may recover from you any expense incurred by the insurer in underwriting the policy.
---
Read these next:
Singlife Home Insurance (Review): Basic Home Protection That's Easy on the Wallet
AXA SmartHome Home Insurance (Review): Top-level Benefits For High-value Homes
Home Insurance Promotions And Discounts To Protect Your Home
HDB BTO, SBF Or Resale: Which Should You Pick?
8 Hacks To Improve Your HDB BTO Ballot Chances