Today, there are many ways to find cheap spectacles in Singapore without sacrificing quality.
Let's face it: Singapore has a myopia issue. With large numbers of adults (and a growing number of children) needing glasses, it has also become a monetary issue. A good pair of glasses in Singapore can set you back S$300 to S$400.
Fortunately, there's no longer a need to sacrifice quality to save money on spectacles.
How to Get Cheap Specs in Singapore
If you wear glasses, you know what it's like when you need a new pair, only to find that it will set you back by several hundred dollars. Here are some ways to deal with that, without having to wear taped-up frames to work:
The famous Uncle Tony at Peninsula Plaza

Buy your glasses online

Always have two pairs

Buy using a relevant credit card

See if you can claim it as a medical expense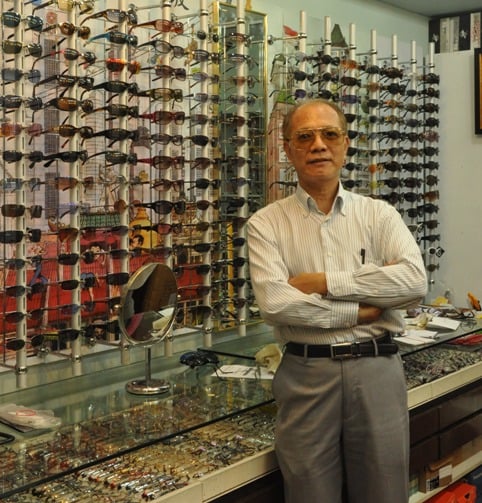 The Famous Uncle Tony at Peninsula Plaza
If you're not one of the spectacle-users who already know him, it's time to introduce you to Singapore's best known, low-cost optician: Uncle Tony Lim.
Look for New China Opticians, unit 01-11 at Peninsula Plaza shopping centre. This business has been in operation since the late 1920s (!) and was bought over by its current owner. Besides stocking vintage, branded frames, Uncle Tony also has his own brand (Tony Hardy), which is designed to fit asian faces.
What makes this store famous though, is that it's probably the last place in Singapore where you can get quality glasses made for under S$70. And that's within a wait time of 45 minutes to little over an hour. If you just broke your glasses and money's tight, then this is the place you want.
Buy Your Glasses Online
These days, you can buy spectacles online, from sites like Zenni Optical and Four Eyes.
What you need to do is get an eye test, to determine the kind of lenses that you need. Then fill in the details on their website, and use their virtual try-on feature (you upload a picture of your face, and then you can position the various glasses over it). With Four Eyes, you also get a free delivery and three frames to try on; if you don't like them, just send them back to the company.
Buying glasses online typically costs around S$100 to S$170, which is still cheaper than the average S$200 price tags in stores.
Always Have Two Pairs of Glasses
Make two pairs of glasses: a nice pair with stylish frames, that you can use out, and a "utility" pair. The utility pair doesn't need aesthetics, like high index lenses or a pricey frame.
Use the utility pair for activities like mountain biking, or when you're off on reservist training. This will ensure that you don't break the expensive pair from rough use.
At the same time, having two pairs can help your cash flow. If you break one, you won't make a dent in your bank account by immediately having to purchase another; just use your second pair until your next payday comes around.

Buy Using the Right Credit Card
Most glasses are in the S$200 range, and count as retail on your credit card spend. As such, do try to use a credit card that offers cash rebates for them. For instance, the American Express True Cashback Card offers 3% cashback on anything you buy for the first 6 months, with no cap on the rebate.
Alternatively, if you're saving up for a holiday overseas, use an air miles card to make your purchase count. The Citi PremierMiles Visa Signature Card gives you 1.2 miles for every S$1 spent in Singapore, and you get a 15,000-mile bonus if you spend any amount within the first 3 months of card ownership.
You can find a wide variety of credit cards for shopping on SingSaver.com.sg.
See If You Can Claim it as a Medical Expense
Check if your employer allows for medical expenses. If they do, eyeglasses may count as one of these. You could make a claim for buying them, and get a subsidy or even get them paid for outright.
While most insurance policies don't cover it, you might also want to enquire with your insurance agent. You might just be able to cover it with a claim.
Most People Can't See What Brand Your Specs Are
The biggest unnecessary cost, when it comes to glasses, is the frame. Remember though, that most people will never know the brand of the spectacles you wear. So pick out something you like, and ask the store if there is a generic or unbranded version that looks similar.
Read This Next:
Best Credit Cards for Online Shopping in Singapore