Investing is the new saving, they say. With so many options and so much information out there, where and how do people actually start if they want something safe yet fuss-free?
Investing is as crucial as saving when it comes to holistic financial planning. If you don't already know, investing is possibly the best step you can take to better your chances of growing your hard earned money over a reasonable time horizon.
Want to start investing but have no idea where to begin due to information overload in this crowded space? Don't fret. DBS digiPortfolio might just be the smart and easy solution you've been looking for to kickstart your investment journey. Leave it to the experts at DBS Investment Team and the bank's proprietary robo-technology. There's never been an easier way to start investing and get over your investing FOMO, really.
Intrigued? Read on to learn more about DBS digiPortfolio, what it has to offer and why you should seriously consider investing via this platform.
What is DBS digiPortfolio?
DBS digiPortfolio is a hassle-free, ready-made investment portfolio that lets you dip your toes into the investment waters starting with just S$1,000.
It offers two types of well-researched, specially-curated ETF portfolios at this time — Asia Portfolio and Global Portfolio. The former comprises SG-listed ETFs focused on Singapore, China and India. The latter comprises USD-denominated UK-listed ETFs with global exposure. Both portfolios offer a cost-effective way for you to grow and protect your money through diversification.
Now, get this. True to their mission to let anyone and everyone invest and grow their money easily, both the ETF portfolios are diversified and rebalanced quarterly to respond to economic changes. There's no need for you to deal with the chore of picking the right stocks or analysing the market!
Reasons why DBS digiPortfolio is worth your attention
#1 Ultra convenient
It's easy to start investing with a DBS digiPortfolio. After all, most Singaporeans and Singapore residents already have a DBS account. You can start investing with your familiar DBS digibank app. No need to download any new apps and remember new passwords. Simply invest using one of the Multi-Currency accounts offered by DBS, like the Multiplier account.
Then, all it takes is three steps to set up a DBS digiPortfolio account. Easy peasy.

Source: DBS
#2 Low barriers to entry
Investing isn't just reserved for the rich and the wealthy. In fact, anyone can start investing with DBS digiPortfolio with just S$1,000 or US$1,000, depending on the portfolio they choose.
In case you're curious, these ETF portfolios are managed by the DBS Investment Team with extensive experience managing bespoke portfolios for private banking clients. Thanks to DBS digiPortfolio's accessibility, you can join in the fun and gain access to a service previously only available to those who invested large sums.

#3 ETFs help you diversify risk
ETFs are a great choice if you want to invest, diversify and gain exposure to more businesses while keeping your fees low. For the uninitiated, diversification is one of the most important steps you can take to minimise risk while striving to reach your long-term financial goals.
With DBS digiPortfolio, you get to enjoy hassle-free diversification into the Asian and global markets. The best part? You don't have to worry about timing the market — start investing anytime you wish with as reasonable an amount as S$1,000!
Depending on your investment experience, risk appetite and preference, pick the portfolio that best suits your needs and risk profile. Also, invest in amounts that you're comfortable with.
You don't have to be 100% sure of your preferred risk profile from the start; you can sell your portfolio and buy another one with a different risk level without incurring switching fees. While two ETF portfolios (Asia Portfolio and Global Portfolio) are available for investing right now, who knows what the future holds? DBS might very well add more portfolios in the time to come!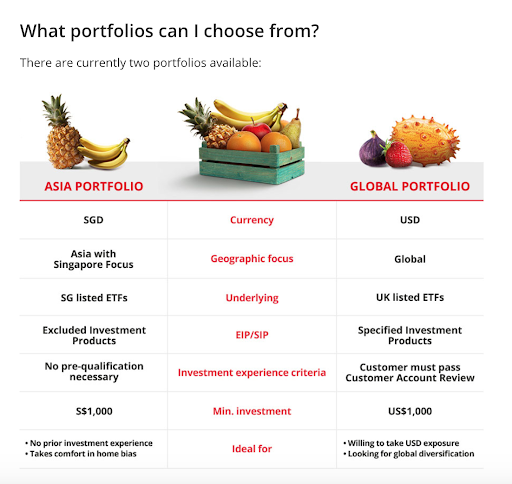 Source: DBS
#4 Perfect match of human expertise and robo-technology
While robo-advisors are all the rage these days, DBS digiPortfolio presents the best of both worlds: deep human investment expertise and smart technology solutions. It's their hybrid robo-and-human investment service that sets them apart.
The DBS Investment Team carefully curates, manages and monitors the ETF portfolios in a considered manner. For one, optimal asset allocation and portfolio resilience are top priorities. Where necessary, the team will also initiate rebalancing via the buying and/or selling of specific assets.
The bank's intelligent robo-technology ensures trades are done efficiently and at scale. It also plays a role in the automation of some parts of the portfolio management process, such as back-testing, rebalancing and monitoring, while granting investors full transparency of trade activities.
#5 No lock-in period
With DBS digiPortfolio, you have full control over your investments. You are free to withdraw your funds or even close your portfolio anytime you want without penalty — no questions asked. Your hard-earned money is never tied down with digiPortfolio.
#6 Multiply the interest earned on your savings
Not only does DBS digiPortfolio help you grow your money on the investment front, you can also look forward to multiplying the interest earned (up to 3% per annum) on your savings in your DBS Multiplier Account. What a way to save and invest!
Other things to know about DBS digiPortfolio
It is always a good idea to pay attention to nitty gritty details like fees and charges when you're shopping around for investment products. After all, these things can eat into your investment returns.
With DBS digiPortfolio, there are no sales charges, platform fees or switching fees that you need to bother about. There are zero charges when you purchase, transfer, top up or withdraw. The only fee you'll incur is the one small, flat management fee.
So, who is DBS digiPortfolio great for?
DBS digiPortfolio is great for new investors who want to take the guesswork out of investing and/or creating a diversified ETF portfolio across a range of geographies, industries and asset classes. It offers an easy way to start with an affordable entry point of S$1,000 for expertly-curated portfolios. It's reassuring to know that when you invest in digiPortfolio, you're investing directly with DBS — a reputable, trusted household name that we all are familiar with.
Savvy investors who want a way to park their idle cash and ensure it earns more than the normal saving account interest rates can consider investing in a digiPortfolio, too. After all, digiPortfolio is actively monitored and rebalanced in response to economic trends and market events, so there's no need to worry about 'timing the market'.

This article is written in partnership with DBS.
---
Disclaimers
For Multiplier: SGD deposits are insured up to S$75k by SDIC.
For overall article: The views and opinions expressed in this post are my own and do not reflect the position or views of DBS Bank Ltd. DBS Bank Ltd does not act as adviser and does not assume liability for the information and opinions provided in this discussion. Any view, opinion or recommendation expressed in this post does not take into account the specific investment objectives, financial situation or particular needs of any particular person. You should seek advice from a financial adviser regarding the suitability of any investment product, taking into account your specific investment objectives, financial situation or particular needs.
---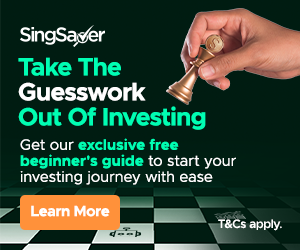 Start managing and saving money like a pro with SingSaver's weekly financial roundups! We dole out easy-to-follow money-saving tips, the latest financial trends and the hottest promotions every week, right into your inbox. This is one mailer you don't want to miss.
Sign up today to receive our exclusive free investing guide for beginners!
---
Read these next:
Loyal DBS/POSB Customers: Which Credit Card Should You Add To Your Wallet?
4 Reasons Why DBS Multiplier Is A Competitive Savings Account
Investing In Exchange Traded Funds (ETFs): A Newbie's Guide To Getting Started
Best US Exchange Traded Funds (ETFs) To Invest In
Best ETFs In Singapore For Tracking Stocks, Bonds And REITs