Looking for affordable sushi platters or want to have a fancy high tea sesh at home? We've got you covered. Here are the best food platter deliveries in Singapore, including discount hacks to help you save more money.
Home-cooked meals are no doubt the best show of sincerity to your guests, but if you've got an incoming party for a group of five or more (must be living in the same household), it's best to have party platters delivered.
Not only do you not have to clean up, but you and your guests can also simply sit back, savour good food and make your entire gathering a happy memory.
From pretty charcuterie boards to meat sliders and seafood buckets, here are the 10 Best Party Platter Delivery in Singapore to engage for your next party.
---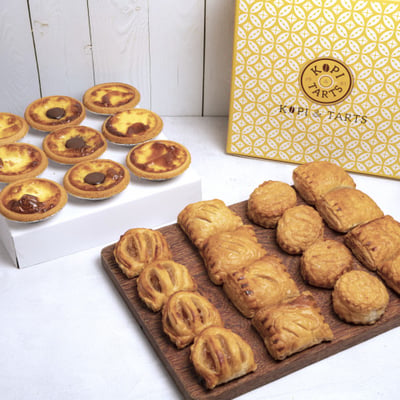 A modern recreation of traditionally nostalgic favourites, Kopi & Tarts offers platter boxes (from S$13.60) filled with a generous assortment of puffs, tarts and pastries. This humble bakery also promises next-day deliveries for impromptu tea parties and gatherings.
If you're pressed about finding something that pleases everyone, look no further. No try-blue Singaporean will ever complain about having a nice warm cup of kopi and delicious egg tarts for their tea break.
Delivery fee: S$12 islandwide delivery (Free delivery for orders above S$150)
Current offers: Get 10% off for orders worth S$300 and more
---
There's a common saying in the culinary world: You feast with your eyes and feed the soul.
At Marche Mövenpick, you can expect a course of spectacular dishes, most of which are largely inspired by western and continental fares. Marche Mövenpick stands out among the pack because of its stunning food presentation that will impress your guests.
Small groups can consider its Antipasti Platter (S$21.90) for a lovely share of cheeses and olives, or its Sausage Platter (S$27.90) for plump pieces of pork sausages paired with sides like mashed potatoes. The German platter (S$55.90), a quaint array of meat, is perfect for groups larger than two people.
Delivery fee: Approximately S$8
Current offers: Get free delivery for orders above S$200 with the code FREEDELIVERY | Get S$5 off your first order with code MARCHEONLINE
Save up for your next extravagant party by earning high interest rates on your savings with the Citi Interest Booster Account when you sign up for a Citi Plus Account.
---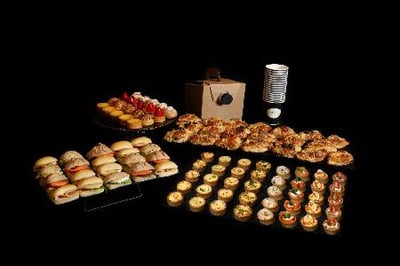 Did you know PAUL has been passed down through five generations, boasting over 130 years of history? Known for its passion for pastries and bread, PAUL specialises in baked teatime munchies that are very much likely to make your guests extremely happy.
Do considers its seasonal packages such as Ties That Bind (S$120), which promises an assortment of quiches, croissants, sandwiches and a french chocolate cake that will induce a celebratory mood.
They also have high tea sets and specially-curated party packs that can cater to a group as big as 24 people. Party packs have a price range starting from S$218 (Party Pack A - serves up to 12 people) to S$438 (Party Pack C - serves up to 24 people)
Delivery fee: Free island-wide delivery with a minimum order of S$100
---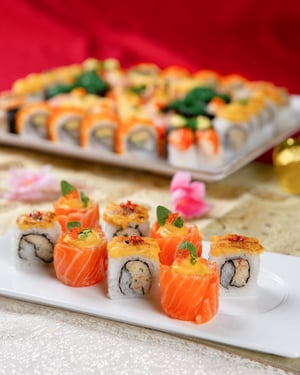 This ubiquitous sushi chain is reputed for its affordable yet fresh range of sushi platters. Its most popular platter, aptly coined the Simple Classic Platter (S$39.80), contains over 32 pieces of delectable sushi. In comparison, its Salmon Super Supreme Platter (S$69.80) promises a staggering array of 47 sushi pieces (with generous portions of meaty sashimi).
To enjoy the most savings, make sure to opt for their self-collection option at their retail outlet to have 20% off their party and mini platters. Subscribe to their mailing list to get an additional S$5 off your first online order.
Do note that an additional S$2 surcharge will apply to certain delivery areas, such as these spots with the following first two-digit postal code:
Robinson - 01, 04, 05, 06, 07, 08
Marina Square - 03, 17
Orchard - 22, 23
Bras Basah - 18, 19
Alps Ave - 49
Delivery fee: S$5.50 (Orders will have to meet the minimum threshold of S$30 to qualify for delivery)
Welcome Gift: Receive S$300 cash credit when you sign up and make a min. spend of S$1,000 for 2 consecutive months from card approval date. This promotion is only applicable to the first 100 new-to-UOB credit card members. Valid till 31 January 2023. T&Cs apply.
---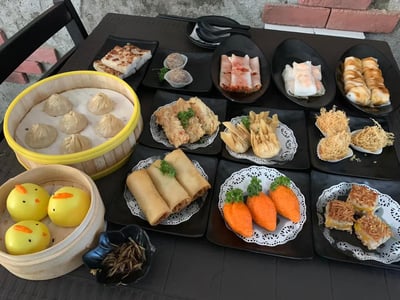 Dim sum is the exemplification of small yet wholesome bite-sized delights. Literally translated to mean "touch the heart", these small Chinese dishes are not just intended to sate one's appetite, but also to form a culinary relationship of appreciation with the soul.
For those looking to indulge in their own yum cha (the Cantonese tradition of brunch), the House of Dim Sum has everything you need.
For S$120.40, you can opt for Party Set A which comes with an abundance of long-established favourites like siew mai, carrot cakes and dumplings adequate for 8 to 10 fellow dim sum enthusiasts. This lavish set is also accompanied by a liberal dressing of chilli and mayo sauce.
Just make sure to prepare a freshly brewed pot of tea for the full yum cha experience!
Delivery fee: S$20 (Orders will have to meet the minimum threshold of S$40 or it will be subjected to a small order fee)
---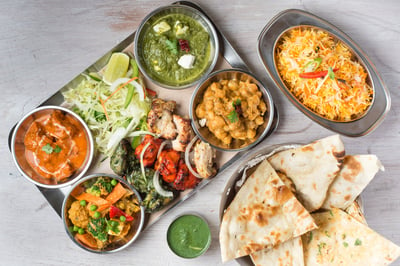 Authentic Indian fare with an added touch of convenience, Prata Wala represents the seamless blend of India's northern and southern cuisines. From tandoori platters and prata sets to biryanis and naans, this is the quintessential one-stop place for Indian food infused with exotic spices, herbs and vegetables.
For the complete experiential package, we highly recommend the Tandoori Platter (S$32.90 serves two and S$49.90 feeds four) that comes with savoury butter chicken, malai kebab, chicken tikka and much more.
Delivery fee: S$9.90 for sharing platters with a minimum order of S$80 (Do place orders two days or more in advance).
Get ahead of your finances with the Citi Plus Account — more than just a regular savings account!
---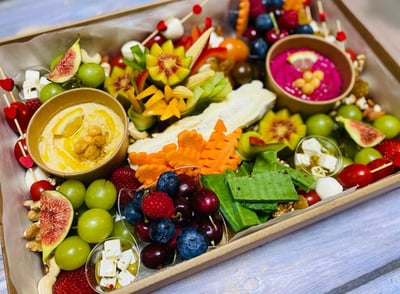 They say the best food are the ones made with love — Platter With Love understands this all too well, offering thoughtfully designed platters that cater to the client's palate and dietary requirements.
Here, you can expect sets that come with decadent servings of fruits, artisanal cheeses, vegetable fruits, assorted nuts and speciality dips that go well with stirring conversations. Starting from S$198, you can opt for a set that serves four to seven guests or pick up a larger set for a bigger group.
Delivery fee: S$15. Deliveries to the CBD area, Sentosa and Tuas will have an additional S$5 delivery fee.
---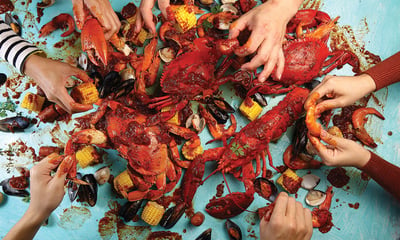 The sister company of Tung Lok group, a seafood veteran and connoisseur, Dancing Crab is a paradise of crab-inspired dishes and, of course, crab bundles! Be ready to get your hands dirty as you dig into their Baller Combo (S$444), which comes with a 1.2kg Dungeness crab, an 850g Boston lobster, two live crabs, and oodles of prawns, mussels and sausages. Truly a feast meant for foodie kings.
Those who feel that the portions are gratuitously excessive can consider their smaller-scale bundles such as Bundle Set A (S$169.90), which is prepared for smaller gatherings.
Delivery fee: S$5 for islandwide deliveries with a minimum order of S$50. Prices are inclusive of GST, so you do not have to worry about extra charges
---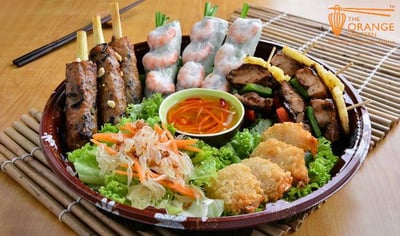 The Orange Lantern Restaurant is one of the few local establishments that successfully recreates the light and earthy flavours typically associated with Vietnamese cuisine.
A healthier alternative in this list, this humble restaurant best represents the cultural depth of Vietnam and its culinary traditions, such as the gratuitous use of herbs like lemongrass and rice papers.
Its Hanoi Platter (S$49.54) is especially recommended for those new to Vietnamese cuisine. It consists of staples such as rice paper rolls, meat sticks and mango salad.
Delivery fee: Ranges from free to S$9.90
---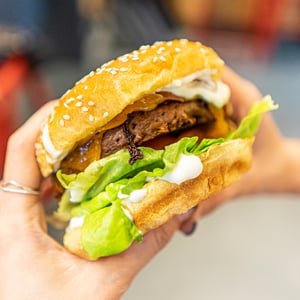 Nothing beats a burger that comes with a thick juicy patty, topped with an array of accompanying condiments. Due to its versatility, a burger can make a great impression and serve as a conversation starter amongst guests.
Wolf Burgers serves what it proclaims to be the "best burger bundles in Singapore", promising juicy sliders that are masterfully made with quality ingredients and no-frills cooking techniques.
Choose from four inventive burger flavours — original, truffle, salted egg yolk and spicy wasabi fish. Complement your slides with delicious beers for a good time amongst friends.
Delivery fee: S$5 through its delivery service. Wolf Burgers is also on GrabFood, Deliveroo and foodpanda.
Current offers: Get 20% cashback (in the form of loyalty points) on your next order
---
Read these next:
New Restaurants In Singapore You Can't Miss Dining At
1-for-1 Buffet Dining Promotions In Singapore
High Tea Promotions In Singapore
Dim Sum Promotions And Deals
Food Delivery Promo Codes: GrabFood, Deliveroo, Foodpanda, WhyQ