Here are the 13 Best Mookata Restaurants In Singapore 2022 ranging from buffets, 1m-long platters and super affordable mookatas starting from S$1.90 per plate.
The sizzling demand for thai barbeque steamboats has led to a boom in mookata eateries in Singapore.
Loosely translated from Thai as "pork" and "skillet", mookata is basically Thai barbecue originating from Northern Thailand.
Most often, mookata features a dome-shaped skillet with a ring of soup around the pan. You can cook your ingredients in the soup, and grill your meat and seafood on the dome itself.
Here are the 13 Best Mookata Restaurants In Singapore 2022 that'll teleport you to the Land of Smiles.
Want something other than mookata? Check these out:
1-for-1 Buffet Dining Promotions in Singapore
14 Best Japanese Buffets in Singapore
8 Cheap Korean BBQ Buffets In Singapore Starting At S$15
Bars & Restaurants That Offer Bottomless Alcohol (And Other Places You Should Check Out For Free-flow Liquid Buffets)
1. 888 Mookata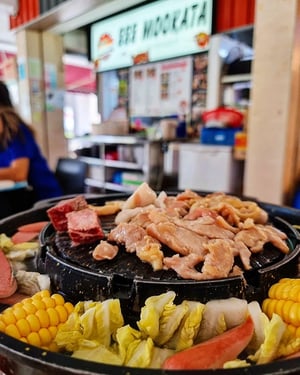 Opened by local celebrities Chew Chor Meng and Dennis Chew, 888 Mookata serves up authentic Thai mookata at affordable prices. They have four outlets islandwide in Bishan, Tampines, Changi and Hougang.
You can expect to find an array of marinated meats, greens, and instant noodles, as well as more premium offerings like wagyu beef and foie gras. Prices start from S$1.80 for a la carte items and $26 for sharing platters.
📍888 Mookata | Multiple locations
2. Phuket Town Mookata
Grab your friends and eat your fill with Phuket Town Mookata's speciality, Meat Mountains. Yes, that's right — Meat Mountains.
Take your pick from 1kg Mega Meat Mountain (S$39.90) which serves up to four people, or the Mini Meat Mountain (S$25.90) suitable for two people.
If Meat Mountains aren't up your alley, you can order from the ala carte menu which starts from S$0.60 per item. Must-try recommendations by netizens include their garlic pork collar, signature sauce pork belly, black pepper chicken and fresh seafood like prawns and crayfish.
As both locations (Ang Mo Kio and Woodlands) only open from 6pm, it is recommended that you come slightly earlier to queue. Reservations are not accepted, seats fill up fast and they're closed on Tuesdays.
📍Phuket Town Mookata | Multiple locations
3. Siam Square Mookata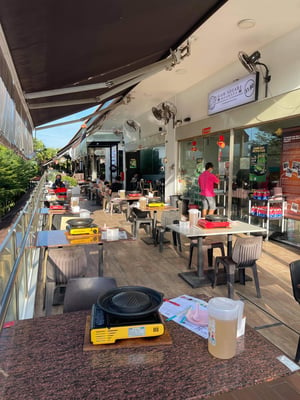 Siam Square Mookata is Singapore's pioneer's mookata, with a whopping total of 14 outlets islandwide.
With affordability being one of their main focuses, Siam Square Mookata's dishes are very reasonably priced between S$1.80 to S$2.80 per item, with buffets available at S$29.90 per person.
Another thing they pride themselves on is their Secret Recipe Chilli Sauce, which comes in three levels of spiciness.
Siam Square Mookata also provides mookata delivery, which is free for orders S$100 and above. If you don't hit the minimum spending, there is a delivery charge of S$10.
You can choose between two sets if you opt for mookata delivery — S$58 per set (two to four pax) and S$88 per set (six to eight pax). The food items include pork belly, sliced pork, chicken, liver, prawn, clams, fish ball, crab meat, egg tofu, Chinese cabbage, xiao baicai, golden mushroom, egg, vermicelli and instant noodles.
Each delivery set includes a mookata pot, mookata stove, soup and four types of chilli. The Pot and stove will be collected at the end of the meal.
📍Siam Square Mookata | Multiple locations
4. Y Cube Mookata Buffet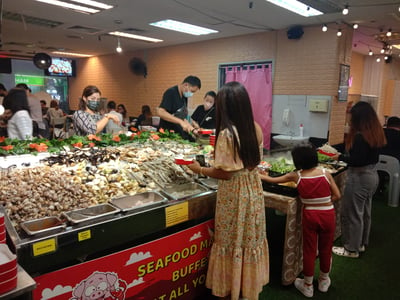 Located in Golden Mile, Y Cube Mookata Buffet is a popular place for late-night gatherings as it opens until 6am daily.
Priced at only S$29.90 per adult on weekdays and S$32.90 on weekends, you'll be spoilt for choice with a huge variety of seafood and meat available such as crabs, crayfish, prawns, shellfish, salmon, and oysters.
There is also cooked food, desserts, condiments, free flow of drinks (including Thai milk tea) and ice cream.
📍Y Cube Mookata Buffet | 5001 Beach Road, Golden Mile Complex #02-45, Singapore 199588
5. New Udon Mookata Thai Food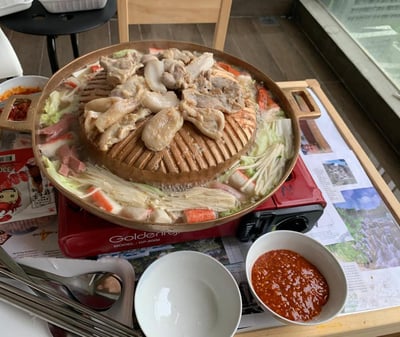 Established in 2007, New Udon Mookata Thai Food is one of the oldest and most popular eateries in Golden Mile Complex.
If you are craving mookata at night, this is the place to go. The restaurant is open 24 hours and serves platters starting from S$45 which includes a variety of seafood, meats and vegetables.
They also recently opened a new branch at 27 Foch Road (Bendemeer), and they're having a grand opening promotion — get 10% off your total bill when you order after 11.30pm.
📍New Udon Mookata Thai Food | Multiple locations
6. Cheese Story Mookata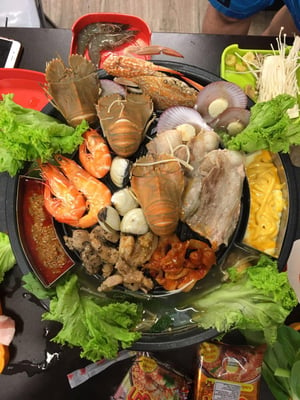 Priced at S$15.90 for kids and S$29.90 for adults from Mondays to Thursdays, Cheese Story Mookata is our ultimate choice if you have cheese cravings to go along with your meal.
You'll get unlimited access to salmon, crayfish, oysters, tiger prawns, scallops, mussels, clams, flower crabs, fish, squid, a range of marinated meat, vegetables, instant noodles and more. Best of all, this mookata buffet also includes free-flow drinks like Thai milk tea, cheese dipping and ice cream for that sweet ending.
Do note that prices go up by S$3 on Fridays to Sundays.
📍Cheese Story Mookata | Multiple locations
7. Mookata @ Yishun ORTO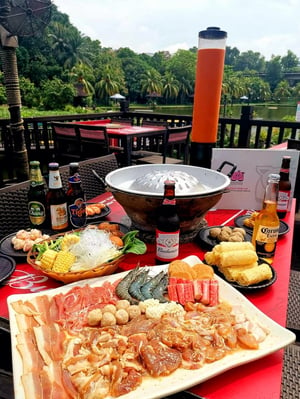 Picture juicy marinated meat sizzling away on the grill, fats and oils dripping onto the binchotan (charcoal), and bubbling away is a pool of full-bodied and tasty pork broth.
If this sounds good to you, you need to try out the buffet at Mookata @ Yishun ORTO. This place is a combination of two concepts — mookata and steamboat. Feast all you can on unlimited beef ribeye steak, lamb chop and seafood for just S$29.90 per person.
📍Mookata | Multiple locations
8. Thai Hao Chi Mookata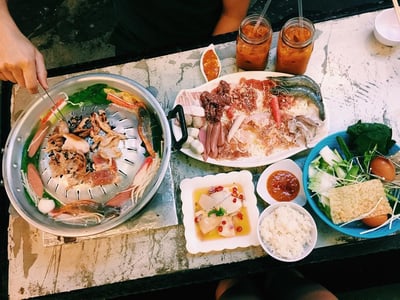 Thai Hao Chi Mookata, located at Upper Thomson Road, prides itself on being one of the few charcoal-grilled mookatas in Singapore, starting from S$39.90 for a set which serves three to four people.
The generous platter includes chicken, pork belly, prawns, squids, fishball, meatball, sausage, liver and vegetables. Thai Hao Chi also offers MSG-free soup bases, which won't leave your throat dry and extremely thirsty after a meal.
Highly-raved items you need to try include their bak kwa and sliced abalone appetisers. Also, do remember to make reservations before coming down as this place is pretty popular.
📍Thai Hao Chi Mookata | 908 Upper Thomson Rd, Singapore 787111
9. 555 Thai Villa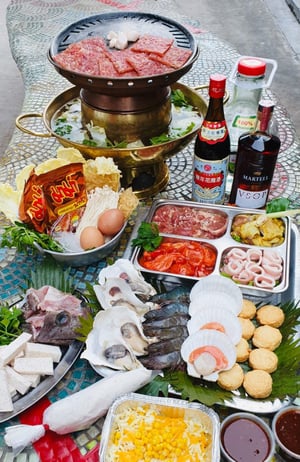 555 Thai Villa whisks you away from the hustle and bustle of the city where you can enjoy mookata while watching planes land and take off from Changi Airport's runway.
Located in a secluded part of Changi, 555 Thai Villa is best reached by driving. But trust us, it's worth the trip. With tables set up in a non-air-conditioned outdoor environment, you'll feel like you're in the Land of Smiles. They also have a stage for their live band, which performs a mix of Chinese, Hokkien, Cantonese, English and Thai songs on Saturdays and Sundays. And no, you can talk while they're performing and you don't have to clap.
Food-wise, 555 Thai Villa serves up a UFO Pot Set priced at S$59.90 for two people which includes a melody of seafood and marinated meat. They also offer ala carte menus, which can be slightly on the pricier side. However, we still think it's worth it due to the ambience.
📍555 Thai Villa | 30 Cosford Rd, Singapore 499550
10. Bangkok Street Mookata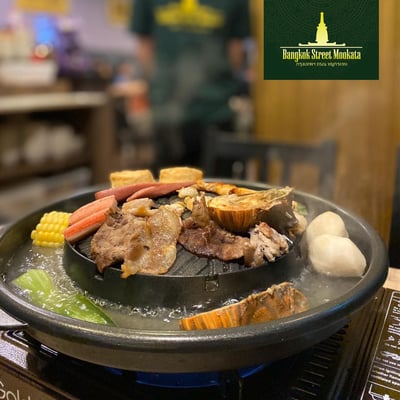 For a fuss-free, budget mookata dining experience, go to Bangkok Street Mookata.
Located in 10 estates islandwide including Ang Mo Kio, Bedok, Jurong, Punggol, Sembawang, Toa Payoh, Upper Thomson and Woodlands, there is sure to be a branch that's accessible to you.
You can choose between set platters (S$22 for two or S$39 for four) or order a la carte, which starts at S$1.90 per portion. Also, there's no GST or service charge, so the prices you see on the menu are what you pay.
📍Bangkok Street Mookata | Multiple locations
11. 2211 Mookata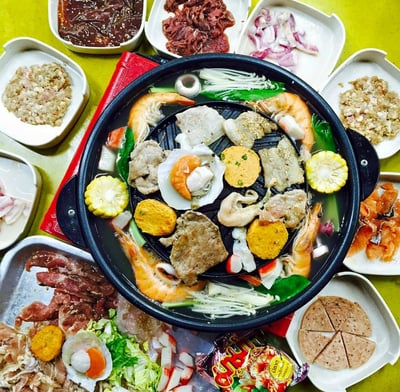 Open until 2am daily, 2211 Mookata located in Jurong West is the place to go for a generous selection of meat and seafood at pocket-friendly prices starting from S$1.90 per plate.
They've been praised on Google reviews for their affordability, chilli sauce and Tom Yum Soup Base (S$3), and it's an extremely popular supper spot with NTU students.
📍2211 Mookata | 907 Jurong West Street 91, Singapore 640907
12. Kin Tub Thai Mookata BBQ Steamboat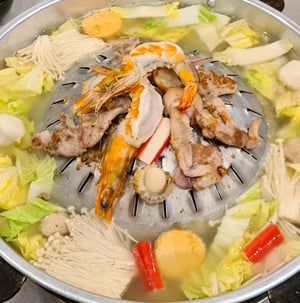 This authentic Thai steamboat and mookata place in Singapore uses charcoal to grill your food. Take your pick between three platters — the standard platter which consists of a combination of meat and seafood, a meat-only platter or a seafood-only platter. Vegetables are served on the side for all platters. Each set costs S$44.90 for two people, and S$69.90 for three people.
Located opposite Fullerton Hotel, Kin Tub Thai Mookata BBQ Steamboat is a convenient place to chill with your group, more so if everyone stays at different corners of Singapore. Besides getting magnificent views while dining next to the Singapore River, you might also get a chance to witness fireworks especially when you dine during the National Day period.
📍Kin Tub Thai Mookata BBQ Steamboat | 51 Boat Quay, Singapore 049840
13. Happy Pot Mookata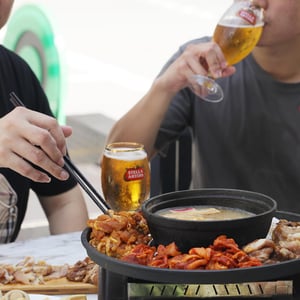 Nearly every Singaporean gets triggered by the word "one metre", no thanks to COVID-19's social distancing rules. However, Happy Pot takes that dreaded word and spins it into something that's joyful — 1m-long mookata platters.
Priced at S$29.90, Happy Pot's mookata platter contains various varieties of meat and seafood which is designed to feed around three to four people. To make the meal even more exquisite, Happy Pot serves a tonkatsu-style broth, unlike the regular plain soup you'd normally find at most mookata places.
📍Happy Pot Mookata | 18 Raffles Quay, Lau Pa Sat Festival Market, 048582
---
Looking to go crazy at a mookata with your friends? Charge your bill to these credit cards and earn rewards/cashback/miles!