Want to learn how to cook delicious food at home? These popular cooking courses will equip you with the expertise and confidence to produce your own culinary creations.
Singapore is known for its tasty and diverse culinary offerings across its hawker centres and restaurants. But if you've had enough of eating out and are looking to whip up your own gourmet feast at home, it's also home to many established cooking schools that can point you in the right direction.
Whether you're looking for recipes and inspiration, or to master the basics, these cooking classes will have you covered.
Halal cooking classes
Halal cooking classes provide knowledge and skills on preparing halal signature dishes permissible for the Islamic diet and food guidelines. In these classes, experienced instructors will impart knowledge and skills on halal food preparations.
It doesn't matter if you are a beginner, intermediate, or advanced cook. Halal cooking classes can cater to their students' levels of knowledge.
Chef Tales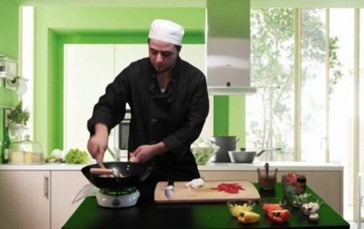 Address: 390 Victoria Street, Golden Landmark Shopping Centre, Singapore 188061
Phone Number: 8226 4700, 9824 1850 (corporate enquiries only)
Chef Tales provides different kinds of halal cooking classes depending on your objective and budget. These include demonstration, hands-on, workshop, and team bonding classes.
Demonstration classes are great for those looking for a wallet-friendly price point, yet with detailed breakdowns of each dish and lesson notes. Meanwhile hands-on classes allow intermediate and advanced cooks to immediately apply what is taught to their own cooking. Workshop and team bonding classes are suitable for cooks of any skill level.
Cooking workshops
Cooking workshops allow students to benefit from learning about the cooking principles behind certain dishes, as well as get hands-on experience in the kitchen. After soaking in the facts in class, students then go through the workshop experience to consolidate what they've just learned and see how it works in practice.
Cookery Magic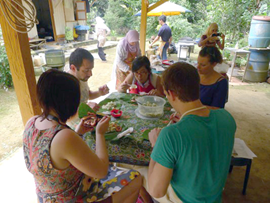 Address: 17 Fidelio St, Singapore 458407
Phone Number: 9665 6831
Cookery Magic is a great place to experience such workshops. It starts participants off with the basics of cooking before showing them how to master the skills needed to take their dishes to the next level, and to implement their learning through hands-on cooking experience. The best part is, you will also learn about the nutritional value of each dish. You're bound to be able to produce a delicious and wholesome meal for your family and friends after attending its classes.
Cooking studios
Cooking studios prioritise guided hands-on experience and are suitable for learners of all proficiencies and backgrounds, hosting everyone from cooking beginners to professional chefs. They are usually well equipped with top-of-the-line appliances, including ovens, stoves, fridges and work benches.
This format of cooking class usually features a wide range of recipes and cuisines. Furthermore, the cooking studio is also often used as a showroom of sorts for the delicious dishes and food products that the studio specialises in.
ABC Cooking Studio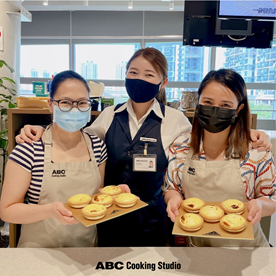 Address:
391A Orchard Road #03-12 Takashimaya S.C., Singapore 238873
3 Gateway Drive #03-01, Westgate, Singapore 608532
107 North Bridge Road #02-29, Funan, Singapore 179105
Phone Number:
6694 6259 (Takashimaya Studio)
6254 2569 (Westgate Studio)
6970 1400 (Funan Studio)
ABC Cooking Studio, for example, features small-group classes capped at four participants so that instructors can give focused attention to participants. Its class types span the baking of bread and cakes, cooking of Japanese and international cuisine, the preparation of wagashi (traditional Japanese sweets), as well as children's lessons. It also offers online cooking lessons.
Cooking classes for beginners
With the right cooking classes, even seemingly complicated fare can be within reach for cooking novices. These cooking classes are ideal for those just starting out on their culinary journeys.
Brettschneider's Baking & Cooking School
Address: 1 Greendale Ave, Singapore 289495
Phone Number: 6463 5508
Brettschneider's Baking & Cooking School is founded by Dean Brettschneider, who is also behind such local F&B favourites as Baker & Cook, Plank Sourdough Pizza and Mo & Jo Sourdough Burgers. Suffice to say that the school is backed by a highly experienced team of pastry chefs, cooks and baristas. Its cooking classes are classified as Easy, Moderate and Advanced, so beginners can comfortably ease themselves into picking up new skills.
Food Playground
Address: 24A Sago Street, Singapore 059020
Phone Number: 9452 3669
Food Playground offers a range of fascinating beginner-friendly experiences, which open up the kitchen as a literal 'playground' where even cooking novices can get familiar and playful with ingredients. We recommend its Cultural Cooking Class, which introduces participants to spices and ingredients commonly used in Singapore, and teaches them how to cook local staples such as laksa and nasi lemak.
Cooking classes for everyday meals
Sometimes you just want to learn how to cook dishes that you can eat every day – whether it be comfort food that you'll never tire of, or simple meals that you can whip up in a flash after knocking off from work.
Hungry Mummies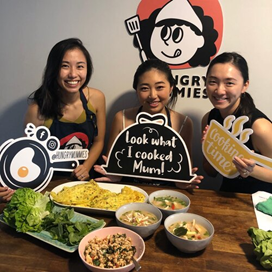 Address: 58 Telok Blangah Heights, Singapore 100058
Phone Number: 9743 7685
If this sounds like you, Hungry Mummies offers small-group and private customised cooking classes that specialise in cooking family- and budget-friendly dishes. Classes will equip you with the know-how to put a balanced meal on the table, or to produce familiar homely classics. These practical classes also share tips for doing food prep ahead of time, so you'll be able to apply your learning even in the midst of a busy schedule.
Cooking classes for couples
Such classes put a novel spin on date night, allowing couples to learn and work together to prepare and execute their meals. Not only will they be leaving with shared memories, but also with shared skill-sets that they can continue to build on long after class is over.
Palate Sensations Culinary School

Address: 10 Biopolis Road, Chromos, #01-03, Singapore 138670
Phone Number: 6478 9746
Palate Sensations Culinary School offers lessons that you can attend with your significant other; its 'Cooking With Friends' series encourages you to bring your loved ones along to prepare a feast which you can then enjoy together. Look out for special classes such as its Valentine's Day course on chocolate truffles – they're sure to make for memorable and romantic experiences, and you won't have to spend extra on sweet treats!
---
Need financing to achieve your personal goals, such as enrolling in a cooking class to hone your culinary skills? Well, look no further. Check out our comparison of personal loans to get the best repayment terms and low-interest deals!
Read these next:
1-for-1 Buffet Dining Promotions In Singapore (March 2022)
Tingkat Delivery In Singapore: Home-Cooked Meals Delivered To Your Doorstep
Dim Sum Promotions And Deals (March 2022)
Money-Saving Food Hacks For The 'Scrooge' In You
The Real Cost Of Eating Healthy In Singapore