Best and worst performing REITs in 2021
3 best performing Singapore REITs in 2021
ARA LOGOS Logistics Trust (ALOG) tops the list with high returns that can be attributed to new acquisitions in Australia, a total portfolio occupancy rate of 99%, a long weighted average lease expiry (WALE) of 4.4 years, and having secured leases. Pandemic-related restrictions in the REIT's key markets have also fuelled demand for its industrial spaces.
First REIT has also performed well, thanks to its new 2.0 growth strategy that led to a corporate restructure and foray into a new market with the acquisition of 12 nursing homes in Japan.
Meanwhile, Starhill Global REIT saw an increase in net property income and gross revenues, which were largely due to lower rental rebates and assistance across its properties in Singapore, Australia and Malaysia.
3 worst performing Singapore REITs in 2021
Dasin Retail Trust remains the worst performing Singapore REIT in 2021 and holds significant liabilities that have affected its performance.
Frasers Hospitality Trust's results are unsurprising, given the slow recovery of the hospitality segment due to disruptions in the tourism and aviation industries. However, with global economies picking up and travel resuming, this could soon change for the better.
Originally a retail REIT, CapitaLand China Trust has since pivoted into the commercial and industrial sector with its acquisition of four logistics assets and five business park properties in China. Its underperformance is likely due to the lingering effects of COVID-19 on its retail properties, which has affected occupancy and gross revenue.
Outlook for Singapore REITs in 2022 and beyond
One of the key risks for Singapore REITs in 2022 is the uncertainty over US Fed interest rate hikes. For asset-heavy REITs, increased interest rates mean having to refinance and borrow at higher costs.
However, it's not all doom and gloom for Singapore REITs. Armed with a low average gearing ratio of 37.2%, S-REITs have a better chance of prevailing against interest rate hikes.
Opportunities are also present in sectors such as healthcare and industrial REITs that have turned their focus to new economy assets. These plays look set to continue, as mega-trends such as digitalisation, e-commerce and supply chain resilience continue to drive demand for data centres, logistic warehouses and high specification facilities.
Here are some Singapore REITs to look out for in 2022:
Digital Core Reit: This pure data centre REIT was Singapore's largest IPO in 2021. Listing at US$0.88, its share price is now worth US$1.13 (as of 17 February 2022) and its potential for growth remains high.
Ascott Residence Trust: This hospitality REIT has pivoted to new segments by acquiring purpose-built student accommodation (PBSA) in the US and rental housing properties in Japan, potentially catering to demand for student housing as education institutions open up once again.
ESR-REIT and ARA LOGOS Logistics Trust: A proposed merger between these two REITs is expected to be completed in 2022. When that happens, the new combined entity – ESR-Logos REIT – will be focusing on new economic sectors.
How to buy REITs in Singapore
The most direct way of investing in Singapore REITs is to purchase it on the SGX. It is similar to buying stocks and you will need a brokerage account and CDP account to do so.
If you prefer a more diversified approach, you can also consider investing in a REIT Exchange Traded Fund (ETF), which can be purchased directly from SGX, or invest in a REIT portfolio through certain robo-advisors.
Whichever way you choose, make sure you do your research and purchase a REIT only when it matches your investment objectives!
---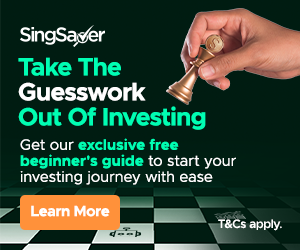 Start managing and saving money like a pro with SingSaver's weekly financial roundups! We dole out easy-to-follow money-saving tips, the latest financial trends and the hottest promotions every week, right into your inbox. This is one mailer you don't want to miss.
Sign up today to receive our exclusive free investing guide for beginners!
---
Read these next:
Best ETFs In Singapore For Tracking Stocks, Bonds And REITs
Best US Exchange Traded Funds (ETFs) To Invest In (2021)
DBS, SIA & Sheng Siong: Beginner's Guide To Blue Chip Stocks In Singapore
How To Build A Multi-Asset Portfolio Even In Your 20s
What ETFs Are And Why Warren Buffett Advocates Them