Because the concept of a single central region is changing, Singaporeans shouldn't overspend on an HDB flat in central Singapore.
It seems Singaporeans will pay almost any price for a flat in a central region. In fact, it's now sparked debate on fairness. Anyone who lands a Built to Order (BTO) flat in an area like Bidadari has basically won the lottery.
But are central region flats really worth overspending on?

HDB Living in Central Singapore
Most BTO flats are far from the Central Business District (CBD), so flats in these areas command a premium. Not only are they within range of many amenities, they are assumed to command higher prices upon resale, as well as better rental income.
Indeed, it's expected that Cash Over Valuation (COV) will be high for central region flats. A common example is Pinnacle @ Duxton: five-room flats in this development sold for around S$430,000 when it was launched. Just last September, one of the flats sold for the stunning price of S$1,120,000 - the highest ever paid for an HDB flat.
A brief check on local property portals show that resale flats along Queen Street now have an asking price of around S$680,000 for a four-room flat, and even three-room flats along Waterloo Street are in the S$460,000 to S$500,000 mark. These prices are far in excess of BTO flats in more "fringe" areas, in which a four-room flat (before subsidies) can be had for just around S$350,000.
See Also: How Much Do You Need to Buy Your First Flat in Singapore?
We understand that many Singaporeans want the convenience of central region living. However there are some signs that we may be overestimating potential returns, and thus overspending on these flats:
The concept of a single central region is changing

Million dollar flats are exceptions, not the norm

Home buyers should not act like investors

Because of potential gains, the prices of BTO flats can be justified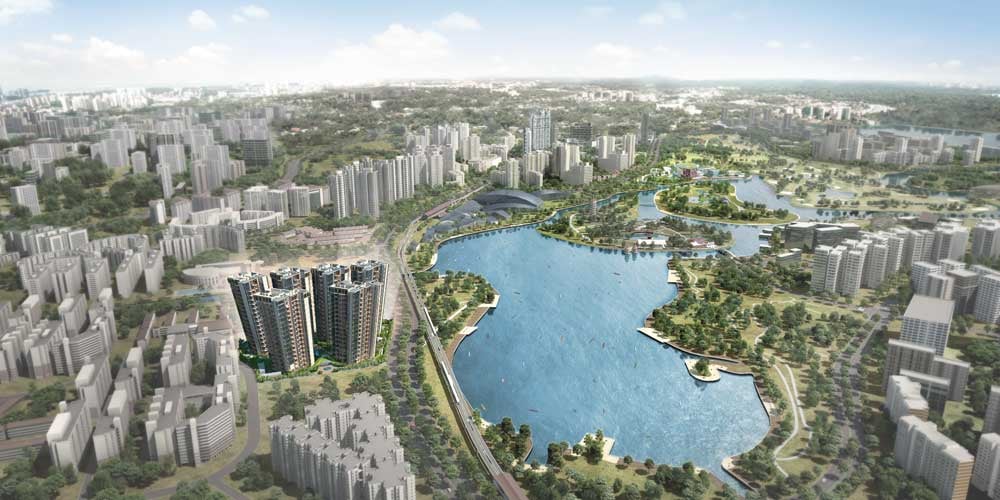 1. Concept of a Single Central Region is Changing
As we can see from the Urban Redevelopment Authority's (URA) master plan, the concept of having a single Central Business District is changing. Several areas of Singapore - most notably the Jurong Gateway project - are being redeveloped into different hubs. In the east, for example Paya Lebar is slated to become another business hub this year.
URA's master plan seems to have divided Singapore in a series of separate "enclaves", all of which have their own "centre". In two or three decades (about the time when the flat is paid off), it may be no big deal that a flat is located in Tanjong Pagar or near Tanglin. While it's unlikely that there will be no value to such a location, there's every chance that the value of "central region" will be greatly diminished.
2. Million-Dollar Flats are Exceptions, Not the Norm
Every time there is a million dollar flat, it makes it into the news. Many of these flats are, unsurprisingly, in a central region (although there are exceptions). This may be giving Singaporeans the impression that these outliers - some of which have COVs of well over S$190,000 - are to be expected.
The facts is, million dollar flats are the result of buyers who often don't expect returns. Many million dollar flat buyers do so in the full knowledge that they are probably overpaying, and will be lucky to break even if they sell. They don't mind because they are acting as homeowners, not property investors. They treat the flat as a place to live, not as an investment decision.
These million dollar flats are rare, which is why they make it into the news in the first place. Most people will not be able to sell their flat for this price, no matter how central it is.
Anyone who thinks otherwise, and blows large amounts of cash for a high COV flat, is probably lavishing money on a pipe dream.

3. Home Buyers Should Not Act Like Investors
The desire for central region flats is such that, even among Singaporeans who work in the far west or east, we often see attempts to ballot (or buy resale) for flats in the central region. At that point, it is no longer a matter of convenience but calculation. Ask why they'd want a want a flat in Tanjong Pagar when their workplace is in Clementi, and the reason is "value".
But home buyers shouldn't be acting like property investors. For starters, they should not be thinking of their flat as their sole plan for a retirement fund - there is no guarantee that property prices will appreciate better than any other assets.
4. Because of Potential Gains, the Prices of BTO Flats Can Be Justified
If you want to buy a resale flat in a central region, think carefully about the prospect of capital gains. It is likely that, because such flats are highly valued, you will be buying at a steep price.
BTO flats on the outskirts, on the other hand, come with a much lower initial price tag. This leaves significant room for appreciation.
For example, consider that flats in the Jurong area (before the the Jurong Gateway project went into full swing) were once considered a backwater. Back in the late '90s, new flats in the Jurong area cost about a third less than flats closer to the Central Business District. However, the buyers who moved in then would have seen significant gains, after the rise of Jurong as a new hub.
This same potential is lacking in flats near the central region, as they are already at a peak. The area around them is not likely to become more developed, so there is less room for capital gains upon resale.
Home Buyers Shouldn't Get Caught Up in the Hype
A central region flat is nice if you can get one. But there's no need to stretch your finances to the maximum limit, on the pretext that your property "will pay for itself". 25 years is a long time to wait before seeing any returns, and a lot can happen in that time.
Read This Next:
Know Your CPF Withdrawal Limit Before It Wrecks Your Mortgage