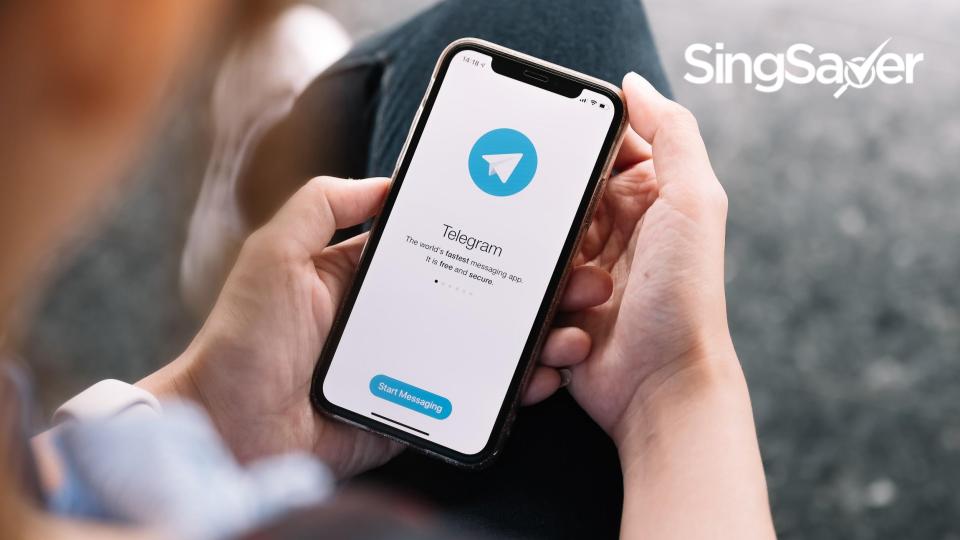 When it comes to finding the best deals out there, Telegram is a great place to look. Here are the top 10 Telegram channels every young adult should follow for the latest happenings and promotions in Singapore.
If you're a millennial (or one at heart), you would've definitely heard of Telegram. For the uninitiated, Telegram is like WhatsApp, sans the boomer-style #goodmorning texts from your older relatives.
Besides, Telegram is more than just a messaging app — it is also a community. It can allow you to connect with and learn from others about great ways to save money in Singapore and beyond.
But how do you know which Telegram channels you should be a part of? Here, we walk through the top 10 groups that you join to gain valuable insight into the latest deals, date ideas, food promotions and more.
---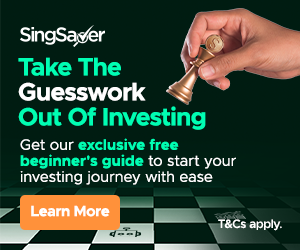 Start managing and saving money like a pro with SingSaver's weekly financial roundups! We dole out easy-to-follow money-saving tips, the latest financial trends and the hottest promotions every week, right into your inbox. This is one mailer you don't want to miss.
Sign up today to receive our exclusive free investing guide for beginners!
---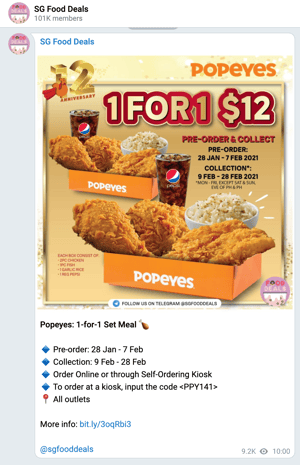 You shouldn't have to choose between saving money and eating good food. With SG Food Deals, you can discover ways to save money while enjoying your 98342th cup of bubble tea of the month (just joking, it's unhealthy). With a plethora of food promos ranging from 1-for-1 deals at Manhattan Fish Market to credit card dining deals, you'll no longer have to pay full price for food and drinks!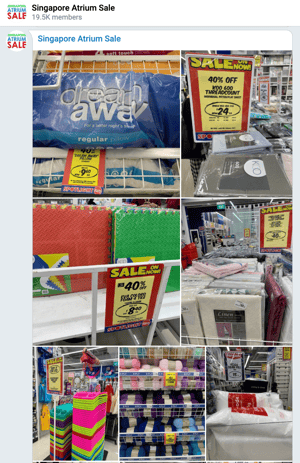 For a community of sharing deals and bargains you find across the island, check out Singapore Atrium Sale. Passionate contributors submit opportunities for savings that others may want to hear about, and trust us, they're fast.
So whether you are into supermarket shopping, fashion or even toys, Singapore Atrium Sale is where you'll get first dibs on the latest deals and openings in town.
Tip: If you're gonna go on a spending spree soon, make it count by using a credit card that rewards you with miles and cashback.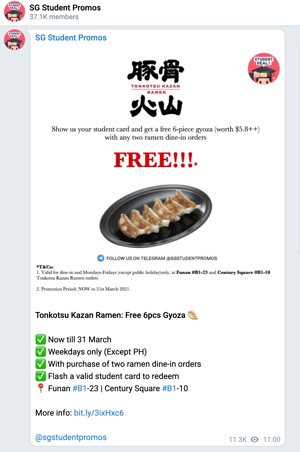 As long as you look young enough to pass off as a student, feel free to milk your student card to the max (don't say you heard it from us though). At SG Student Promo, you can find all sorts of fantastic deals from F&B offerings to shopping sales and any other perks only students can get access to. Just remember to keep your student card in your wallet at all times!
By the way, being a student doesn't mean you should only use a debit card. You can also apply for credit cards specially tailored to students that can earn you miles and cashback.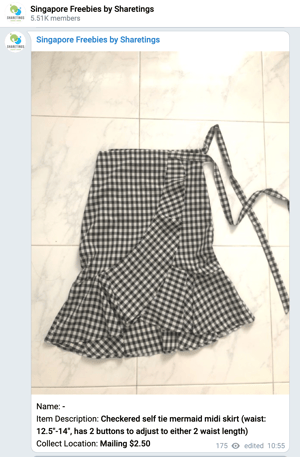 This channel was created with one goal in mind: to reduce waste.
You can give away your pre-loved items or scroll through the listings to find something that you can give a new lease of life to. Some items we spotted in the group include clothes, books, art work, food and even contact lenses. All you need to do is pay for postage!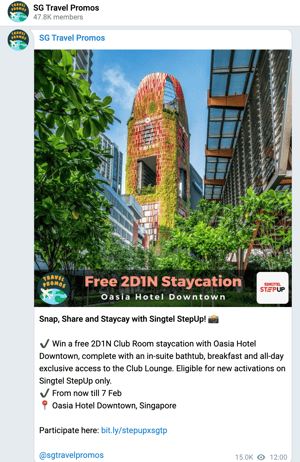 SG Travel Promos used to be the place to go to for good deals on flights and overseas hotels. But no thanks to COVID-19, their posts have pivoted to local staycation promos and SingapoRediscovers package deals.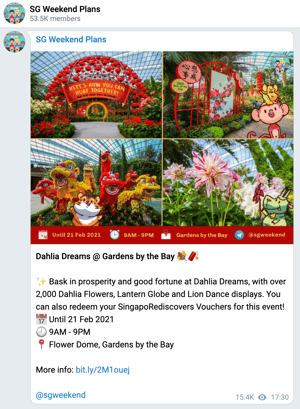 Hate wasting your weekends lazing around at home? Simply scroll through SG Weekend Plans for all the latest interesting and popular happenings in Singapore. As the channel is frequently updated, you're sure to find something new to do every weekend!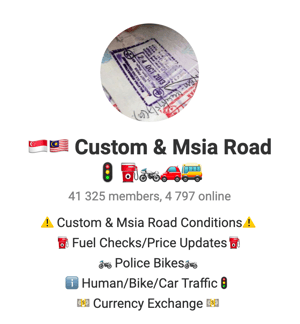 During pre-COVID times, this group was widely-used among Singaporeans heading to and returning from Johor Bahru. This informative channel is essentially a huge group chat for motorists to get real-time information about the traffic jam, frequency of fuel gauge checks, currency exchange and police checkpoints.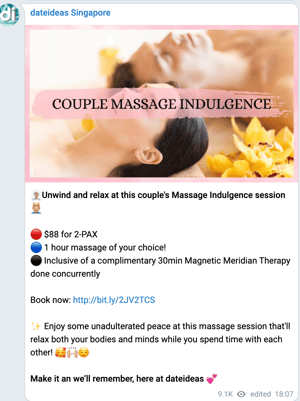 Whoever says there's nothing to do with their partner in Singapore is obviously not following this channel. Date Ideas Singapore is full of, well, date ideas about places and activities you can do with bae such as paper quilling workshops, dance classes and spa sessions.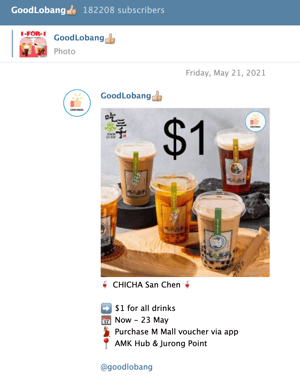 If you're confused by all the groups, just follow GoodLobang. This Telegram channel basically consolidates almost every ongoing deal in Singapore.
With a single scroll, you can get unprecedented access to every single promo code, staycation, attraction, F&B, beauty deals and more that will give you the best bang for your buck.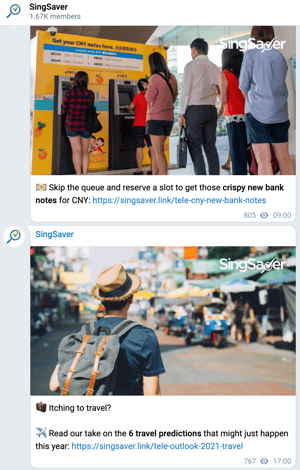 Yup, we have a Telegram channel.
Besides delivering the latest financial news to you, we also make personal finance accessible with easy-to-understand articles, tools and money hacks that simplify all of life's financial decisions for you.
About to sign up for a financial product? Why not get rewarded while doing so? Follow us for the latest and best perks, such as a free Apple AirPods Pro worth $379 or S$300 cash when you sign up for the Standard Chartered Unlimited Credit Card (valid till 5 Feb 2021).
Read these next:
Best Student Credit Cards in Singapore (2021)
Sightseeing, Staycations, Activities: How To Spend Your $100 SingapoRediscovers Vouchers
Staycation Hacks: 7 Ways To Save On Your Next Local Getaway
Sentosa Island: Entrance Fee And Parking Rates
SingapoRediscovers Vouchers: Spend Your $100 On These Hotels, Ranked By Star Ratings