When it comes to finding the best deals out there, Instagram is the next best place to look besides Telegram. Here are the top 8 Instagram accounts to follow for the best discounts and deals in Singapore.
Instagram is more than just a platform for influencers, ASMR videos, and that friend who constantly posts selfies (but hey, we're not judging).
It's also home to a community of local bargain-hunting accounts, ranging from deals to promo codes and freebies.
You may already be following a bunch of Telegram channels that have the latest deals, date ideas, food promotions and more, but let's face it — you'd usually put the channels on mute due to the excessive spam as there are promotions going on every single day in Singapore (and therefore missing out on deals that you truly are interested in).
Following such accounts on Instagram may be a better idea in that case, because having deals pop up in your feed as you are browsing may help you better keep an eye on flash deals and limited-time promos.
Without further ado, here are eight Instagram accounts to follow for awesome promotions anytime in Singapore. You can thank us later.
Obviously, we'll get the best one out of the way first. SingSaver's Instagram page is jam-packed with money saving tips, advice, credit card promos, relatable personal finance memes and more. Want to get a free Apple Watch SE or a few hundred dollars in cash? You'll have to follow us.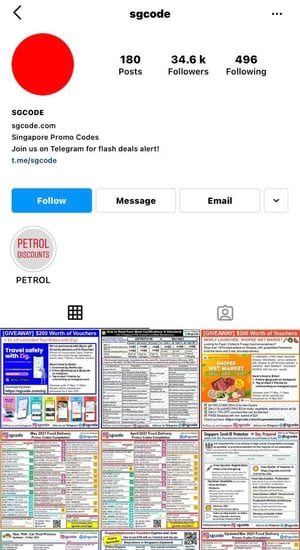 What started off as a promo code account for Grab, Ryde and the now-defunct Uber has transformed into an all-round bargain-hunting account for deals in Singapore ranging from free samples to food delivery promo codes, petrol discounts and more.
This popular Instagram account made the cut due to its constant posting of the latest legit codes. Clearly, they have over 34,000 followers for good reason.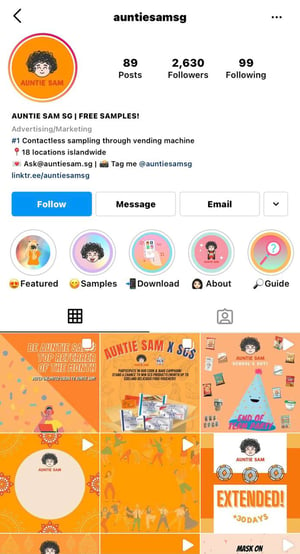 People always say there's no such a thing as a free lunch, but really, there is — in the form of snacks. Auntie Sam basically gives out free samples through contactless vending machines at 18 locations island-wide, with no strings attached. But that's not all.
When you follow Auntie Sam, not only will you get notified of the latest samples available, but also ongoing campaigns where you can win vouchers and food products.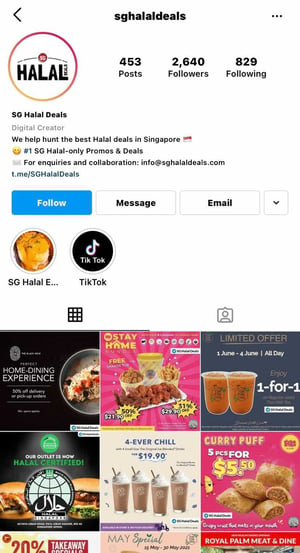 Like the name suggests, SG Halal Deals hunts for the best halal-certified food promos island-wide so you don't have to. If you're muslim and having a hard time figuring out what to eat, you can check out their page for a tonne of suggestions.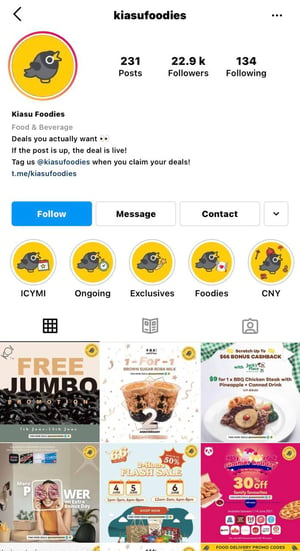 There are two things Singaporeans love: food and cheap deals. Put those two together and you get Kiasu Foodies, an IG account that supplies you with the cream of the crop foodie deals.
From 1-for-1 bubble tea to 50% discounts on meals, this account only features places that serve the most worthwhile promos.
Additionally, you don't have to worry about the validity of these promos as expired ones get taken down. If the posts are left up, this means that the deals are still live so go ahead and enjoy!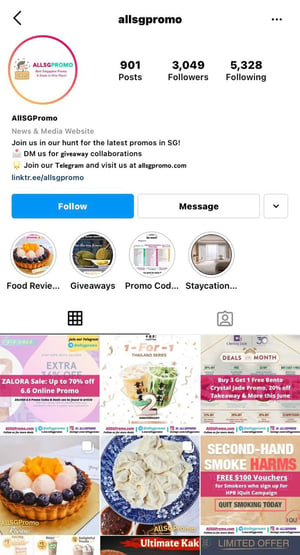 Looking for all things cheap and good under one roof? Scroll through AllSGPromo's instagram and you'll be sure to find your next best deal. They have deals for food, sportswear, electronics, fashion and more.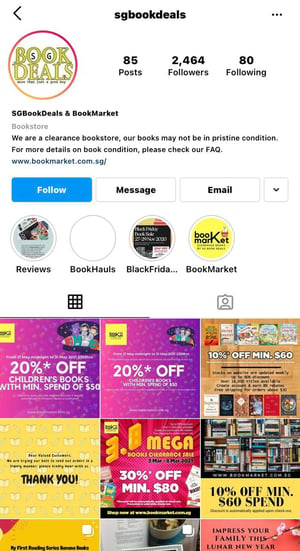 If you're a bookworm, you'll definitely love SGBookDeals.
With over 18,000 titles available and up to 90% discount, you'll definitely find your next read there. Did we also mention that there is free shipping when you spend more than S$30? Definitely worth it.
Do note that this account is run by a book clearance warehouse, so their books may not be in the most pristine condition. Definitely not for the picky readers who want their books in mint condition.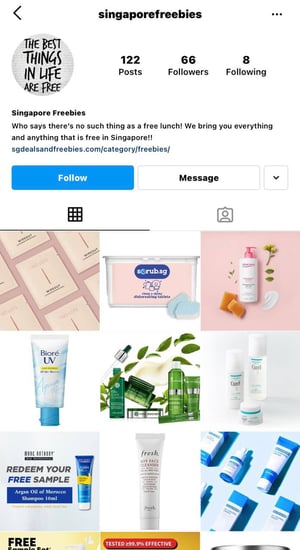 Follow to score tonnes of free stuff in Singapore. They have a plethora of freebies ranging from skincare to gift vouchers and even baby formula, so what's not to love?
Read these next:
10 Telegram Channels Every Singaporean Millennial Must Follow
5 Habits Of Super Frugal People You Should Follow If You Want To Save Money
Money-Saving Food Hacks For The 'Scrooge' In You
Free Activities To Do In Singapore 2021
Latest ASOS Promo Codes In Singapore