The draw of 'buy now, pay later' facilities is understandably real. What's not nice about being able to purchase an item with its price tag split equally across several payments spaced months apart? After all, the item you're interested in buying has instantly become more affordable. There are no interest or service fees tacked on to boot even though you are footing the bill in instalments!
These services are free to use — all you have to do is (1) be above 18; (2) sign up for an account; (3) verify your account; (4) link your credit card or debit card; (5) check out your item(s) online or in-store, selecting Hoolah, Atome, Rely or Split as your payment option depending on which service provider the merchant you're shopping at has partnered with.
Below, we share three tips on how you can utilise 'buy now, pay later' facilities to your advantage and be a wiser shopper through and through.


#1 Spend within your means
The allure of 'buy now, pay later' facilities is unmistakable. A recent Business Times article spotlighted how young consumers can now afford a 'Dior lipstick in three instalments'. While it sounds nice in theory, being able to afford something via instalments still requires the consumer to pay the full amount in time to come. Make sure to budget carefully despite having such easy access to credit.
This might not be an issue if you truly have the funds to pay for your purchases, but 'buy now, pay later' facilities could become a dangerous tool for consumers who do not actually have such funds. Instead, it is all too easy for consumers to spend recklessly or even beyond their means thanks to the short-lived false sense of affordability such platforms offer.
For instance, a bag costs S$1,500 and your bill is split into three equal payments. S$500 might not sound like much but having to fork out $500 the next month and another S$500 the following month could take a toll on your finances if you don't have the means to fund your purchase without compromising on other aspects of your life.


#2 Use a rewards credit card
Although you can choose to use a debit card when making purchases via these 'buy now, pay later' platforms, it is a better idea to use a rewards credit card instead. A rewards credit card lets you earn cashback, rewards points or miles on your purchases made through Hoolah, Rely, Split and Pace despite the fact that you are paying in instalments.
Let's use one of my past purchases as an example. Each of the three $108.10 instalment payments via Hoolah earned 64 DBS Points as they were charged to my DBS Altitude Card. Check this out: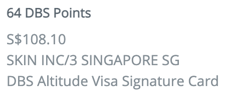 This would not have been possible if I used regular 0% interest instalment plans that banks offer. Most banks also charge an additional one-time processing fee based on the transaction amount.
Hoolah and Rely accept Visa and Mastercard credit and debit cards issued in Singapore. Atome accepts Singapore-issued credit or debit cards. Split accepts any credit or debit card from any bank. Pace accepts Visa and Mastercard credit and debit cards .
#3 Pay attention to late fees
All's fine and dandy if you know how to manage your finances and pay every instalment in full punctually. There are things like late fees that many consumers do not actually know about. These late payment fees aren't the most visible to consumers scrolling the websites; they are often slotted into the FAQ or Help sections.
Although there won't be any late payment fee from Hoolah, Atome or Rely if the instalment is automatically charged to your credit card, remember to pay off credit card bills in full every month before the due date to avoid credit card late fees and interest charges!


---
Comparison between Hoolah, Atome, Rely, Split and Pace
The main 'buy now, pay later' players in Singapore are Hoolah, Atome, Rely, Split and Pace. All of them let consumers split their purchases into several equal payments at no extra cost, collecting only the first instalment upfront at time of purchase.
Tenure

Processing Fee

Early Repayment Fee

Late Payment Fee

Other Charges

Hoolah

3 months: Pay 1/3 of the total bill on the spot

S$5: Order value S$99.99 or below

S$15: Order value between S$100 and S$999.99

S$30: Order value S$1,000 and above

Possible suspension of account

Atome

3 months: Pay 1/3 of the total bill on the spot

S$15 administrative fee + freezing of Atome account

Rely

3 months / 4 fortnightly instalments: First payment charged upon approval at the time of purchase

S$1 to S$40 depending on order value + possible suspension of account

Split

3 months: Pay 1/3 of the total bill on the spot

Pace

3 months: Pay 1/3 of the total bill on the spot

S$10: One-time fee applied for each overdue instalment + possible deactivation of account

Extra fee of S$1/day will apply if instalment remains unpaid after due date

For purchases below S$40: A maximum of one S$10 late fee may be applied per instalment payment

For purchases S$40 and above: Additional late fee capped at S$60 or 25% of the original transaction value, whichever is lower, per instalment

Be savvy with your money
'Buy now, pay later' services are fantastic if you know the tips and tricks to using them to your advantage. They are 100% free when you do right as a consumer and pay up what you have to pay on time.
Avoid missing payments, unless you fancy paying late payment fees and charges. Make sure you have enough money in your bank account if using a debit card as instalments are automatically deducted from your bank account on each payment due date. The same thing applies when you use a credit card to make payments through these 'buy now, pay later' platforms. You need to pay your credit card bills before their due date in order to avoid hefty late fees and interest charges.
Of course, be mindful of your spending no matter how fun it feels to be buying anything and everything just because you can split your payments!
Read these next:
Best Cashback Credit Cards In Singapore
Best Rewards Credit Cards In Singapore
Top Credit Card Promotions And Deals On SingSaver
Cashback vs Miles vs Rewards: Which Is The Best Type Of Credit Card For You?
6 Credit Cards Which Give Free Access to Airport Lounges