COVID-19 or no, certain countries impose mandatory travel insurance requirements on visitors. Here's a list of popular travel destinations that require travel insurance for entry.
Now that COVID-19 measures have largely been done away with, you might be wondering if you still need to get a travel insurance policy for your next holiday.
Well, it turns out there are still quite a few countries that have mandatory travel insurance requirements that cover emergency medical treatment and evacuation, at a minimum.
Visitors can obtain their own international travel policy to satisfy these requirements, although some countries offer their own visitor or tourist insurance plan for a nominal fee. The latter may make for a cheaper option, but is unlikely to provide anything more than barebones coverage.
If you're planning to travel to these six countries, know that you'll need to get a travel insurance policy.
---
Cuba
Visitors to Cuba are required to purchase a travel insurance plan that provides coverage for medical and hospitalisation expenses. You may be asked to show proof of insurance at the immigration counter, so you may want to download or print out a copy and keep it handy.
While there is no stipulated minimum coverage, visitors are recommended to have around US$50,000 per person in medical coverage.
---
Ecuador (Galapagos Islands)
If you're headed to Ecuador with the intention of dropping by the Galapagos Islands, you'll need to have a travel insurance policy.
This is mandatory to set foot on Galapagos Islands themselves, but not compulsory to enter the country of Ecuador proper.
There is no stipulated minimum coverage; visitors are recommended to obtain around US$50,000 in medical coverage and around US$100,000 in emergency evacuation benefits.
---
Jordan
The gorgeous desert nation of Jordan offers many stunning sights of wild beauty and intricate architecture, some dating back centuries old. If you're planning to visit, you'll need to have travel insurance coverage for the duration of your stay.
Visitors are recommended to obtain between US$50,000 to US$100,000 sums assured for health, medical and emergency evacuation coverage.
---
Nepal
Nepal requires all visitors to obtain a travel insurance policy that offers medical expenses and emergency evacuation benefits.
Given that a fair amount of hiking and physical activities are to be expected in the destination, a comprehensive travel insurance policy with robust coverage for sports and adventurous activities is worth considering.
No minimum coverage amount has been set, so the onus is on travellers to ensure sufficient coverage levels.
---
Qatar
The Qatari government has launched Visitors' Health Insurance, a mandatory travel insurance that all visitors to the country must obtain.
Costing QAR 50 per month, this is a standalone policy that is only available through approved vendors. Travellers should note that this scheme only covers emergency medical treatment and expenses.
Besides this scheme, international travel insurance plans are also accepted. Given that Visitors' Health Insurance is rather skimpy in terms of benefits, visitors should consider getting their own comprehensive travel plan.
---
Seychelles
The Seychelles islands is a popular holiday destination for its white, sandy beaches and crystal blue waters. But before you can get your dose of beach vibes, you'll need to obtain a travel insurance policy.
That's right, travel insurance is mandatory for visitors to this island paradise, and each policy should last for the entirety of your stay.
And apparently, they are pretty strict about it too. There's a good chance you'll be asked for proof of insurance at the immigration counter. If you do not have it, you'll be refused entry.
Besides overseas medical and evacuation benefits, don't forget to include cover for sea-sports and other adventurous activities. This will come in handy should you make an impromptu decision to go paragliding after breakfast, or something.

SingSaver Flash Deal: For a limited time only, snag a Dyson Airwrap™ multi-styler (Complete) (worth S$859) on top of your chosen reward if you are one of the first 10 applicants of select OCBC and Standard Chartered Credit Cards at 12pm, 3pm, 6pm daily during the flash deal period. Valid till 1 October 2023. T&Cs apply.
---
Are these the only countries that require travel insurance for entry?
This article is written mainly for holidaymakers, so we've focused on destinations that enjoy a high degree of tourism.
There are other countries that require travel insurance, but only if you're entering on a visa in many cases. One example is the Schengen groups of countries, which include many of our favourite European nations, such as France, Germany, Switzerland and the Netherlands.
From what we could gather, those who require a visa to enter require travel insurance as well, with coverage of at least EUR 30,000.
But this requirement is exempt for visa-free visitors, including Singaporeans. Hence we've excluded these countries – and others that have the same policy – from this article.
However, take note that this also means that if you're entering one of these countries on a visa – such as perhaps a long-term visitor pass – you may be required to get travel insurance.
One more thing – you'll find conflicting information if you try to look up where travel insurance is required or not for certain countries.
Case in point…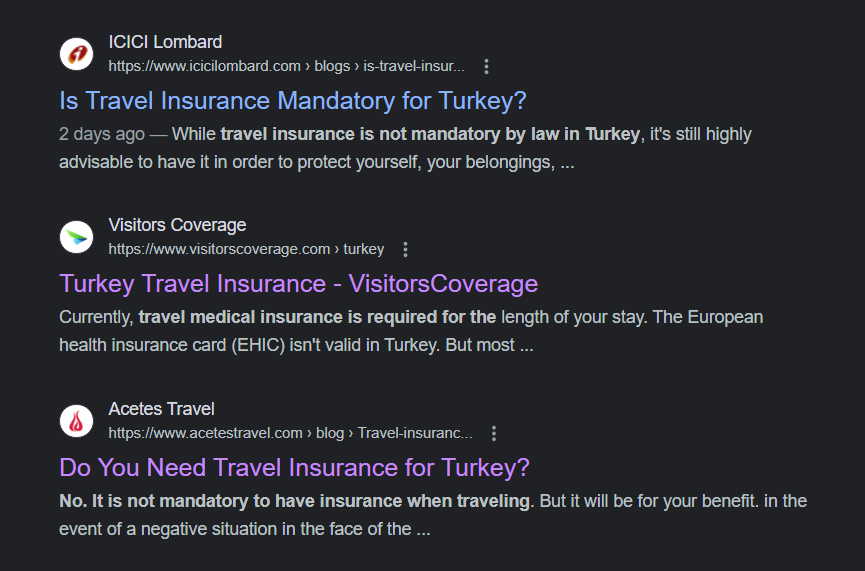 While we've done our best to filter out the truth, it is still a good idea to confirm with your host country on the travel requirements that apply to your travel itinerary.
You can easily do so by emailing or calling up the relevant embassy or representative office.
---
What can happen if I don't have travel insurance?
If you attempt to enter a country without travel insurance – and it turns out that you are actually required to have coverage – you may be refused entry. This is assuming you are asked for proof of insurance while clearing immigration, of course.
If you happen to luck out and get past without having your papers checked, and later happen to require medical attention, you may have trouble finding a clinic or hospital that may accept you.
This is because in some countries – such as Cuba, for instance – tourists are only allowed to use stipulated medical and healthcare services, which require a valid travel insurance policy.
So if you don't have travel insurance, you will likely face extended wait time while they try to sort out what to do with you.
But that's not to say you'll be abandoned to your fate, especially if your condition is serious or life-threatening. However, it's likely you'll have to deal with the consequences.
This could range from high medical fees (subsidised healthcare is for citizens only), and maybe even an arrest and court appearance, depending on how zealous the authorities happen to be feeling.
In the worst case, you may even be debarred from the country for a few years – after all, you did break the law.
Yikes, that doesn't sound like a good time no matter which way you cut it, so our advice – don't be a cheapo and just get a travel insurance plan like any other sensible adult.