Narrow down the essentials for critical illness coverage, to ensure it complements your existing health plans without redundancies.
Best Critical Illness Insurance Plans in Singapore on SingSaver
The variety of insurance plans out there can seem staggering. No sooner do we think that we have our coverage sorted than we are told we need protection for yet another aspect.
Critical illness insurance might seem to be yet another insurance plan that addresses potential health issues — and how many of those do we really need?
Nonetheless, critical illness insurance has a valid niche of its own, and does not necessarily need to be a separate plan. Rather, it could function as a rider that would help you to maximise your existing coverage.
We strip down critical illness coverage to its bare bones, including the essential aspects that you might want to consider adding to your protection plan.

SingSaver's Exclusive Offer: Apply for our exclusive credit card, travel insurance, car insurance, personal loan, investment, savings account, and priority banking deals to enter our 101! Milestone Giveaway.
Enjoy up to 3x chances to win your share of over S$200,000 worth of prizes, including S$5,000 bonus cash each week on top of ongoing promotions!
Valid till 20 December 2023. T&Cs apply. Click here to check out our past Lucky Draw winners!
---
What makes critical illness insurance different
'Flexibility' is the key word that sums up critical illness plans. This type of insurance typically provides lump sum payments which you can use for any expense. This differs from other types of health-related insurance, including MediShield Life / Integrated Shield Plans, which cover medical and hospitalisation fees.
The flexibility provided by lump sum payments is important because of how falling ill can bring on unanticipated costs. You might want to use the payout to cover your household expenses or children's school fees if you can't work while recovering, or additional treatments and special diets needed to recuperate.
While cancer insurance plans also provide lump sum payouts, they only cover — you guessed it — cancer.
Critical illness insurance, on the other hand, typically covers cancer and 36 other types of critical illnesses as defined by the Life Insurance Association. These include heart attacks, strokes, coronary artery by-pass surgeries, and kidney failure, which, along with cancer, are the critical illnesses that people in Singapore have most frequently claimed for.
In sum, the insurance provides you with peace of mind through its flexibility for spending on whatever needs that arise, and broad coverage of several common severe illnesses.
---
Recommended coverage for critical illness insurance
Deciding on suitable critical illness coverage is all about being practical. It should minimally cover the five illnesses mentioned above since they are the most frequently occurring among claimants.
The payout should also be able to cover your needs/income for your estimated time of recovery — the general guideline is at least four years.
If you prefer to get as comprehensive a plan as possible, another aspect to consider is whether the insurance covers early-, intermediate- and late-stage diagnosis. This type of insurance previously only covered the late stage, but has recently expanded to include earlier stages as well.
Another bonus provision is 'multi-pay'. While many critical illness plans provide a single lump sum payout, multi-pay plans guard against the possibility of relapses by allowing you to claim multiple times.
Still unconvinced? Here's a comparison of the pros and cons of getting critical illness insurance to help you make up your mind.
Pros of critical illness insurance
Allows you flexibility in covering your expenses through a lump sum payout
Covers a wide range of severe illnesses, including cancer
Can be an add-on to an existing plan, removing the need to purchase a separate policy
Cons of critical illness insurance
You would still require health insurance to cover hospitalisation and medical bills
Not guaranteed to cover the illness that might affect you
Lump sum payment may not provide a sustainable income if you aren't able to work due to illness — in such a case, a disability insurance that pays a monthly benefit may be more helpful
Add-on critical illness riders stop covering when the main plan terminates, which might leave you uninsured if you do not have a standalone critical illness plan
Perhaps the greatest drawback to critical illness insurance, is the fact that on its own, it can't provide for all your needs should you fall ill. Nonetheless, due to the broad nature of its coverage, it would still make a robust addition to your protection portfolio.
Here are several critical illness plans that deliver the fundamental coverage that you'd need. We've broken them down into Riders and Standalone plans, so you can clearly see where you have the option of adding on to your existing policies.
Riders
GREAT Life Advantage
Great Eastern's base life insurance covers death, total and permanent disability and terminal illness. These are quite extreme eventualities, so to complement the coverage, you can opt for its Complete MultiPay CI Plus Advantage Rider. This add-on protects against 120 critical illness conditions and early to late stages of diagnosis. Its multi-pay nature allows you to make a maximum of three claims for 100% of the coverage amount each time.
PRUActive Life III
The critical illness riders for Prudential's life insurance provide multiplied coverage that ranges from 2x to 5x. The Early Crisis Care rider guards against early to intermediate stage medical conditions, and can even include coverage for benign tumours. Meanwhile the Crisis Care rider covers late-stage medical conditions and severe illnesses or accidents that affect major organs and result in admission to the intensive care unit.
AIA Whole Life Cover (II)
AIA Whole Life Cover (II) is a direct purchase insurance plan that offers protection up to the age of 100. The Critical Illness Protection rider protects against 30 critical illnesses up to the age of 100.
---
Standalone plans
FWD Big 3 Critical Illness Insurance
As far as critical illness insurance is concerned, FWD's plan is as essential as it gets. It protects against three of the most commonly claimed critical illnesses — cancer, heart attack and stroke — with premiums that start from S$18 per month.
It also includes coverage for early to late stages of cancer and provides a lump sum payout. You can opt to add on coverage for another 24 heart and neurological conditions.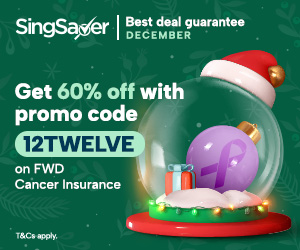 FWD Big 3 Critical Illness Insurance Promotion: Use the promo code 12TWELVE to get a 60% discount on your plan when you apply NOW! Valid till 12 Dec 2023. T&Cs apply.
AIA Multistage Critical Protector
This insurance expands your coverage slightly beyond the top three illnesses covered by the earlier two, to include six common ones.
Cancer, heart attack and stroke are covered at all stages, while kidney failure, Alzheimer's Disease and Parkinson's Disease are covered at their major stages only.
GREAT Critical Cover
One of the best multi-pay policies in the market, GREAT Critical Cover ensures maximum protection in the event of a recurring critical illness.
There are two options available - one that offers coverage for the top 3 critical illnesses, and the Complete plan which covers 53 critical illnesses.
If you already have a critical illness plan with Great Eastern, the Protect Me rider offers 100% payout for up to a total of three critical illness claims. This provides peace of mind during recovery, taking a load off financial concerns.
Manulife's Ready CompleteCare
If you're looking to go beyond the basic coverage for critical illness, this plan provides comprehensive protection, including against 106 conditions at all stages, and a multi-pay option which pays out up to 900% of the sum insured, as well as a 'Cover Me Again' option that allows you to restart your coverage over and over again.
Singlife Cancer Cover Plus
If critical illness coverage is something you've been considering, cancer coverage should be on your list of protection too. With the upcoming adjustments to MediShield coverage limits for cancer drugs and treatments, having a comprehensive plan will bring peace of mind, especially during the times when we need it the most.
Singlife Cancer Cover Plus covers cancer outpatient cancer drug treatment and services (within and outside the Cancer Drug List), Proton Beam Therapy and Cell, Tissue and Gene Therapy.
It also provides as-charged coverage for claims, which helps to lower your out-of-pocket expenses. The annual coverage limit of up to S$1.5 million per policy year for medical bills.
The top 3 critical illnesses in Singapore - cancer, heart attack, and stroke - often conspire to wreck havoc on families.
Despite a critical illness diagnosis, relief comes from this yearly renewable plan, which covers up to S$300,000, with premium from S$0.24/day*. With coverage up to age 85, it is available to apply up to age 70.
It offers 100% of sum insured cash payout upon diagnosis of Cancer (all stages), Stroke with Permanent Neurological Deficit, or Heart Attack of Specified Severity. There is also an additional 20% payout for Diabetic Complications or Severe Rheumatoid Arthritis (SRA).
If you're concerned about dependents, there is a death benefit of S$20,000 each for up to 4 children of the Life Insured.
*Based on sum insured of $30,000 for 17-year old non-smoking male.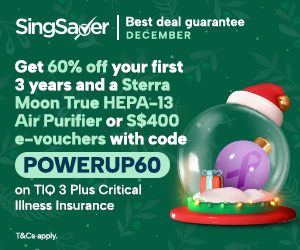 TIQ Critical Illness Insurance Promotion:
FLASH SALE: Use the promo code POWERUP60 to get up to 60% off for first 3 years and a Sterra Moon True HEPA-13 Air Purifier or S$400 e-vouchers with code POWERUP50 on TIQ 3 Plus Critical Illness Insurance. Valid till 15 Dec 2023. T&Cs apply.
A Combined total annual premium across all protection products:
$1000 - $2000 premium get a Sterra Moon True HEPA-13 Air Purifier, annual premium mode only, first 100 customers, while stocks last
$2001 and above receive S$400 eCapitaVouchers, annual premium mode only, first 50 customers, while stocks last
---
Conclusion
While critical illness plans can understandably seem like just another insurance product, they provide important coverage that can help you tide over your expenses if you fall seriously ill. Opting in for a rider on your existing insurance or selecting a plan that only covers the most common illnesses, can equip you with essential coverage at affordable rates.
Protected up to specified limits by SDIC.
Note: This is only product information provided. You may wish to seek advice from a qualified adviser before buying the product. If you choose not to seek advice from a qualified adviser, you should consider whether the product is suitable for you. Buying an insurance product that is not suitable for you may impact your ability to finance your future healthcare needs.
If you decide that the policy is not suitable after purchasing the policy, you may terminate the policy in accordance with the free-look provision, if any, and the insurer may recover from you any expense incurred by the insurer in underwriting the policy.
As buying a life insurance policy is a long-term commitment, an early termination of the policy usually involves high costs and the surrender value, if any, that is payable to you may be zero or less than the total premiums paid. You should seek advice from a financial adviser before deciding to purchase the policy. If you choose not to seek advice, you should consider if the policy is suitable for you.
This advertisement has not been reviewed by the Monetary Authority of Singapore.
---
After understanding the purpose of critical illness insurance, learn more about personal accident insurance and why or why not you'd want to get covered. We've assembled the best personal accident insurance plans and distilled what they have to offer.
Read these next:
Best Critical Illness Insurance Plans In Singapore (March 2023)
Critical Illness Plans vs Early Critical Illness Plans: Which Should You Get
Changes to Definition of 'Critical Illness' in Life Insurance Policies
5 Best Cancer Insurance Plans In Singapore
5 Critical Things You Need to Know About Cancer Insurance