[caption id="attachment_24734" align="alignnone" width="4910"] (Source: Aaron Wong)[/caption]

Opinions expressed reflect the view of the writer (this is his story), and not those of SingSaver.

When you get your first credit card, you've got an important decision to make: are you going to be a miles or cashback chaser? This may seem like a trivial decision, but think about it carefully, because the choice you make opens up an entirely different world of opportunities.
Cashback vs Miles chasers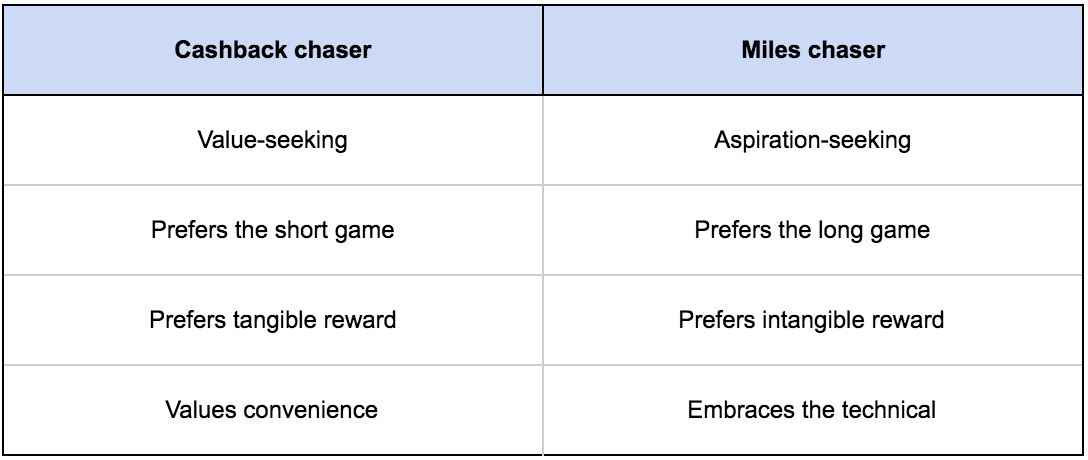 That's because miles and cashback appeal to two very different kinds of audiences. At the heart of it, cashback chasers are value-seeking. Miles chasers are aspiration-seeking. What's the difference?
Value-seekers play the short game, believing that a dollar saved today is worth more than a dollar saved tomorrow. This group therefore prefers the immediate, tangible reward of cashback -- you spend money, and straight away earn some of it back.
Aspiration-seekers play the long game, believing that it makes sense to forgo the immediate rush of cashback in favor of a long term payoff. This group knows that although it takes a while to accumulate a critical mass of miles, the eventual reward of a free First or Business class ticket makes it all worthwhile.
Value-seekers look for convenience. The cashback game is simple, because everyone knows what to do with cashback. Moreover, cashback is a one-step process: the cashback you earn is automatically offset against your bill.
Aspiration-seekers embrace the technical. The miles game has a learning curve, and not everyone knows what they can (or should) do with miles. Furthermore, miles are a two-step journey: first you earn miles, then you need to figure out what to do with them.
It seems that for most Singaporeans, simplicity wins. The latest survey by Shopback says that 80% of Singaporeans prefer cashback as a reward, versus 20% for miles and points. And yet, I'm a hardcore miles chaser. Here's why:
Miles give you access to experiences
First and foremost, I'm a fan of miles because they give you access to experiences.
Here's a question: would you be willing to pay S$10,000 for a First Class seat? I'm guessing the answer is "no", even if you can afford it. Let me ask the same question a different way: would you be willing to redeem 100,000 miles for a First Class seat? Most people would likely say "yes".
That, in a nutshell, illustrates the true power of miles: they help you access an experience you wouldn't be able/willing to pay for. I'm not willing to part with S$10,000, so if miles didn't exist, First Class is something I'd never be able to experience.
Experiences like that would simply be impracticable to obtain via cashback. Sure, you could save up S$10,000 of cashback to buy a First Class seat, but at a 1.5% cashback rate (the highest uncapped rate in the market), you'd have to spend well over $666,000.
My problem with annual fees on cashback cards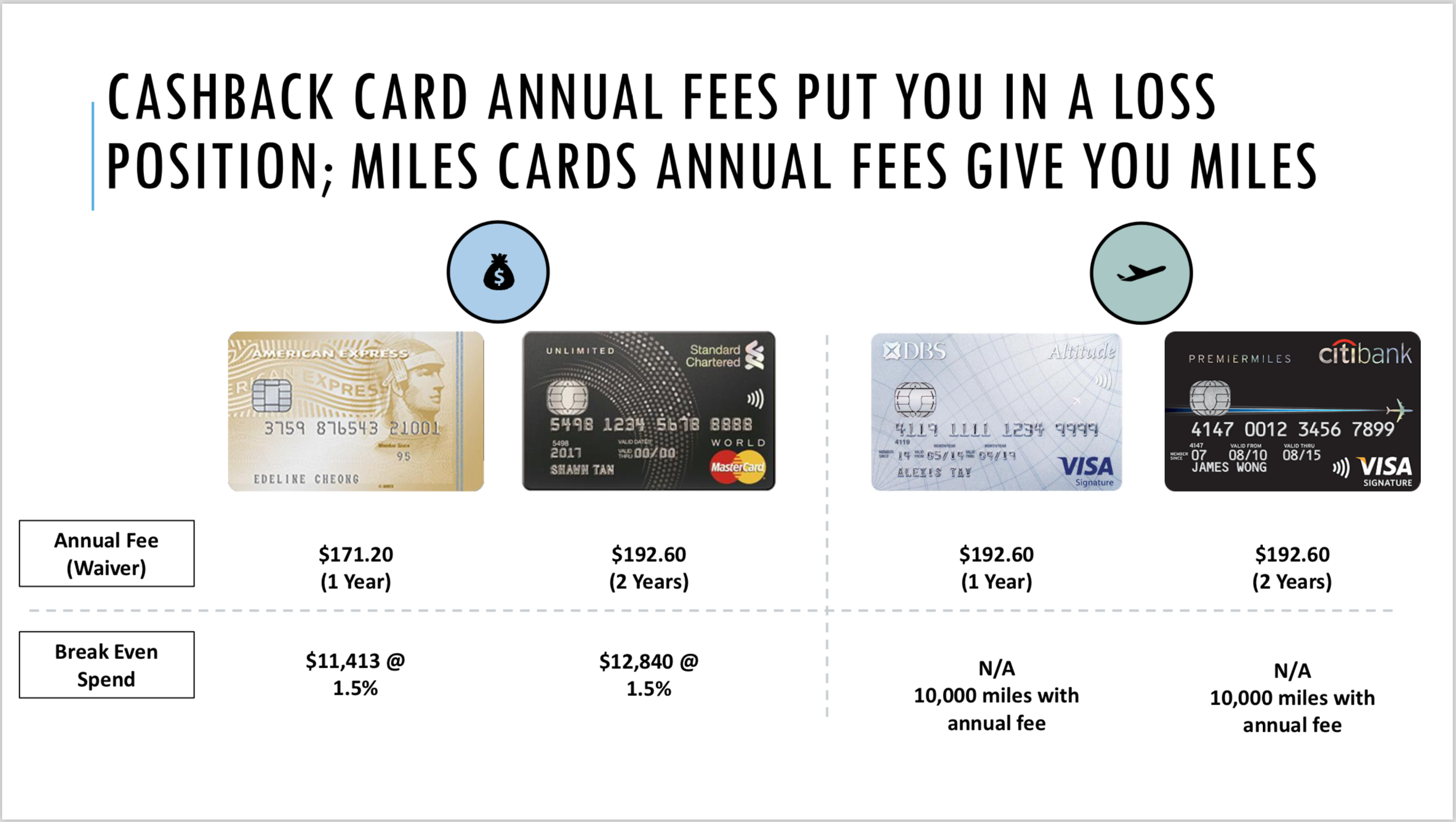 Although annual fee waivers are fairly common in Singapore (so much so that some banks have automated the process entirely), they're not a guarantee. Therefore, one needs to think about what happens in the event an annual fee waiver is not granted.
When you use cashback cards, paying an annual fee puts you in a net loss starting position.
Suppose you held the American Express True Cashback Card, which earns 1.5% cashback on everything and carries an annual fee of S$171.20. The first year fee is free, but suppose you're unable to get it waived in the second year. By going ahead and paying that fee, you're putting yourself in a net loss position before you've spent a single cent on the card. At a 1.5% cashback rate, you're going to have to spend S$11,413 just to get yourself back to 0! You only start to earn any benefit from the S$11,414th dollar onwards.
Now, suppose you held the DBS Altitude Visa Signature, which has an annual fee of S$192.60 and offers the first year free. In the second year, paying the annual fee gets you 10,000 miles.
Hedged no matter what happens
You see what's happening here? With miles cards, you're hedged no matter what happens. If you spend enough within a year, the bank waives your annual fee. If you don't, the miles you earn from the annual fee cover the cost.
Paying the annual fee for a miles card can make sense, but paying the annual fee on a cashback card never makes sense. The bank is already earning money every time you use your card -- is it really worth paying them for that privilege?
Cashback cards make "best of breed" strategy impossible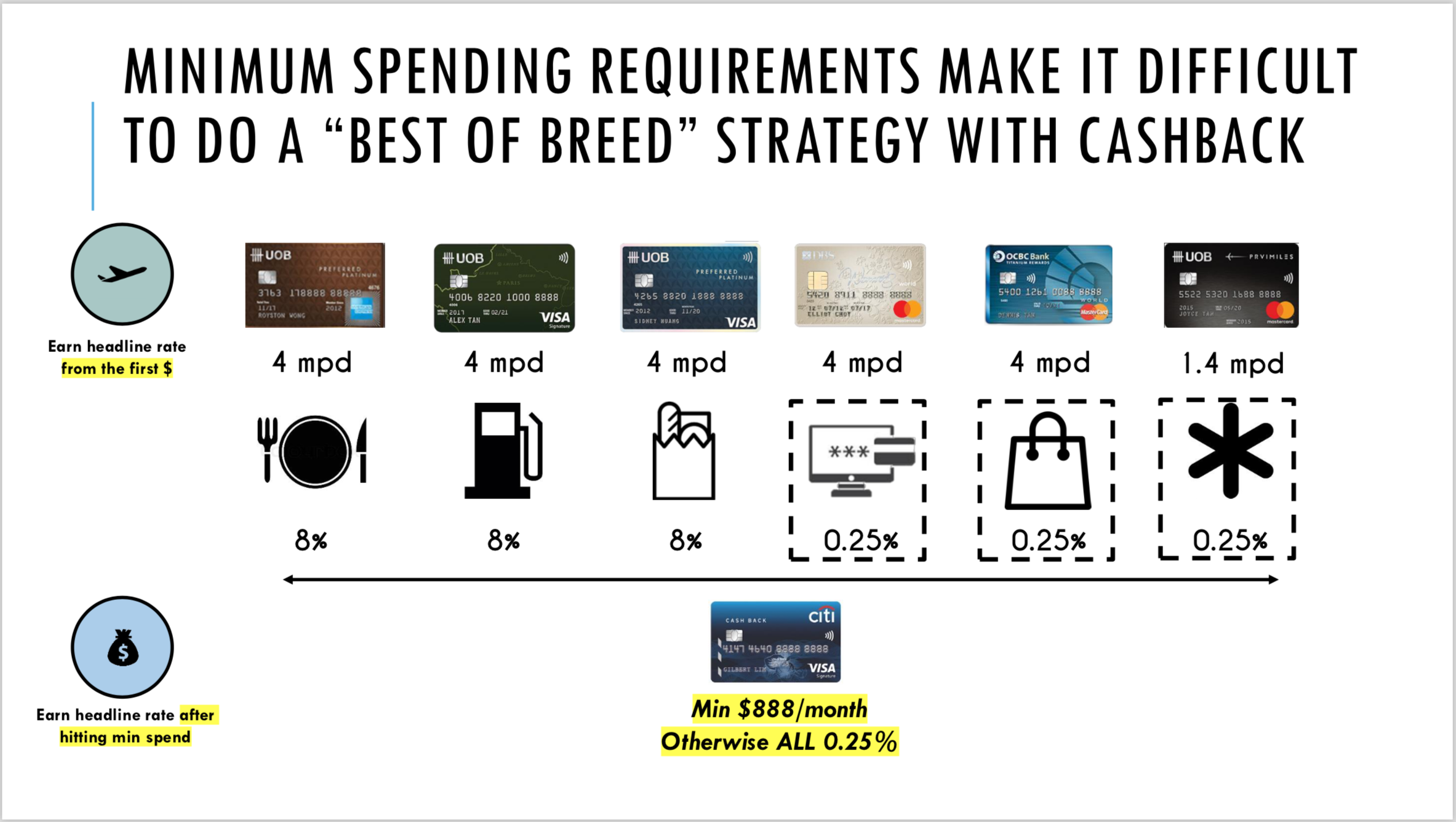 Although cashback cards advertise high cashback rates in big bold letters, one important catch relates to minimum spending requirements. These make it impossible to adopt a "best of breed" strategy with cashback.
What do I mean? Consider the different categories one might spend on: dining, groceries, Grab rides, online shopping, offline shopping, travel expenditures, and foreign currency transactions.
If I held the Citi Cash Back Visa Card, for example, I could earn 8% cashback on dining, Grab rides, petrol and groceries. In order to earn this 8%, however, I need to spend a minimum of S$888 in a month. Unless I can hit S$888 on just dining, Grab, petrol and groceries alone, I'm going to have to make up some of the difference by using my Citi Cash Back card on other categories, like online shopping.
The problem is: these transactions earn me only 0.3% cashback. And yet I have to use my Citi Cash Back card for this, because if I'm even one dollar shy of $888, I'll earn 0.3% on everything - even dining, Grab, petrol and groceries.
Although it would be a better idea to use the OCBC Frank Credit Card for online shopping in order to get 6% rebates, that card has its own minimum spending requirement too.
To summarise the problem: It's difficult to pick and choose the best card for each category when it comes to cashback, because each card has a minimum spending requirement for me to enjoy the upsized cashback rates.
Optimise your spend
Now consider miles cards. With miles cards, I can adopt a "best of breed" strategy (that is, choose the right card for the right category), because there are no minimum spending requirements to earn those headline rates.
For online and offline shopping, I'd use my OCBC Titanium Rewards Credit Card to earn 4 miles per dollar, from the very first dollar. For online transactions like air tickets, I'd use my DBS Woman's World Card (Pro tip: men are eligible to apply!) to earn 4 miles per dollar, also from the very first dollar. When I'm buying groceries, or paying my doctor's bill, or buying movie tickets or anything else, I'd look for contactless terminals and use my UOB Preferred Platinum Visa Card, which earns 4 miles per dollar on contactless payments, from the very first dollar.
You get the idea: I'm picking and choosing the right card to use for each situation, which is possible because there's no minimum spend required for me to earn the bonus miles.
Pick and use a card that's right for you
Some may argue that credit card rewards are "different strokes for different folks", and you'd be right. I personally prefer miles, but that doesn't mean they're the "right" option. My philosophy is that the right credit card reward is the one that makes you happy.
That said, I do believe that if you're looking for experiences that money can't buy (or rather, that you won't be willing to spend money on), then you should seriously consider getting into the miles game.
Convinced that you should get an air miles card? Compare the best air miles cards in Singapore and receive exclusive sign-up bonuses when you apply through SingSaver (and that's on top of the bank's own bonuses!).
What to read next:
Travel Hacking Singapore Blog Teaches Anyone How to Fly on Business Class
Epic Trip Inspires Singapore Blogger to Share Travel Hacking Secrets
6 Credit Cards Which Give Free Access to Airport Lounges
Cashback or Rewards Credit Card: Which is Better?
---

By Aaron Wong
Aaron started The MileLion to help people travel better for less and impress "chiobu". He was 50% successful. This is his story.
---