Check out the second part of Aaron's interview with SingSaver, where he shares how travel hacking allows anyone to experience business or first class without spending crazy money.
Like many of his peers, Singaporean Aaron Wong dreamt of celebrating his university graduation with an epic trip before settling into a career.
The problem? He didn't have a lot of savings.
But at the age of 25, Wong took the plunge, packed his bags and took a month-long road trip to sunny California in the United States. He started off in San Francisco, before moving down to Los Angeles, Las Vegas and even into Utah.
"I rented the cheapest car but it came loaded with GPS and satellite radio. I only paid US$30 to US$40 a day because I got a free upgrade," said Wong, the founder of popular travel hacking blog, The MileLion.
"I also found ways to accumulate hotel points quickly. By buying hotel points, I was able to get a hotel room cheaper than the retail rate," he added.
"A decent hotel in the US normally costs US$200 a night. If I bought the points at a special bonus, I could get an equivalent for US$50 a night. US$50 normally gets you a motel beside a road."
US$10,000 in savings
As a student, Wong didn't yet own a credit card, but he quickly realised that with proper planning, one could still get great travel deals.
"It's harder without cards but it's not impossible," he said. It helped that he'd done his homework.
Before his trip, he lurked on popular US travel hacking forums, specifically Flyer Talk and Boarding Room. He also chanced upon rare travel deals, such as car rental promotions or free hotel stays, available for limited periods only.
"I visited attractions for less by finding out obscure discount codes. The whole idea was to not pay more than you have to," said Wong, who in person is articulate and prone to self-deprecating humour.
His graduation trip lasted four weeks. By his calculations, travel hacking had allowed him to save US$10,000.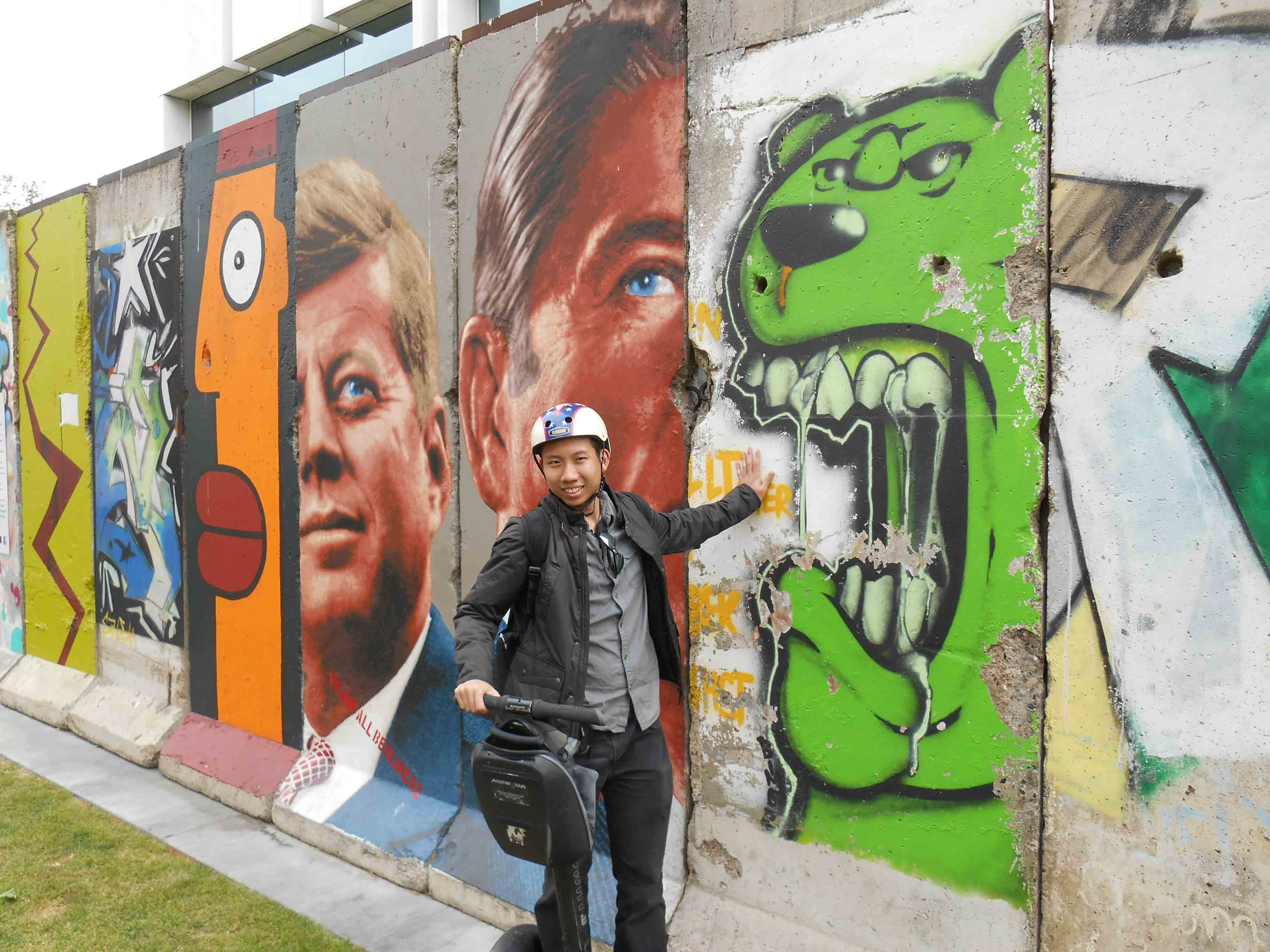 Calling it quits in management consulting
That was back in 2013, the year Wong graduated with an accounting and business management degree from Singapore Management University.
After his epic road trip, it was time for him to find a job. "I had no idea what I wanted to do. I majored in accounting, and all it taught me was I didn't want to be an accountant because I was bored to tears during my internships," he said.
His ended up joining a boutique management consulting firm, specialising in education. He was immediately posted to India and worked out of its Mumbai office for a few years before moving back to Singapore when the company opened its local branch.
The hours were long, and the work relentless. But his U.S travels had awakened the travel bug in him. He began spending up to three hours every day, hunting for ways to quickly earn miles online and redeem them for free flights, flight upgrades or hotel stays. He was also sharing these tips with colleagues over lunch.
"One of the perks in working for a small consultancy is that you get to earn lots of miles and there is no corporate card. Everything was put on your card and you get reimbursed which is great. My colleagues were flying a lot but they didn't know what to do with the miles," he said.
The MileLion roars to life
A year after he started management consulting, he launched the MileLion blog in 2015, teaching people "travel hacking" tips. Before long, the blog became an important reference point for his colleagues on how to maximise value from their hard-earned miles.
In between, he threw himself at his day job. While work was gruelling, his projects allowed him to take not one, not two but three round-the-world trips. These trips took him to West Africa, Brazil and North Africa and was enough to earn him "miles by the bucketload" as well as lifetime SPG gold status, a prestigious hotel membership program. More importantly, the job gave him first-hand knowledge, inspiration and material for his MileLion travel hacking blog.
While the destinations may sound like a dream come true to others, it was not all fun and games. All Wong did was work – there was no time to soak in local sights, food or culture. The extensive travel eventually wore him down.
"I went to wherever the work was. It was really fun but really crazy as well, and that was the implicit trade-off," he said.
Constantly jet-lagged and desperate for a change, he called it quits after five years earlier this year to join a payment start-up. But that gig lasted barely three months as Aaron quickly realised work on his increasingly popular blog was eating up more of his time than expected.
He quit the payment start-up in October so he could focus full-time on his blog, which was by now raking in nearly 100,000 monthly unique views. Over the years, his travel hacks and tips gained him a loyal cult-like following because it taught anyone how to redeem business or first class flights with the proper amount of planning and discipline.
Democratising business class travel
What makes Aaron's day is hearing stories about how his readers have gone on once-in-a-lifetime trips, just using the tips and tricks he's shared.
"One reader didn't know anything about miles – he was using debit card or cash and he always assumed that business class or first class was the sole domain of the wealthy," said Wong.
"But because of what he learned, he took his family on a great vacation and they flew business class," he continued.
Along the way, he's also met his fair share of detractors. Some banks and airlines were upset when he revealed ways to "game" the system, or when he criticised poorly thought-out products or marketing initiatives. Even certain readers became upset when he outed travel loopholes they had discovered on his blog.
"Knowledge as a concept is a commodity. Unless you've discovered something yourself, you have no sole right to it"
"The way we have built our community group is that sharing is a good thing. Reasonable people can disagree how much sharing is the right amount," said Wong, who has nearly 3,500 members on his MileLion Telegram group.
Contrary to popular thought, he also said banks and airlines' interests are not always opposite to those of consumers.
"I still think a lot of people have this misconception it's a zero sum game. Having worked with the banks, I can tell you it's not true. That banks want your money. A lot of managers are happy that people are taking part in promotions. Their KPI is acquisitions – they want people to sign up".
At a crossroads
By focussing full-time on The MileLion blog, he's taken a 50% pay cut from his management consultant days. And he realises that, at just 29, he's looking to "slow down", while his peers are doing just the opposite.
"I am going to get married in January. I don't want to think of my first year of marriage as me trying to pull all-nighters. I'd rather have something stable enough that I really enjoy doing, if it's providing me with a comfortable level of income," explained Wong.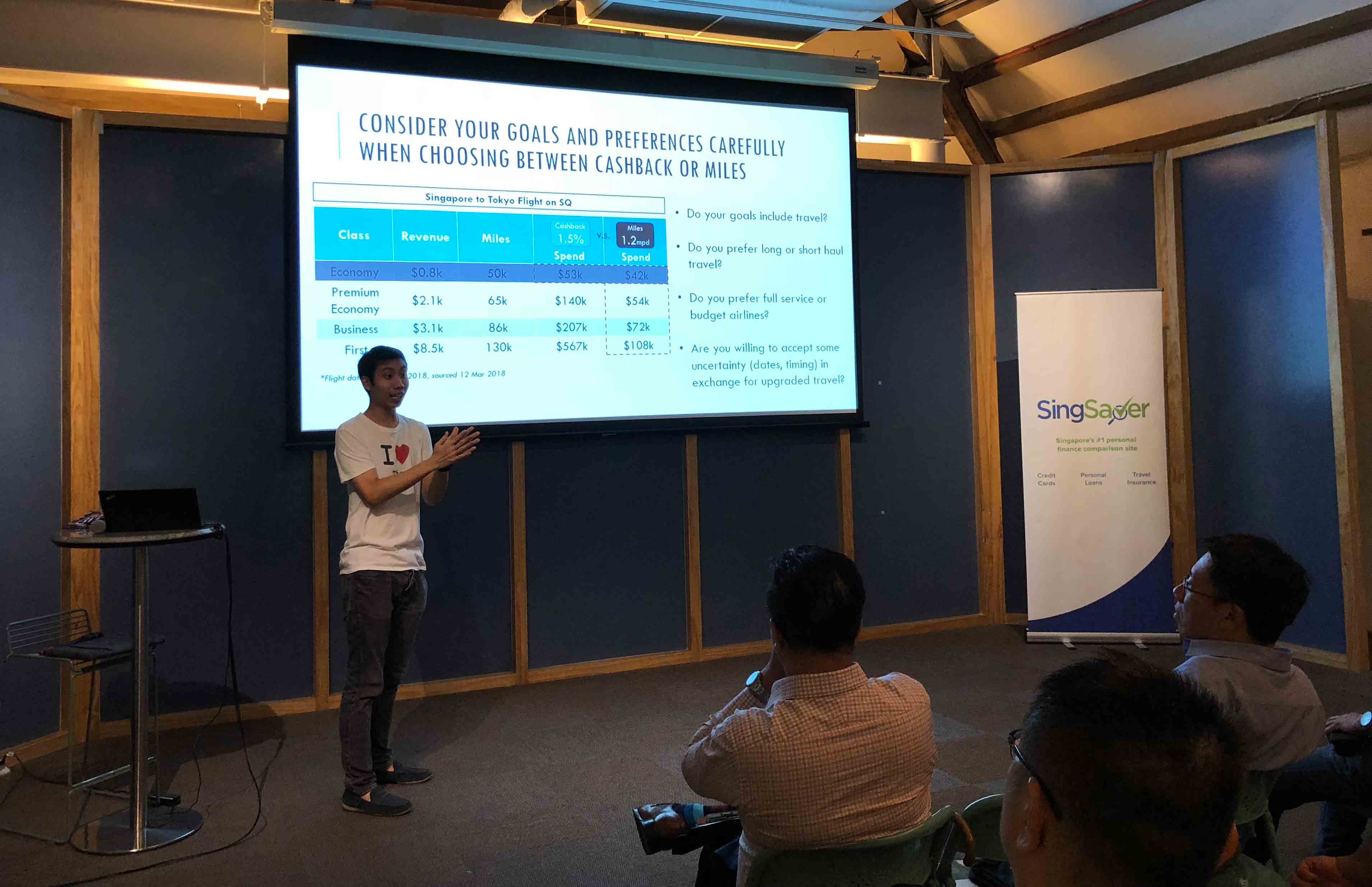 Besides writing on his blog, Aaron also gives regular workshops on the best ways to "earn and burn miles". His first talk earlier this year sold out with 270 participants. Nowadays, he prefers smaller audiences of 30-40 people and structures his workshops towards amateur or advanced level classes.
Besides earning advertising revenue from his blog, he also consults with banks, airlines, and hotels. He even coaches senior business executives on how to maximise their hard-earned miles.
Will this be enough for him to live comfortably?
"I wasn't exactly spraying champagne and eating caviar every day when I was a management consultant. In fact, the biggest lifestyle change now is I finally have a life." said Wong.
"I'll try it for six months. And if all else fails, I can always live off my fiancée. She's a dentist", he joked.
And where does he plan to take his wife for their honeymoon?
Why, where it all started: California, United States – on business class, of course.
Read this next:
Travel Hacking Blog Teaches Anyone How to Experience Business, First Class Flights
Top 6 Air Miles Credit Cards
Cashback or Rewards Credit Cards: Which is Better?
6 Credit Cards That Give Free Access To Airport Lounges
Amex, Mastercard or Visa: Which is Better for Travel?
---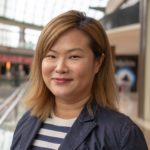 By Jo-Ann Huang
Singapore-based writer and corporate dropout who chose the freelance life. Indulges a little too much in traveling and always hungry for deals that stretch her spend.
---