[caption id="attachment_24620" align="alignnone" width="3689"] Aaron Wong conducts travel hacking workshops four times a month. (Photo: SingSaver)[/caption]

Read the first part of Aaron's interview with SingSaver where he shares how an epic trip inspired him to start "The MileLion" travel hacking blog.

Late on a Friday evening in September, a steady stream of people find their way onto the second floor of a Chinatown shophouse along Keong Saik Road.

It's an eclectic mix: young and middle-aged professionals in office attire, women in power suits and casually dressed undergraduate students. Most are local but there's even an odd foreigner or two in the crowd. What brings them all together: a two-hour workshop entitled "Credit Card Rewards Demystified". The price? S$35 a seat. And all 40 seats are sold out.

The master trainer in question is the one they call "The MileLion", or travel hacking blogger extraordinaire, Aaron Wong.

Wearing a faded, white T-shirt emblazoned with "I Heart The MileLion" across the front, the slightly-built 30-year-old holds court for the next two hours, speaking passionately and with a disarming sense of humour. His presentation slides come with headlines like "Understanding the value of a mile" and "Use the right card in the right situation".
Sold-out workshops
To insiders, this is called "travel hacking". To newbies, it's simply a way to "travel better, for less", says Wong, who runs four of these workshops a month and is also the founder of hit travel hacking "The MileLion" blog.
"When I started giving these talks, my biggest worry initially was that no one wanted to come," said Wong.
His fears were unfounded. The first event he conducted earlier this year filled up an auditorium of 270 people and completely sold out at $15 a seat.
Wong, who's now structured his workshops into smaller beginner and advanced classes, says his main demographic is fresh grads using cards for the first time and mid-50s professionals who did well in careers but never had time to think about their miles.
Wong says regular class participants are roughly split into 70% male and 30% female.
"I don't know why that is. Maybe it's a geeky and nerdy pursuit," he quipped.
But with the travel boom in recent years, Wong is confident he's only "beginning to scratch the surface of what's out there".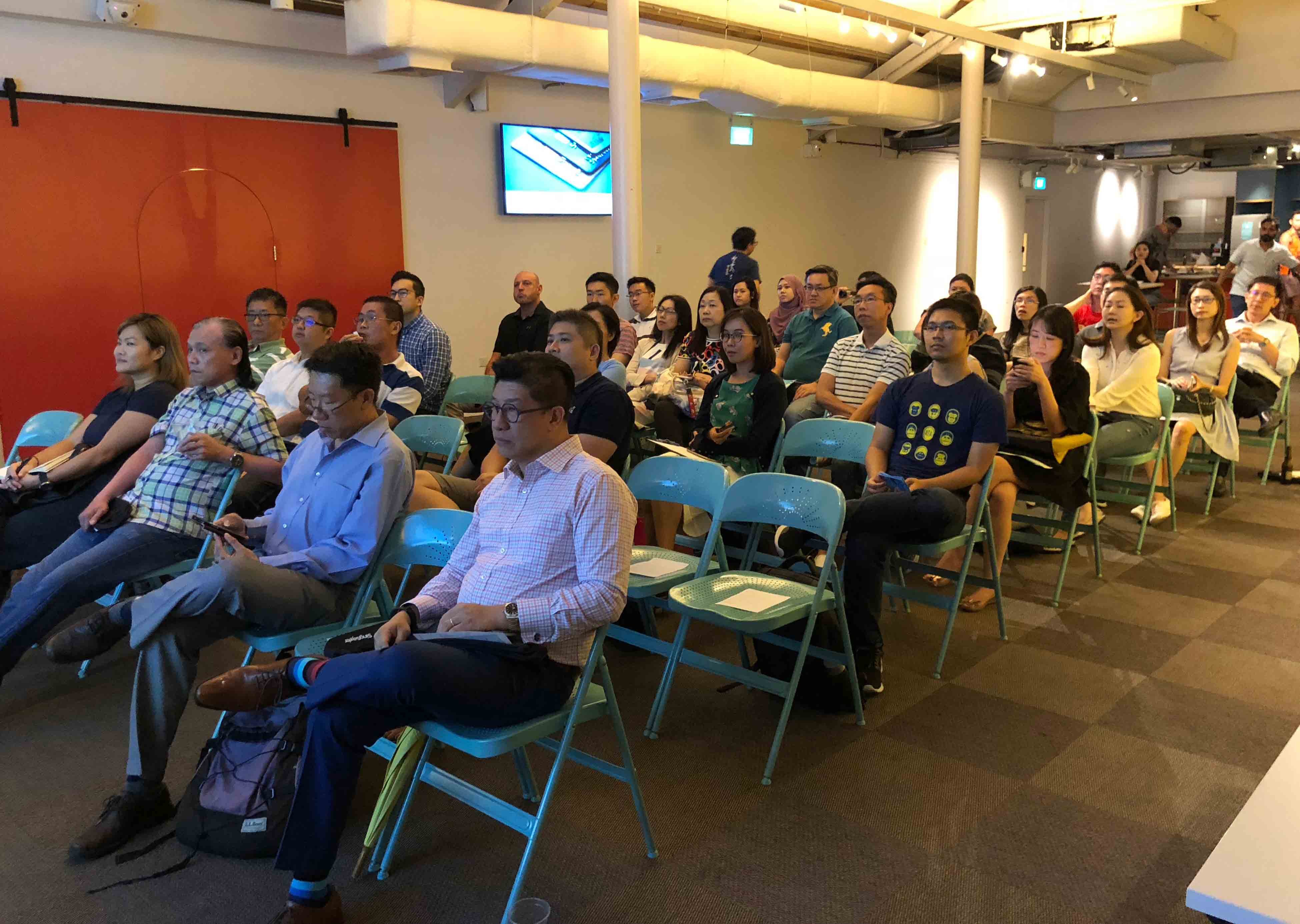 What is travel hacking?
So what is travel hacking? Simply put, travel hacking is the process of accumulating frequent flyer miles to redeem for free flights and flight upgrades, access to VIP airport lounges, hotel room upgrades and other travel-related perks. In fact, air miles have become so much of a valued currency there's now an underground black market for trading air miles for cash.
Kai, a 27-year-old software engineer and first-time attendee of Aaron's workshop, told SingSaver he intends to redeem his miles for a business class flight for an upcoming vacation.
"I decided to attend the talk because it seemed like a crash course for those starting out in travel hacking," he said.
His most important takeaway? Making good use of credit cards' sign-up bonuses and how to accelerate miles earned from other avenues besides credit cards.
What's in Aaron's own wallet?
When Wong first started getting into travel hacking, he applied for every miles card out in the market, using different cards for different purposes to rack up miles. For example, some cards get you more points from dining, others from petrol top-ups or from online shopping.
These days, he actively uses about four cards. He's reached what he calls a "sweet spot", streamlining his card use to his own travel and spending habits.
Sitting comfortably on a million air miles in his account, Aaron says his most active cards, due to various card benefits, are:
He also accumulates miles by maximising his daily spend through various apps like Mileslife. He also looks out for exclusive welcome offers on SingSaver financial comparison site.
Miles over cashback
For anyone thinking of becoming a miles junkie, Wong says you've got to believe, first and foremost, in the value of air miles cards. This even though various surveys have reported an overwhelming majority of Singaporeans prefer cashback cards.
"Cashback cards may earn you rebates, but they don't give you miles for the annual fees you pay. On the other hand, miles cards offer you miles for annual fees. Cashback cards offer you nothing for annual fees," said Wong in defence of air miles cards.
He adds that miles cards offer travel perks, such as lounge access, concierge services, airport transfers and travel insurance.
"Over time, it became for the masses. Miles have been democratised – that's the biggest change in the last five years."
"Banks and airlines have now become more aggressive. When I started my blog five years ago, miles earning cards required minimum annual incomes of S$80,000. Those annual income qualifying criteria have now been dropped to S$30,000 in many cases," he said.
"Over time, it became for the masses. Miles have been democratised – that's the biggest change in the last five years."
---
The MileLion's Top 5 Travel Hacking Tips
1. Have an end goal in mind
Set a goal to work towards, like a business class ticket to Sydney. Focus on the spend you require, instead of getting bogged down by too much information.
"If you don't have a clear goal, you're just accumulating points from many different cards. You will end up like what I did when I first started. I was using multiple cards without understanding how to maximise the spend on each card, or if the card fit in with my regular spending habits," said Wong.
2. Use multiple cards to maximise spend
Sticking to just one card to accumulate miles is a very slow way to get to your end goal. Wong recommends starting with five cards, with cards suited to your spending habits.
Be disciplined when it comes to payment, especially when it comes to using a few cards at once. And don't apply for multiple cards at once – it lowers your credit rating.
"Set up a GIRO arrangement and always pay in full. And never pay late," said Wong.
3. Stretch your spend with a high earn rate
Banks offer bonuses on certain categories of spend like dining, overseas spending, and online spending. As a rule of thumb, try and place 70-80% of your spend on a card that offers four miles per dollar (mpd) in a "specialised spending" category.
The remaining 20% should be grouped under general spending, which doesn't fall into any of the specialised spending activities.
This means looking for opportunities to turn general spending (regular grocery shopping) into online spending (buying groceries on Redmart).
4. Maximise sign-up bonuses
Credit cards offer huge signup bonuses on your first major spend. Paying for once-in-a-lifetime events, such as home renovations, a wedding, or first car with your new credit card ensures a way to earn lots of miles quickly. An example is the American Express KrisFlyer Ascend, which offers up to 31,000 KrisFlyer miles if you charge S$10,000 to the card within the first three months.
5. Study other ways to accumulate miles
Credit cards are not the only way to earn miles. Certain hotels, for example, offer miles for your stay. Car rental companies, too, offer miles for each rental. Another example is Mileslife, which is a mobile payment app that allows you to earn miles for your everyday spend on dining, hotel, and travel expenses. Even paying for your telco bills from M1 or StarHub allows you to earn loyalty rewards points which you can convert into air miles.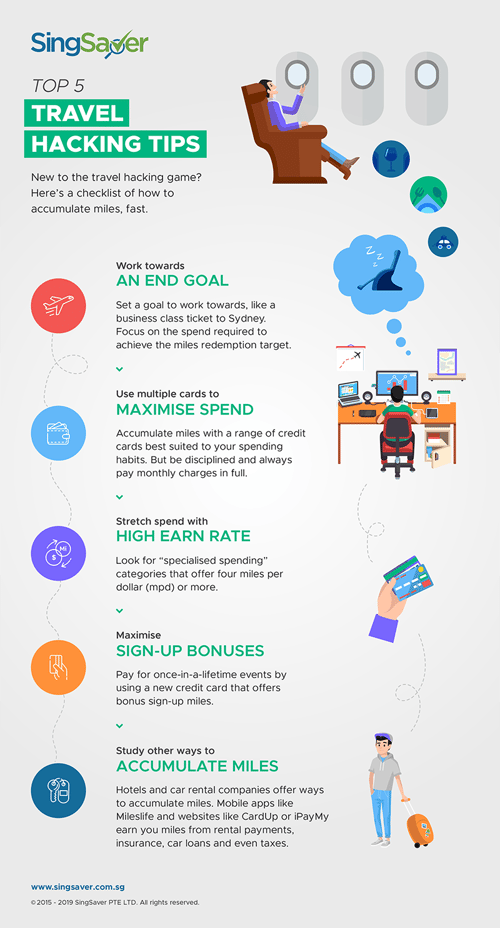 Read this next:
6 Credit Cards Which Give Free Access to Airport Lounges
Cashback or Rewards Credit Card: Which is Better?
Amex, Mastercard or Visa: Which is Better for Travel?
When Does It Make Sense To Pay Your Credit Card Annual Fee?
Amex Krisflyer Blue Vs Ascend: Which Is the Right Card for You?