Stop looking for the best miles credit card. Instead, maximise your signup bonus across different cards to truly win the points game.
Opinions expressed reflect the view of the writer (this is his story).
Everyone's been there before. A big life event is coming up – a wedding, a new home, a renovation, a large tuition bill, or a car down payment. You've already committed to spending the money; the only question is: which card will you use?
Here's where some people will miss out on one of the biggest opportunities to earn miles in their lives: by defaulting to whatever card is already in their wallet (or worse, put it on a cashback card!).
"But what's wrong with putting it all on one card?" you say. Most of these payments don't fall under so-called specialised spending categories like dining or shopping which earn bonus points with the right cards.
That's true, but you're forgetting three of the most powerful words in the miles and points game: signup bonuses.
What are signup bonuses?

Signup bonuses are a bank's big weapon to drive customer acquisition. The bank basically says to you: if you hit $X amount of spending in a Y time period, I'll give you Z bonus miles or points. These bonuses, in effect, turbocharge your miles accumulation and allow you to turn that house renovation or wedding into a free vacation.
Here are five examples of Singapore miles and points cards that are currently offering signup bonuses:
KrisFlyer Ascend Credit Card – for approvals by 31 March 2019
KrisFlyer Credit Card – for approvals by 31 March 2019 (you can sign up for either the Ascend or the regular credit card, not both)
AMEX Rewards Card – no deadline
Citibank PremierMiles Visa Card – for approvals by 31 January 2019
DBS Altitude AMEX Card – for approvals by 31 January 2019
Who is eligible?
If you already hold one of the above-mentioned cards, you might think you're being clever by cancelling your card, applying again, and enjoying the bonus. Unfortunately, banks are on to that sort of behaviour and most will restrict signup bonuses to new customers only.
Who is a new customer? Here's where it pays dividends to dive into the T&Cs of each bank's signup offer because different banks have different definitions.
For example, where the Citibank PremierMiles signup bonus is concerned, the bank considers you to be a new customer if you don't currently hold any Citibank cards now or in the past 12 months.
On the other hand, for the purposes of the DBS Altitude AMEX signup bonus, the bank consider you to be a new customer if you don't currently hold the DBS Altitude AMEX now or in the past 12 months.
This example shows how one bank may define "new" as "totally new", in that you don't hold any of its cards now or in the recent past, while another may define "new" as "new to product", in that you don't hold that particular card now in the recent past. In case you were wondering- holding a supplementary card does not make you an existing customer.
Which bank offers what?
Here's a summary of the main signup bonuses that are currently on the market: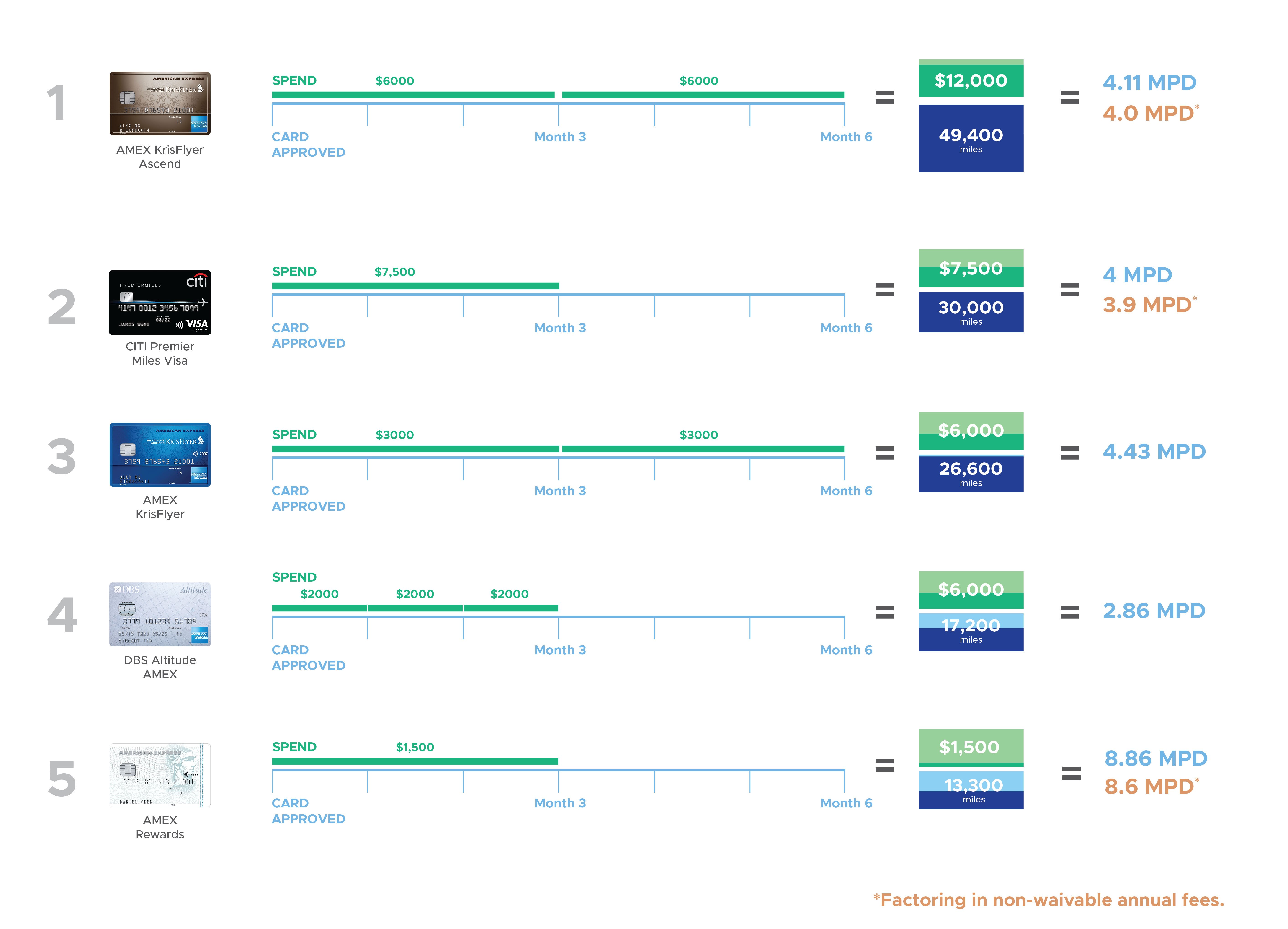 How should we think about crafting a signup bonus strategy? Here are some suggestions:
Consider the overall spending to miles ratio
Don't make the mistake of only looking at the total number of miles on offer for a given signup promotion- you're going to want to consider how much you need to spend to achieve those miles.
For example, the KrisFlyer Ascend card offers a total haul of 49,400 miles, but requires you to spend $12,000 overall. Factor in the non-waivable first year fee of $337.05, and you're talking about an average mile per dollar yield of ~4.0 (49,400/12,337.05).
In contrast, the AMEX Rewards card offers a total haul of 13,333 miles, but only requires you to spend $1,500 and pay an annual fee of $53.50. This makes the average mile per dollar yield ~8.6 (13,333/1,535.50), which represents a much superior spend:payoff ratio.
Think about how you can break up your spending
Signup bonuses are really a form of financial Tetris, where you win by optimising how you slot each spending requirement into your overall spending.
What do I mean? Suppose you have a planned total spend of $15K. There are several ways of splitting this spend: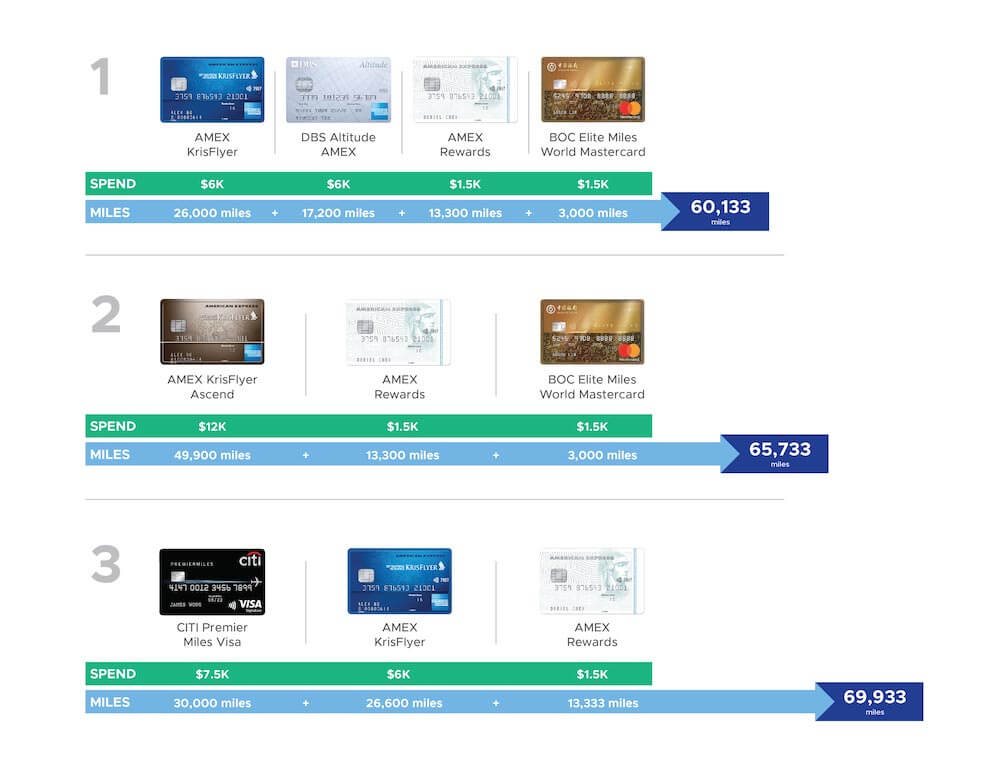 In other words, the same spending, split in different ways, can yield a different total miles haul.
Watch those time periods
Traditionally, most banks have given you a three-month period after approval to hit your signup spending threshold. However, banks differ in their implementation of this period.
For example, the Citibank PremierMiles Visa signup offer requires you to spend $7,500 in 3 months. You could spend that amount in a single day and be done.
However, the DBS Altitude AMEX signup offer requires you to spend $6,000 in 3 months, split into $2,000 each month. This means that you need to be more tactical about allocating your spending, and can't just rely on a single one-time big-ticket purchase. Talk to your supplier and ask if he/she will consider taking payments in instalments, or look for ways to spread out your spending over a longer time period.
Moreover, some banks have recently started experimenting with longer time periods, presumably to encourage customers to use their cards beyond the first three months. The KrisFlyer co-brand cards offer you two bonuses if you hit the spending threshold over two different periods – the first three months and the next three months.
Conclusion
The worst thing you can do is apply for a miles credit card and fail to hit the signup bonus, because you won't get another shot at it for at least 12 months. So do your homework and strategically plan your bonuses around life's big events!
I myself got married in January, and used the wedding banquet expenditure to hit a signup bonus on the AMEX Platinum Charge card, yielding a total of 62,500 miles for $20,000 of spending. Look out for a future post where I'll share a bit more about how a miles and point geek plans a honeymoon!
Read these next:
Singapore Airlines Is Increasing Its KrisFlyer Air Miles Redemption Rates
Everything You Need to Know About Air Miles Credit Card Fees in Singapore
And The Best Credit Cards With Travel Insurance Are…
Epic trip inspires Singapore blogger to share travel hacking secrets
6 Credit Cards Which Give Free Access to Airport Lounges
---

By Aaron Wong
Aaron started The MileLion to help people travel better for less and impress "chiobu". He was 50% successful. This is his story.
---