Just got married and not sure where to go? Here are 5 honeymoon destinations you must visit, to kickstart the adventure of married life!
Following the frenzy of preparing for your wedding comes the anxiety of planning for your honeymoon– perhaps the second most eventful moment you'll share with your partner. After exchanging your marriage vows, a lifetime of decision-making awaits you both as a couple. So, what's the best destination you can go to for your honeymoon that wouldn't stir up any bad juju? Here are 5 honeymoon destinations you must visit to celebrate your brand-new nuptial bliss!
Maldives
The trip of a lifetime begins with a destination that you'll remember for a lifetime. The Maldives is a favourite honeymoon destination, and for good reason. The South Asian country, a cluster of about 1000 coral islands, is breathtakingly beautiful. Your experiences in this country are not just visual too– the Maldives offers you unique activities that will foster only good feelings between you and your loved one.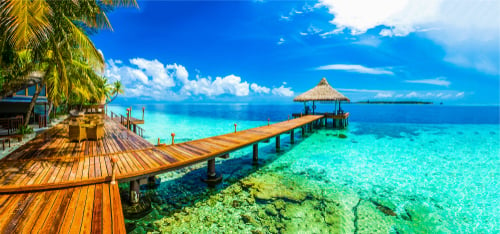 Famed for its crystal-clear waters, honeymooners can snorkel or go on a submarine ride to celebrate the start of their married journey together. Alternatively, glow-in-the-dark-beaches and a romantic massage also await in this picturesque island, for you to relish with your lifelong partner.
Bali, Indonesia
If the great romantic escape conjures up images of beaches for you and your partner, then Bali in Indonesia is the natural tropical choice for you both.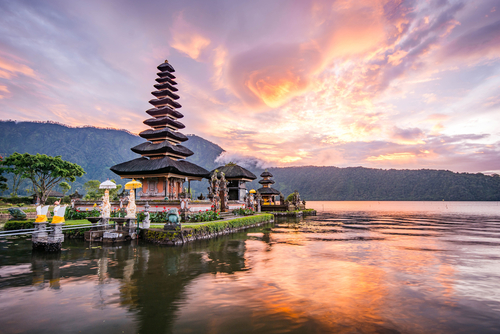 The post-wedding frenzy is likely to leave you exhausted, and reeling with the adrenaline from the biggest event for you and your partner. Some couples might prefer a more laid back and casual honeymoon from Singapore, so they can focus their energies on basking in the post-marital afterglow. Besides, a "minimoon" trip to this nearby, serene Indonesian island may just be the respite you'll need as a couple to re-center yourselves as you embark on your wedded life together.
Tasmania, Australia
Perhaps you're anticipating something a little more rugged and wild to fan the flames of your newly-minted bond as a couple. An adventure in Tasmania might be the place for you to honeymoon as a couple.
Tasmania is home to many spectacular sites of nature like Cradle Mountain, surrounded by glacial lakes, captivating rainforests, and extraordinary alpine vegetation. Besides being a sight to marvel at, Tasmania offers you the experience of exploring the unique mountainous terrain by foot. There's nothing more romantic than a stroll together through magical cascading waterfalls, ancient rainforests or the popular Enchanted Walk.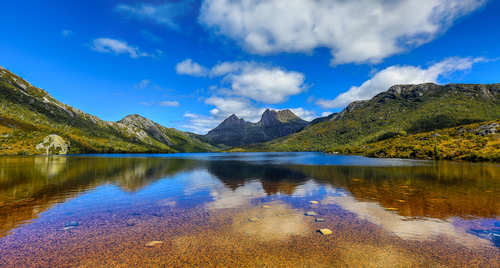 Alternatively, you can also discover the visual feast that is Tasmania on horseback, or while you're high in the skies in a helicopter that offers an aerial view of the breathtaking mountainous region. Revel in the visual delight of the Australian island state with your partner and take your pick of the many romantic and spacious Tasmanian hotels the island has catered for, for honeymooners just like you.
Switzerland
Fairy tales sometimes contain one or all of the following: snow-capped mountains, the finest luxury watches, decadent cheese or chocolate fondue towers and striking sports legends like... Roger Federer. If so, Switzerland might be the perfect dreamland for you and your partner to jet off to for the perfect honeymoon package.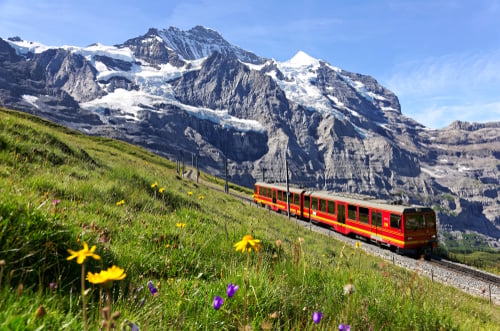 There's nothing like delighting in the grandeur and glamour of Switzerland's nature together. Frame your memories as a married couple with postcard-perfect landscapes, horse-drawn carriage rides or hop on a magical train journey through the region that will take you through Switzerland's rustic charm and scenic vistas.
Munnar, Kerala
For a true romantic escapade, consider Munnar in Kerala– bound to welcome you and your partner in its endless charm and beauty. Feast your senses in the Indian town renowned for its tea culture, as you navigate through misty mountains and valleys for tea-tasting sessions and meditation sessions under cinnamon trees.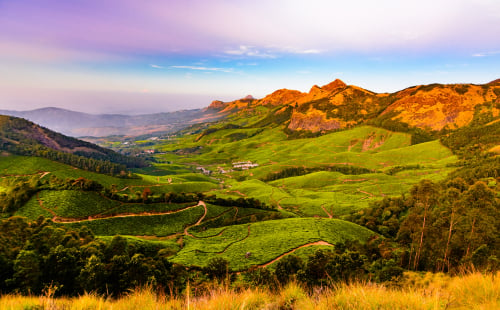 If that doesn't sound romantic or dreamy enough, an array of exotic experiences await you as you wander through lush plantations and trek amongst tea trees. Munnar's popularity as a honeymoon destination can be seen in the many honeymoon resorts set up in the stretches of nature and wilderness. Anticipate serenity and undisturbed privacy for you and your partner in this beautiful town– a honeymoon destination that's bound to be a memorable first trip for you both as newlyweds.
Just one more tip...
Remember to get your travel insurance! There's nothing like lost luggage or belongings that can really ruin the vibe of your romantic getaway. Having travel insurance means that you can claim compensation in the unfortunate event of theft, loss of personal belongings, or travel disruption due to unforeseen circumstances. Planning for your honeymoon can already be stressful enough, so don't let travel-related concerns get at you!
Choose a travel insurance plan that suits the needs and activities of your honeymoon, and don't forget to read the fine print of what each plan covers! Can't decide which is the right travel insurance for you and your partner? Use our travel insurance comparison tool to find the best fitting insurance plan that suits you.

What to read next:
JianHao Tan: Singapore's Top Influencer Is Stepping Up and Growing Up
Singapore Influencers TodayWeExplore Share Winning Secret Behind Instagram Success
How to Be Budget Smart When Planning Your Wedding
5 Affordable Wedding Banquet Venues In Singapore 2019
9 Romantic Destinations To Propose At That Aren't Paris
---

By Geraldine Mark
Geraldine has always been a mixed bag by nature. To her advantage, she has learnt how to identify connections across disparate subjects. Her interests include food and fitness. She also likes the smell of hot coffee, fried bacon and freshly-laundered clothes, in no particular order.
---