It can be easy to overspend on seasonal Chinese New Year snacks. Follow these tips so you don't bust your budget trying to entertain your guests.
It's Chinese New Year, and you know what that means: a fortune earned from ang pao money, and a fortune spent on feeding a horde of visitors.
The prices of those CNY snacks sure can add up though, so here's how to save money when buying them.

1. Go Wholesale Wherever Possible
We'll let you in on a secret: you can actually buy some CNY snacks direct from the wholesaler, rather than a retailer like Sheng Siong or NTUC.
For example, if you want to buy nuts, head down to Tai Sun's actual factory outlet at 255 Pandan Loop. This place is only open to the general public on two limited occasions: the months preceding CNY and Hari Raya. At any other time, you can't buy from here.
The factory outlet sells the various kinds of nuts used as CNY snacks (cashew nuts, ground nuts, etc.), and prices are around S$1 to S$1.50 cheaper than retail counterparts.
Also in the same area is Hock Seng (267 Pandan Loop). This place has everything from Pringles to canned fruits, all at much cheaper rates compared to retailers. However, it's only open to the public for three weeks, leading up to CNY.
Other wholesale centres to check out are Victoria Wholesale Centre and Albert Centre (although they mainly sell CNY dinner ingredients rather than snacks).

2. Save the Good Stuff
You can't afford to supply the expensive, imported, S$25-a-box pineapple tarts for everyone; and you'll go broke if you need to buy several kilos of "love letter" snacks from Penang.
The solution? Be sneaky. Hide the good snacks for privileged guests, and leave out the more common items for others (like that distant aunt who's bringing five children you've never even met). Don't try to feed the best to everyone.
3. Track Your Wastage
Many people end up buying too much (very rarely too little) because they don't track wastage. This year, take stock (we promise, you won't have to do this again for many years, after doing it once).
Take note of which snacks you've bought, and the total quantities purchased (e.g. how many tins? How many kilos?) At the end of CNY, note the remaining quantities of each snack.
You can quickly pick out the top favourites, that are always finished up - in future, abandon the less popular snacks in favour of these. You can also note the quantity consumed; if you're always left with whole tubs of snacks leftover, you know to reduce your purchases the next time around.

4. Avoid Box Sets
Don't assume that every box set is a discount. This is especially true for mixed snacks (e.g. a boxed set with candies, sour plum, nuts, etc.)
Quite often, the box sets don't actually deliver value. You get a tiny portion of each type of snack, and the quality may be of a much lower grade. If you just look up each item in the box set, and check their individual prices, you'll realise you could be paying a lot less buying them individually.
Most of the time, the box sets save you time - it's convenient because you don't need to buy multiple snacks. What they don't save you, however, is money; don't assume there's any sort of bulk discount.
Sweeten the Deal with Credit Card Perks
Whenever you buy, try to use a credit card that gives you the most reward points, or the highest cashback - then pay it back immediately so there's no interest repayments.
You can even offer to put your friends' or relatives' snack purchases on your card, and then collect repayment from them in cash. This way, you'll maximise the amount of points or cashback you earn, without actually spending more.
Try using the HSBC Advance Credit Card, which gives you up to 2.5% unlimited cashback (capped at S$75 per month) on all your Chinese New Year snacks and drinks. And if you're an Advance Banking customer, you will get an additional 1% cashback, and have your monthly cap raised to S$125 per month!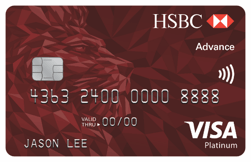 SingSaver.com.sg Exclusive: Apply now for this card and receive free memberships to LiveUp, GuavaPass and more, worth S$120. Plus, receive an American Tourister Caravan 70cm TSA luggage AND a bonus reward of up to 5% cash back (capped at S$50 per qualifying month) on online spends, when you spend S$600 within the first month!
Read This Next:
7 Easy Ways to Save Money on Wine
Follow These 5 Tips to Save Money on New Furniture in Singapore