You have S$200,000 in cash. And as a risk-averse measure, you would rather have full liquidity for a rainy day. There's the option of priority banking or a savings account. Which do you choose?
---
Best priority banking accounts on SingSaver



---
Though investing has been the talk of the town these days, maybe you still aren't buying into the idea of willingly allowing your funds to fluctuate according to market conditions. Despite the projected high returns, you may not be keen on letting all your valuable savings go down the drain if the market dips.
But you also know that letting your funds sit idly in a bank account with a meagre 0.05% per annum is not going to grow your funds.
If you've got at least S$200,000 worth of cash in your possession, you have the option of a priority banking account or savings account so you can make your money work harder and smarter for you. For those who are torn between the two, read on to find out which option is your best bet at accumulating wealth.
What is priority banking?
Contrary to popular belief, priority banking is not as unachievable as it seems. It is a tier above normal banking and customers are able to transact large amounts from at least S$100,000 — doable, right?
In order to incentivise you to store your funds with them, banks offer perks and privileges in exchange for your priority banking relationship. Such benefits include preferential rates for banking services, shopping and dining discounts, dedicated Relationship Managers and even sometimes free limousine services and airport lounge access.
However, all banks offer different perks, so be sure to check them out before you hand over your hard-earned savings.
---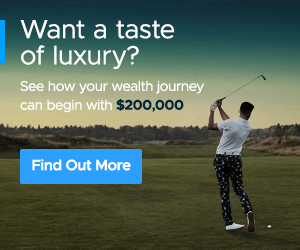 Ready to level up? Find out how you can make your money work harder and smarter for you. Enjoy your own dedicated relationship manager and privileged access to a whole suite of preferential rates with Priority Banking. Compare your options.
---
How do I qualify for it?
To qualify for priority banking, banks usually require you to transact an amount that ranges from S$100,000 to S$500,000 with them. This figure doesn't necessarily have to be all in cash though, as banks allow you to have a mix of cash, investments and insurance products with them.
This figure is referred to as Assets Under Management (AUM), while others refer to it as the Total Relationship Balance (TRB). You'll have to be at least 18 years of age to be eligible.
Differences between priority banking and normal banking
The main difference between normal banking and priority banking is the perks available. Priority banking customers are usually accessible to a personal Relationship Manager that can help them manage their finances. In-depth market analysis and exclusive financial services are also available for customers to make informed financial decisions.
Besides the perks, normal banking requires a lower or even no minimum deposit for you to open an account. On the other hand, priority banking customers are required to have a high AUM or TRB, usually in hundreds of thousands.
How do the interest rates differ from normal banking?
As for the interest rates, they are generally relatively similar to the standard savings accounts, which range from 0.01% to 7.88% p.a. They can sometimes offer a lower interest rate too since the main draw of priority banking is not the interest rates but the attractive perks that come with a priority banking relationship.
However, you might sometimes be better off placing your large funds in a priority banking account instead, since they usually offer a higher balance limit so you can enjoy higher interest rates for larger amounts, compared to savings accounts.
Each bank has its own interest rate, so sourcing for the right priority bank is crucial to finding one that meets your financial needs.
Normal banking vs priority banking
To get the most bang out of your buck, we've put priority bank accounts and their savings accounts counterparts head-to-head to see which account yields a higher interest rate.
The following calculations are made for a person who has S$350,000 in cash and fulfils the respective categories of each account to yield the maximum interest rate.
Do note that not all of the websites showcase how the interest is being calculated for priority banking, so for simplicity's sake, we will just multiply the annual interest rate with the bank balance to get the total maximum interest earned.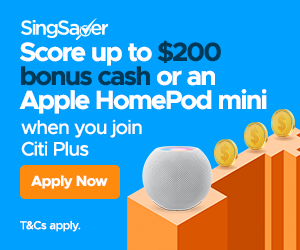 SingSaver's Exclusive Promotion: Receive S$50 cash upon opening a Citi Plus account and get another S$150 cash (total S$200) or an Apple HomePod mini (worth S$139) when you fund a min. deposit of S$15,000 within 2 months of account opening and maintain it for 4 months. Valid till 7 June 2023. T&Cs apply.
Receive your S$50 cash reward for opening a Citi Plus account in just two weeks!
Plus, enjoy up to S$450 cash and up to S$599 worth of exciting gifts when you join Citi Plus and apply for a Citi Cashback+ Mastercard. T&Cs apply.

Citi MaxiGain Savings Account vs Citi Wealth First Account
Account
Minimum monthly average balance / AUM
Base interest rate
Maximum interest rate (per annum)
Total maximum interest earned per month
Citi MaxiGain Savings Account
$0 for both min initial deposit and min. average daily balance
0.01%
Up to 0.31% p.a.

Bonus interest rate steps up each month starting from 0.025% p.a. to a maximum of 0.30% p.a.

S$37.86
(first S$75,000: 0.61% p.a.
S$75,000 onwards: 0.01% p.a.)
Citi Wealth First Account (Citigold)
S$250,000
0.01%
7.51%
S$505.83
Citi MaxiGain savings account can earn you up to 0.31% p.a., with their interest rate increasing every month. This is if the lowest balance in your account in a month is equal to or greater than the lowest balance in the previous month. However, there is a S$70,000 cap on their interest rate, which may not be ideal for large funds.
As for the Citi Wealth First Account, if you're a Citigold member, you can earn up to 7.51% p.a. on your first S$100,000, assuming you spend, invest, insure yourself, apply for a loan and save with Citi. Though, note that you need to maintain an AUM of at least S$250,000.
In this case, S$250,000 in the Citi Wealth First Account would give you a much higher interest of S$505.83 per month, which is higher than what you would get with the Citi MaxiGain savings account.
On top of that, you can also receive in-depth global market insights and research, as well as enjoy having a dedicated Relationship Manager as a Citigold customer.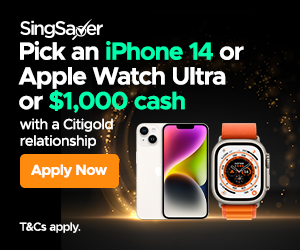 SingSaver Exclusive Offer: Get an Apple iPhone 14 128GB (worth $1,311.10) or an Apple Watch Ultra GPS + Cellular, 49mm (worth S$1,210.20) or S$1,000 Cash when you apply for Citigold and deposit a min. of S$250,000 in fresh funds by 31 July 2023. Valid till 7 June 2023. T&Cs apply.
Enjoy up to 7.51% p.a. interest on your savings when you open a Citi Wealth First account. T&Cs apply.
In addition, receive S$300 cash when you hold a valid Primary Citibank Credit Card + S$500 cash when you apply for a Citibank Mortgage loan with min. loan size of S$800,000 within 3 months of account opening. Valid till 30 June 2023. T&Cs apply.
Also, receive up to S$74,000 cash upon fulfilling Citigold's Investment and Insurance promotion criteria. Valid till 30 June 2023. T&Cs apply.
DBS Multiplier vs DBS Treasures
| | | | |
| --- | --- | --- | --- |
| Account | Minimum monthly average balance / AUM | Base interest rate | Maximum interest rate (per annum) |
| DBS Multiplier | NA | 0.05% | 3% |
| DBS Treasures | S$350,000 | 0.05% | 0.1% |
If you're comparing DBS Multiplier and DBS Treasures, you're better off putting your cash into a DBS Multiplier account as you'll be able to earn up to 3% p.a.. Assuming you hit all the criteria like crediting your income, investing, purchasing a loan and insurance products, you can earn an interest of S$875 per month with a bank balance of S$350,000.
On the other hand, the most that you'll be able to earn for DBS Treasures is 0.1% p.a.. As their website does not specifically mention how the interest rate is calculated, the most you will earn is a comparatively measly S$29.17 per month as interest.
However, with DBS Treasures, you are able to gain access to their wealth app and smart wealth management services for financial planning, as well as exclusive financial products, personalised advice and financial solutions.
OCBC 360 Account vs OCBC Premier Banking
Account
Minimum monthly average balance / AUM
Base interest rate
Maximum interest rate (per annum)
OCBC 360 Account
NA
0.01%

4.65

%
OCBC Premier Banking (Premier Dividend + Savings Account)
S$200,000
0.05%
4.40% (first three months), 3.7% a year afterwards
OCBC 360 account lets you earn up to 4.65% p.a. on your first S$100,000, provided you credit your monthly salary, buy an insurance and investment product, save at least S$500 a month and maintain a daily balance of S$200,000. You'll earn S$755 in monthly interest should you maintain S$200,000 in your OCBC 360 Account.
As for OCBC premier banking, you'll need to maintain an AUM of S$200,000. However, if you open an OCBC Premier Dividend + Saving Account and deposit at least S$50,000, you can enjoy a bonus interest rate of 4.40% p.a. (in the first three months).
You'll earn up to 3.70% p.a. per year afterwards, provided that you don't withdraw your funds (2.60% p.a.) and deposit at least S$2,000 every month (1.05% p.a.) on top of the 0.05% p.a. base interest earned.
Assuming you earn 3.70% p.a. on S$200,000, you can earn up to S$617 of monthly interest, which is relatively lower than the OCBC 360 account.
UOB One Account vs UOB Privilege Banking
| | | | |
| --- | --- | --- | --- |
| Account | Minimum monthly average balance / AUM | Base interest rate | Maximum interest rate (per annum) |
| UOB One Account | S$1,000 | NA | 7.8% |
| UOB privilege banking | S$350,000 | 0.05% | 3.55% |
The UOB One account lets you earn a maximum interest of 7.8% p.a. with a minimum spend of S$500 on an eligible UOB card and by crediting your salary or making at least three GIRO transactions. For comparison sakes, if you have a balance of S$200,000, this brings your total interest earned to a decent S$108.33 per month.
In comparison, UOB privilege banking has a maximum interest rate of 3.55% p.a. if you deposit a minimum of S$200,000 in fresh funds. Thus, reaping you a maximum interest of S$49.33, assuming the interest rate can be applied to the full amount.

As such, the UOB One Account does offer higher interest compared to the UOB Privilege Account, though the latter doesn't require jumping through as many hoops as the former.
Is priority banking or normal banking better?
In terms of the interest rates for normal and priority banking, the above accounts show how much they can differ. Citi Wealth First Account gives out the highest interest, up to 7.51% p.a., which is the highest for priority banking.
On the other hand, it also depends on which savings account you choose, as some might reap more interest compared to their priority banking account counterparts.
Overall, priority banking is typically not chosen for its higher interest rates, but by customers who want to take advantage of its attractive perks and benefits. One of which is a dedicated Relationship Manager that can give you personalised financial advice and solutions anytime you need them.
If you're willing to set aside at least S$1 million in AUM with a bank, you might want to consider enrolling in private banking, which is a tier above priority banking and is the pinnacle of banking. With private banking, you'll enjoy more perks, including investment-centric ones that are designed to grow your wealth.
That said, you might also want to consider growing your money somewhere else, like a robo advisor which also gives decent yields.
---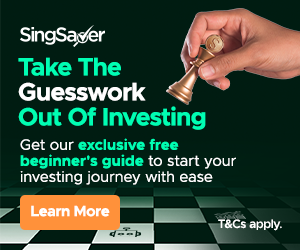 Start managing and saving money like a pro with SingSaver's weekly financial roundups! We dole out easy-to-follow money-saving tips, the latest financial trends and the hottest promotions every week, right into your inbox. This is one mailer you don't want to miss.
Sign up today to receive our exclusive free investing guide for beginners!
---
Read these next:
A Full Guide To Priority Banking In Singapore (2023)
5 Signs To Tell You're Ready For Priority Banking
6 Things Your Priority Banking Relationship Manager Can Do for You
Best Savings Accounts in Singapore to Park Your Money (2023)
Robo Advisors Singapore: Complete 2023 Guide