Scoot tickets already boast budget-friendliness, but here's how you can get even more out your Scoot bookings.
---
Update 24 September 2019: Effective immediately, Scoot has scrapped payment processing fees for flight tickets booked through their website. Previously, customers in Singapore were charged S$10 per person when paying via selected credit cards and PayPal. The fee for AXS payment fees, which was previously S$6, was scrapped last month. Malaysian low-cost carrier announced in July it would scrap processing fees for credit cards and online banking payments from October. Jetstar still currently charges S$10 per passenger per flight for payment via credit card, UnionPay, Alipay and WeChat Pay.
---

Opinions expressed reflect the view of the writer (this is his story).
As much as we in the miles game fantasize about First Class lounges, luxurious leather seats and endless inflight champagne, there will be occasions when we find ourselves crammed in a middle seat on a budget airline.
There are plenty of reasons why even hardcore miles chasers may occasionally choose to fly budget. Most likely, you're looking to fly short haul within the region and there's really no sense in redeeming miles when round-trip flights to Bangkok/Bali/Phuket are as low as $200.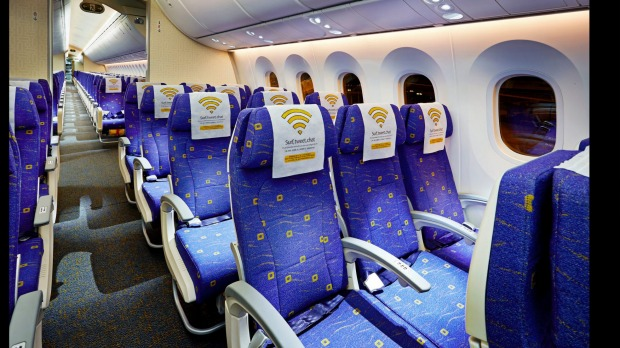 For those of us based in Singapore, Scoot may be the natural option for budget flights. Yes, the airline's had a bit of a rough patch lately, but it's still one of the cheapest ways of getting from Point A to B.
The pitfalls of flying budget are well known: hidden fees, no refunds, and an add-on charge for almost everything. That said, there's no reason why we can't apply travel hacking to budget flights too. Here are five tips to help you get the most out of your Scoot flights.
Tip 1: Avoid paying the processing fee
The most convenient way of paying for your Scoot flight is with a credit card. Unfortunately, it's also the most expensive.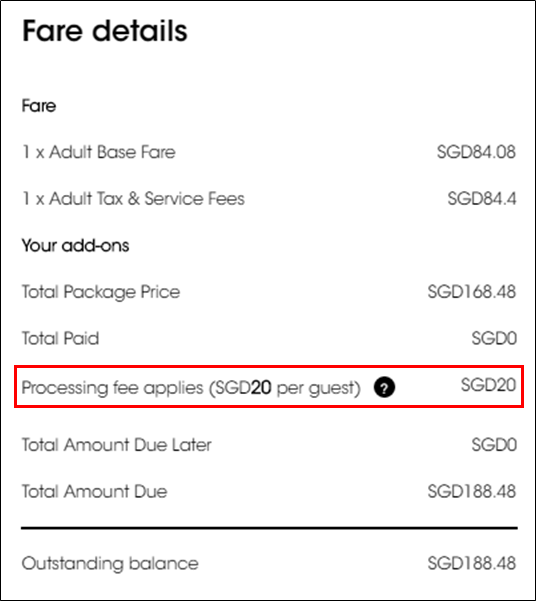 Scoot's credit card processing fee is a whopping $20 per person. That's flat-out ridiculous and borders on profiteering.
You can also use Google Pay or PayPal to pay, but the fee is also $20. AXS is a cheaper option at $6, but it's not available when you're booking a sale fare and you won't earn miles. PayNow's fee is even lower at $4, but you also won't earn miles.
Not all is lost, because you can earn miles on your credit card while avoiding the admin fee by simply buying Scoot gift vouchers. Scoot does not charge a credit card fee on gift voucher purchases, and the value of a gift voucher can be customized to the nearest $1 (max $500 per voucher).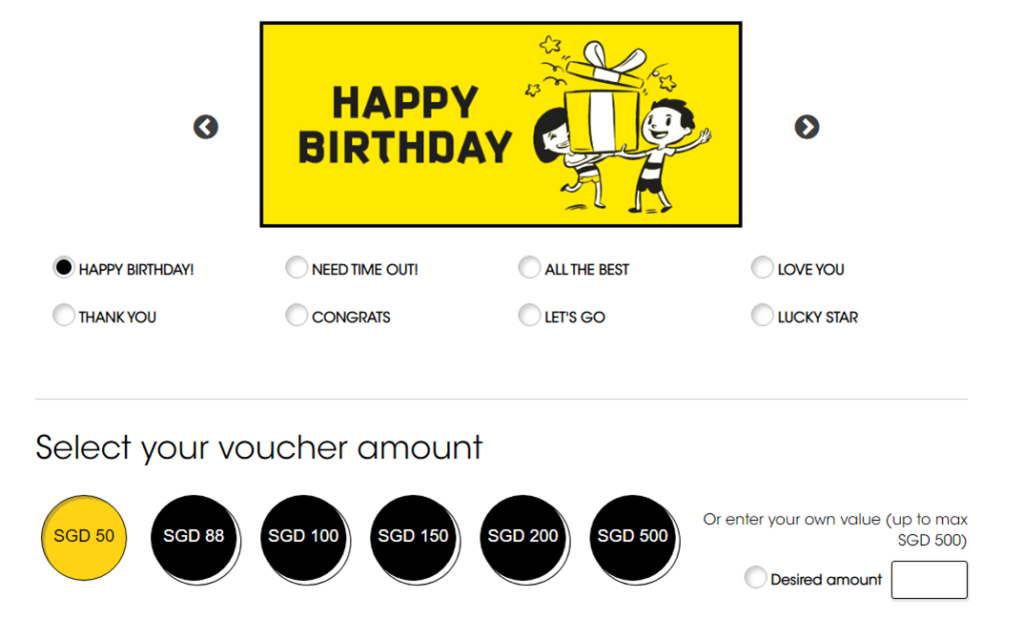 For example, if your fare is $173.50, you might buy a voucher of $174 and use it to pay for your flight. You'd be out of pocket 50 cents, but that's way better than paying a $20 admin fee, plus you earn your miles as per normal.
[Update: Scoot no longer allows you to customize the value of a gift voucher, and you can only select from pre-determined denominations. No change is given for unutilized portions of your voucher, so do the math and see if it still makes sense in your situation.]
You can use a maximum of two Scoot vouchers to pay for a given itinerary.
Tip 2: Select AXS payment method to get more time to confirm your flight
Scoot fares are strictly non-refundable and non-changeable (unless you buy a relatively expensive "Booking Flexibility" package), so you need to be 100% sure of your travel plans before you fly.
What if you're still waiting for other plans to firm up, but worried that fares will increase or seats will disappear in the meantime?
Here's where Scoot's payment options work in your favour. Select AXS, and Scoot gives you 24 hours to make payment at an AXS machine (provided you're at least 3 days away from your flight). If you don't pay, your booking is automatically cancelled at no cost to you.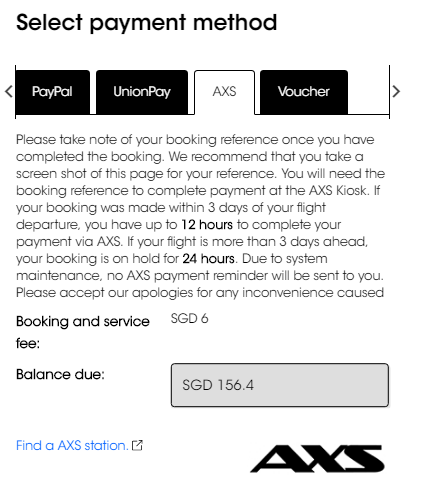 Congratulations! You've just bought yourself an extra 24 hours to finalize your plans, with no risk of fare increases or seats selling out.
Note that AXS payment is only an option if you're:
Buying a regular fare (i.e. not a sale fare)
Departing from Singapore
Booking an itinerary that costs <S$2K
Not buying insurance
Not redeeming a voucher as partial payment
Booking through the official Scoot website and mobile app
Tip 3: Check price of two one-way tickets instead of a round trip
Scoot's pricing logic sometimes doesn't make sense. Consider the following example.
First, I'll try booking Singapore to Sydney as a round-trip journey, departure 8 October, return 15 October. Scoot presents me with the following flight options and a price of S$478.

Then, I'll try booking a one-way from Singapore to Sydney on 8 October, and a one-way from Sydney to Singapore on 15 October. Scoot charges me S$280 on the outbound leg, and A$180 (S$171) on the inbound leg, for a total of S$451.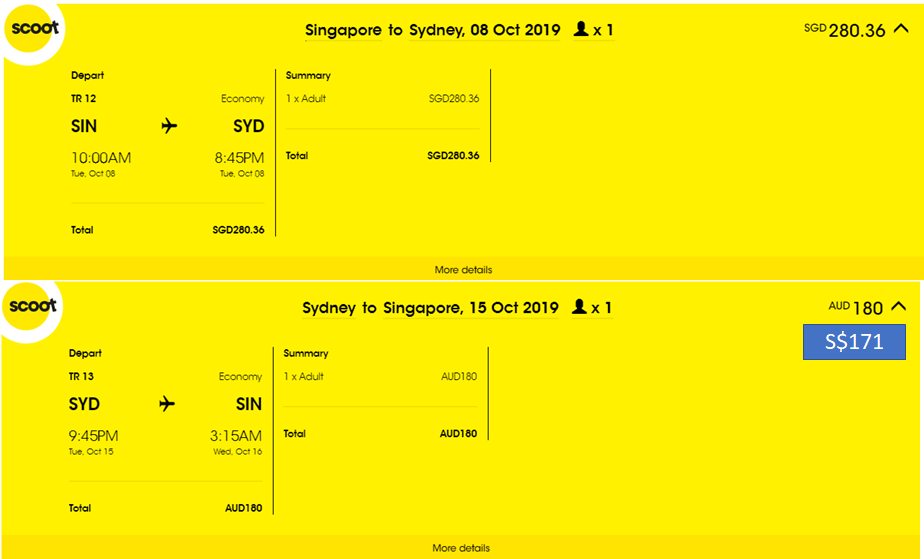 By booking two separate one-way tickets, I'm saving $27. Not the deal of the century, but certainly worth trying!
This doesn't always happen, but for an easy way of looking for opportunities like this, use Google Flights to search. The algorithm is clever enough to check both round trip and separate one-way options to see which one is cheaper.

Tip 4: Get extra benefits with the right credit card
As a budget carrier, Scoot looks for every opportunity to upsell customers. However, holders of the KrisFlyer UOB Credit Card or Debit Card will enjoy certain additional benefits for free, such as:
Priority check-in and boarding
Additional baggage allowance
Free Standard seat selection
A $10 booking fee waiver
Booking flexibility waiver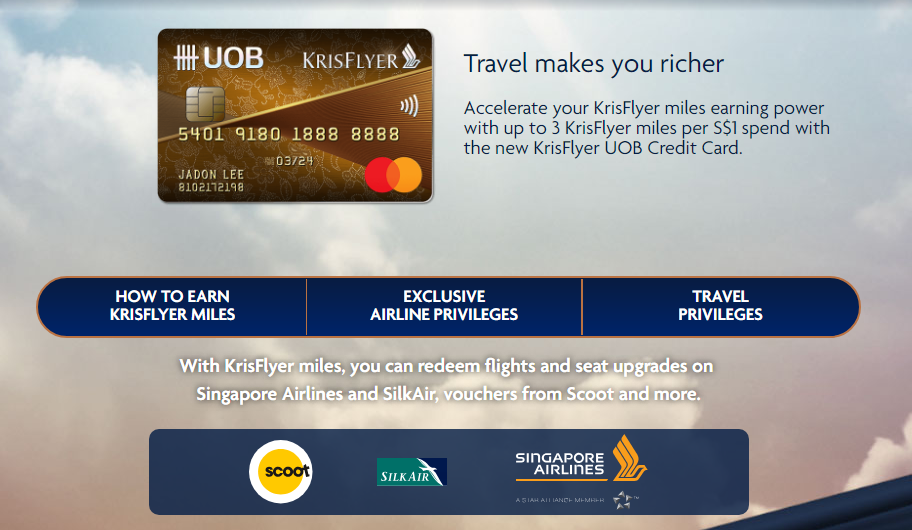 These benefits come with very specific T&Cs, so be sure to read them properly and know the Good, the Bad and the Ugly of using this card.
For example, the additional baggage allowance isn't a complimentary checked bag. You still need to pay for a bag; it's just that you get an additional 5 kg allowance. Your seat selection is only valid for the principal cardholder and not his/her traveling companions, and remember that Scoot's credit card fee is $20 per person, so a $10 fee waiver for the principal cardholder only is… somewhat underwhelming.
Read more: 6 Ways to Turbocharge Your Miles Earning
Tip 5: Can't fly? Get partial refund with ChangeYourFlight
Scoot fares are strictly non-refundable, but if you can't fly, you can at least recoup some value through a service called ChangeYourFlight.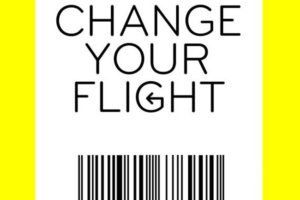 ChangeYourFlight is an official partner of Scoot and will buy your air ticket, in exchange for a gift voucher redeemable towards future travel.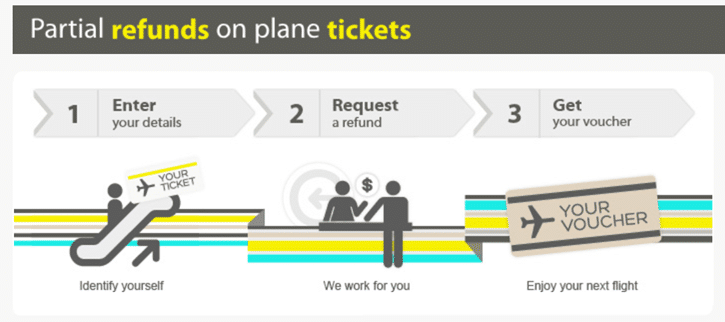 ChangeYourFlight works on a reverse bidding model: you state how much you'd like to be refunded, and the system will take 1-3 days to decide whether it accepts your bid. By default, ChangeYourFlight proposes a few refund options (be warned that they'll try and lowball you) and assign them probabilities, but you're free to name whatever amount you want.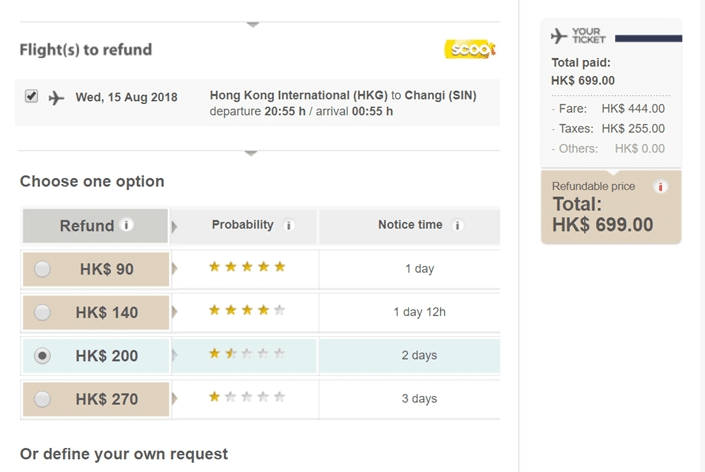 If your refund bid is rejected, you can always submit a new one. Therefore, if you're a few weeks or months before flying, always start with a higher amount.
Upon approval, you'll get a voucher valid towards your next flight. This voucher cannot be used for promotional fares, add-ons, or itineraries containing partner flights. The voucher is also tied to a specific name, so it can only be used by you.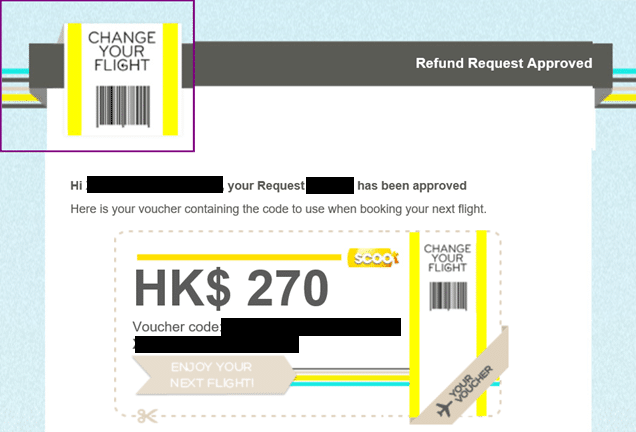 I've written about my experience with ChangeYourFlight here.
Conclusion
Flying on Scoot may not be the height of your travel ambitions, but with these tips you'll be able to cut costs and put that money towards your vacation!
---
Read these next:
'I Have 19 Credit Cards But You Only Need Three'
Best 6 Credit Cards For Overseas Spending
The New KrisFlyer UOB Credit Card: The Good, The Bad And The Ugly
How To Get Around the Singapore Airlines Waitlist
7 Ways To Earn More Miles With Everyday Expenses
---
---