Opinions expressed reflect the view of the writer (this is his story).
At last count, I had a total of 19 different credit cards. I don't carry them all at once, of course, but I realise that this number still sounds insane to most people.
Common questions I get asked include:
"What about your credit score?" I pay my bills in full and on time and manage to retain an AA rating
"What happens if you forget a payment?" Apply for GIRO and you'll never have to worry
"What happens when annual fees come due?" Get them waived or cancel the card, unless it makes sense for you to pay the fee
That said, you don't need so many cards to play the miles game right. Come to think of it, I don't even use them all – at least, not all at the same time.
Cards get cycled in and out of my wallet, depending on ongoing bank promotions and the types of spending I'm doing.
Truth be told, you can earn miles quickly with just a handful of cards. Here are the ones I would recommend to anyone.
Read more: The Best Miles Cards... May Be Rewards Cards
#1: A general spending card

At the heart of every good miles chasing strategy is a solid general spending card. Examples include the BOC Elite Miles World Mastercard, the DBS Altitude, the Citi PremierMiles Visa, the UOB PRVI Miles cards and the AMEX KrisFlyer Ascend/Credit Card.
These cards offer 1.1-1.5 mpd on local spending, and 2-3 mpd on overseas spending, with no caps or minimum spend required. Despite the name, some even offer limited category bonuses. For example, the Citi PremierMiles Visa earns 3 mpd on Expedia and 7 mpd on Agoda.
General spending cards are easy to use because they grant the same rate on all retail transactions. Therefore, it's tempting for some people to use their general spending card for everything. That's a very poor decision which really slows down your mileage accumulation.
That's because banks award bonus points on certain categories of spend like dining, shopping and online transactions. These bonus rates are generally set at 4 mpd, which means that someone conscientiously using the right cards for the right categories would earn miles 2.5-3.5X faster than someone who uses one card for everything.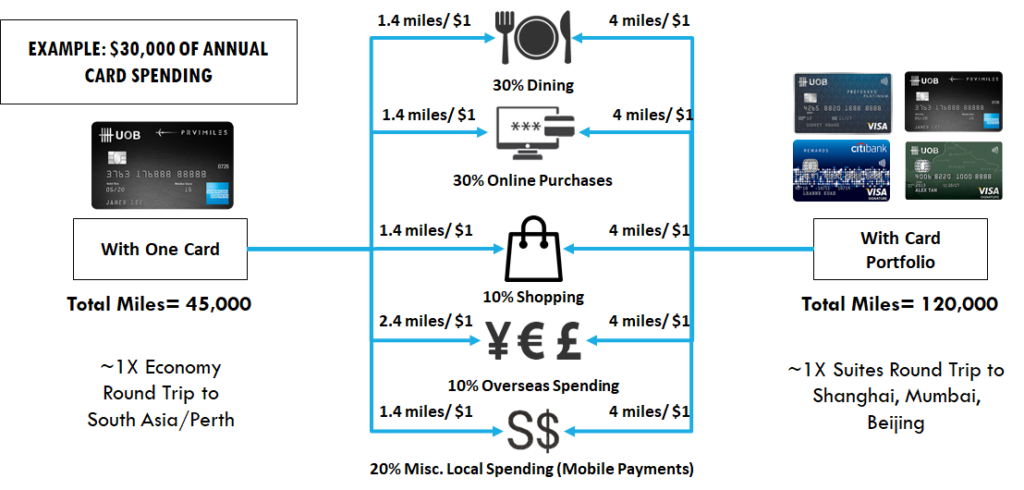 In fact, a general spending card should be your "card of last resort". You only use it in situations where you can't earn bonus points. That means you'll need a few more cards in your wallet, including...
#2: A card for dining

Most Singaporeans love dining out, and if you're one of them, you need a card that gives you bonuses on dining. Your options here would be:
UOB Lady's Card: Earn 4 mpd in one of seven categories (beauty & wellness, dining, entertainment, family, fashion, transport, travel) capped at $1K per month. Sadly, it's only available to women
Maybank Horizon Visa Signature: Earn 3.2 mpd on dining, as well as petrol and taxi fares
HSBC Revolution: Earn 2 mpd on dining and entertainment, as well as online spending
UOB Preferred Platinum Visa: Although this is strictly speaking not a dining card, you can earn 4 mpd wherever Paywave or mobile payments are accepted. This is pretty common at restaurants, so it can be a de facto dining card. You'll also earn 4 mpd on online food delivery
Read more: Best Dining Credit Cards in Singapore 2019
#3: A card for online spending and shopping

Online shopping is another big category of spending for most people. This could include buying air tickets online, shopping for groceries at Redmart, going on a shopping spree on Lazada or Zalora, buying cinema tickets, riding with Grab or gojek...the list goes on.
Therefore, you're going to want a card that gives bonuses in this category, and there are several on the market. Note that each bank has a different definition of what counts as "online spending", so you should read the T&Cs that I've linked below:
The great thing is that the OCBC Titanium Rewards and the Citi Rewards Visa both award 4 mpd on offline shopping too, so they're cards which can pull double duty.
Also note that there's nothing wrong with getting multiple cards to cover the same category – if you spend a lot online, it may make sense to get both the DBS Woman's World Card and the Citi Rewards Visa so your monthly cap for 4 mpd becomes $3K.
Read more: Best 6 Credit Cards for Overseas Spending
Conclusion
Playing the miles game doesn't mean needing a bigger wallet. So long as you use the right cards in the right situations, you'll be able to earn your way to your next vacation faster.
For extra credit, consider accelerating your miles collection with these sign up bonuses:
Citi PremierMiles Visa: New-to-bank customers who spend $7.5K within 3 months of approval and pay the first year's annual fee of $192.60 get 30K miles.
AMEX KrisFlyer Ascend: Spend $20K within 6 months of approval to get a total of 59K miles. First year annual fee of $337.05 must be paid.
AMEX KrisFlyer Credit Card: Spend $10K within 6 months of approval to get a total of 31K miles. First year fee can be waived
DBS Altitude: New-to-bank customers who spend $6K in the first 3 months of approval get a total of 17.2K miles. First year fee of $192.60 can be paid to earn a further 10K miles, or waived
Appendix: What cards do I currently hold?
How did I end up with 19 cards? Here are the cards I currently hold and why I got them.
Citi Rewards Visa: I use this for online transactions to earn 4 mpd, capped at $1K per month, whenever I've busted the DBS Woman's World Card's monthly $2K cap.

Citi Rewards Mastercard: The Citi Rewards Visa and Mastercard keep separate caps on bonus points for online spending. Getting this card enables me to double my cap.

Citi Prestige: Before I got the AMEX Platinum Charge (see below), this was my main "benefits" card. I enjoyed the lounge access and complimentary limo transfers, but decided to make the switch to the AMEX instead because of the better perks on offer.

Citi PremierMiles AMEX: This version of the PremierMiles earns 1.3 mpd on local spending, slightly more than the 1.2 mpd on the Visa version. This card also allows me to use Citi's new PayAll service for tax, condo management fees and utility payments, effectively buying miles at 1.54 cents each.

UOB PRVI Miles AMEX:This used to be my default general spending card at 1.4/2.4 mpd on local/overseas spending, at least until the BOC Elite Miles card was launched.

UOB PRVI Miles Mastercard: Back when I was using the UOB PRVI Miles as my primary general spending card, I got this version too because of the limitations of AMEX acceptance.

UOB Preferred Platinum Visa: I use this for mobile payments and Paywave to earn 4 mpd, capped at $1K per month.

UOB Preferred Platinum AMEX: This card earns 4 mpd on all dining expenditures, capped at $6K a year. UOB no longer issues this card.

UOB Visa Signature: My go-to card for overseas spending. Using this nets me 4 mpd on the first $2K of spending, provided I spend at least $1K overseas in a statement period.

UOB Virtual Pay AMEX: UOB used to issue this for those who wanted the convenience of a card with a US billing address (as you know, certain websites will not accept foreign-issued credit cards). This card is no longer available for application.

AMEX Platinum Charge: My main benefits card. Although it comes with a hefty $1,712 annual fee, it more than pays for itself through free hotel stays, complimentary elite status with hotels and rental car companies, lounge access, dining discounts, $800 of airline and hotel credit and much more.

AMEX Platinum Reserve: I'm enjoying this card free of charge thanks to the AMEX Platinum Charge's "one annual fee policy" – so long as I pay that, I enjoy an annual fee waiver for up to two additional AMEX cards. The Platinum Reserve gives me a complimentary 2 night stay at selected Frasers Hospitality Properties.

AMEX KrisFlyer Ascend AMEX: Holding the AMEX KrisFlyer Ascend gives me four lounge passes (although lounge access is already provided through the AMEX Platinum Charge), as well as a complimentary night's stay at selected Hilton resorts in Asia Pacific.

BOC Elite Miles World Mastercard: This became my default general spending card when it first launched last year with 2/5 mpd on local/overseas spending, without cap. That's since been scaled back to 1.5/3 mpd, but it's still the highest in the market.

DBS Altitude Visa: This card helped me rack up miles on air ticket purchases back when I was in consulting. You earn 3 mpd on the first $5K each month.

DBS Woman's World Mastercard: This is my default card for online spending, earning 4 mpd capped at $2K per month.

OCBC Titanium Rewards Blue: I got this card because of the 4 mpd promotion that OCBC was offering on mobile payments back in 2017 and 2018. Given the ubiquity of mobile payments, it was easy to max out the $12K cap. Now I use the card to earn 4 mpd on occasional online and offline shopping.

OCBC Titanium Rewards Pink: I got the Pink version of the Titanium Rewards as well so I could double my cap for the mobile payments promotion. Each card had a separate $12K cap on 4 mpd.

Maybank Horizon Visa Signature: When I got this card, the idea was to use it for dining in places where AMEX wasn't accepted (otherwise I'd use the UOB Preferred Platinum Visa) to earn 3.2 mpd. However, mobile payments became more and more widely accepted, and eventually, I didn't see the point in earning another bank's currency when I could just use the UOB Preferred Platinum Visa to earn 4 mpd. I'll probably cancel this when the annual fee comes due.

Read these next:
Best 6 Credit Cards For Overseas Spending
The New KrisFlyer UOB Credit Card: The Good, The Bad And The Ugly
How To Redeem Miles For Friends And Family
How To Get Around the Singapore Airlines Waitlist
7 Ways To Earn More Miles With Everyday Expenses
---

By Aaron Wong
Aaron started The MileLion to help people travel better for less and impress "chiobu". He was 50% successful. This is his story.
---