Things have been looking up for Scoot lately, relatively speaking. While the low cost carrier served only two cities in April and May, June saw an expansion to six, July to nine, and now August brings 12 in total.
All in all, Scoot plans to operate a total of 140 flights in its busiest month since the start of COVID-19. In addition, it will bring back ScootPlus (formerly known as ScootBiz), its business class experience, on certain flights operated by the Boeing 787 Dreamliner.
With the announcement of the August schedule also comes a whole series of flight cancellations. If you're affected, be sure to read on to find out what your options are.
Scoot's August 2020 Schedule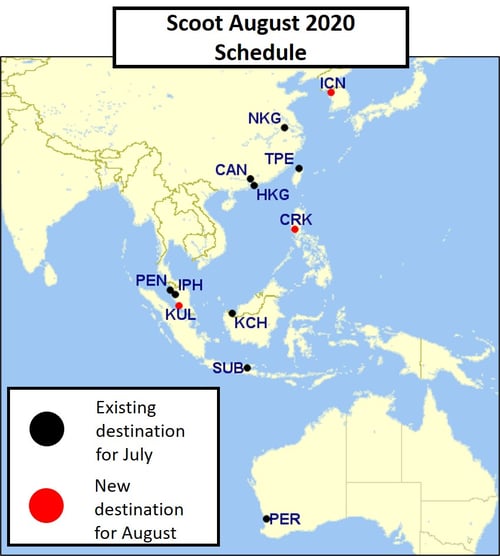 Scoot plans to add Clark, Kuala Lumpur and Seoul to its route network for August, with 140 scheduled flights split as follows:
To/from Clark (CRK): 10 flights
To/from Guangzhou (CAN): 10 flights
To/ from Hong Kong (HKG): 26 flights
To/from Ipoh (IPH): 10 flights
To/from Kuala Lumpur (KUL): 8 flights
To/from Kuching (KCH): 10 flights
To/from Nanjing (NKG): 8 flights
To/from Penang (PEN): 10 flights
To/from Perth (PER): 26 flights
To/from Seoul (ICN): 10 flights (served via Taipei)
To/from Surabaya (SUB): 8 flights
To/from Taipei (TPE): 14 flights
Flights to Seoul start in the second half of August while Kuala Lumpur and Clark will be served from August 7 and 3 respectively.
These changes mean that Scoot will operate an average of approximately 35 flights per week in August, well short of the 1,000+ it normally would, but certainly better than the dire straits in April and May (when it only operated 12 weekly flights).

The full list of Scoot flights operating in August can be found here. If you need to travel for essential reasons and intend to fly with Scoot, do bear in mind that the schedule is subject to change based on regulatory requirements (see below for details on Scoot's COVID-19 waiver policy).
Why does this matter?
Given that there's still a de facto travel ban on Singapore residents and the government does not expect leisure travel to resume in 2020, you may wonder what the significance of this announcement is.
While it doesn't mean ski trips to Korea or weekend shopping sprees in Kuala Lumpur, these flights aren't really meant for Singapore residents. Outside of a select handful of people who have to travel for essential reasons, these flights are predominantly for transit passengers.
Changi Airport has been open to transit passengers since June 2, and Scoot's expanded network helps repatriate those who are stuck overseas. Passengers can catch a Scoot flight to Changi, and then connect to any of Singapore Airlines and SilkAir's 27 destinations worldwide.
On a more fundamental level, more flights mean more economic activity for Scoot and Changi Airport, which allows pilots, cabin crew and ground staff to pick up some much needed hours. Concessions at Changi Airport, hit badly by COVID-19, can also get a financial boost.
So, even if you can't benefit personally from these flights, they're still a positive development nonetheless.
ScootPlus returns
August will see Scoot bringing back its ScootPlus product on flights operated by the Boeing 787 Dreamliner. This includes routes to:
Guangzhou
Hong Kong
Nanjing
Perth
Seoul
Taipei
For the uninitiated, ScootPlus is Scoot's premium cabin experience. Passengers who pay for the ScootPlus package typically receive:
An upgraded seat with additional legroom
Individual in-seat power
30kg check-in luggage
15kg carry-on baggage
Priority check-in
Priority boarding
Complimentary meal
30MB Wi-Fi
However, due to ongoing regulatory restrictions, the following benefits will not be available:
15kg cabin baggage: Scoot is currently enforcing a 3kg cabin baggage limit (that's not a typo!), allowing passengers to check in the rest of their cabin baggage allowance (i.e 12kg for ScootPlus) at no extra cost. The rationale is to minimise the number of touchpoints in the cabin. With fewer people touching and opening the overhead bins, the chances for transmission are reduced.
Choice of meals and beverages: Scoot is not serving any hot meals or beverages on board at the moment, and ScootPlus customers will instead have refreshment packs pre-placed on seats.
Priority check-in and boarding: As part of the new Changi Airport transit experience, passengers who are transiting in Changi will be the first to board at their point of origin, and the last to disembark on arrival at Changi. They will also be seated separately from non-transit passengers, with the idea again to minimise the chances of infection for those with Changi as the final destination. This means that priority check-in and boarding cannot be properly accorded.
What if my Scoot flight has been cancelled?
If your flight has been cancelled, you will receive a full refund to your original method of payment. This may take up to 14 weeks to process.
What if I no longer wish to travel?
Given all the uncertainty caused by COVID-19, some passengers may no longer wish to travel even though their Scoot flight is still operating as scheduled.
Here's where Scoot's COVID-19 travel waiver policy steps in. If your ticket was issued on or before 15 March 2020, with travel dates between 23 January and 30 September 2020, you will be entitled to:
a 100% refund in cash, or
a 120% refund in Scoot vouchers, valid for 12 months
Cash refunds can take up to 14 weeks. Scoot vouchers can be used to pay for any future Scoot booking (multiple vouchers can be used in a single booking), but bear in mind that a 20% bonus may not be enough to cover the fare differences.
Whether you take the cash or Scoot vouchers really depends on what you think will happen to airfares when the pandemic starts to subside. For what it's worth, I'd tend to lean towards cash, unless you have plans to rebook straight away.
What if I'm flying from October 2020 onwards?
As of right now, Scoot has only announced its schedule up till 31 August 2020, and its travel waiver policy covers flights up till 30 September 2020.
If your travel dates are beyond that date, sit tight. Scoot is reviewing the COVID-19 situation and route performance on a month-by-month basis, and will adjust flights as necessary. We should expect to get details of September's schedule by early August at the latest. If the Singapore government has not lifted its advisory against non-essential travel, you can be certain that the waiver will be extended.
Who do I contact for refunds?
If you bought your ticket directly from Scoot, you can get in touch with them directly to process your refund under the online 'Manage My Booking' function.
If your ticket is from a third-party platform like Expedia, you'll need to get in touch with them to handle all claims.
Conclusion
In the absence of a COVID-19 vaccine or a sudden lifting of travel restrictions, it's more likely than not that we'll see slow, incremental additions to Scoot's network each month.
Singapore residents need to be prepared for no leisure travel in 2020. This might just be the year of the 'Singapoliday', with the STB looking to make a huge push for domestic tourism.
---
Although travel might still be some time away, it is never too early to chalk up air miles that can help offset the cost of your air tickets. Use our simple comparison tool to find an air miles card that fits your lifestyle.
Read these next:
Singapore Public Holidays 2021
How Different Will Travel Be Post COVID-19?
Should You Buy Airline Or Hotel Travel Credits Amid COVID-19?
From Travel Insurance to Flight Hygiene: 5 Questions About Post-COVID-19 Travel
Ultimate Guide To Digital Multi-Currency Accounts
---
---