Grab drivers in Singapore do more than just drive you around. Sometimes they can tell you where to find the best food, or even things you never knew about your condo.
Grab drivers come from all walks of life, so you're always guaranteed an interesting ride (if you're up to chat with them). Out of all the drivers out there, however, there are 5 distinct personalities that show up the most often. Have you met the following?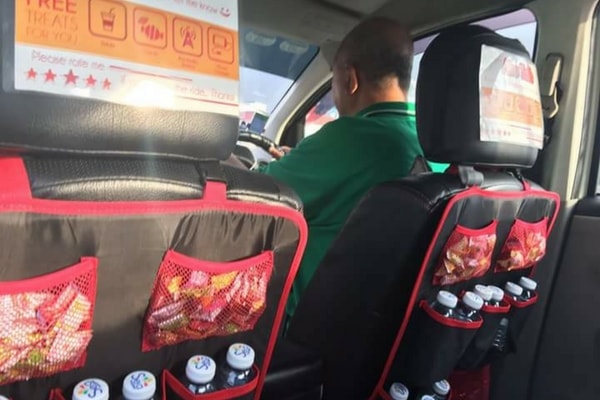 The Hotelier
These drivers don't think of their cars as vehicles; they think of them as four-wheeled hotels.
The most famous of these is Malaysian Grab driver Abu Talib, who went viral on Facebook for stocking his car with snacks and drinks for passengers. Or how about this "next level" Grab driver encountered by Singaporean Chanel Lam, who stocked his car with Carlsberg (for passengers, of course)?
These are the drivers who will ask you if the air-conditioner settings are fine, if you have a preferred radio station, if they can help you get the seatbelt on, etc. We half expect them to start wallpapering the car, if we say we don't like the roof colour.
Everything about the hotelier type is awesome; the only bad news is that some kiasu Singaporeans will take advantage of it. Please don't fill your backpack with a kilo of snacks, and get out of the car carrying enough water for an expedition across the Egypt.
The Expert Navigator
This Grab driver was probably a professional cab driver, courier driver, or chauffeur at some point. They are so good at navigating the roads, their GPS just feels embarrassed and shuts up.
These drivers know the name of the building you're going to (even if it's just a postal code), seven faster ways of getting there that you've never thought of, and can tell you the likely traffic conditions with a skill that borders on psychic.
Sometimes though, the expert navigator forgets that other people haven't memorised 500 different roads. That results in total confusion when they ask you for preferred routes (e.g. You want to take ECP or PIE, and then take the turn-off to Lornie road or the next one over, because now the traffic along that road is...etc. etc.)
Just say "whichever you think is best", because they probably do know.

The Biographer
Depending on how much you like stories, these are the potentially the best Grab drivers ever. The biographer is chatty, but in a specific way - this driver likes to tell you stories from his or her past, in a way that would make a Channel 8 producer start taking notes for a local drama.
The biographer typically starts with small talk, but launches into a novel-length retelling the moment they find common ground.
"Ah, so you work in accounts", the biographer will say, "Back in 1968, when I had my first job as an accountant at Standard Chartered - that time policemen still wore shorts - I used a metal abacus to do my accounts, which wasn't unusual back then, but little did I know that...etc."
Now you could fall asleep (which may not stop them from carrying on, by the way), but it might be worth a listen. Some fascinating life stories are out there to inspire you.
The Property Analyst
You may think this is due to Grab having a lot of drivers who are real estate agents, but that's not it. There's a certain type of Grab driver - who even if they aren't moonlighting real estate agents - are really interested in property.
If they pick you up at your condo, the questions will come almost immediately.
"Are you renting here or do you own the place? Are there a lot of expatriates staying here? The security are rude or not? How much are the conservancy charges? Your condo how many square feet ah?"
It's not all just questions though. These drivers are a font of unofficial property information - from which condos have the worst or best carparks, to what they've seen in the Urban Redevelopment Authority's (URA) master plan. After all, they've asked a lot of people, from a lot of different estates.
Now it's always best to get your real estate advice from a professional. But if you talk to these drivers in detail, you may learn something that you didn't see in the property brochure!

The Singapore Food Guide
This type of Grab driver is on a personal mission: to inform everyone on Singapore's best and worst dining places.
Whenever they drive past a particular restaurant, they'll provide a few choice quips about the waitstaff, service, and price. If they past by a particularly good or bad one, they can go on for the rest of the trip about why you should or shouldn't go there (while raising no less than 10 alternative eating spots).
Some of these drivers exceed even professional food bloggers - they can explain to you why Chin Mee Chin makes kaya tarts and seem to close so early, or point out the spot at East Coast Road where Aston's first started, and which was also once the home of a famous tau pok stall.
They can tell you the history of how blood cakes used to be in duck rice but were subsequently banned, or why Chinese Nasi Lemak and traditional Malay Nasi Lemak are totally different, and the exact famous spots where the relevant eateries were.
If you're going for dinner, then good; you'll be nice and hungry by the time you get out the car.
Read This Next:
Why Didn't More Singaporeans Run for President?
The Truth Behind the S$4 million Insurance Agency Director Case