Borders are open, but travel prices are skyrocketing. How do you plan a trip in the current environment without breaking the bank?
If you've been eagerly planning your first post-COVID trip, you might be forgiven for feeling like the victim of a cruel joke.
For the past two years, border closures, snap lockdowns, and onerous testing requirements have made leisure travel all but impossible. Now everything is opening up again, but we're running right smack into some of the worst inflation in decades. Whether it's your mortgage payment, electricity bill, petrol costs or supermarket runs, you're bound to feel the pinch in some way or another. What money does that leave for travel?
Still, Singaporeans are not deterred. According to a recent survey by TripAdvisor, 77% of Singaporeans are "extremely" or "very" concerned about rising travel costs, yet 84% plan on travelling this year.
If you number among them, here are some ways to beat inflation while travelling.
Use airfare monitoring services
With revenge travel in full force, it's somewhat unsurprising that demand for air tickets is off the charts. Hiring freezes and layoffs during the pandemic mean that airline capacity has been slow to respond, and according to a study by the Mastercard Economics Institute, the price of airfares out of Singapore has risen by 27% compared to before COVID.
In order to snag the best deals, consider automating your search. Search engines like Kayak and Skyscanner offer price tracking, which automatically sends an alert when the price on your desired route falls.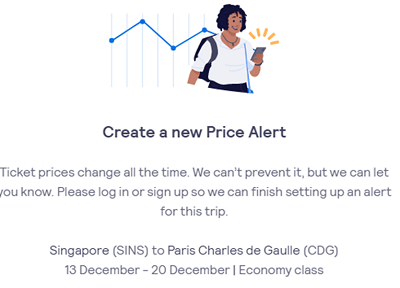 To get even better deals, be flexible with your planning:
It's often cheaper to book a flight with a connection than a non-stop service
You can sometimes save by flying into smaller airports (e.g London Gatwick versus London Heathrow)
It may be cheaper to book two separate one-way flights on different carriers, rather than a round-trip ticket on a single airline
If prices aren't budging for your chosen destination, use a portal like Google Flights to look for flights to nearby airports which may be cheaper (under the 'Explore' feature)
Long-haul airfares out of Singapore tend to be more expensive compared to Kuala Lumpur or Bangkok. If time permits, consider buying a cheap "positioning" flight to elsewhere in the region to take advantage of this
Get travel insurance from your credit card
Let's get one thing straight: belt-tightening does not mean skipping travel insurance. If you can't afford travel insurance, you can't afford to travel.
But travel insurance need not necessarily take a big bite out of your vacation budget.
Certain credit cards provide complimentary travel insurance when you charge your airfares to the card, and two great examples are the Citi PremierMiles and HSBC Visa Infinite.
Citi PremierMiles cardholders (and their immediate family) enjoy complimentary travel insurance underwritten by AXA. This features coverage of up to:
S$1 million for accidental death, or total and permanent disablement
S$40,000 for overseas medical expenses
S$100,000 for emergency medical evacuation
S$1,000 for lost luggage
S$600 for delayed baggage
S$500 for trip cancellation or interruption
Do note that there's no coverage for COVID-19 medical expenses, so I'd advise you to purchase supplementary coverage.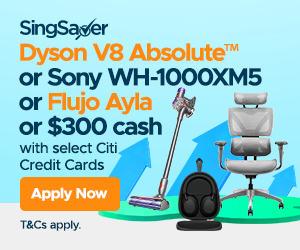 SingSaver Exclusive Offer: Receive a Dyson V8 Absolute™ (worth S$609) or Sony WH-1000XM5 (worth S$575) or Flujo Ayla Ergonomic Office Chair (worth S$1,139) or S$300 cash when you make a min. spend of S$500 within 30 days of card approval. Valid till 21 March 2023. T&Cs apply.
Plus, enjoy up to 2% cashback on all qualifying spend and up to S$646 worth of exciting gifts when you apply for the Citi Cash Back+ card and join Citi Plus. T&Cs apply.
A much more comprehensive plan is offered to HSBC Visa Infinite cardholders (and their immediate family), also underwritten by AXA. This features coverage of up to:
US$2 million for accidental death, or total and permanent disablement
S$100,000 for overseas medical expenses
S$10,000 for post medical expenses in Singapore
S$5,000 for overseas hospitalisation allowance
S$10,000 for trip cancellation
S$1,000 for travel delays
S$2,000 for rental car excess
S$100,000 for personal liability
COVID-19 medical expenses, hospitalisation, emergency medical evacuation and trip cancellation/curtailment are also covered. Simply put, it's one of the most comprehensive complimentary policies I've seen, although the main issue is the HSBC Visa Infinite's high income requirement (S$120,000 p.a.) and annual fee (S$650/year).
HSBC Credit Card Welcome Gift: Receive a Samsonite Prestige 69cm Spinner Exp with built-in scale (worth S$670) or S$200 cash back when you make a min. spend of S$500 by the end of the following calendar month from the card account opening date. Valid till 30 April 2023. T&Cs apply.
If you're paying out of pocket for travel insurance, don't be so quick to dismiss annual plans. If you travel for at least three weeks a year, you may find the cost of an annual plan to be more competitive than single-trip plans, especially if you can leverage the various discounts out there.
Use multi-currency cards to lock in good exchange rates
In order to fight imported inflation, the MAS has been deploying its financial warchest to keep the Singapore Dollar (SGD) strong. The SGD is at or near all-time-highs compared to currencies like the Malaysian Ringgit and Euro.
Even if you don't plan to travel in the near future, it might not be the worst idea to lock in some of the current exchange rates using a multi-currency card like Revolut or YouTrip. You basically purchase foreign currency today, and store it in your account for use in the future.
Revolut
YouTrip
Supported Currencies
- Australian Dollar
- British Pound
- Bulgarian Lev
- Canadian Dollar
- Croatian Kuna
- Czech Koruna
- Danish Krone
- Euro
- Hong Kong Dollar
- Hungarian Forint
- Japanese Yen
- Norwegian Krone
- Polish zloty
- Romanian Leu
- South African Rand
- Swedish Krona
- Swiss Franc
- US Dollar
- Australian Dollar
- British Pound
- Euro
- Japanese Yen
- Hong Kong Dollar
- New Zealand Dollar
- Swedish Krona
- Swiss Franc
- US Dollar
In addition to helping you lock in a favourable rate, multi-currency cards don't have foreign currency transaction fees, so you basically pay like a local.
The downside of multi-currency cards is that you have to give up credit card rewards; while you can top-up your balance with a credit card, you won't earn points or miles for doing so.
If you can't live without that, I'd suggest getting an Amaze Card instead. Any foreign currency transaction charged to the Amaze is converted into Singapore dollars (using Amaze's conversion rates, which are generally more favourable than banks) and then charged to a paired Mastercard credit or debit card. Amaze transactions are eligible for credit card rewards, with the exception of DBS.
The main downside is that Amaze does not let you lock in a rate beforehand, so you'll pay based on the prevailing rates at the time of your transaction. Still, it'll be cheaper than using your credit card overseas, and you'll still earn your usual rewards.
Rent a hybrid or electric car
If you're planning a driving holiday, try and find a car rental agency that can guarantee you a hybrid (or electric) car. The rental cost may be higher, but you could come out ahead on petrol savings, depending how far you're planning to drive.
Hertz, for example, offers Teslas for rent in the USA, and has signed a deal to purchase 65,000 more electric vehicles from Swedish carmaker Polestar. These will be distributed among its fleets in Europe, North America and Australia.
Similar to airfares, rental car prices can fluctuate regularly. Once you've made a booking, use a service like AutoSlash to monitor prices. AutoSlash can even cancel your existing reservation and rebook it at a lower rate automatically.
Use loyalty points where prices are high
For the majority of airline and hotel loyalty programmes, the number of miles or points required for a free flight or room does not correlate directly with the cash price (some may practice peak and off-peak award pricing, but the fluctuation in miles/points required will not be as dramatic as the cash rates).
This means that redeeming your frequent flyer miles or hotel points is a great way to get around high prices, assuming award space is available.
Even if you don't have enough miles or points in your account, you should consider whether buying them makes sense.
For example, Hilton runs periodic sales where it sells its points at 0.5 US cents apiece. When I went to watch the BNP Paribas Open tennis tournament in Indian Wells California earlier this year, most hotels had been booked up, and the few remaining were charging exorbitant rates.

But I realised that by purchasing Hilton points and redeeming them for a Homewood Suites hotel, I'd be paying the equivalent of US$200 per night, well below the US$624 (pre-tax) cash rates!
Booking local deals
Just because you're a tourist doesn't mean you should pay full price. When booking local attractions, always check for bargains on local deal sites.
For example, I used a platform called BookMe during my recent New Zealand trip. BookMe helps activity organisers move unsold inventory, and the prices I got were even better than the official websites.
| | | |
| --- | --- | --- |
| Activity | Official Website | BookMe |
| Queenstown Segway Tour | NZ$139 | NZ$97 |
| Te Anau Glowworm Caves | NZ$99 | NZ$79 |
| Glenorchy LOTR Tour | NZ$180 | NZ$99 |
| Chameleon Stargazing | NZ$70 | NZ$56 |
| Milford Sound Cruise | NZ$79 | NZ$59 |
Other platforms worth checking are Groupon, Travelzoo, Deals.com.au and GrabOne.
Conclusion
Given all the pent-up demand, expensive airfares and hotels are likely to be the trend for the rest of the year. If it's any consolation, prices should normalise in 2023 once airlines bring back their larger aircraft, hotels reopen their full inventory, and airports solve their staffing issues.
That doesn't mean you need to break the bank while travelling this year, however. Doing some extra legwork can help you save money and come out ahead- even in the current inflationary environment.