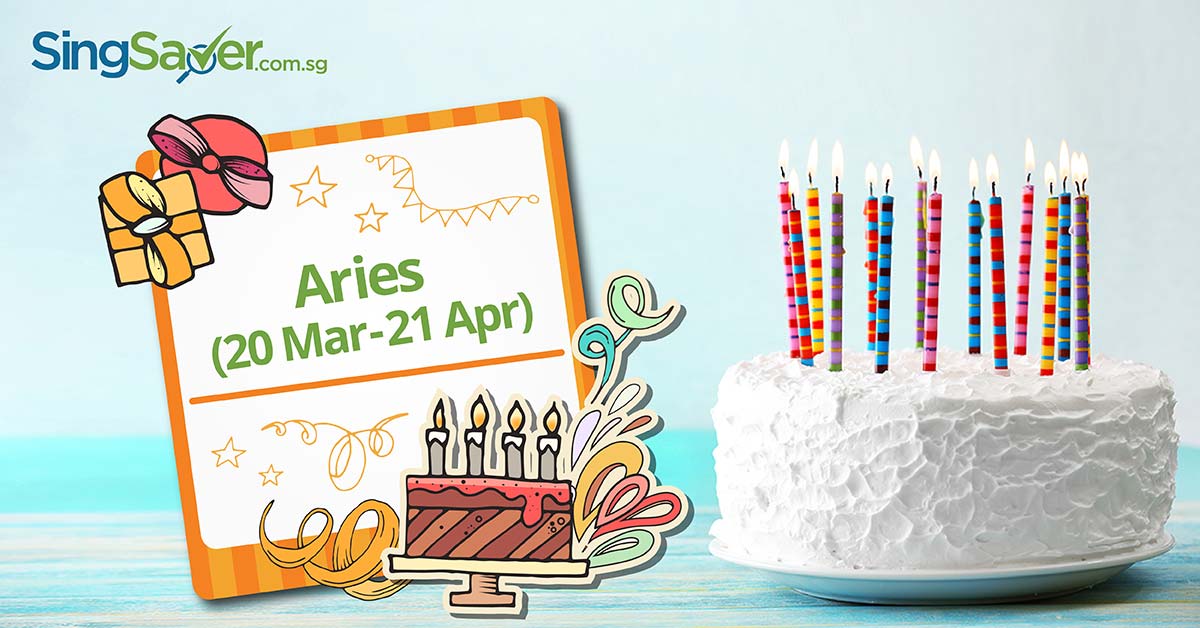 Coffee workshops, furniture discounts, an adrenaline-filled day out, exotic island getaways… Aries babies have plenty of awesome birthday treats to enjoy!
Aries: The zodiac sign for those born between March 20 to April 21. There are many upsides to being an Aries. From sharing the same sign with celebrities like Robert Downey Jr, Elton John and Maria Sharapova to being the first sign in the zodiac (leaders!), they are known to take action, be spontaneous and determined.
Something tells us you're ready to live it up, with perks from travel discounts and free cakes to retail adventures awaiting you.

Chope: S$6 to S$12 Off
Eating is not just a favourite pasttime of Singaporeans, it is also a highly social activity where you bond with friends and family. Kick off your birthday celebrations at some of your favourite restaurants, or new jaunts you've always wanted to try. Thanks to DBS, you can do just that — for less.
New Chope users get to enjoy S$12 off via vouchers (a minimum spend of S$90 applies). Use this promo code: First 6 digits of DBS/POSB card + DBSNEW at checkout.
Existing Chope users get S$6 off. Use promo code: "First 6 digits of DBS/POSB card + DBS" at checkout. Valid till 31 December 2018. More details here.
The Square @ Furama: 1-for-1 Lunch/Dinner Buffet
Sometimes, happiness is a tummy full of good food. For those who enjoy eating and can really eat, indulge in culinary fare from around the world at The Square @ Furama's buffet. Invite some of your friends to share the love during your birthday month. After all, it comes with a complimentary cake with a minimum of four guests.
If you're a Maybank or DBS/POSB credit or debit card holder, you'll get to enjoy this one-for-one buffet for lunch or dinner. Valid till 31 December 2018 and for dine-in only. Click here for details, and terms and conditions.
Address: 405 Havelock Road, Furama Riverfront Singapore 169633
Telephone: 6739 6468

Citi ThankYou Rewards: 8% off Airline and Hotel Bookings
No celebration is complete without a getaway, big or small. Seize this opportunity to give yourself a break with these discounts — as if you need another excuse to travel.
Get 8% off bookings at over 300 airlines (including budget airlines) from 1 March to 30 April 2018 via Citi ThankYou Rewards. Plus, get 8% off bookings at over 160,000 hotels all year-round.
Book here with your Points or Miles. Use promo code SGAIR8 (valid from 1 March 2018 – 30 April 2018) or HOTELS (valid till 31 Dec 2018) for savings on your holidays. Terms and conditions apply.
Universal Studios Singapore: Adult One-Day Ticket at S$72 with S$5 Meal Voucher
Word has it that dull and repetitive tasks can bore an Aries sometimes. May we suggest pumping some adrenaline into your life, literally.
Universal Studios Singapore is offering a sweet, sweet deal of a one-day ticket (adult) with a free S$5 meal voucher at S$72.
The promotion is valid till 30 April 2018 for Singapore Residents with valid Republic of Singapore issued birth certificate/Photo National ID/Work Permit/Student Pass. See more details here.
Address: 8 Sentosa Gateway, Singapore 098269
Telephone: 6577 8888
The Coffee Academics: 1-for-1 50% off Workshop/Main course
"Anyone who stops learning is old, whether at 20 or 80. Anyone who keeps learning stays young. The greatest thing in life is to keep your mind young." – Henry Ford
If you have been on the lookout to try something new for a while, this could be your chance. HSBC credit cardholders, you're in luck — The Coffee Academics, known for their coffee experience, is offering a one-for-one 50% promotion for their workshops or main course. More details here. Valid till 30 December 2018. Advance booking is required.
Address: #B1-12, 252 North Bridge Road
Telephone: 6266 0560
HipVan: 10% off Storewide
Maybe you're not the extroverted type and you prefer to get cosy in the comfort of your own home. That's okay. Getting new furniture might sound like a plan for you.
Move aside Ikea, at HipVan, products range from sofa beds to bar stools to homeware – there's bound to be something for your home. The best part is that this promotion lasts till the end of the year, so you can get new furniture anytime of the year.
Enter DBS2018 at checkout to enjoy the offer. Valid till 31 December 2018. Click here for terms and conditions.
Read This Next:
How To Spend Your Easter Weekend Without Spending Too Much
5 Reasons Why Credit Cards Aren't as Dangerous as You Think

---

By Alexa Fang
Alexa is a pop-culture vulture. She lives to read, write and travel, and decided long ago that life is stranger than fiction. When she's having croissant, she thinks in French. "31 Rue Cambon" is her favourite address, and she believes that money one enjoyed spending is never money wasted.
---