Research has found that sitting all day can increase your risk for obesity, diabetes, and cardiovascular disease. A standing desk helps reduce these risks by allowing you more movement while working, which boosts productivity and makes it easier on the body's joints.
There are many types of standing desks available in Singapore, so finding a suitable one may pose a challenge. Most importantly, make sure they have a wide enough range of height options for sitting and standing, which accommodate your height.
---
Benefits
Finally, the solution to sitting all day is here — standing desks! Gone are the days of spending hours in a sedentary position in front of your computer. Today you can be active and healthy while still getting work done.
You can even potentially burn close to 170 additional calories by standing and working.
Standing while working can also reduce fatigue and improve your mood. This, in turn, leads to a better level of productivity.
Electric standing desks have been a popular choice for those who work at their desk all day. They're easy to use, requiring only a touch of the switch to adjust their heights, and do not require much energy.
Manual models require some physical effort to change the heights but may give you finer control over the exact heights. Plus, no motor noise during the raising and lowering means fewer distractions while working.
We bring you a round-up of the 10 best standing desks and height adjustable tables to fit any budget and provide an ergonomic workspace for you to get things done with ease.
#1 EverDesk
The wildly popular ErgoTune office chair inventors have come up with a winning formula for standing desks — and it's available in two sizes. The EverDesk Max features an extensive range of space-saving add-ons to help you organise your desk or make adjustments to improve ergonomics, including modular desk shelves, peg board panels and monitor arms.
The Max model supports up to 120 kg of weight, while the Lite supports 70 kg, and the former is equipped with dual motors as opposed to the latter's single motor. The Max model also has a Health Coach feature that reminds you to switch between sitting and standing.
With its wide range of customisation options, this standing desk is designed for those who shun mass-market furniture.
---
#2 Omnidesk Pro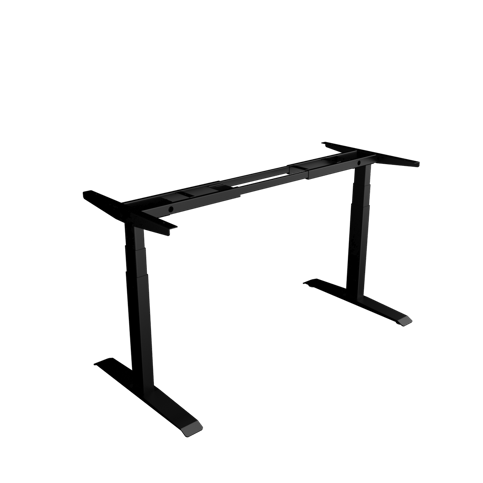 This entry stands out from its competitors in terms of its finishes: signature table tops made from MDF wood powder-coated for durability, and a micro-textured top coat that allows you to track your browsing history on this giant-sized keyboard without worrying about scratches!
The electronic height adjustable Omnidesk Pro is the perfect way to save desk space without sacrificing your work. This console comes with four brilliant memory programmable presets, an anti-collision mechanism, and a power controller to reduce energy consumption.
The Omnidesk has an incredibly massive range of high-quality add ons and accessories, forming an entire ecosystem. These beautifully designed pieces were specially made for seamless integration with your desk or office space, and are aesthetically pleasing, keeping you happy even when you have to work late into the night.
#3 Omnidesk Pro – The Wildwood Collection
Do you appreciate a desk that looks and feels good? Is there nothing better than sitting at a beautiful workstation made of gorgeous wood that was carefully crafted over time?
Omnidesk's newest range – the WildWood Collection – provides three more stunning designs for those who want their desks to be truly unique! Starting off with natural Hevea solid wood (perfect if sleek lines are what catch your eye) then moving onto acacia or rich brown havea wood – the collection provides endless possibilities for putting together an attractive piece of furniture for one's home office. Make sure not to miss out on these incredible pieces today.
The Omnidesk is not just a standing desk; it also comes with accessories for your desired work setup. For example, the Titus Premium Desk Mat makes the desk's surface even more luxe.
---
#4 Mobile Standing Laptop Desk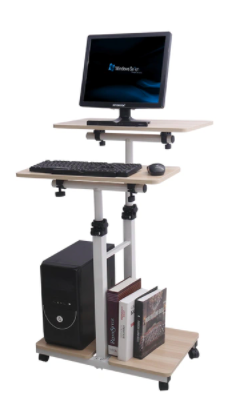 The Mobile Standing Laptop Desk is the perfect solution for anyone who spends their days at an office or home desk. It has different shelves at different levels to hold everything, from your screen and keyboard, to heavier items such as CPUs and books so there won't be any clutter on the ground. This set is easy to move anywhere in your home.
With a low price point starting at just S$47, it won't be too long before these standing desks start to pop up in more households.
---
#5 UNIQ Quartz Standing Desk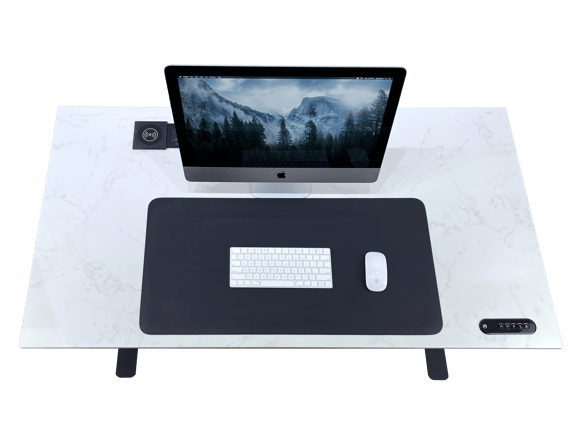 Have you been feeling a little dull lately? The UNIQ Quartz Standing Desk is the perfect thing for you to boost your productivity and creativity. With its timeless beauty, it'll look great in any office or home.
There are a wide variety of designs to choose from, so we're pretty sure you will find one that perfectly matches your workspace interiors.
All tables are built to order and require three days for construction – perfect if you have something specific in mind!
---
#6 MYSEAT.sg Drew Solid Wood Standing Desk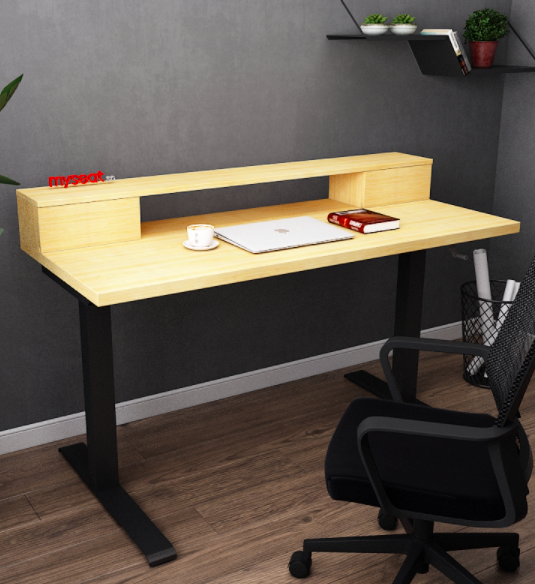 MYSEAT.sg DREW Solid Wood Standing Desk is a kid-friendly standing desk that brings comfort and beauty to your workspace. It's also made of New Zealand pine wood, free of any toxic chemicals.
Choose between different colours such as Natural Pine or Honey for a customised look depending on what style fits best with the decor in your room.
The height of this chair is adjustable from between 70 to 90 centimeters with the help of an extendable handle. It also comes with a cable management hole, and USB extension port.
---
#7 Adjustable table by Hollins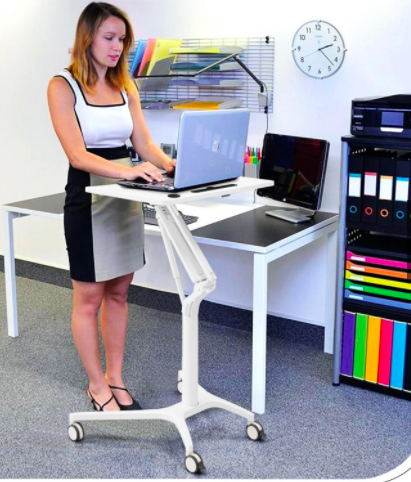 Minimalist desks for modern homes are becoming more popular due to their sleek designs and simple profiles.
For a minimalist workspace that's perfect for your living space, check out this adjustable laptop table by Hollin (S$247). It comes equipped to fit all shapes of laptops thanks to its gas lift height adjusting system – simply raise or lower it as needed. With wheels at the base so you can glide around easily, this design makes sure everyone of all heights can access the workspace.
---
#8 ECOLUS Ergonomic Standing Desk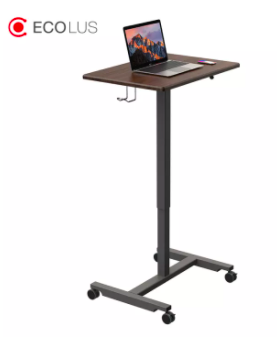 The ECOLUS Ergonomic Standing Desk is perfect for any workspace. It has wheels to help you move it around and comes with an adjustable height so that both sitting and standing are possible.
The strong material also means that it can take whatever weight your set-up might throw at it.
---
#9 ORION Basic Electric Standing Desk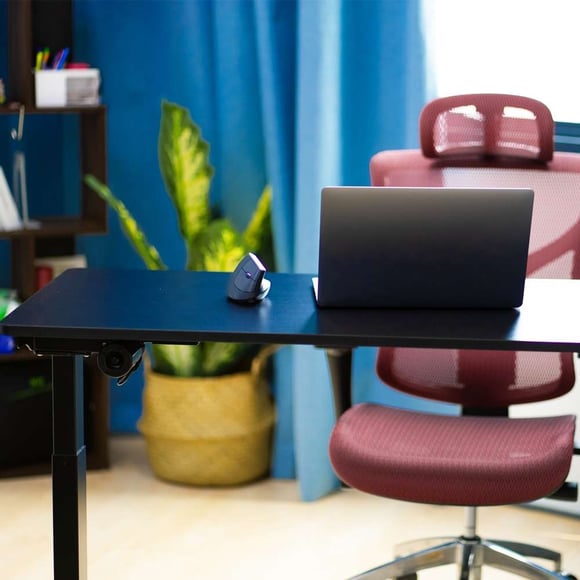 You will love the ORION Basic Electric Standing Desk if you're looking for something stylish and simple, yet functional. It offers wooden designs and classic black or white colour options to match your home office decor.
However, one thing worth noting is that it can only support 50kg of weight – so don't plan on stacking heavy monitors and other tech paraphernalia on this desk.Website
---
#10 Height Adjustable Study Table
Working from a computer for long hours can strain your neck, back and shoulders. Office workers often have to work at desks that are too low or high.
Sitting in an uncomfortable position causes physical pain but also reduces productivity. Here's the solution for you: this adjustable height table allows you to adjust the height of your desk up and down between 76–120cm so it's comfortable for you whether standing or sitting. You'll be able to adjust the position of your work set-up without lifting yourself out of your chair, giving you a more natural posture while working on your computer throughout the day. It is easy to assemble and its height settings are suitable for both children and adults!
---
Shopping for your WFH furniture using the right credit card can afford you further discounts and deals. Compare the best shopping credit cards and apply through SingSaver for exclusive offers*!
*Offers may change without prior notice. Terms and conditions apply.
Read these next:
Lazada Promo Codes And Credit Card Promotions In Singapore 2022
10 Dim Sum Promotions And Deals
Best KFC Deals, Rewards, And Coupons For Your Fried Chicken Cravings In Singapore
10 Year-End Staycation Deals For All Budgets