There are many great games to play and invest in, but which ones are the best? Which new NFT game should you put your money into?
New opportunities are emerging every day thanks to the rapid growth of technology. Non-Fungible Tokens (NFTs) have increased in popularity in recent years due to the advent of games.
NFTs enable you to claim ownership, and they have pioneered a new method of revenue generation in the realm of gaming. The following list will give you an overview of what we believe to be the best NFT games on the market today.
This article will cover the following topics:
1. The Sandbox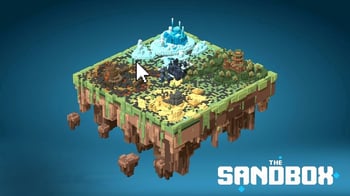 The Sandbox is the first sandbox game delivered on a virtual reality headset. Anyone can play the Sandbox; it is easy to understand and has an incredibly interactive environment.
The Sandbox features all the tools and materials you would expect to find in an actual sandbox. You are drawing with pencils, painting with brushes, sculpting with clay, mixing colours for paint, stomping on construction sites, smashing things with hammers. You will enjoy this game just as much as playing in a real sandbox!
In this metaverse NFT game, players may develop and own virtual territories. It's a game development platform where artists, developers, and players may create their games.
You can also earn money from your virtual experience. 'Sand', the game's currency, is unique among the games on the Ethereum network.
2. CryptoKitties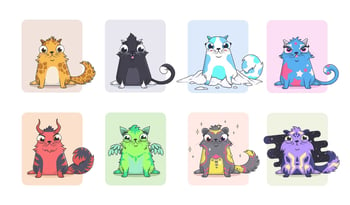 CryptoKitties is a video game that launched on the Ethereum network in November 2017 and was its first NFT game. Players can collect, breed and sell virtual cats. The game was an instant success; the value of each cat grew from S$10 to over S$7,000 in just a few weeks. The platform now has more than 20,000 daily users.
You may breed and adopt all the varieties of digital kitties on CryptoKitties. Many people are shocked by children's and adults' eagerness to play a game with cat rewards. Only those who participate will understand how addictive it can be.
It is possible to sell your digital kittens for real money on the NFT gaming market! You can train your CryptoKitties to fight each other in catfights. Breeding your digital cats increases their rarity and value. Attributes acquired are ERC-721 NFT coins that nobody can take away from you.
Ever since the CryptoKitties hype, Ethereum has been used for games and has become a platform for gambling. But that's not all. Many developers have started building their decentralised apps (dapps) on top of Ethereum too.
3. Decentraland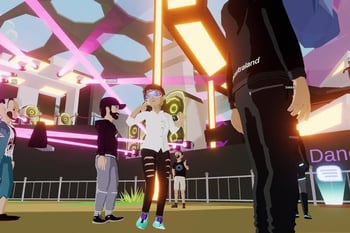 Decentraland is an open-source project that aims to create a decentralised virtual reality platform. Its goal is to provide a shared persistent virtual space that can be explored and interacted with from anywhere on earth.
Decentraland is created using blockchain technology, making it a property rights platform for increasingly valuable real estate – think virtual land in 3D virtual worlds.
4. Gods Unchained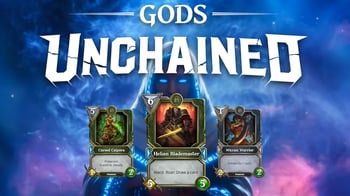 Gods Unchained is an excellent game that is fun to play and has an active user base for you to join.
Gods Unchained is one of the new NFT games launched by Fuel Games, a blockchain-based game that Coinbase supports. The game has been funded by investors like Coinbase Ventures, Nirvana Capital, and Australian venture capitalist Rick Thompson.
What makes the game unique is that it is built on the Ethereum blockchain. Each card is a token, meaning that each is unique and can't be copied or counterfeited.
The exciting thing about this blockchain-based game is that it will be the first crypto-collectable game. Therefore players can own, buy and sell their Gods Unchained cards on the blockchain. It means players won't be limited to paying for the cards with fiat currency. They can also pay for them using Ethereum or Bitcoin.
5. Battle of Guardians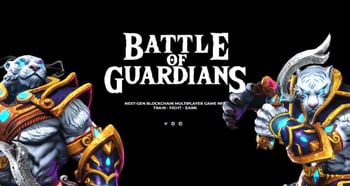 The Battle of Guardians (BOG) blockchain game is specially designed for players who want to enjoy PvP battles with friends and colleagues in a richly developed game world.
It also offers advantages for NFT owners. A player can purchase or rent NFT characters using in-game currency. Levelling up your NFT characters can hence translate to real-world earnings, as you sell or rent out your NFTs to other players. Winning battles will also earn you in-game currency.
BOG is designed for the future of the metaverse and strives to build a secure gaming economy with long-term potential. It's a fun and entertaining gaming metaverse experience with stunning graphics, unique NFTs, and numerous opportunities to earn real profits.
6. Axie Infinity

Axie Infinity is a game that was released in 2019 but has only grown bigger since then. Over 100,000 players have played this game and it is easily one of the top NFT games out there. It centres on a game universe with creatures called Axies, which players collect as pets. Players then aim to build kingdoms for their Axies.
The game experience includes battles and quests, developing land and breeding Axies. Its colourful game design and varied gameplay are among the factors that have made it a huge hit. Players also have access to an in-game economy which allows them to earn and own resources that can be converted to real-world value.
It is currently available on both PC and Android devices. The iOS version will be available for beta testing soon so if you want to get your hands on it, sign up!
7. Idle Cyber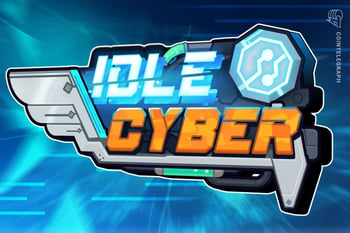 Idle Cyber is a game built on Binance Smart Chain (BSC).
An idle game, or a game that can run on its own with minimal player interaction, it's based around NFTs in the form of mutants that you command to defend against cyborgs. It leverages the appeal of NFTs and features like farming, staking and trading to give players the opportunity to earn.
8. Illuvium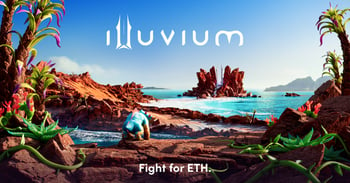 Illuvium is an open-world RPG adventure game created on the Ethereum Blockchain which has a play-to-earn system that allows players to earn in-game prizes. The main concept of the game is to collect and upgrade "deity-like" creatures known as Illuvials. Players can experience a new age of NFTs thanks to the integration with Immutable X.
You benefit from zero gas fees for peer-to-peer trading, and quick transactions while safely keeping possession of your money. It blends features of conventional RPG collecting games with the popular auto battler genre's combat mechanics.
---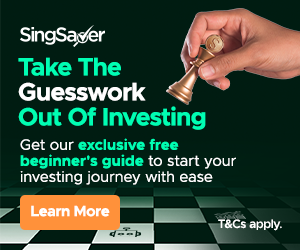 Start managing and saving money like a pro with SingSaver's weekly financial roundups! We dole out easy-to-follow money-saving tips, the latest financial trends and the hottest promotions every week, right into your inbox. This is one mailer you don't want to miss.
Sign up today to receive our exclusive free investing guide for beginners!
---
Why are NFTs so popular?
NFTs are one of the hottest new topics in cryptocurrency and for good reason. NFTs are a relatively new token to solve some of the most significant issues plaguing the crypto community.
Cryptocurrencies like Bitcoin and Ethereum have been very successful in recent years, but they are limited because they can only be used as a currency and store of value. This is where NFTs come into play.
NFTs are popular because they are instantly recognisable as items from games, movies or real life. The popularity of Crypto Kitties was a massive boost for NFTs, and there are more NFT games coming out every day. People love collecting things for the fun of it and the boasting rights.
Types of NFT games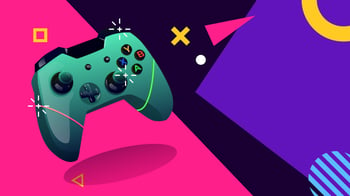 Play to earn
Video games are elevated to an income source through games that have players focused on gaining money. Each player receives a unique object with proven scarcity that they may keep for themselves. This concept enables players to utilise their items in numerous games.
A lot of attention is paid to the play-to-earn paradigm in the finest NFT games. The built-in rewards are what set them apart from other conventional games. These incentives move power away from the game publishers and towards the best players in the community.
In-game rewards
In the second type of NFT games, players gather in-game objects to progress through the game, particularly those with a definite monetary worth. The top games in this category enable players to gather in-game assets as NFTs.
There are several ways players may gather and exchange weapons, characters, vehicles, and other in-game goods. NFTs are the only kind of currency used for trading.
Players are given two options based on the game they are playing: compiling NFTs until they get you crypto rewards or selling NFTs for profit.
Free-to-play
Gamified learning is commonplace for several NFT games. There is a veritable treasure trove of instructional information that you can access through a game-like user interface that fosters learning. Such NFT games are free to play and do not need an initial investment.
Pros and cons of NFT games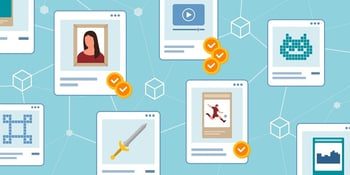 Let's look at some of the most important advantages and disadvantages of the greatest NFT games.
Pros: New and improved income opportunities
An unequal digital world has prompted the development of NFTs by experts. Because of their efforts, the NFTs have gained a great deal of notoriety and investment as a consequence.
Pros: Smart contracts
Smart contracts are being hailed as the heart and soul of the rapidly expanding blockchain ecosystem. It also provides for automated executions for particular occurrences.
Pros: Immutability
It is impossible to alter or replace NFTs after their legality and blockchain veracity have been established. In addition, their inherent worth of authenticity falls into real, actual, and unimportant.
Pros: Ownership pride
Last but not least, philanthropic donors have a simple option to help the arts community. NFTs can serve as treasured additions to their collection of memorabilia.
Cons: Unregulated market
There is a vital emotional and visual component to the top NFT games now on the market. In the long run, it isn't easy to estimate the cost of NFTs.
Cons: Possibility for theft
In the eyes of hackers, NFTs are ripe for online theft. Because of this, many exchanges are dealing with security challenges caused by outdated or ineffective procedures.
Cons: Sustainability issues
Many experts fear that a growing NFT market might be a significant factor in the rapid depletion of the earth's natural resources, as the system behind it uses a great deal of energy.
Considering that most NFTs' security and distribution technology stems from Ethereum, it's estimated that over 48.14 kilowatt-hours of energy is expended per transaction. To put things into perspective, the world average energy consumption amounts to only 58 kilowatt-hours per day per person.
Cons: Ownership and control issues
The ownership rule does not apply to the replication and distribution of NFTs on diverse platforms. The fact that you own the NFT doesn't imply that you can halt or even influence the generation of 'prints' of the NFT.
NFT FAQs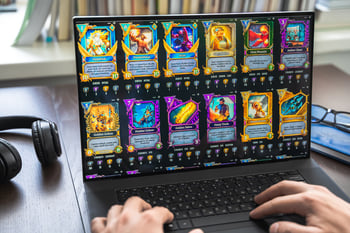 How to get started with NFT gaming?
Investing in the NFT gaming market is the first step. Always conduct your due diligence before investing. After that, you'll have to work on accumulating your tokens.
It is critical to bear in mind that you should only invest what you can afford. To get the most out of these games, you must first understand how the economy works.
What function does a crypto wallet play when it comes to blockchain gaming?
It is a digital wallet backed by cryptocurrencies. It is possible to trade and make money in NFT games, which may use such a digital wallet to conduct transactions.
What are in-game/micro transactions?
'Micro transaction' is the name given to in-game transactions in NFT games. 'MTX' is a common slang acronym for this phrase.
Virtual products, such as gaming assets, may be purchased via micropayments under this business model. Free-to-play games are more likely to have micro transactions.
How are cryptocurrencies involved?
Trading in cryptocurrency involves purchasing and selling any form of cryptocurrency coin. Currently, many NFT games employ a variety of cryptocurrencies, including Ethereum, Dogecoin, Bitcoin, and Cadence. Investors open an account on an internet trading platform to commence the deal.
How can you earn a living playing NFT games?
The mechanics of the game determine how much money you can earn while playing.
You may earn money from other players who value the NFTs or cryptocurrencies you earn while playing different games. To gain money, you may either sell your unique goods or in-game cash at a market, exchange, or auction house – some of which are in-game, while others are off-platform via DeFi markets.
Are NFTs worth the hype?
There's little doubt that the finest NFT games are based on well-known genres.
Nonetheless, it is worth noting that the best NFT games to invest in are lucrative in unique ways since they provide both entertainment and a reasonable source of money for many people. Their integrated blockchain aspects also make them standouts.
NFTs are also finding their way into sports memorabilia or sports itself. Therefore, engaging millions of followers across the globe is an obvious choice for NFTs. For businesses and gamers alike, NFT games are becoming significant in ways that should not be underestimated.
---
Apart from NFT gaming, are you looking for ways to invest online at attractive rates? Compare the best online brokerage accounts and apply for one to further grow your funds across a range of financial instruments.
Read these next:
Non-Fungible Tokens (NFT): What They Are And How People Are Making Money Off Them
What ETFs Are And Why Warren Buffett Advocates Them
Best Cash Management Accounts In Singapore To Soup Up Your Savings (2022)
Digital Artists, Listen Up: Here's How To Create, Buy, And Sell NFTs