---
Best travel insurance plans for road trips
So, rental car insurance really should be considered separately, but does that mean that travel insurance policies are completely unrelated? Not exactly.
You see, collision, loss or damage waivers may still include an excess charge, which is payable out of your own pocket. (You can opt for a higher-cost rental insurance plan that completely absorbs the excess charges, but not all rental companies may offer them.)
However, with a travel insurance plan that offers rental excess cover, you can reduce this extra expense, or even stave it off completely.
Two such plans are FWD Travel Insurance, and Budget Direct Comprehensive Travel Insurance. Both offer car rental excess cover, as follows:
FWD Travel Insurance: Up to S$1,000
Budget Direct Comprehensive Travel: Up to S$2,000
Of course, car rental excess cover alone isn't the only thing you should consider when choosing a travel insurance plan, so remember to examine the rest of the benefits in these two plans before making your choice.
FWD Travel Insurance Promotion: Enjoy 35% off for Single Trip and 30% off for Annual Trip when you use the promo code FWDTRAVEL. Valid till 21 March 2023. T&Cs apply.
---
Insuring yourself for water sports and/or extreme sports
And now, we'll discuss insurance needs if you're planning on participating in water sports and/or extreme sports. Don't worry, this section is comparatively more straightforward than the preceding one!
Water-related activities and extreme sports – let's call them adventurous activities cover for brevity, although different insurers each have their own labels for such – are all under the purview of your travel insurance plan.
As such, you simply need to decide what adventurous activities you will be taking part in, and ensure your travel insurance plan has the corresponding coverage. Some areas of adventurous activities coverage to consider include:
Coverage for sporting equipment
Personal liability cover
Cancellations or alterations of pre-booked adventurous activities
Personal accident, overseas medical expenses, emergency services
The first coverage area is pretty straightforward – you'll want to insure your expensive sporting equipment such as scuba diving equipment, golf clubs, snow skis, and etc. Should they get lost or damaged, your general personal belongings benefits may not cover them adequately, if at all. So be sure to check through your insurance policy wording and top up for a more expensive tier for important items.

Also, if you're renting them, you'll be on the hook for any replacement or repair costs.
Personal liability cover is to ensure that you have a layer of protection in case your actions or participation accidentally cause another person or party to be injured. However, for most cases, standard travel insurance plans offer personal liability cover, but you should consider beefing it up if the amount is too low.
As for cancellations or alternations of pre-booked activities, well this is simply to give you an option to receive partial or full reimbursement should, say, your white-water rafting session be cancelled because of dangerous conditions.
Lastly, personal accident, overseas medical and emergency services would already be included in your travel insurance plan, but again, you'll need to evaluate if the benefits are at a high-enough level, and beef them up if necessary.
One note though: Just because you have insurance for adventurous cover doesn't mean you can throw caution and take up the offer to go "backyard squirrel hunting" from MAGAGuns420 that messaged you over Craigslist.
In most cases, you'll only be covered if you book your activities with a licensed and regulated guide or provider, and carry out the activity under proper supervision.
And even so, there are restrictions and exclusions on the activities itself (for example, scuba diving up to a certain depth, trekking up to certain height, use of specialised equipment, participating in competitive sports, etc), so be sure to refer to the policy documents or check with your insurer.
More on this topic:
FWD Travel Insurance Review: Great For The Budget
Revenge Travel 2022: 16 Top Travel Tips To Satisfy Your Wanderlust
Best Types Of Travel Insurance Plans For Each Trip
Best Covid-19 Travel Insurance Plans (2022)
---
Best travel insurance plans for water sports and/or extreme sports
The good news is that adventurous activities cover is quite readily found these days, leaving you with plenty of choices.
To help you in your search, we've listed three plans below and their key benefits.
Travel insurance plan

Adventurous cover benefits (selected)

MSIG TravelEasy

- Bungee jumping, skydiving, paragliding, whitewater rafting, scuba diving, ice skating, etc

- Golfer's cover

- Unused entertainment tickets

NTUC Income Travel Insurance

- Leisure activities such as scuba diving, snow-skiing, water rafting and motorcycling

- Option to cover pre-existing conditions

- Unlimited number of children covered (Family Plan)

Singlife Travel Insurance

- Winter sports, including skiing, snowboarding, sleigh rides, snowmobiling, glacier walking

- Water sports, including diving, whitewater rafting, canoeing, cave/river tubing, yachting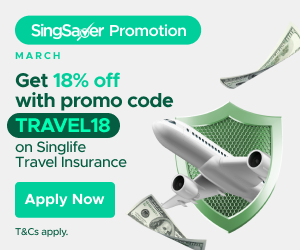 SingSaver Exclusive Promotion: Enjoy an 18% discount when you use the promo code TRAVEL18 for single-trip travel insurance plans only. Valid till 31 March 2023. T&Cs apply.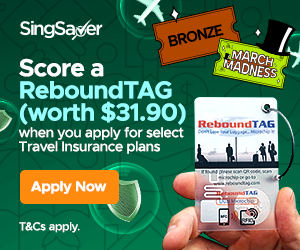 SingSaver Exclusive Promotion: Enjoy 40% off Single Trip plans and 20% off Annual Plans. In addition, receive up to S$38 via PayNow when you apply. Valid till 31 March 2023. T&Cs apply.
Plus, score a ReboundTAG (worth S$31.90) + a BRONZE ticket (1x chance) in our March Madness Grand Lucky Draw when you apply, for a chance to win your share of over S$20,000 worth of prizes! Valid till 2 April 2023. T&Cs apply.
---
Conclusion: Always check with your insurer
The tricky thing about travel insurance is working out what events and occurrences your plan will actually cover, and under what circumstances.
This can be further complicated by the fact that different insurers have different exclusions, which means that between two similar-looking plans, maybe only one will give you the cover you actually need.
But fret not, confirming whether a particular travel plan is right for you is relatively simple. Just contact the insurance company, tell them exactly what you will be doing on your trip, and ask them to confirm if the plan will cover you. They'll tell you yes or no – and suggest alternatives or add-ons in the latter scenario.
And while you're at it, might as well ask them if they allow double indemnity; i.e., whether you can make a claim on your plan if you are also claiming against your licensed guide, travel agent or relevant third party.
Yes, all that sounds like quite a bit of work just for a holiday, but the clearer you are about your coverage, the more you will be able to enjoy your road trip, water sports or extreme sports holiday.
Read these next:
Best Travel Insurance Singapore 2022 (With COVID-19 Coverage)
Best Travel Insurance Plans And Promotions In Singapore
What Is the Best Travel Insurance for Your Age?
Credit Card Travel Insurance vs Travel Insurance