Singapore's tap water is safe to drink. But a water purifier can improve the taste and even offer some health benefits.
Singapore's potable water standards are among the highest in the world, so there's very little reason to worry that drinking directly from the tap will cause you to contract a waterborne illness or develop other health conditions.
So this begs the question, do we really need a water purifier? Strictly speaking, no - as long as you're getting your water from a designated potable water tap.
That means your household taps are safe, as well as taps and drinking fountains found in commercial and public spaces (that have been reasonably well maintained).
However, you may still want to use a water purifier for several reasons, such as:
To improve tap water taste
The 'hardness' of your tap water, determined by the presence of dissolved minerals, can affect its taste and does not go away with boiling. This can be a problem especially if you regularly brew coffee and tea. A water purifier can make your water more neutral tasting, and your beverages tastier.
An added safeguard against old pipes and plumbing
Older plumbing systems and water pipes can sometimes result in discoloured, murky water. Although the water usually clears up after you run the taps for a while, you'd still be a little turned off at the thought of using that water.
A water purification system can work as an added safeguard to ensure you only get clear and clear water every time.
For purified water on demand
Sure, you could boil some tap water to sterilise it if you need purified water (say, for cleaning a minor wound) but you'd have to wait for it to boil, then cool down to a suitable temperature before use.
However, with a water purifier, you can get purified water instantly at the push of a button or twist of a tap.
To remind yourself to drink water
If drinking more water is one of your health goals, the novelty of a fancy water purifier that dispenses better-tasting water just might encourage you to keep refilling your cup or bottle.
Alternatively, you can get a water purifying pitcher for your desk or bedroom.
How do water purifiers work?
Water purifiers use a filtration system to improve the quality of water by removing substances commonly found in tap water.
These include fine-grained sediment, chemicals, metals, microbes, the by-products of water chlorination, and other impurities. Most purification systems also involve activated carbon or charcoal to remove odours for water that tastes cleaner and fresher.
Water purifiers work by passing water from a source (such as your kitchen tap) through its filters, with purified water coming out the other end.
However, not all water purifiers are created equal. Some claim to remove substances you didn't even know existed in tap water, while others focus on improving taste, freshness, clarity and other attributes.
Which type of water purifier should I choose?
There are several types of water purifiers on the market, each with their own uses and capabilities. Generally, they can be classified into bottles, pitchers, on-tap and counter-top.
Water-purifying bottles
If you want to ensure a steady supply of clean, fresh water while out and about, a water-purifying bottle is your best bet.
These bottles clean water in different ways - either through a filtration cartridge to trap and remove impurities, or an ultraviolet light emitter to deactivate harmful bacteria and viruses.
Heavy-duty models are even rated for use with natural water sources you come across in the wild (although we'd advise sticking to water from a drinking fountain or tap).
Purification pitchers
These are water pitchers that contain two chambers, separated by a filtration cartridge. You fill up the upper chamber with water, which passes through the filter to collect in the lower chamber.
Yes, this means you'll usually have to wait a while for your water to be purified, but most pitchers are sized to hold several glasses of water. In any case you can always keep your pitcher topped up, instead of waiting till you run out.
Again, filtration capabilities differ from brand to brand, so be sure to check that your chosen model actually removes the impurities you're concerned about. Some newer models of water pitchers also come with UV-light sterilisation for extra peace of mind.
On-tap water purifiers
On-tap water purification devices are fixed onto the end of your kitchen faucet, purifying your tap water as it comes flowing out.
This is usually achieved by rerouting the water through an attached filtration cartridge to remove impurities, germs and odours before use.
If you prefer not to spoil the sleek look of your kitchen basin, you can opt for an under-sink system that connects your water pipe and your faucet.
Counter-top purifiers
Counter-top water purifiers are stand-alone devices that plug into your water supply to dispense purified, fresh water. As these devices can be rather large, they often also provide the highest water filtration capabilities, along with additional functions.
One common added function is temperature control, allowing counter-top purifiers to also act as a standing hot-water pot. Another popular function is water ionisation, which produces water at varying pH levels for different health benefits.
Just like on-tap purifiers, counter-top purifiers are capable of supplying purified water on demand.
6 popular water purifiers in Singapore
Brand
Type
Features
Cost
Astrea One Filtering Water Bottle
Bottle
- Capacity: ~590ml
- Filter life: 3 months
- Impurities removed: up to 20 common impurities, including metals, pesticides and antibiotics
- Easy refilling with flip-up lid
From $51.44 at amazon.com
LARQ Bottle PureVis
Bottle
- Capacity: 500ml or 740m
l- Filtration: UV water purification
- Impurities removed: Kills up to 99.99% of bacteria and viruses
- Temperature control: Retains heat up to 12 hours and cold up to 24 hours
From $95 at livelarq.com
SOMA 10-cup
Pitcher
- Capacity: 2.5L
- Filter life: 2 months
- Impurities removed: heavy metals, tastes and odours
- Uses plant-based, renewable materials
- Donates to clean water causes
$59 at soma.com.sg
SIEMENS On-tap Water Purifier
On-tap
- Capacity: On-demand
- Filter life: 6 to 9 months
- Impurities removed: heavy metals, chlorine and other chemicals, rust, silt and other sediments down to 0.2 microns, odours
- Temperature control: nil
$66.90 at Lazada
Novita NP313 Countertop Water Purifier
Counter-top
- Capacity: On-demand
- Filtration: 3-stage filtration
- Impurities removed: organic chemicals, bacteria, particles up to 0.1 microns
- Health benefits: Alkaline water, improved hydration
- Temperature control: Nil
From $599 at novita.com.sg
iDuo S5
Counter-top
- 4 alkaline pH levels (8.5, 9, 9.5, 10)
- 2 acidic pH levels (5.5, 5.0)
- 1 neutral pH level(7)- Suitable for drinking, cooking, beauty, cleaning and medications
- Patented 10-layer filter
- Filter life: 6 months
- Capacity: water-on-demand
- Temperature control: nil
- Impurities removed: Sediments, microbes, organic chemicals and disinfectants
$2,599 at h2olifesource.com
Astrea One Filtering Water Bottle
Type: Water bottle with filtration cartridge
Features: 590ml capacity, 3-month filter life, easy-to-refill design, stainless-steel construction, removes over 20 impurities including metals, pesticides and pharmaceuticals, improves taste
One-line review: Handy, durable bottle with long-lasting filter that removes more than 20 common impurities from tap water.
For city folks and students looking for a safer alternative to public drinking fountains, the Astrea One Filtering Water Bottle should be a solid consideration.
It is built to remove over 20 commonly found tap water contaminants, including heavy metals like lead and zinc, organics like pesticides and even antibiotics and other pharmaceuticals. Granted, Singapore's water purification system is not quite so dire, so you might find such thorough filtration to be a bit of an overkill within our borders.
However, its high filtration capabilities, paired with hard-wearing stainless steel construction, means it won't disappoint as your go-to water bottle no matter which city you find yourself in.
LARQ Bottle PureVis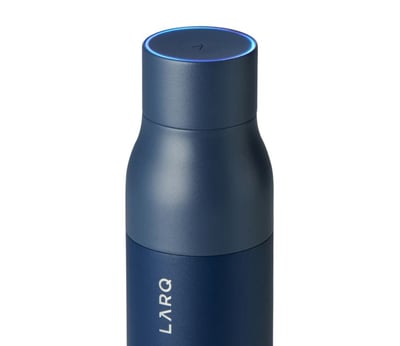 Type: Insulated water bottle with UV light purification
Features: Up to 740ml capacity, built-in UV light for automatic purification, removes 99.99% of bacteria and viruses, keeps drinks cold for up to 24 hours, or hot for up to 12 hours.
One-line review: Next-gen double-walled water bottle that combines on-the-go water purification with temperature preservation.
The LARQ Bottle PureVis does not one but two things well. Firstly, it is capable of keeping your favourite beverage at your preferred temperature, preserving hot drinks warm for up to 12 hours, and cold drinks frosty for up to 24 hours.
But the second and arguably more impressive function is its ability to automatically sterilise your drinking water, thanks to the UV light built in the cap that is capable of destroying up to 99.99% of bacteria and viruses.
What this means is you'll get a reusable bottle that is long-lasting and easy to clean, as germ buildup is automatically prevented. Whether from drinking fountains or the office dispenser, all you'll get is pure fresh water.
SOMA 10-cup Pitcher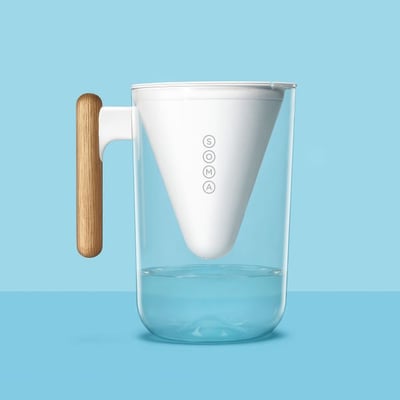 Type: Pitcher water purifier
Features: 2.5 L water filtration pitcher, removes heavy metals, tastes and odours, eco-friendly design incorporating plant-based and renewables, every purchase supports clean water cause.
One-line review: Stylish, eco-friendly water filtration pitcher incorporating plant-based resources and renewables, with proceeds also going towards clean water causes.
Made for the trendy, eco-conscious, socially aware crowd, the gorgeous SOMA 10-cup Pitcher is a fantastic way to fulfil your daily hydration goals.
Made of BPA-free plastic and paired with an easy-carry bamboo handle, and packing a generous 2.5 litre maximum capacity, this water pitcher looks and works great whether for guests at the dining table or all-day hydration at your work desk.
The handy one-step filter lasts as long as two months - or 150 litres - and is made of 65% plant-based and renewable materials for reduced ecological impact.
And for extra humblebragging rights, every purchase includes a donation to a clean water charity dedicated to helping rural communities gain access to clean, safe water.
SIEMENS On-Tap Water Purifier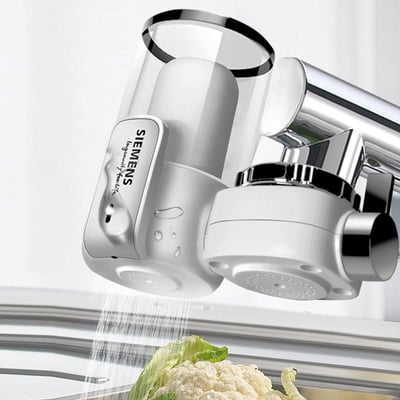 Type: On-tap water purifier
Features: Fuss-free water purifier, removes harmful chemicals and impurities, long-lasting filter with 4-stage purification.
One-line review: Easy to install and operate, this water purifier from a trusted brand will do the job of improving your tap water.
Perhaps the most straightforward option of the bunch, the SIEMENS On-Tap Water Purifier works exactly as advertised. Simply fix it to the end of your faucet, run the tap and you're good to go.
The device features a 4-stage filter that uses natural materials such as coconut charcoal and deep-sea minerals to remove impurities like chemicals, microbes and sediment up to 0.2 microns, deodorising and improving the taste and quality of your water.
With each filter good for six to nine months of use, this water purifier also goes the distance. There's even a clear casing that shows the colour of your filter, so you'll know when you absolutely need to swap in a fresh cartridge.
Novita NP313 Countertop Water Purifier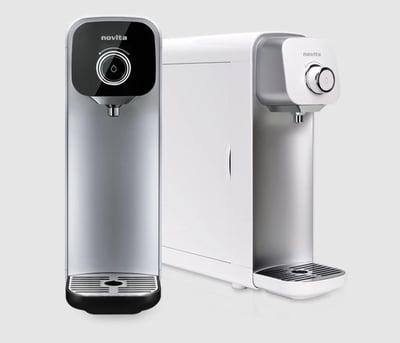 Type: Counter-top water purifier and alkaline water ioniser
Features: 3-stage filtration, removes chlorine and organic chemicals, inhibits microbes, deodorises water and improves taste and colour.
One-line review: Reasonably priced counter-top water purifier and ioniser with easy operation and maintenance.
With a slim, compact form that does away with a bulky water tank, the Novita NP313 Countertop Water Purifier plugs directly into your water outlet to dispense purified water on-demand for all in the family.
Effortless in both design and maintenance, this water purifier utilises Novita's EzTwist filter cartridge replacement system, so you never need to deal with downtime or maintenance fees. Other user-friendly features include a magnetic drip tray and a removable dispensing spout, to ensure fresh, sweet-tasting water all year round.
A 3-stage filtration system removes organic chemicals, heavy metals, harmful microbes and undesirable impurities, while eliminating odours and improving your water's taste and colour.
The unique system also allows you to install either Novita's HydroPlus Alkaline Antioxidant water or HydroPure Purified Energy water filters, to better meet your family's hydration needs.
iDuo S5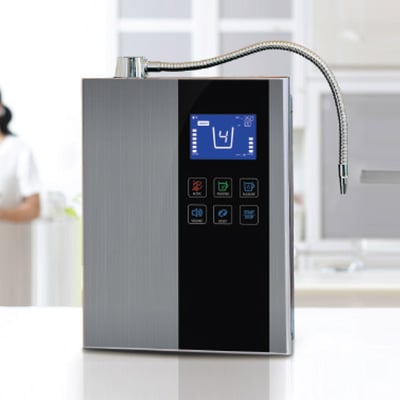 Type: Counter-top water purifier and alkaline water ioniser
Features: Provides purified water at multiple pH levels on demand, 10-layer filtration, 6-month filter life, no temperature control, recognised as a medical device in South Korea.
One-line review: A pricey water purifier/ioniser, but its status as a recognised medical device in South Korea provides a degree of authenticity.
The iDuo S5 is a multitasking device that offers more than just water purification. It is a full-fledged water ioniser capable of producing acidic, neutral and alkaline water, with specific uses for each type of water.
Combined with its patented 10-stage water filtration system that has an impressive 6-month filter life, the iDuo S5 is a heavyweight all-rounder capable of meeting all your water needs, whether for cooking, washing, cleansing, facial care or hydration.
And if you're skeptical of its health claims, its status as a recognised medical device in Korea should at least authenticate the device's capabilities.
Do note that the pricier options can hit the hundred to thousand dollar range. Should you prefer the high-end models, charge it to the right credit card to get more out of the spend. If you are undecided over which cash back credit card is better, you can check out out comprehensive comparison page, and even apply for one with some bonus rewards.
Read these next:
Best Dehumidifiers To Keep Your Home Fresh And Comfortable
8 Best Air Purifiers In Singapore For Your Room, Home Or Small Office
The Real Cost Of Fitness In Singapore
Best Massage Guns To Knead The Muscle Aches Away
New Year, New Resolutions: Reformer And Mat Pilates Classes Under $40 A Session