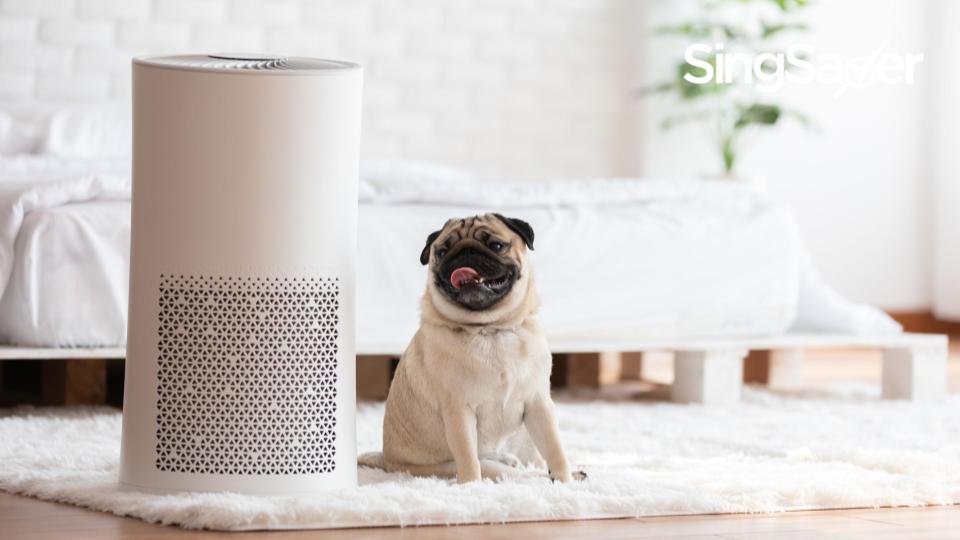 The right air purifier can help safeguard your health. Here are our 9 picks and tips on how to pick a good air purifier.
---
Every spending situation is unique. SingSaver assembles the 'Best For' list, so you can decide what's best for you.
---
So you've been religiously washing your hands and using hand sanitiser, masking up as much as possible, and trying to steer clear of crowds, strangers and crowds of strangers. Is there anything more you can do to keep you and the people around you safe and healthy in these trying COVID-19 times?
Why, yes there is. Considering that we spend hours of our day in our bedrooms, homes and offices — and sometimes sharing the space with others — it might be a good idea to pay attention to the air quality at these locations.
Health benefits of air purifiers
Using an air purifier is a convenient and effective way to ensure clean, fresh air in your bedroom, homes or office.
Thanks to advances in technology, consumer-grade air purifiers are capable of filtering the air we breathe to remove fine micron-sized particles, such as dust mites, pet dander, pollen, dust, smoke, gases, fungi, bacteria and viruses.
Air purifiers clean the air by using multiple layers of filtration — with HEPA (high-efficiency particulate air) filters as the gold standard. Some models also include additional features such as air humidification, UV light steriliser, ion technology or biochemicals to destroy harmful microbes.
Using an air purifier with HEPA (or equivalent) filter results in sanitised, fresh-smelling air free of irritants, toxins, or odours, and may also safeguard against airborne viruses such as COVID-19.
It can also lessen or prevent allergy flare-up among sufferers by reducing or eliminating allergens in the environment. At the same time, the constant filtering and removing of dust and fine particles reduce dust build-up and helps keep your space clean.
9 Best air purifiers in Singapore
Brand and model
Features
Price
Where to buy
Rating
Use in
Xiaomi Mi Air Purifier 3H
3-layer HEPA filter

Effective coverage up to 48 sqm

Smart home controls

From $145
Shopee
4.5 out of 5
Living room, bedroom, small offices
Philips Air Purifier – Series 2000
3-layer HEPA filter

Smart home controls, Amazon Alexa compatible

Effective coverage of up to 79 sqm

$389
Best Denki
4.5 out of 5
Living room, office, conference room
Augienb Large Room Air Purifier
Multi-layer HEPA filter

Humidifier function

Child lock

Effective coverage up to 61 sqm

$129.90
Lazada
3.5 out of 5
Living room, office
Dyson Pure Cool Me
Glass HEPA filter

Ultra-portable personal air cooler and purifier

Bladeless operation

S$419
Lazada
4 out of 5
Personal workspace or bedroom
Dyson Purifier Cool™ Formaldehyde Air Purifier TP09 (White/Gold)
HEPA H13 filter and activated carbon filters

Detects and destroys formaldehyde non-stop

Captures dust, allergens and up to 99.9% of viruses

Air Multiplier technology for air purification

Effective coverage up to 19 sqm

S$895
Shopee
4.9 out of 5
Personal workspace or bedroom
Sharp Air Purifier FP-J30E-A
HEPA filter, Plasma
Cluster Ion technology

Simple operation, low noise

Effective coverage up to 23 sqm

$349
Courts
4 out of 5
Personal workspace, bedroom or small room
Samsung Air Purifier BlueSky 3000
Triple-layer filter, removes up to 0.02 micron particles

Soft-touch operation with at-a-glance LED display

Effective coverage up to 40 sqm

$329
Qoo10
4.3 out of 5
Living room, bedroom, office
Novita 4-in-1 Air Purifier A4S
Multi-layer HEPA filter

Combines, humidification, filtration, ionisation and sanitisation

ISO 5 Cleanroom standard

Effective coverage up to 120 sqm

$799
Novita
4.5 out of 5
Large rooms, large offices
TruSens Z-1000 Air Purifier
Combination HEPA and carbon filter

Includes UV sanitation capability

Effective coverage up to 23 sqm

Lightweight and portable

S$178.88
Shopee
4.5 out of 5
Personal workspace, bedroom or small room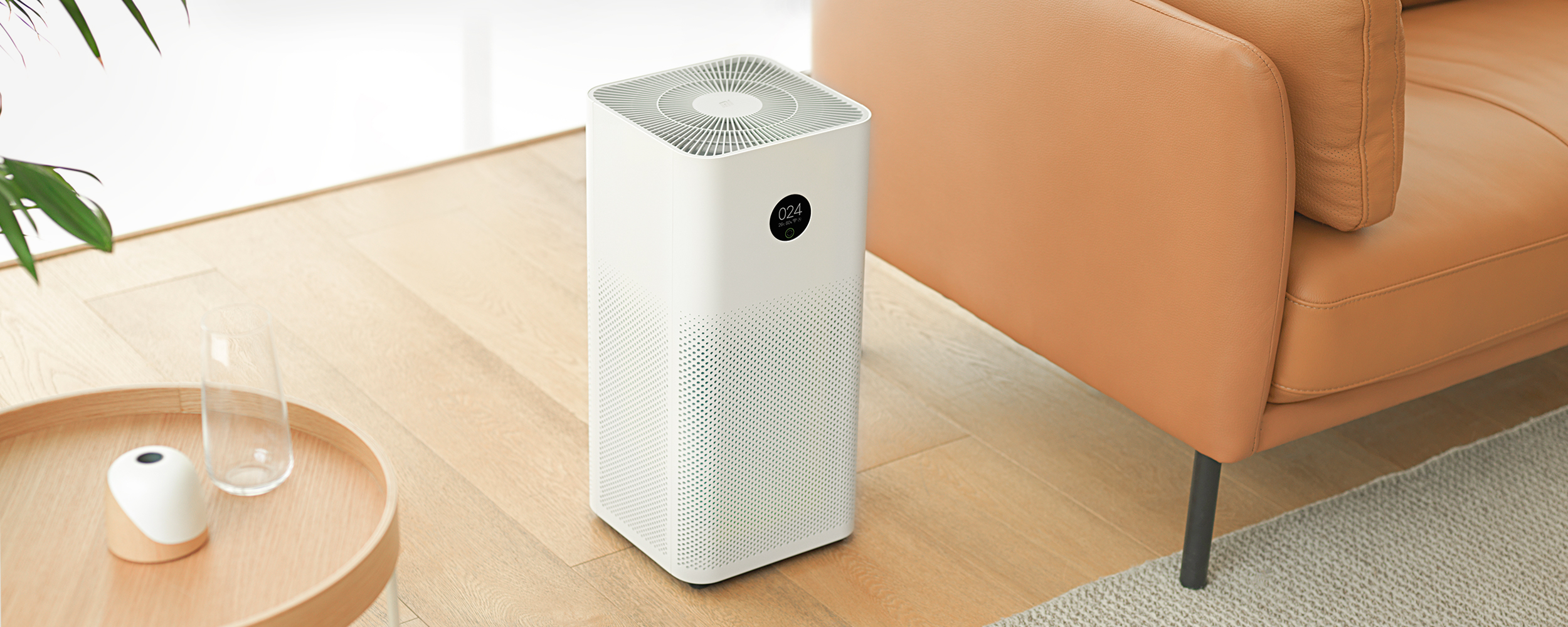 Xiaomi Mi Air Purifier 3H
Cylindrical 3-stage filtration (mesh-HEPA-charcoal) for 360 degree air purification
Filters down to 0.3 microns
Effective up to 48 sqm, great for offices, living rooms and large rooms
OLED touchscreen with smart home controls
Our first pick by Xiaomi features a 360 degree cylindrical filter consisting of 3 layers (mesh, HEPA and charcoal) that filters down to 0.3 microns, while removing common household pollutants like dust and hair, and absorbing odours and harmful gases such as formaldehyde and volatile organic compounds.
The Mi Air Purifier 3H has high effective coverage of up to 48 sqm, yet has a footprint no larger than an A4 piece of paper — ideal for use in the large bedrooms, living rooms or small offices.
It also comes with OLED touchscreen controls and a display that provides intuitive at-a-glance air quality information. Lastly, the inclusion of Mi Home smart controls ensures you can always enjoy clean, fresh air the moment you step into the home or office.
Price: $145 onwards
Buy from: Shopee
Rating: 4.5 out of 5
Review: A good quality, powerful product priced much cheaper than many of its competitors, the Mi Air Purifier 3H provides clean air at great value.
---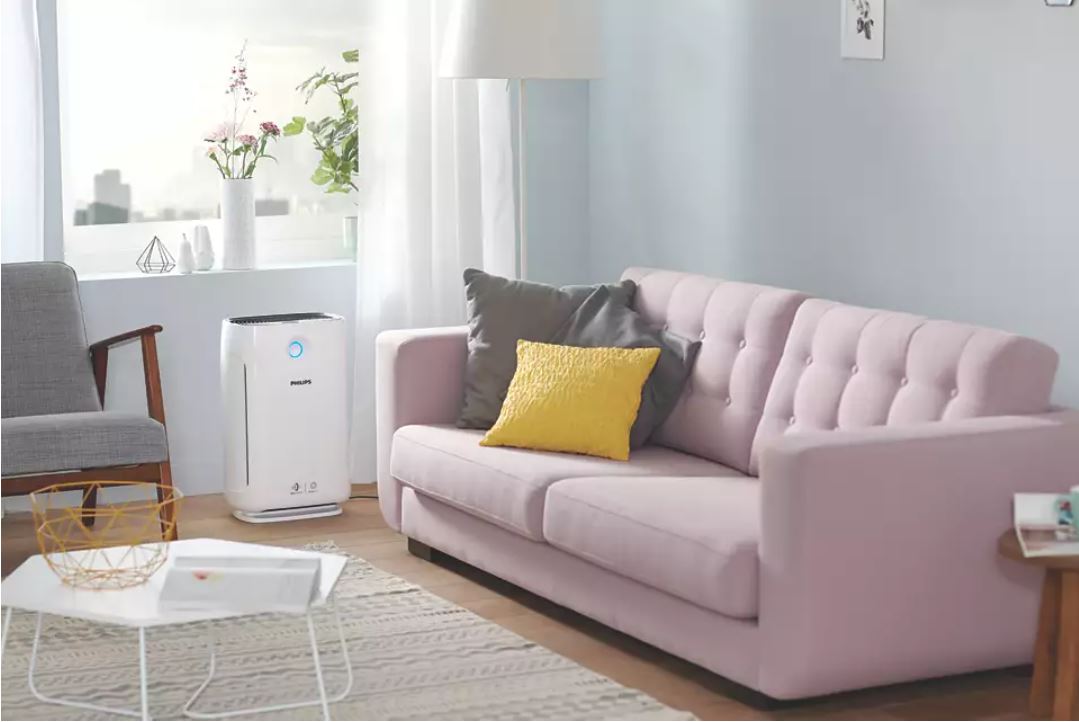 Philips Air Purifier – Series 2000
3-layer filter (mesh/charcoal/nano-HEPA) captures particulates down to 0.003 microns
99.97% allergen filtration
Intelligent sensing and auto filtration
4 modes – auto, sleep, gentle. turbo
Great for larger homes or offices, the powerful Series 2000 Air Purifier from Philips has a total effective coverage up to 79 sqm and boasts particulate capture down to 0.003 microns that far outperforms the standard HEPA rating of 0.3 microns.
The purifier comes installed with a NanoProtect HEPA Filter as part of a three-layer filtration system that also includes a fine mesh pre-filter and activated charcoal layer. The device offers four modes of operation that include sleep, gentle, turbo and auto, the last of which uses smart sensing to automatically filter particles, harmful gases and indoor allergens.
Add to that mobile app control, adaptive ambient lighting, intuitive colour-coded displays and a sleek, minimalist design, and this becomes an easy pick whether for the home or the office.
Price: $389
Buy from: Philips
Rating: 4.5 out of 5
Review: Great controls, sleek design, large space coverage and ultrafine filtering capacity of 0.003 microns make the rather large price tag worth it.
---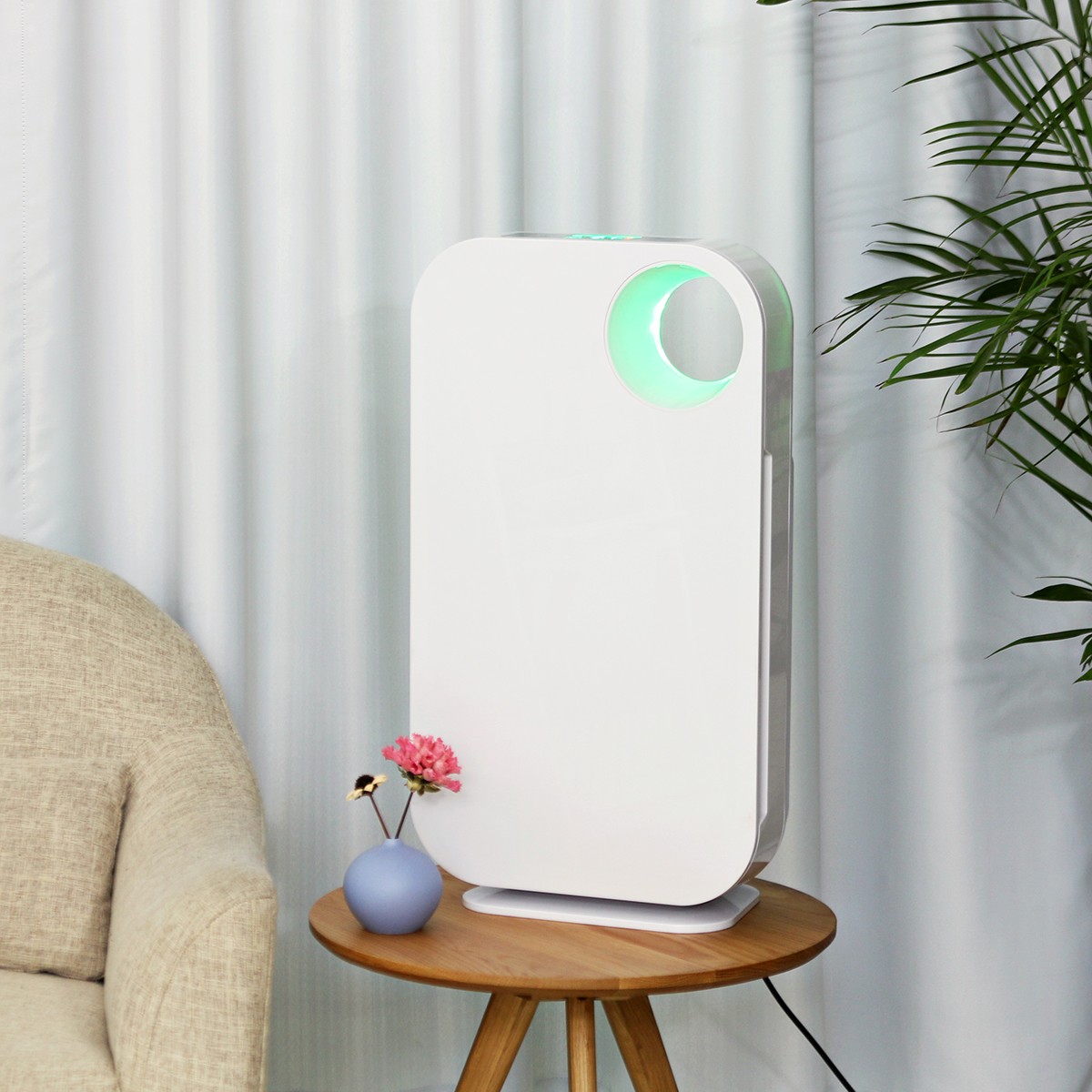 Augienb Large Room Air Purifier
6-stage HEPA filtration, plus humidifier function
Large coverage area, suitable for shared spaces
Auto-operation, adjusts fan speed according to air quality
Launched by Hong Kong-owned home and furnishing company Augienb, this Large Room Air Purifier combines air purification with humidification functions. True to its name, this device boasts over 61 sqm of effective space coverage.
Featuring 6-stage filtration with HEPA-standard filters, this air purifier is capable of scrubbing the air clean of common household pollutants, allergens, germs and harmful gases, including formaldehyde and benzene.
One drawback is its noise level of around 55 db, which may be too noisy for the bedroom. But no matter, with its large coverage, this air purifier is best suited to the living room, hallway or shared spaces at the office anyway.
Price: $129
Buy from: Lazada
Rating: 3.5 out of 5
Review: Slightly noisy, and utilitarian, but a solid option nonetheless for purifying air in large spaces. However, a relatively small water tank may restrict humidifying capability. Price is attractive.
---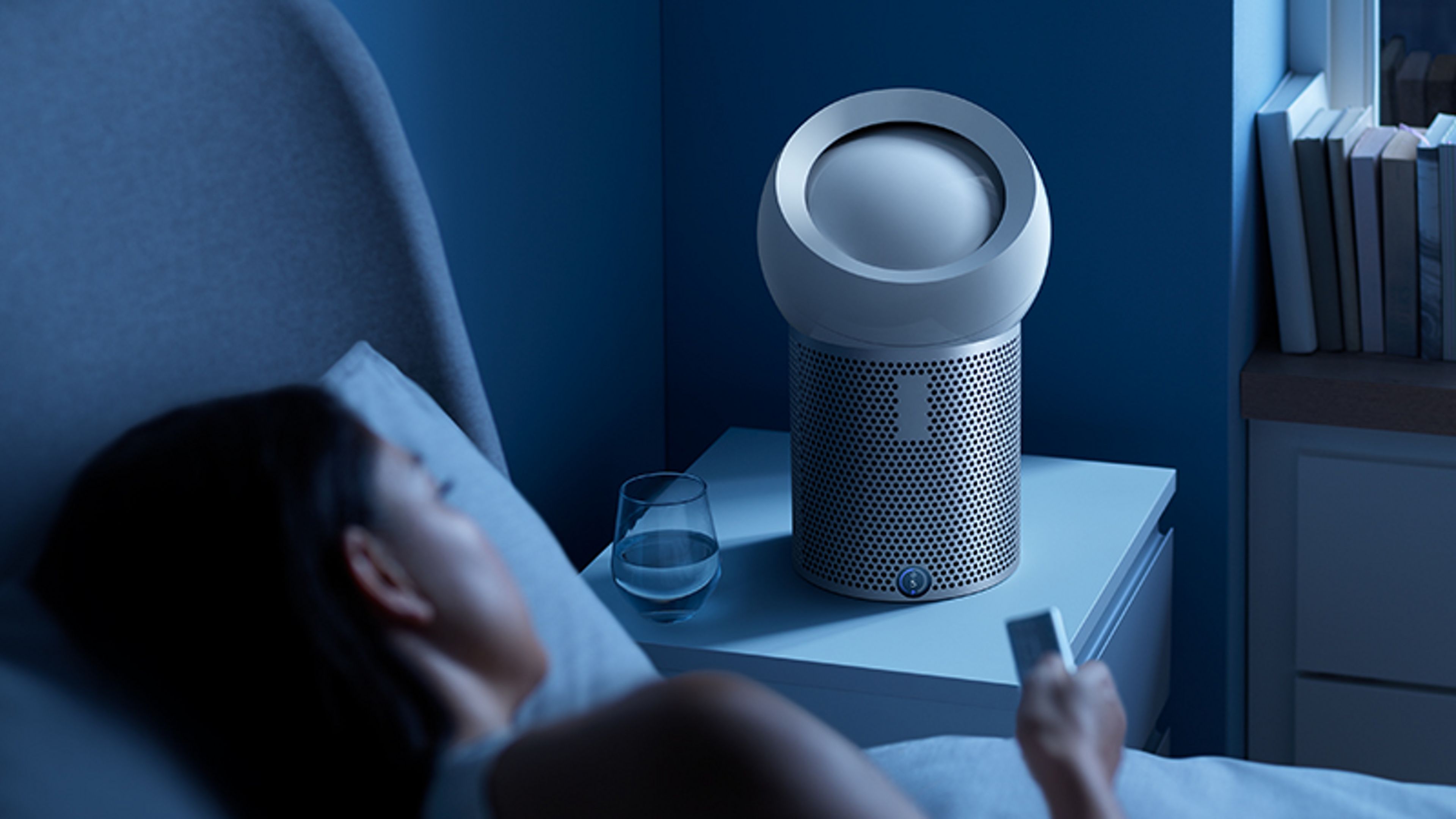 Dyson Pure Cool Me
Attractive, futuristic design
Ultra-portable personal air purification and cooling
Glass HEPA filter captures down to 0.1 microns
Bladeless operation, child and pet safe
Who says you can't have air purification, cooling and style all at the same time? The aptly named Dyson Pure Cool Me will earn you the envy of your colleagues as it sits prettily on your desk delivering fresh, crisp air to your personal corner of the office.
This portable air purifier features an activated carbon and glass HEPA filter capable of capturing particles down to 0.1 microns, while simultaneously removing odours, gases and other atmospheric pollutants. The unique dome design with 70 degree swivel capacity delivers focused airflow wherever you need it.
Weighing just 2.7kg, the 2-in-1 Dyson Pure Cool Me is best for personal workspaces and bedside use. Its signature bladeless operation also makes this a safe choice for homes with curious young children or pets.
Price: $419
Buy from: Lazada
Rating: 4 out of 5
Review: The high price is why this air purifier didn't get a higher rating, but if you can spare the money, the Dyson Pure Cool Me is any awesome way to indulge yourself.
---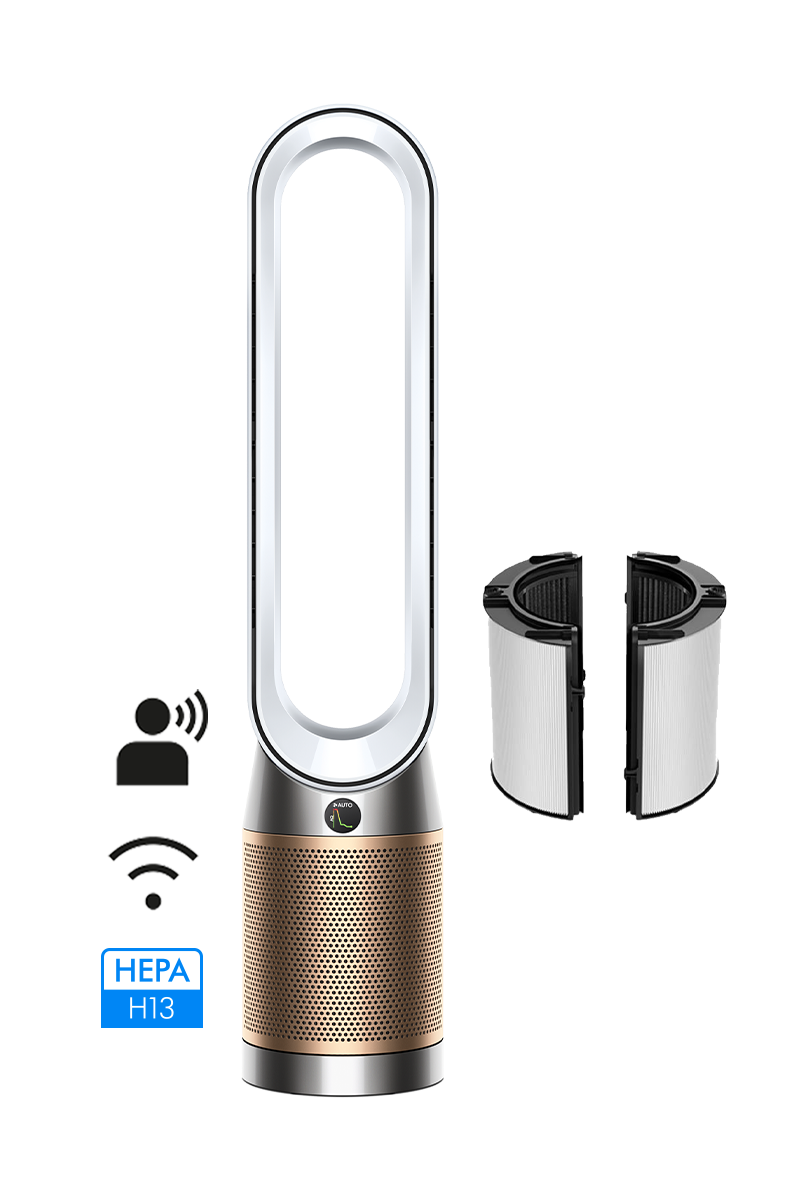 Source: Dyson
Dyson Purifier Cool™ Formaldehyde Air Purifier TP09 (White/Gold)
Classic, bladeless Dyson fan silhouette
Precise, solid-state formaldehyde sensor and filter to break down formaldehyde non-stop into water and carbon dioxide
HEPA H13 and activated carbon filters to detect and capture 99.95% of fine pollutants, down to 0.1 microns in size
Air Multiplier technology to purify room
Using the latest technology in air purification, this new-gen Dyson air purifier combines the effectiveness of a solid-state sensor and a catalytic filter to break down toxic formaldehyde pollutants into harmless carbon dioxide and water.
Moreover, its HEPA H13 and activated carbon filters captures and contains 99.95% of air particles as small as 0.1 microns. This allows it to effectively diffuse out the dust, allergens and other ultrafine pollutants disturbing your space.
But it's not just the filter. In fact, the entire air purifier meets the HEPA H13 standard — meaning that whatever's filtered into this Dyson machine stays inside. Filter care is also efficient and easy to change.
Other neat features include its oscillation ability of up to 350 degrees and a 20% in noise reduction to make it perfectly conducive for work-from-home and sleep (yes, it comes with night mode!). Notwithstanding that, it can also be entirely controlled from the Dyson Link app or the remote if you're the traditional sort.
Don't forget, it's also a fan.
Price: S$895
Buy from: Shopee
Rating: 4.5 out of 5
Review: Excellent for filtering out harmful formaldehyde that is otherwise undetectable by humans. About 1.05m tall, 4.85kg and covers up to 81m3, this air purifier is definitely on the bulkier and pricier side on this list. More ideal for households and families with sensitivity and allergy problems.
---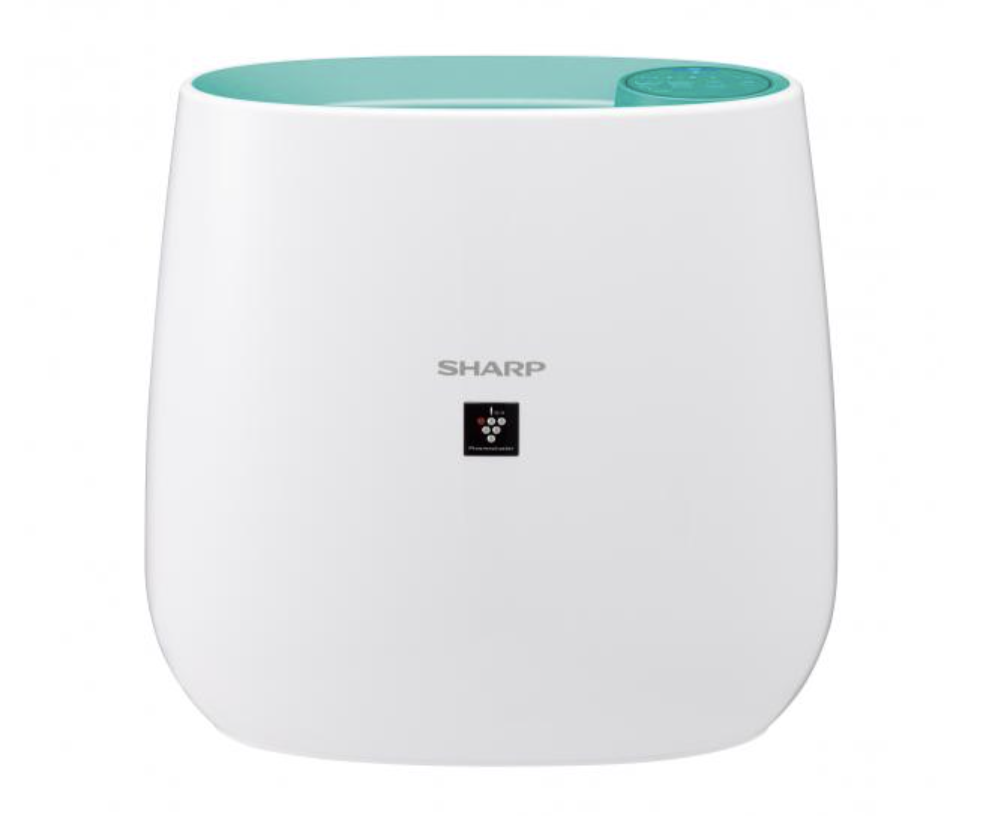 Sharp Air Purifier FP-J30E-A
HEPA-standard filtration combined with Plasmacluster technology
Generates ions found in nature to suspend airborne viruses and microbes
Captures pollutants and deodorizes air
The Sharp Air Purifier FP-J30E-A is not only compact and cute, it also boasts effective air purification and odour removal capabilities. The air purifier not only features a HEPA-standard filtration system, it also comes with Sharp's proprietary Plasmacluster technology.
When in use, the device generates a constant stream of ions not unlike those found in nature. These have been proven to capture airborne microbes, and preliminary tests prove they can work against COVID-19 that causes COVID-19.
Additionally, Plasmacluster technology is also known for its strong deodorizing capabilities, creating fresh, clean air so you can breathe easy.
With effective coverage of up to 23 sqm, Sharp's air purifier is suitable for cleansing and purifying bedrooms or small offices.
Price: $349
Buy from: Courts
Rating: 4 out of 5
Review: Compact, cute and with proven microbe-busting capabilities, this would be a great buy, if it weren't quite so expensive.
---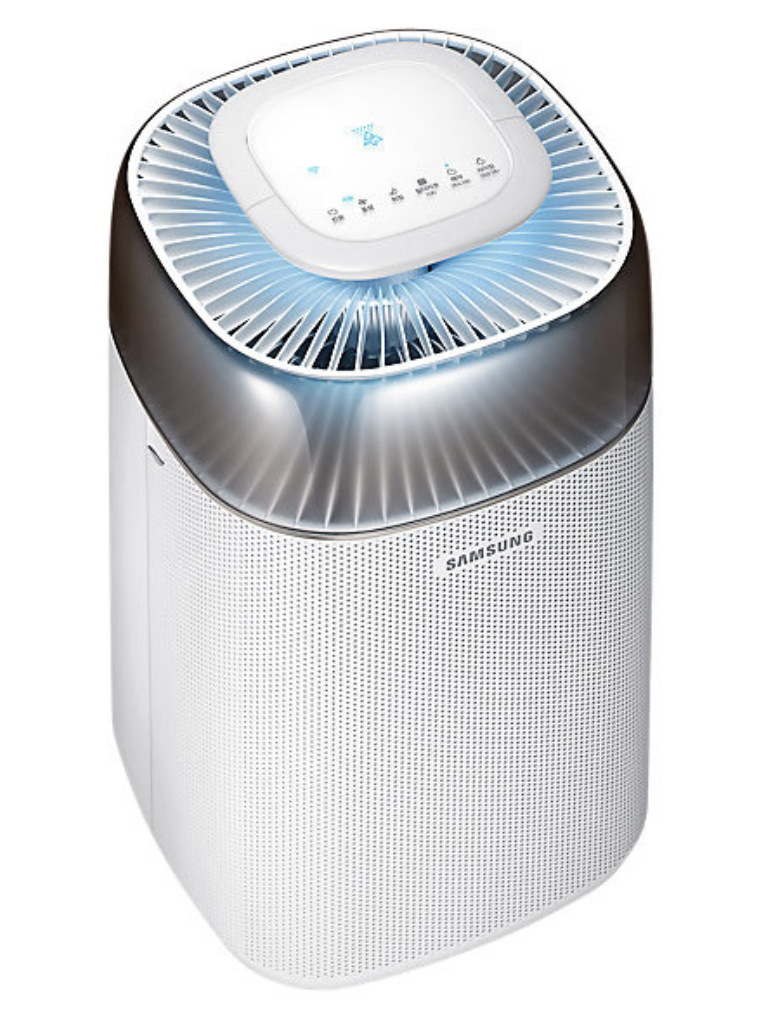 Samsung Air Purifier BlueSky 3000
Triple-layer filter removes particles as fine as 0.02 microns
Soft-touch controls with intuitive LED displays
Effective coverage up to 40 sqm
The Samsung Air Purifier BlueSky 3000 is not only pretty to look at, it also provides powerful air purification for your home or office and has an effective coverage of up to 40 sqm.
With a triple layer filtration system consisting of a mesh, carbon and ultrafine filter that filters down to 0.02 microns, the BlueSky 3000 offers professional-grade purification without the noise — maximum noise reaches just 48 db.
The device has two separate sensors – one for dust and one for gases – and is capable of responding automatically to prevailing air quality. It has an intuitive colour-coded LED display that keeps you informed as the air is purified.
Alternatively, you can also monitor and control your air quality by linking your BlueSky 3000 with your mobile phone via an app.
Price: $329
Buy from: Qoo10
Rating: 4.3 out of 5
Review: Slightly expensive, but the large capacity, powerful filtration and cool design make up for it.
---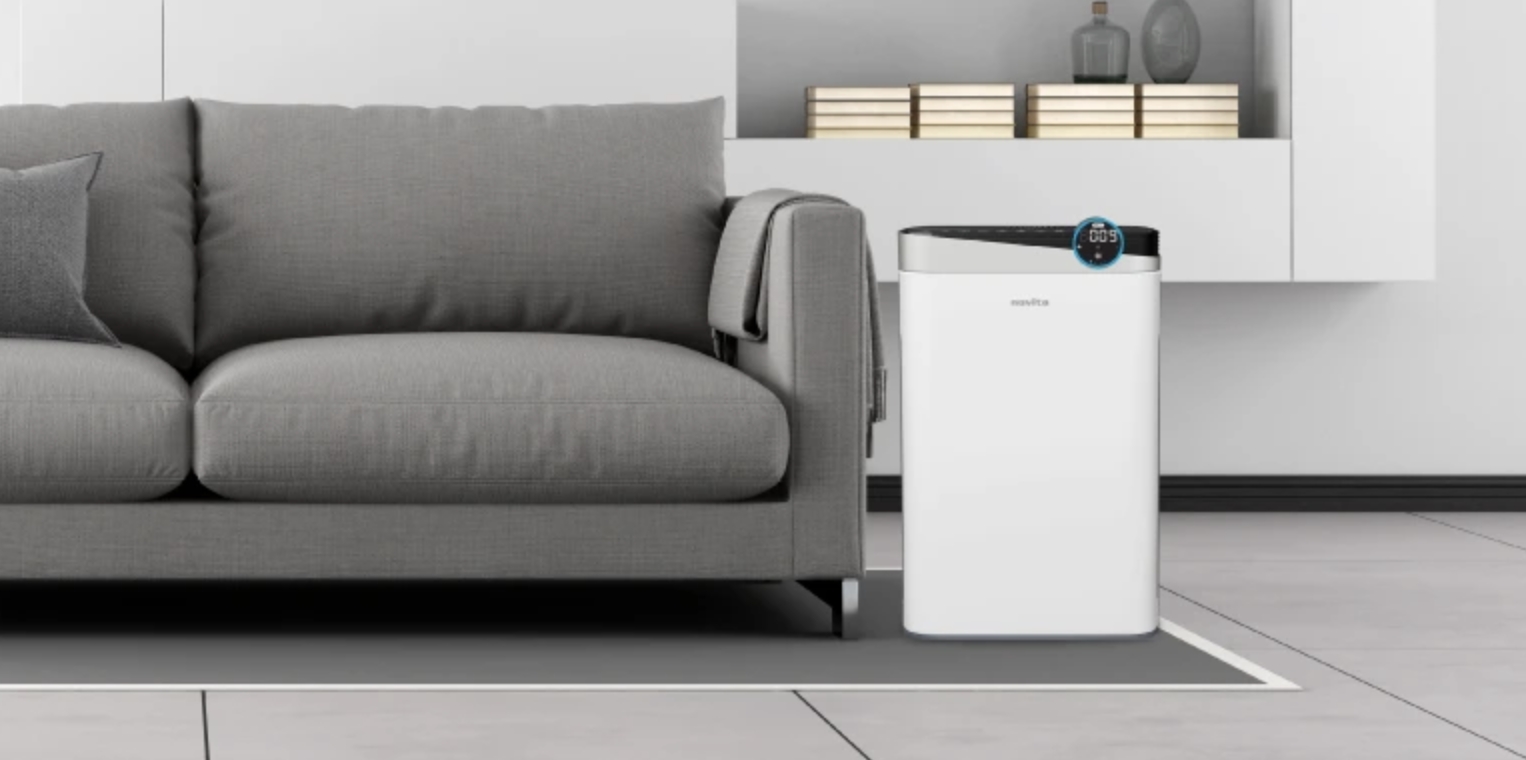 Novita 4-in-1 Air Purifier A4S
Combines air filtration, humidification, ionisation and sanitisation
Multilayer HEPA filter traps particles and removes odours, gases and germs
Generates negative ions to eliminate allergens and microbes
Cleanroom standard purification
If you're looking for the ultimate in home or office purification, Novita has got you covered.
The 4-in-1 A4S Air Purifier is able to deliver purification so thorough, your space can pass for a cleanroom (you know, where they make medicines and computer chips and stuff that demand rigorous purity?)
This A4S achieves this frankly mind-boggling feat through a combination of functions. First it employs a multilayer HEPA filter that incorporates catalyst and activated carbon filters to collectively trap, remove and eliminate air pollutants, allergens and germs.
Then, the device has a built-in negative ion generator that releases negative ions to further eliminate any leftover allergens or microbes, while also promoting alertness and improving energy, relieving stress and drowsiness.
And if that's still not clean enough for you, feel free to add Novita's optional Air Purifying Solution Concentrate to oxidise and eliminate any (remaining) harmful germs via the humidifier function.
The A4S Air Purifier has a maximum effective coverage of 120 sqm, making it a suitable option anywhere from large homes to small conference halls.
Price: $799
Buy from: Novita
Rating: 4.5 out of 5
Review: If you absolutely must have a home or office that's clean enough for you to eat off the floor, the price isn't actually that bad.
---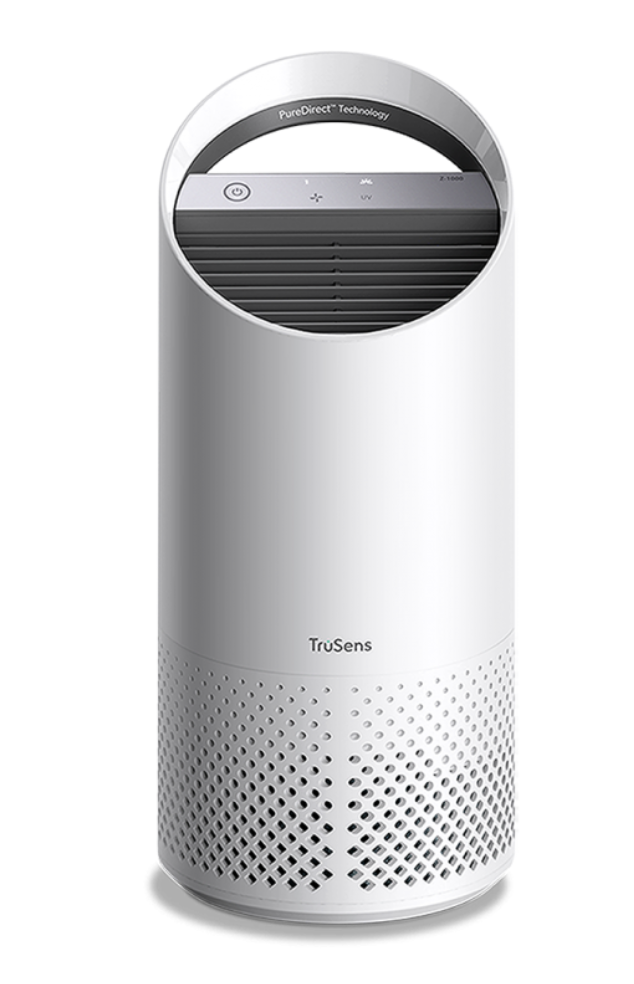 TruSens Z-1000 Air Purifier
Combination carbon and HEPA filter, with UV sanitisation
Dual airflow streams for further and more even air distribution
Built-in handle for easy portability
With effective coverage of up to 23 sqm, the TruSens Z-1000 Air Purifier is a great option for small bedrooms or offices.
Featuring a contemporary design, the purifier utilises activated carbon and HEPA-standard air filtration to effectively cleanse air of commonly found pollutants and harmful substances such as gases and volatile organic compounds.
Trapped bacteria and harmful microbes are destroyed with the built-in UV light filter, providing another layer of protection.
The Z-1000 weighs in at just 4kg, and has a built-in handle for increased portability.
Price: $178.88
Buy from: Shopee
Rating: 4.5 out of 5
Review: Good coverage, HEPA-standard air filtration and UV light sanitisation, all in a portable, affordable package.
---
Things to note before you buy an air purifier
When in doubt, go with the big brands
While air purifiers come in many brands and makes, it is worthwhile to go with trusted big name brands, even if you have to spend slightly more. The last thing you want is to spend money on an untested brand, only to receive a substandard product that is noisy, runs hot, of poor quality or doesn't work as advertised.
Consider filter lifespans
All air purifiers will need to have their filters replaced with use — typically after 24 to 36 months of usage — in order to continue functioning well. You should take the cost of replacement filters into account when choosing an air purifier, as some brands may be more expensive than others, while others may last longer. Also, choose the right type of filter according to your needs; there's no point paying extra for premium filters if you or your family have been doing ok with a regular one installed.
Buy only genuine replacement parts
Resist the temptation to buy counterfeit filters or replacement parts, even though they may be cheaper and claim to have the same capabilities. Using fake filters generic replacements may affect the effectiveness of your air purifier. In the long run, they may also cause damage or other problems which could shorten the lifespan of your air purifier.
Choose according to room size
Be sure to pick an air purifier with an effective coverage that is close to the size of the room you plan to use it in. A purifier that is too small won't be able to properly do the job, while picking one that is too large won't make your room ultra clean, well not beyond the capacity of the device anyway. You may want to consider getting a mix of large and small air purifiers for the best fit.
Be sure to shop around
For simplicity, we have linked the best deal we found for each of our 8 picks at the time of writing. However, you should know that air purifiers are sold by a great number of vendors that include big box electronics stores to independent agents online. If you're interested in a model, be sure to spend some time shopping around. You just may score a sale, or be offered a newer model for the same price range.
Don't forget your credit card perks
As air purifiers fall under electronics, you can get more bang from your buck if you charge them to the right credit cards. For example, the OCBC Titanium Rewards Credit Card – Blue Card FaceOCBC Titanium Rewards card offers 10x points (equivalent to 4 miles per dollar) when you spend at electronics stores. Another great credit card is the American Express CapitaCard, which gives you bonus points when you shop at CapitaLand Malls.
Read these next:
7 Work-From-Home Essentials For All Budgets
11 Work-From-Hotel Packages To Suit Every Budget
Chalet Staycations For Less Than $120 A Night
Best KFC Deals, Rewards, And Coupons For Your Fried Chicken Cravings In Singapore
The Real Cost Of Returning To Office
---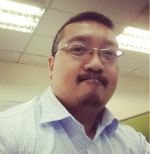 By Alevin Chan
An ex-Financial Planner with a curiosity about what makes people tick, Alevin's mission is to help readers understand the psychology of money. He's also on an ongoing quest to optimise happiness and enjoyment in his life.
---