Using a water dispenser with filtration capabilities is a convenient, cost-effective way to ensure healthy drinking water at home . From health-promoting to easy maintenance and budget-friendly models, here are five popular water dispensers in Singapore.
With Singapore's highly vaunted reputation for having among the cleanest drinking water in the world, you may be surprised to see so many vendors actively pushing water filtration and dispensing systems.
Isn't our water safe to drink straight from the tap?
While the water that leaves the treatment plants is of the highest quality for drinking and washing, the water you get from the tap may have travelled through old pipes and badly maintained taps, which can result in contamination.
You could boil your water before drinking to remove any harmful germs, but other pollutants like sediment and odours may remain.
Regularly sterilising your taps and replacing old water pipes in your home may help solve the problem, but there are no guarantees.
A more assured way to get high quality water is to install a water dispenser in your home or office. These systems not only help to remove pollutants and sterilise water, more advanced models can also alter the properties of your water for purported health benefits.
Here are 11 popular water dispensers in Singapore that provide instant purified water on demand.
11 popular water dispensers for home use (2022)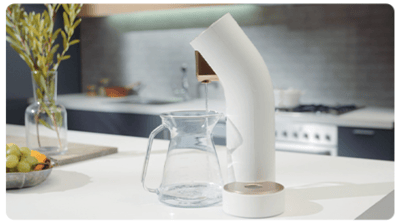 Having won not one, but four prestigious design awards for its sleek and smart style, Wells The One is a refreshing entry into an already saturated field of bulky and excessively large water dispensers. Equipped with a smart water release functionality that automatically readies itself whenever you're nearby, you can easily get your daily dose of hydration without much downtime.
One of the most intuitive dispensers in the market, Wells The One operates on a rotatable wheel that is beautifully accompanied by a colour display that allows you to control and regulate your water's temperature. There are over six pre-set temperatures catered to a multitude of needs, such as baby formula, coffee and plain cold iced water.
Of course, like any water dispenser, Wells The One comes with its own share of filters that is capable of eradicating unhealthy heavy metals, sediments and compounds. It also claims to remove bacteria, while improving the taste of water with essential minerals.
Cost: Starting from S$2500
Pros: Sleek, clutter-free and intuitive
Cons: Requires installation work with includes drilling a hole on your kitchen counter. Exorbitant price point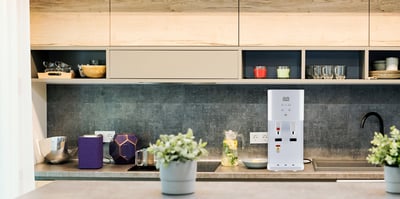 Anyone that has looked up water dispensers know that most of which are considered a luxury, with some easily costing up to S$2000 or more! Well, Pere Ocean Pearl Water Dispenser is arguably one of the few economical alternatives that promises an abundance of quality and value.
Connected directly to your water tap, this humble dispenser provides an unlimited stream of both hot and cold water, purified by a filtration system that removes sediments and unpleasant odors.
However, it adopts a more traditional design structure, with a bulkier and large exterior that is unlike conventional water dispensers. It may not be suitable for those whom do not possess adequate space on his/her kitchen counter. Also, it only comes with two pre-determined temperatures, with hot water at approximately 80 degrees and cold water at approximately five degrees.
Regardless, this dispenser is one of the best economical alternatives out there, with quality that rivals even some of the biggest players in the market.
Cost: Starting from S$674.10
Pros: Inexpensive, simplistic and gets the job done
Cons: Requires a significant amount of space and lacks variety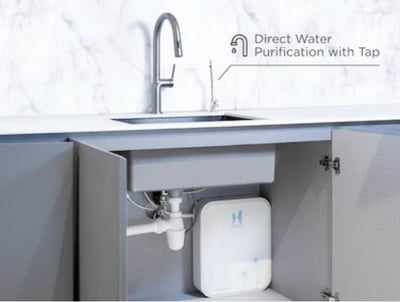 If you're looking for a dispenser that is clutter-free, simplistic and perhaps, even unnoticeable in your kitchen area, this is the perfect dispenser for you. Its minimalistic design comes in the form of a simple-to-use miniature tap installed on your sink that is connected to a purifier placed under your sink. The purifier immediately starts its filtration process once you operate the tap, removing typical bacteria, sediments and other harmful substances you would expect of a water dispenser.
With that said, this water dispenser does not require the use of electricity to operate, perfectly incorporating itself in your tap's water system. However, this particular purifier lacks temperature adjustability like the others in the list, providing only streams of room temperature water.
Cost: Starting from S$1800
Pros: Minimal installation, easy to maintain and clutter-free
Cons: Lacks cold/hot water options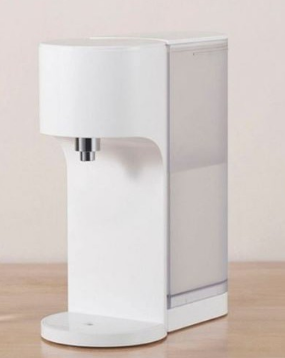 Given Singapore's healthy water quality, some users may not require a dispenser equipped with filters and additional functionalities. Some may just be looking for dispensers that does what its name entails - dispense water at varied temperatures. If you're one of these aforementioned people, this dispenser is perfect for you.
Attached with a 4L container, this dispenser instantly release streams of hot water for the entire family. It also allows you to determine your desired temperature. It does not require any installation, nor attachment to your water supply and it can be placed anywhere (not just on your kitchen top like most water dispensers.) The only downside of this dispenser is its inability to dispense cold water, and that it requires you to manually refill the container.
Cost: Starting from S$148
Pros: Can be placed anywhere, affordable, doesn't require complex installation work on your kitchen area and you can adjust the temperature to suit your needs
Cons: Lacks the ability to produce cold water and it does not come with filters. Requires electricity to operate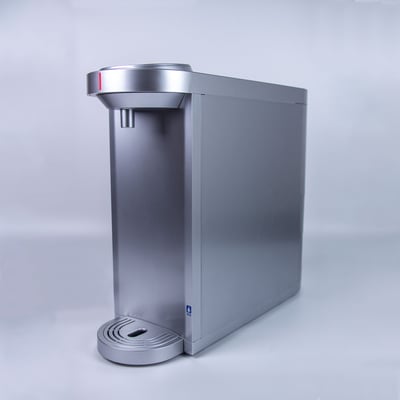 This water dispenser has it all - the ability to set four pre-determined temperatures, a touch display, filtration and UV sterilisation systems and volume control. Aquakent's water dispenser revolves around user-friendliness and simplistic functionality, with an extremely intuitive design that is clutter-free.
The current bundle even includes free delivery and installation, alongside a two year warranty, complimentary filter replacement systems and much more!
Cost: Starting from S$1488
Pros: Minimalistic design that comes with a rich array of functions
Cons: All-rounded option, though it does not stand out in any of its functions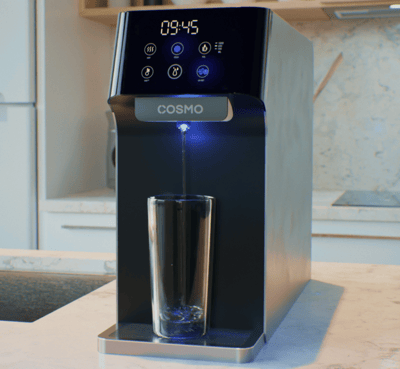 A premium device that works as well as it looks, the Cosmo Quantum is a tankless desktop water dispenser that comes with plenty of useful features.
The machine uses a six-step water filtration system to thoroughly remove impurities from water, and even has UV-light disinfection to ensure the highest levels of purity and cleanliness.
The Cosmo Quantum offers three temperature settings for convenience: cold (5 - 10°C), lukewarm (30 - 45°C) and hot (89 - 97°C). There's also a re-boil function if you absolutely need boiling hot water.
Dispensing is easy via the control panel located at the top. You can even choose preset liquid volumes, for one-touch automatic dispensing.
Delivery and installation (your water dispenser needs to be hooked up to the water mains before use) is free, but you may experience some drilling and minor work if your water line isn't easily accessible. Changing filters is easy enough, with a twist and lift operation anyone can do.
The main downside here is its hefty price tag. But if you look past that, the Cosmo Quantum delivers on its core function of dispensing purified water at desired temperatures, along with some pretty nifty features, all wrapped up in a sleek, modern design.
Cost: S$2298
Pros: Re-boil option and an extensive filtration system
Cons: Requires intensive installations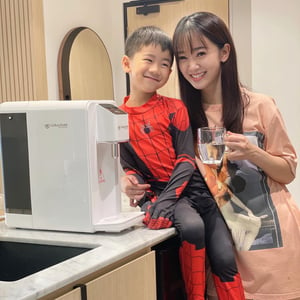 If you absolutely must have the highest standard of drinking water available - so clean that even the global health body NSF International approves - then check out the Coral Pure Premium 8++ water dispenser.
Featuring up to 15 stages of water purification across nine filters, the Coral Pure Premium 8++ is said to produce water that is so pure that it even exceeds World Health Organisation's standards for safe drinking water.
But it's not just what it takes out, but also what it puts into your water. This Korean product is capable of fortifying your drinking water with a whole list of natural minerals, including calcium, magnesium, zinc, iron and potassium.
There are many more health claims the manufacturer makes, but according to its website, their lofty standard is driven by their goal to replicate "high-quality drinking water similar to natural spring water found in longevity villages".
If you're wondering if this means you'd be installing a whole water treatment plant, you'll be glad to know that the whole system is surprisingly compact, with its undersink installation helping to keep everything tidy and out of sight.
You'll only need to make space for the included dispenser, which measures a slim 18cm across. The device also comes with seven preset temperatures, three preset dispensing volume, and other handy features.
Cost: S$3490
Pros: 15 stage water purification framework
Cons: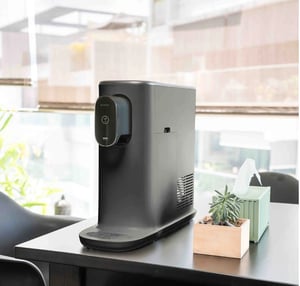 If you prefer to have a water dispenser that requires as little maintenance and cleaning as possible, you'll probably love the Sterra Water Purifier.
Another quality product hailing from Korea, this tankless desktop water dispenser features electrolysis-driven self-sterilising to prevent microbe build up in its internals. Meanwhile, the dispensing nozzle contains an UV-C LED, which deactivates and neutralises harmful germs in your water if there are any to be found.
Further adding to a hassle-free user experience are features such as instant water dispensing at four temperature settings, and automatic volume control. With an easily accessible side panel, changing the filters is also an easy task.
All in all, the Sterra Water Purifier is a great option for those who want hassle-free water purification and dispensing without too much cleaning or maintenance involved.
Cost: S$2199
Pros: Tankless and automated volume control, hassle-free
Cons: Hefty price tag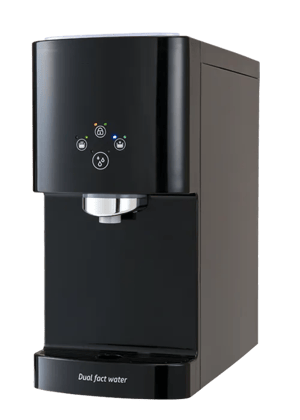 Water dispensers (at least, those with filtration or purification capabilities) don't come cheap, but here's a more wallet-friendly option from 828, which specialises in supplying drinking water solutions to corporate environments and homes.
The 828 Tabletop Water Dispenser offers no-frills water dispensing functions, which should satisfy most basic household needs. You can have instant hot or cold water at the touch of a button, with the built-in 2.8L tank ensuring all-day use.
Built for the home environment, the device weighs just 12kg. It also incorporates temperature sensors and a child lock for enhanced safety.
As an added bonus, 828 offers professional scheduled maintenance and filter change twice a year, at S$180 per servicing. That works out to just S$1 per day.
Besides the classic black and white colour options, this water dispenser is also available in oak-brown, mandarin orange and rose-red.
Cost: S$1180
Pros: Temperature sensors and child lock
Cons: Lacks additional functionalities and personalisation options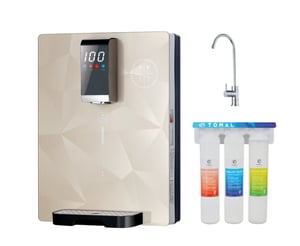 If space is scarce in your home or kitchen, why not opt for a wall-mounted water dispenser instead?
The Tomal FreshDew Hot and Ambient Cool Dispenser is one of the rare few water dispensers that will not take up space on your countertop, thanks to its wall-mounted design. You can install it on any sturdy vertical surface for instant hot and ambient water dispensing.
The system comes with a desktop tap that you can use to conveniently fill up water bottles and larger containers.
Also included are three filters that work together to purify water of contaminants and increase alkalinity through the addition of natural minerals.
One drawback is that the water dispenser is only capable of dispensing hot water, while ambient temperature water is only slightly cooled.
You'll need to fill up a pitcher and stick it in the fridge for cold water, so do take this into consideration if you absolutely must have your water icy chilled.
Cost: S$2199
Pros: Doesn't take up a lot of space, comes with a desktop tap
Cons: Lacks an option to dispense cold water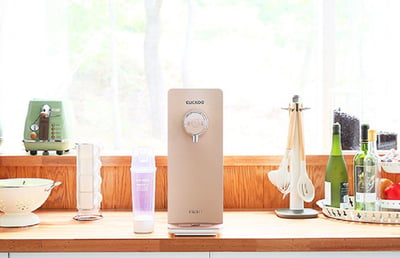 A more contemporary option on this list, the CUCKOO Prince dispenser is one of the few in the market that has successfully incorporated voice recognition technologies in its functionalities. Supporting not one, but three languages (English, Chinese and Malay), clean water is literally just a voice away
Both cold and hot water options are also available at your disposal, with a multitude of temperatures to choose from. Sterilization wise, it adopts electrolyte purification technologies that are regulated and automated.

Cost: S$2199 ++
Pros: Voice activated
Cons: The language pool for voice recognition isn't sufficiently varied.
Tips for choosing and using a water dispenser
Don't neglect regular cleaning and maintenance
Probably the foremost tip to bear in mind when using a water dispenser is to make sure you carry out regular cleaning and maintenance.
Just because the dispenser is used for nothing but pure water doesn't mean bacteria won't build up over time. Exterior surfaces such as the casing, the handle, and even the water nozzle need to be regularly cleaned and disinfected. Same goes for the water tank, if your dispenser comes with one.
Another often overlooked task is to replace the filters that many water dispensers come with.
The vast majority of these filters work by trapping any unwanted materials from your water. Over time, the filters will become less and less effective in doing so, and worse, can even turn into a breeding ground for bacteria, fungi and all sorts of nasty microbes.
When that happens, the water from your dispenser will become contaminated, and probably not very safe for drinking anymore.
Health claims are not proven
While there are many fanciful and wondrous claims about the purported health-giving properties of certain brands or types of water dispensers, there is, so far, no scientific proof.
Any 'evidence' of the ability of alkaline water or energised water or oxygen water to improve health or cosmetic conditions are anecdotal at best.
Many of these stories tend to be from people who claimed their skin issues, poor digestion, allergies or whatever cleared up once they switched to a certain water dispenser.
We're not calling these people liars or cheats, nor are we denying their experience. The thing is, outside of a controlled experiment, we cannot be sure that the improvements they experienced were brought about by their water dispensers alone.
For all we know, their symptoms improved simply because they started to drink more water, as being chronically dehydrated is known to trigger certain conditions.
The point is, don't feel pressured to spend more money on an expensive water dispenser with purported health benefits, especially if you're on a tight budget. A basic model is just as capable of dispensing clean, purified water for you.
But on the other hand, if you have the budget, and truly are convinced of the advantages - perhaps you've sampled the water yourself from someone who owns the same dispenser - then go ahead and get the model you want. Just don't expect any miracles.
Mind the specifications
It's a pity but some water dispensers look better than they perform, so be sure to check the specifications on the model that caught your eye.
Water flow rate is perhaps the most important one. Nothing is more frustrating than getting stuck waiting for your water bottle to fill in the middle of a busy day (unless your aim is to encourage water cooler talk in the office).
Other specifications to check would be the water temperature range, the noise level, how much space needed (tankless models are more compact), and the ease and frequency of cleaning and maintenance.
Generally speaking, desktop water dispensers can be easily washed and maintained by the user, while standalone dispensers or under-the-sink systems usually require servicing by a qualified party.
Beware of high maintenance costs
Many water dispensers come with filters, which - as mentioned earlier - need to be replaced on a regular basis. This means you'll need to factor in this added expense in your household budget.
Be sure to check how much the filters cost for your preferred water dispenser, and how often you need to replace them. This will give you a rough monthly maintenance budget.
If the filter replacement would be too expensive, it might be worthwhile going for a different water dispenser with more affordable filters, or can last longer.
You'll also want to check the servicing fees for larger machines that require regular cleaning and maintenance by a professional. Try to negotiate for a lower overall cost by signing up for a longer maintenance package, or shop around for a different maintenance provider.
Charge your water dispenser to the right cashback card and stand to earn attractive prizes and rewards!*
*Terms and conditions apply.
Read these next:
5 Best Portable Aircons to Buy for Relief from Singapore's Oppressive Heat
7 Work-From-Home Essentials For All Budgets
The Real Cost Of Returning To Office
10 Best Office Chairs For All Your 2021 Work-From-Home Needs: Herman Miller, Secretlab And More
18 Must-Have Gadgets In Your Room That Are Below S$50