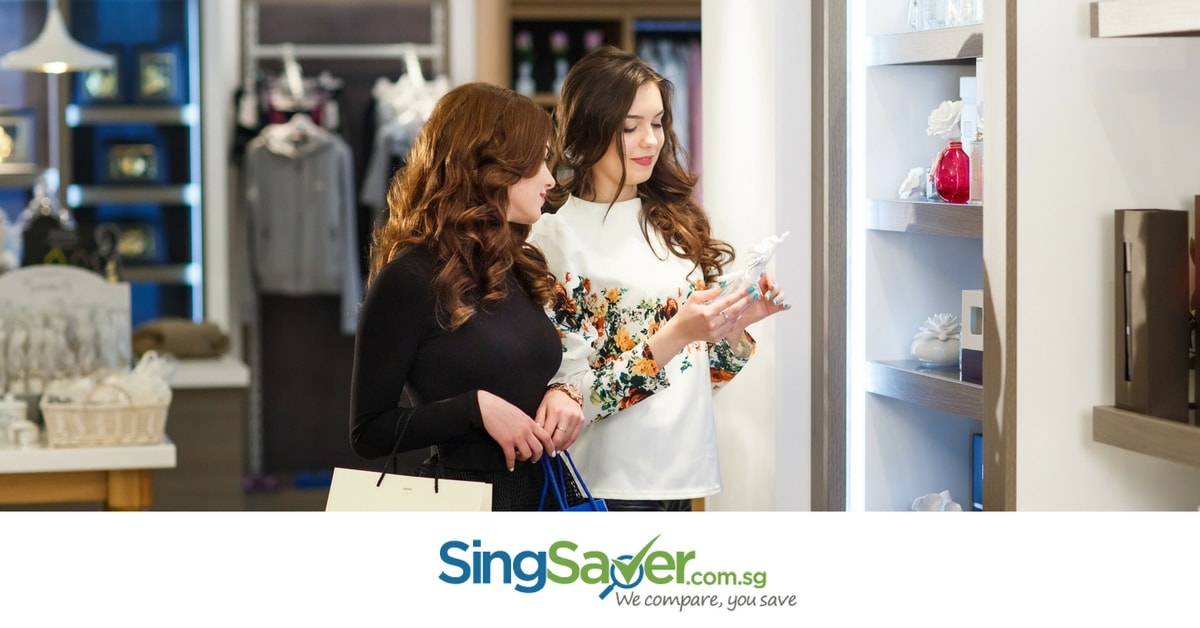 This Christmas, your favourite stores in Singapore are playing Santa and giving away fabulous free gifts worth S$100 or more.

Ah, Christmas. What a lovely time of the year. The streets are aglow with sparkly lights, malls all decked with tinsels, trees and snowflakes, and cheery Christmas carols fill the December air. How dreamy and nice… and before you know it, damage has been done to your poor credit card.
Love makes the world go round, they say, but it also tends to make one spend more than the other 11 months of the year. So, the million-dollar question is: how do you mitigate some of this festive expenditure?
One word: freebies. Not just any freebies, but valuable freebies. We've already shown you how banks are offering generous Christmas credit card promotions when you use your card during the holidays. Your favourite brands are pretty generous with gifts too. Think household appliances, substantial shopping vouchers and tech paraphernalia that are actually useful. So useful, in fact, that you might even regift them (surely re-gifting a brand new Nespresso Aeroccino to a coffee-loving friend exempts you from being a cheapskate!). Or, you could sell them to recoup some of the money spent on gift-shopping.
So keep your eyes wide open for the next two the three weeks as you hit the stores and swipe your cards. For starters, we found five where you could reap a good freebie. Read on.
Nespresso: Free Aeroccino Milk Frother (Worth S$168) and More!

Party season. You're hosting friends and family at your home. Coffee, like Christmas log cake, is mandatory. It's time to top up your Nespresso capsules!
Not only would that make you the hostess with the mostest (we promise!), it would also make you a proud owner of a brand new, complimentary Aeroccino 3 milk frother (worth S$168). All you need is purchase 25 sleeves of Grand Cru coffee capsules. If you'd rather have a set of 4 View Lungo Cups (worth S$65), the minimum purchase is 20 sleeves. And for that Versilo capsule dispenser (worth S$50) that your sister has been wanting, then you only need buy 16 sleeves. Available at Nespresso outlets and online from 17 November to 31st December 2016. While stocks last.
Citibank: S$400 TANGS Gift Card
This is precisely why plastic is fantastic. When you sign up for the Citi Prestige Card from now until 31 December, you will receive a Tangs Gift Card with S$400 in there. You do need to pay the S$535 annual fee to get claim it. But the value you get from this rewards credit card goes well beyond the dollar price. You get all sorts of exclusive benefits, like a complimentary 4th-nightt hotel stay worldwide, 5 Citi dollars for every S$1 spent overseas, and a dedicated concierge service.
Whether it is a Chanel lipstick, a Dyson hairdryer or a pair of TOMS you plan on gifting your nearest and dearest, Tangs is a one-stop shop for every kind of present — and with you new Citi Prestige Card, you're practically making a gigantic saving of S$400. 
Lalique: Free Perfume Gift Set (worth S$250)
Lalique may be known for their luxury crystal homeware and jewellery, but one could quite easily get a whiff of said luxury with the French brand's collection of perfumes, encased, of course, in exquisite crystal flacons. And we haven't even got to the good news yet: From now until December 25, when you purchase a
And we haven't even got to the good news yet: From now until December 25, when you purchase a bottle of Lalique Le Parfum, you'll be gifted with a Lalique Le Parfum Gift Set (worth S$250), which consists of the perfume (100ml) and a body lotion. Available only at Lalique's Paragon outlet, while stocks last. 

Samsung: Free Robot Vacuum Cleaner (worth S$799) And More!
Some people go on holiday. Others prefer to stay home and dabble in a bit of home improvement. After all, there's no better way to usher in a new year than with a fresh coat of paint and appliances that function at their maximum potential.
It's also a good time to go all out with the old and in with the new" because, let's face it, we want the discounts and the free gifts. Samsung, for example, is giving out some really good — and valuable — stuff this year. The most covetable of them all has to be the robot vacuum cleaner, worth S$799. Yeah, you could curry favour the mother-in-law and say "Merry Christmas" with this epic gift. Or, you could Carousell it for S$500! Your choice.
The catch is this gift comes with bigger spending. If you're not planning on getting big-ticket items, then you could aim for grocery vouchers of up to S$200 which could go towards your party fund. Valid until 2 January 2017 at Letrain Redemption Centre.
EpiCentre: Free Tech Accessories (Worth up to S$478)
Do you have a tradition of playing Secret Santa at home or at the office? Do you have Christmas stockings to stuff? Is it just us, or is shopping for quality budget gifts getting more challenging by the year? You don't want to be a cliché and give Lindt chocolates or cute stationery, again. What's a girl to do? Use the freebies!
Don't roll your eyes, there are gift-worthy ones out there, believe us. Take EpiCentre. They are giving away up to S$439 worth of free tech accessories, such as a Bluetooth mouse, iFreeze DVD drive, TechM wireless IP camera, Philips mobile hand trolley, with every purchase of a Macbook Air, Macbook Pro, iMac or iPad.
Perfect if you're Secret Santa to a techie — or anyone who uses a computer. Available in stores and online until December 31. 
Tip: for more rewards, use the best shopping credit cards to pay for your purchases! You can compare these credit cards with SingSaver.com.sg's free comparison tools.
Read This Next:
How to Buy the Perfect Gift for Anyone, According to Science
What the Price of Your Christmas Gift Says About Your Relationship

---

By Alexa Fang
Alexa is a pop-culture vulture. She lives to read, write and travel, and decided long ago that life is stranger than fiction. When she's having croissant, she thinks in French. "31 Rue Cambon" is her favourite address, and she believes that money one enjoyed spending is never money wasted.
---