Running outdoors can be inconvenient, especially when it rains. But, with one of these treadmills, you'll be able to work out from the comfort at the convenience of your own home.
I used to have a membership at the gym right opposite my house. But like most procrastinators, Yet, I would come up with excuses to skip gym, especially with COVID-19 still floating around.
That's why I'm a big fan of home fitness equipment such as treadmills — not only can you set them up in front of the TV, you're also able to blast your own playlist, and, most importantly, be ready to go.
The pandemic has also made me realise that working out at home is far cheaper than having a gym membership in the long run. I can fit a home workout around my work schedule or squeeze in a short workout (even if it's just a 10-minute post-lunch walk).
The only downside is that treadmills are big and bulky. They can take over most of your living room or bedroom, especially when you live in a HDB flat. Also, you'll have to part with quite a sum upfront.
However, if I can do it with limited space and budget, so can you. Here is a list of nine treadmills you can consider for your home with price points ranging from S$160 to above S$2,000.
Last updated on 16 September 2021. Prices and availability are subject to change.
Which treadmills are best for home use?
Before you run to buy a treadmill, here are some things you need to consider first:
Price
You can find the best treadmill ever with all the functions that you like. But do you really need one that costs over a thousand dollars? Always consider your budget first.


Available space in your house
If you live in a HDB flat like I do, you'll likely prefer foldable treadmills because they can be stowed away. This is a big factor to consider, especially if you have space constraints.


Noise level
Again, for HDB flat-dwellers: you'll need to consider the amount of noise your treadmill creates so as to not cause disturbance to your neighbours and/or family members. Opt for a quieter machine or place an anti-vibration mat under it.


Stability
This is why you should always take your treadmill for a trail walk/run before committing to a purchase. Stand on it. Does it feel sturdy? Test out the arm railings. Does it fit your height? Every treadmill is built differently, so there's no shortcut to it. You'll need to try it to make sure it feels natural for your workout.


Speed and incline
Depending on the type of workout, you'll need different speeds and inclines.
For instance, if the speed only goes up to around 10km/h, it's impossible to do any sprinting. Besides, you'll get bored of the low speed sooner or later. Likewise, if you prefer exercises with a bit of inclination, you should check out the angles the machine offers.
What is the best treadmill for money?
With a plethora of options, here's the lowdown on which treadmill may be most worthwhile for you:
Best value-for-money: New I-Running Treadmill, from S$359
Best for avid runners: Xiaomi Kingsmith A1 WalkingPad Treadmill, from S$399
Best for beginners: Electric Flat Treadmill, from S$160.20
Best all-rounder: POWERFIT PF1002 Foldable Treadmill, S$460
9 Best Treadmills In Singapore 2021 That You'll Run To Buy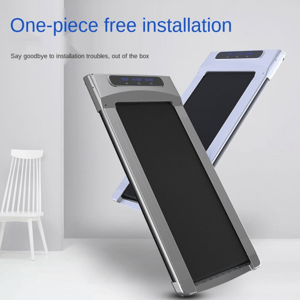 Technically, the most important part of the treadmill is the moving belt. This electric flat treadmill is sleek and needs no setup for you to get running. The treadmill is powered up with a remote that allows you to adjust the speed. Just note that it's a fixed slope.
Top up S$28.20 to get the treadmill with an armrest where you can place your smartphone to distract you from the pain of running. A good accessory to get with this treadmill is a rubber mat to absorb sounds, as suggested by many reviewers.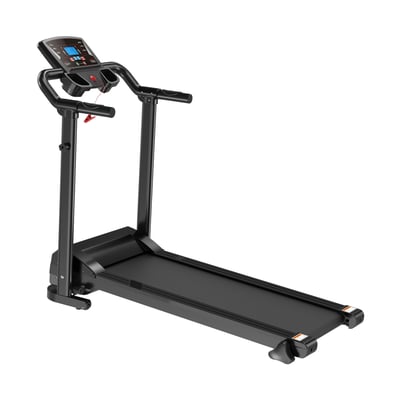 Worried that your running obsession might take up space in your house? This foldable treadmill might just be your answer. The New I-Running treadmill's quick release system allows you to fold the treadmill in seconds, and is small enough for you to stow it under your bed. .
This mini treadmill can hit speeds of up to 12km/h and has programmes that you can select from. The LCD display shows key metrics like distance, speed, time, calories and pulse. Do note that inclination of the treadmill will need to be manually adjusted.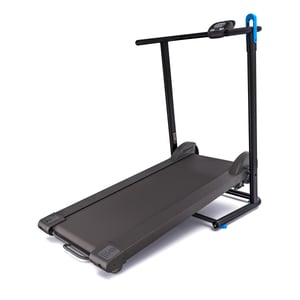 What better way to power your run than with just your legs? This treadmill is motorless, meaning the belt moves as fast as you can move your legs! The perfect device to simulate running outdoors. It even allows you to change the resistance levels to give more oomph to your workout.
The treadmill also has an LCD console which will tell you your distance run, speed, calories and steps.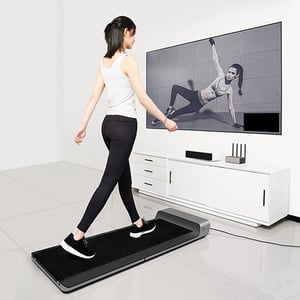 This Xiaomi treadmill features a double-fold design that allows you to keep your treadmill as compact as possible. The treadmill is controlled by a remote control with speed increase and decrease functions as well as three running modes – standby, manual and automatic.
Have a standing table as part of your Work-from-Home set-up? Simply pop this underneath and stay on top of your fitness game as you hit your productivity goals.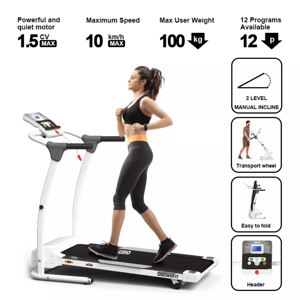 With speeds reaching up to 10km/h and two levels of manual incline, this small but mighty treadmill is a good contender for your home gym. The treadmill even comes with 12 programmes that you can pre-select for your home workout. With wheels at the bottom of the treadmill, you can move the treadmill around easily to make space.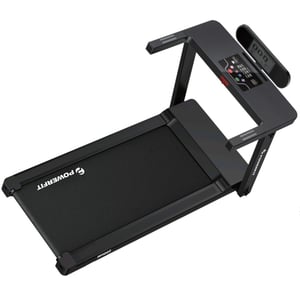 The middle-ground, in terms of price and functionalities, is the POWERFIT foldable treadmill. This treadmill has a small LCD screen to track run time, distance, speed, pulse and calories burnt. There is also a safety clip in case you lose your balance and fall off. Once locked, the safety clip will trigger the treadmill to stop.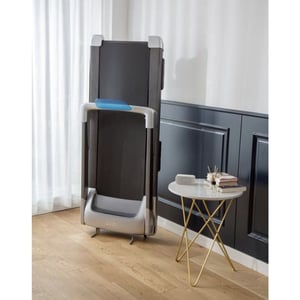 This AIBI treadmill might look compact but it packs a punch. With speeds of up to 14km/h and an anti-rebound shock absorption belt, running is made easier and better for your joints. Although without an LCD screen, to maintain the compactness of the treadmill, you can connect your phone via bluetooth to get stats from your run like distance, speed and time. This treadmill folds up to one of the flattest sizes allowing you to save space.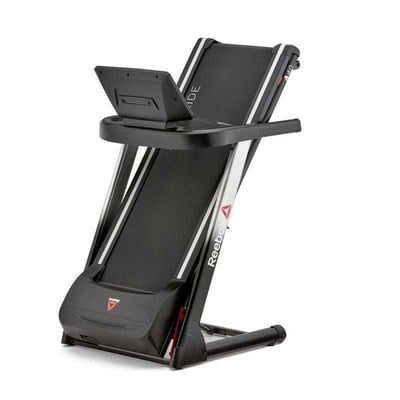 This treadmill features an astroride cushioning technology that is said to reduce heel impact and enhance 'spring back' to mimic a softer running surface. Allowing you to go longer distances with less strain. Going up to speeds of 18km/h with 12 levels of incline, this Reebok treadmill is great for more serious runners. Think overachievers who finish 10k in 6 minutes.
There is even a speaker to play music via bluetooth. There are integrated palm sensors and an LED screen to display incline, speed and time. There are 36 pre-set functions and three programmes for you to get your run on. The treadmill is also foldable, making it easy to store.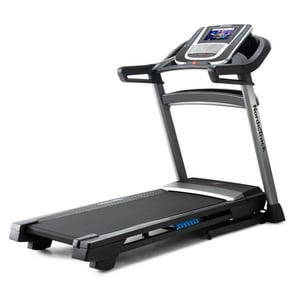 Looking to commit heavily to your marathon training? This top-of-the-line treadmill might be your go-to. At S$2,299, this Nordictrack treadmill is a hefty investment. The main selling point of this treadmill is that they offer you access to the iFit app. This app allows you to access running tracks from around the world, guided by personal trainers – great for those who struggle to stay motivated. It can go up to speeds of 22km/h and has a 12 degree incline that you can change. It's foldable and it allows you to easily stow away your secret workout weapon.
Are treadmills bad for your knees?
Treadmill running and outdoor running are not quite the same. Running on the treadmill is actually easier on the knees as most treadmills come with cushioning technology in the belt to allow for softer landings.
Are treadmills really worth it?
Short answer, it depends. If you are an avid runner who dislikes leaving your running schedule up to the weather gods, treadmills are a worthy investment.
Another important consideration is to take note of the space that treadmills will take up. While most in the list are foldable treadmills, you will still require a significant amount of space when unfolded. If you have the space, go for it.
Thinking of getting a treadmill for your home? Charge your purchase to these credit cards to earn miles/rewards/cashback!*
*Rewards may change at any time. Terms and conditions apply.
Read these next:
The Real Cost Of Fitness In SingaporeCheap Gym Memberships In Singapore At Under S$100 Per Month
Best Workout Apps To Try At Home Under $30 A Month
7 Affordable Home Gym Essentials For Small Spaces
These Are The Best Mixed Martial Arts (MMA) Gyms & Boxing Classes in Singapore 2021