Some may argue that gym memberships can hardly be considered "essential" spending. For the modern desk warrior, having a fitness routine is not simply a stress reliever - it can literally be a lifesaver. We take a look at the best cards to optimise spending on gym membership
If you're a gym rat, congratulations for taking charge and prioritising your health!
In a widely quoted study done across more than 100,000 adults in the US, the research has shown that those who exercise regularly tend to lower their mortality rate by 21%. Those who put in two to four times the minimum effort lowered their risk of death by as much as 31%.
The recommended guideline is 150–300 minutes per week of moderate-intensity activity, or 75–150 minutes per week of vigorous-intensity activity.

The science is out - there's no arguing the benefits of being fit and healthy, and utilising a gym membership certainly puts you on the right path. Let's find out what other benefits you could be getting from shelling out for that membership.
---
Table of contents
Looking for the best credit cards to complement your spending patterns and expenditure in 2023? Check out our Ultimate Credit Card Guide that covers all things credit cards in Singapore – from choosing between a cashback, miles, or rewards credit card to planning your credit card strategy.
---
1. Sign up for trial classes
Before you commit to a 12 or 24-month relationship, give it a trial run to make sure you like where you're going to be working out at. You'll be surprised how much of a difference just by being in the right environment can help you to push your limits.
Most gyms or fitness studios will have promo rates or trial packages for newcomers to try a few sessions before signing up for a full package.
Most gyms like Anytime Fitness, Pure Yoga, and Fitness First have multiple branches across the island that offer free trials for first-timers. Or if you have a friend who is a member, ask your friend to sign you in as a guest to workout together.
Talk about killing two birds with one stone!
Related to this article: Free gym trials to kickstart your fitness journey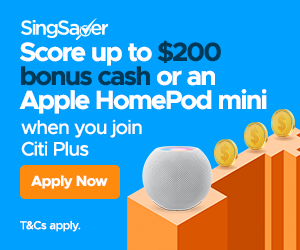 SingSaver's Exclusive Promotion: Receive S$50 cash upon opening a Citi Plus account and get another S$150 cash (total S$200) or an Apple HomePod mini (worth S$139) when you fund a min. deposit of S$15,000 within 2 months of account opening and maintain it for 4 months. Valid till 31 May 2023. T&Cs apply.
Receive your S$50 cash reward for opening a Citi Plus account in just two weeks!
Plus, enjoy up to S$450 cash and up to S$509 worth of exciting gifts when you join Citi Plus and apply for a Citi Cashback+ Mastercard. T&Cs apply.

---
2. Look for unlimited cash back

Some cards are good for online shopping, some are better for earning miles.

When it comes to paying for gym memberships, low minimum spends and unlimited cashback are probably a good start since they don't have a particular merchant category code (MCC).

A popular choice for low spenders (< S$600 per month) is Citi Cash Back+ Card, with 1.6% cashback and no spend requirements.

Other unlimited cashback cards include:


UOB Absolute Cashback - Welcome bonus of 3% cashback on up to S$5,000 eligible purchases within the first 6 months. 1.7% unlimited cashback on all spending
Standard Chartered Simply Cash - 1.7% unlimited cashback on all spending
CIMB World Mastercard - Unlimited 2% with no minimum spend
Best Unlimited Cashback Credit Cards
Credit Card
Best for/Benefits
Details
Min. Annual Income

Citi Cash Back+ Card

- 1.6% unlimited cashback on all spending

- No min. spend required

- No cap on cashback earned

- Annual fee: S$194.40 (First year free)

CIMB World Mastercard




- 2% unlimited cashback on Wine & Dine and Online Food Delivery, Movies and Digital Entertainment, Taxi and Automobile, and Luxury Goods

- Min. S$1,000 monthly spend

- No annual fee

Standard Chartered Simply Cash Card




- 1.5% unlimited cashback on all spending

- No min. spend required

- No cap on cashback earned

- Annual fee: S$194.40 (First 2 years free)

UOB Absolute Cashback Card




- 1.7% unlimited cashback on all spending

- Includes insurance, school fees, wallet top-ups (excludes Grab), healthcare, utilities & telco bills, and rental

- No min. spend required

- No cap on cashback earned

- Annual fee: S$194.40 (First year free)

Maybank FC Barcelona Visa Signature Card



- 1.6% unlimited cashback on all local spending

- No min. spend required

- No cap on cashback earned

- Annual fee: S$120 (First 2 years free)

- Malaysian Citizen: S$45,000
---
3. Consider miles over cashback
With the blue skies opened once again, miles chasers are back in full force.
The bonus - miles cards are especially useful for recurring monthly spend such as gym memberships. The best of the lot has to be UOB Privi Miles, which lets you earn 1.4 miles per S$1 (mpd) locally, and 2.4 miles for overseas spend.
The other two hot favourite miles cards, Citi Premier Miles and DBS Altitude, offer 1.2 mpd spent locally, including on bus and train rides. In fact, if you're using a Citi credit card for your bills, you're also earning Citi Miles, cash back or rewards.
If you're the designated "tour organiser" of your travelling kakis, you'll probably need no reminder on using the right cards to book your trips.
UOB Privi Miles card lets you earn 6 mpd spent on major airlines and hotels booked through Expedia, UOB Travel, and Agoda. DBS Altitude offers 3 miles per S$1 spent on online flight & hotel transactions, capped at S$5,000 per month.
Related to this topic: Best Air Miles Credit Cards In Singapore (2023)
---
4. Motivate yourself with the right gear
If you need a bit of motivation to stick to your fitness routine, plan your gym outfit in advance and hang it somewhere obvious. Putting on a nice pair of tights or a tank top in your favourite colour will put you in the mood to sweat.
And once you've tried Lululemon, there's no turning back (not paid for writing this).
For a really well-rounded shopping card, UOB Lady's card surely owns the category.
At 6 miles per S$1 spend (6 mpd) or 15X UNI$ per S$5 spend on one chosen category (from 7 categories), it is incredibly easy to chalk up your miles through online and daily spend.
UOB Lady's Card Welcome Gift: Get S$350 worth of Grab vouchers when you make a min. spend of S$1,000 per month for 2 consecutive months from card approval date. Applicable to the first 200-new-to-UOB credit card customer. Valid till 31 May 2023. T&Cs apply.
Shopping cards such as HSBC Revolution offers 10X reward points (equivalent to 4 air miles or 2.5% cashback) on online purchases and contactless payments.
Another favourite is Citi Rewards card, which offers 10X rewards points (4 miles per S$1) on online and offline fashion shopping and department stores spending (except travel). Refer to this list for the terms and conditions.
---
5. To debit or credit?
With the enticing rewards and rebates to be earned from using the right credit cards, there's little doubt that credit beats debit. This is in addition to fraud protection for credit cards which are important especially for overseas spend.
Did you also know that for wrong transactions/deductions, it is easier and quicker for the bank to roll back the transactions on credit cards but not for debit cards?
Lastly, be mindful that interest on late payment can quickly add up! Avoid credit card debt from spinning out of control by monitoring your card spending and pay your bill in full before each due date.
Related to this topic: Debit Cards Versus Credit Cards in Singapore: Which Should You Use?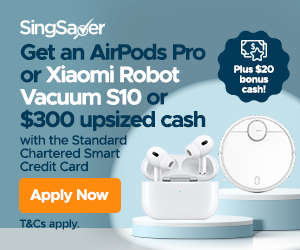 SingSaver Exclusive Offer: Get a pair of Apple AirPods Pro Gen 2 (worth S$362.35) or a Xiaomi Robot Vacuum S10 (worth S$379) or S$300 upsized cash via PayNow when you activate and make a min. spend of S$500 within 30 days of card approval. Valid till 31 May 2023. T&Cs apply.

Plus, get additional $20 Bonus Cash when you put your card-on-file and spend at least $20 on select merchants within 30 days of Card approval.
---
Read these next:
8 Cheapest Gym In Singapore: Anytime Fitness, Virgin, Gymmboxx And More (2023)
Spin Studio Classes In Singapore — Best Packages, Promos and Deals
The Real Cost: Fitness In Singapore
15 Best Gym Trial Passes To Kickstart Your Fitness Journey
These Are The Best Mixed Martial Arts (MMA) Gyms & Boxing Classes in Singapore 2023