30 minutes in, out, and on your way. No more hours senselessly pumping iron in the gym every week in the hopes of achieving the ideal toned body.

This is the promise of Ritual Gym, a boutique fitness chain co-founded by Singaporean Ian Tan in 2013 that's since expanded to Spain, South Africa, Brazil and most recently, Los Angeles in the United States.
The typical 30-minute Ritual gym workout has people burning calories long after they've completed their workout, and Tan says this is key to unlocking the best version of yourself.
Now 32, Tan was a 17-year-old teenager when he started taking fitness seriously.
"A lot of people hear 'high intensity' and assume it's an extreme environment where people have their shirts off and abs showing, with the instructor yelling in your face," he said during a recent interview with SingSaver at his Lorong Liput studio.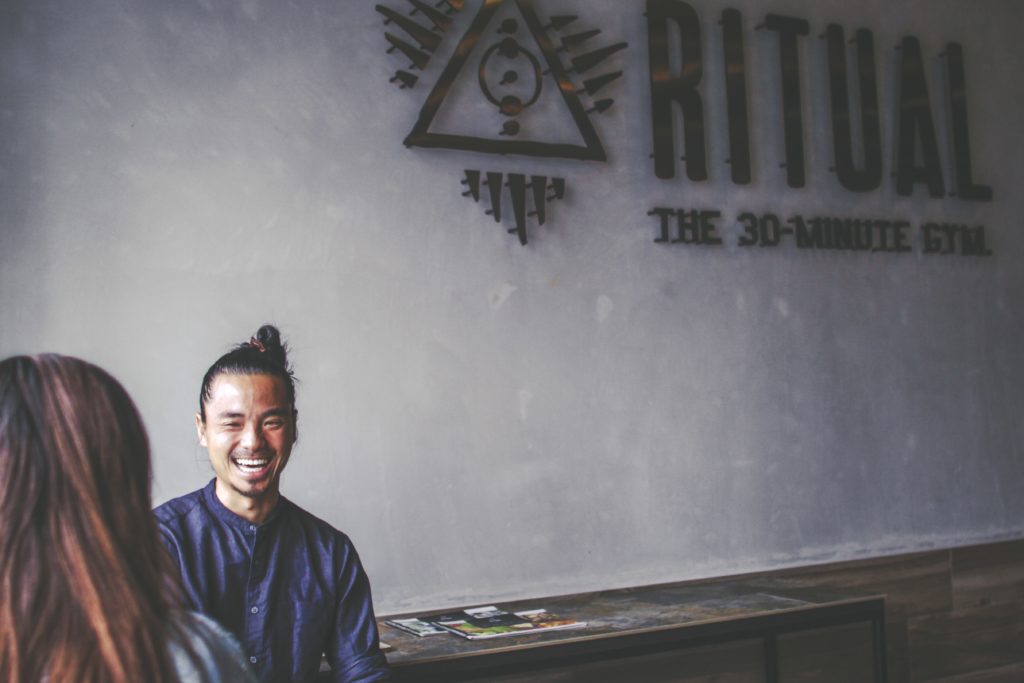 "Ritual is the opposite of that. We cater to people who have a lot of other stuff going on in life–– busy people who are building businesses, who have demanding careers, who want to focus on their kids and family at home. Exercising and gym time is a thing they need to cross off their long to-do lists; a tool they can rely on that can positively impact everything else."
Tan emphasises that while exercise is important, it really is "meant to complement and not be a hindrance to the rest of your life."
"It's important to push hard enough to get your training effects. But we also understand that if we push you so hard that you can't focus at your important 3pm meeting, we didn't do our jobs well enough."
So Tan came up with the idea of Ritual–– a quick 30-minute high-intensity interval training (HIIT) designed to "provide the most efficient and user-friendly workout available", where your body can continue to burn calories for up to 48 hours after your workout is done.
Every Ritual gym is designed to get a visitor in for a workout and out the door, all within 30 minutes.
Each of their gym branches is bare, minimalist and functional. Each static station is designed for maximum focus. Entering their Holland Village branch, users get into a seamless flow from check-in to locker rooms to the exercise area and finally, the fuel bar and shower area. There are no elaborate machines or equipment as Ritual exercises are focused on building your technique and form to maximise the most benefit out of every move you make.
The business of getting fit
Ritual memberships start from a cool $220 per month for off-peak slots, and $330 for standard slots. For similar gyms like F45, memberships start from $244, depending on which gym outlet you go to.
"Is it necessary to pay so much to get fit?" I asked.
"It's definitely possible to get fit on your own. What you pay for when you come to a place like Ritual is the expertise, safety, accountability and motivation. We've put in the effort to balance programs, train our coaches and stay up to date with the science so you can push hard in a safe environment because even the fittest people struggle with technique once they get tired."
"Behind the scenes, we also put a lot of effort in with our tech and client experience teams to help you stay motivated and consistent with your exercise, because, above all else, we know that consistency is key, and busy people often find it challenging to stay consistent with their exercise."
The results for Ritual gym-goers have been astounding. Over the years, clients who've tried the Ritual workout have become converts. One prime example is co-founder Robinson, who shed over 65 kilograms in an incredible weight loss transformation. Another was model and TV host Oli Pettigrew.
"They do better for everything outside Ritual. They become more patient human beings, sleep better and do better in general as a person," said Tan, beaming with pride, as he talks about past clients.
But how did Ritual begin?
Early days
"I had the initial raw idea of what Ritual could be prior to starting my personal training studios years ago, but I knew that I didn't have the business acumen and experience to do anything at that sort of scale. I didn't even know where to start," said Tan, who was at the time a 24-year-old personal trainer and also a strength and conditioning coach to professional and amateur athletes at Thrive, which he opened in 2010.
A year later, Tan started training his long-time friend and serial entrepreneur Brad Robinson, then Managing Director at a security firm, who would later become the co-founder of Ritual Gym. Robinson was on an epic weight-loss journey and had hit a plateau, which is when Tan convinced Robinson to try training with him at Thrive.
Tan's plan for him? To put him through the paces of a quick Ritual-like session for a few weeks.
Impressed by the results, Robinson started digging deeper into Tan's methodology and business, which is when Tan realised that Robinson was strong in every single aspect of running a business that he was weak at. Tan pitched the idea of Ritual to Robinson, and the pair opened their first gym 6 weeks later.
Based on his own experiences, Tan was determined to solve common frustrations and inefficiencies that are rampant in the industry.
"For example, if I'm your personal trainer and our usual time slot is Monday at 6pm, half the time, you're going to text me at 5pm and ask to push it back by a half-hour as you get called into a last-minute meeting. I'm going to say 'no' because I have another client right after, and the result is you don't get to exercise until Thursday because of a scheduling issue."
"That's ridiculous. People are busy. The fitness service they use needs to fit their busy schedules, so people can squeeze it in whenever they can today."
Working with common inefficiencies and frustrations like these in mind, Tan and Brad sought to reverse-engineer the business, starting with what the client actually needs.
With $500,000 gathered from their savings and five partners, Ritual opened its first branch in early 2013 at North Canal Road. They have since opened 2 more branches at Holland Village and Robinson Road, with plans to open 2 more here in the next 12 months.
Fast forward six years, Ritual has grown into a blossoming franchise business, with outlets open in Spain, South Africa, Brazil and most recently, Los Angeles.
"The whole world takes their fitness trends from the US, specifically California. We opened there because we found amazing partners there, and because we are ready—our brand simply makes more sense for clients and for prospective franchisees."
Tan remains unfazed by the competition Ritual faces in this new landscape.
"Everyone anywhere in the world has their own version of 'busy'. If you can get something done in half the amount of time, why wouldn't you? If you can get better coaching and have a maximum of 10 people in your session, why wouldn't you?"
Building a franchise model
Tan admits that getting the business franchise-ready was at times an exhausting and frustrating process.
"Building out the franchise system was not an easy task. It took 2 years of effort for our team to build world-class tech that is scalable, get IP protection and legal documentation in order, create staff training programs that are robust but efficient, and make sure our culture can be replicated across the globe".
"On top of that, we wanted to make sure we found the right partners in each market who not only have the business sense to grow but an appreciation for the brand and our ethos. Now that we've spent the last 15 months mastering these aspects and stress-testing our systems, we are confident, hungry, and ready to go big."
Interestingly, these business lessons he picked up paralleled his experience in developing his fitness programme too.
"Like in fitness, you cannot outgrow the fundamentals. Even the highest-level athletes never compromise on that. A boxer never outgrows the jab. The same thing applies when running a business," said Tan as he elaborated on how each gym and each team is built on the back of strong fundamentals like Ritual's client experience, coaching ethos and core values.
According to Tan, the reality of running a business and dealing with people is that you cannot ignore the human elements that tag along with that.
"One of our core values is that 'the magic happens when we interact with people'. This is a firm reminder to all of us that the most important part of the business is when humans connect with each other. Strong teams and a strong culture are paramount to deliver high-quality client experience."
Ultimately, Tan believes that pursuing fitness translates to positive ripple effects in the rest of your life. And that includes the push to discipline and strengthen your mind and body.
"Making exercise a ritual has so many knock-on effects. Exercise becomes a catalyst for positive change, and getting comfortable with pushing yourself and dealing with adversity in a workout helps you learn to take charge of your life and push for the change you want."
"My advice is to think of courage as a renewable resource. Use all of your courage up today, because when you wake up tomorrow morning, you're going to have all of it back, and then some more. Be brave."
Related articles
5 Steps to Reaching Your Financial Goals
I Gave Up on Myself, I Hated My Body, and Felt I Was Going to be This Size Forever: Cheryl Tay
Co-Founder Of Coworking Space, The Working Capitol: What Price, Culture?
Singapore Start-up Ovvy Allows Consumers to Source and Bid For Household Service Providers
18-hour Work Days All In A Day's Work For Co-founder Of Food Start-up, Eatsy
---
---