Here's a summary of last night's Budget 2016.

Budget 2016 focuses on four main areas: the first is industry-wide transformations and innovation, to make our businesses more innovation driven and adaptable.
The second area is people development, to create a highly skilled workforce with better productivity, and better wages.
The third area of focus is family and housing. We seek a higher standard of living for senior citizens, a pro-family environment, and continued housing affordability.
The final area of focus is on improving security, in the face of rising terrorism threats (we do not have many specifics on this yet.)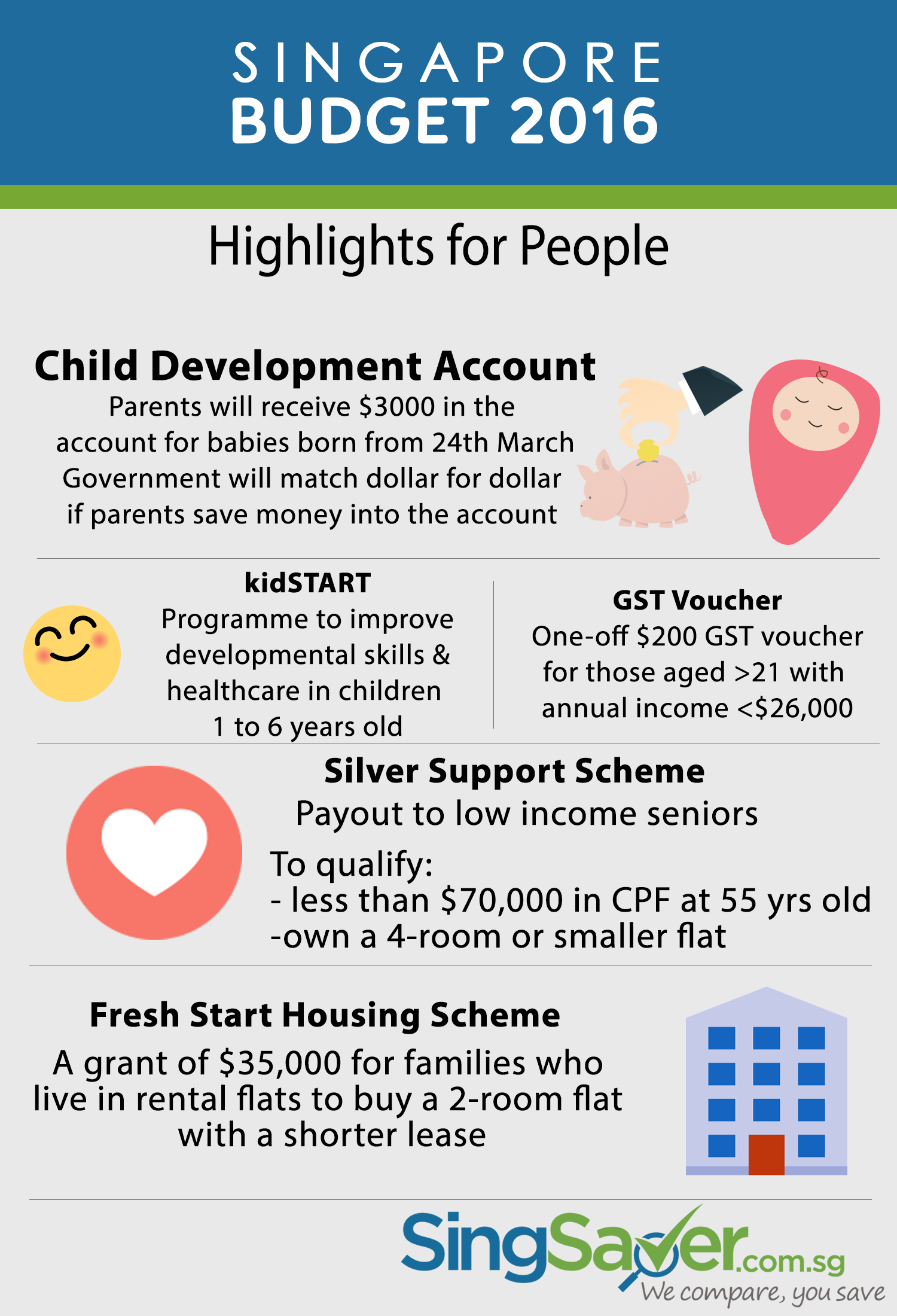 For People: People Development
Adapt and Grow Programme
This will expand wage support schemes, to encourage companies to hire workers who have been laid off. This includes Professional Conversion Programmes (PCPs), which provide essential training to workers who have to switch careers or industries.
This is important for Professionals, Managers, Executives and Technicians (PMETs), who have been badly hit by recent layoffs.
Tech Skills Accelerator Programme
This is a skills programme aimed at building up our number of Infocomm Technology (ICT) workers. Think coders and app developers. The programme will focus on identifying in-demand needs, and getting the right specialists to deal with them.
The programme will develop industry wide certification, and will encourage the recognition of skills over academic qualifications.
Special Employment Credit (SEC) enhancement
For disabled employees who earn at least $4,000 a month, the government will credit the employer with 16% of their wages.
Workfare Income Supplement (WIS) enhancement
Disabled workers will receive WIS if they meet the requirements, even if they are under 35 years of age. WIS payouts are now given out monthly instead of quarterly. In addition, WIS payouts will be increased for workers (the exact amount depends on their age and income.)
In addition, workers earning $2,000 a month now qualify for WIS, as opposed to the old ceiling of $1,900.
For People: Family and Housing
First Step
Starting 24th March 2016, parents will receive $3,000 in their children's Child Development Account (CDA) automatically.
If parents save additional money in the CDA, the government will match them dollar for dollar. So if they put another $1,200 in the CDA, the government will put in another $1,200.
There is a CDA cap of $6,000 for the first and second child, $12,000 for the third or fourth child, and $18,000 for subsequent children. The cap is inclusive of the initial $3,000.
Expectant mothers can double their MediSave use for pre-delivery costs
Previously, expectant mothers could only use $450 of their MediSave for pre-delivery costs. From now on, they can use up to $900.
KidSTART
This is a $20 million pilot programme, targeted at 1,000 children aged one to six. It will use government and community resources to improve developmental skills and healthcare in young children.
National Outdoor Adventure Education Masterplan
A new Outward Bound school is being built on Coney Island, for $250 million.
Fresh Start Housing Scheme
This scheme helps families with children who live in rental flats. The aim is to get them to become flat owners. It provides a grant of $35,000, to buy a two-room flat with a shorter lease. This is contingent on the families staying employed, and keeping the children in school.
Silver Support Scheme
This provides payouts to senior citizens in the bottom 20% to 30% income brackets. To qualify, they must have less than $70,000 of total CPF contributions by the age of 55. They must own a four-room or smaller flat, although those who rent a five-room flat will also qualify. The monthly payout is as follows:
One to two-room flat: $750
Three-room flat: $600
Four-room flat: $450
Five-room flat: $300
This stacks with other existing benefits, such as GST offset vouchers.
One-off GST voucher
There will be a $200 cash payment this year, for those who are aged 21 years and up, who had an annual income of $26,000 or under for YA 2015.
Conservancy charge rebates
There will be a rebate on HDB conservancy charges for 2015. Singaporeans living in 1 and 2-room flats will get a three month rebate, while those in 3 and 4-room flats will get two months rebate.
Taxing the rich!
The maximum income tax relief in Singapore is now capped at $80,000 per year of assessment. Only one percent of the population earns enough to be affected by this.
For Businesses: Industry-wide transformations and innovation
The Industry Transformation Programme (ITP)
A $4.5 billion programme that includes the following:
Business Grants Portal. This is a single website that companies can refer to for grants from multiple agencies, such as SPRING, the Singapore Tourism Board, IE Singapore, and others.
There is no more need for companies to search through a sea of different agencies for a relevant grant.
Automation Support Package. This is a grant for firms that adopt automation, such as the use of robotic assembly lines, to scale up production. $400 million worth of grants will be made available, to last the next three years.
Increased tax deductions. There will be a range of different tax deductions to encourage companies to scale up, and take their businesses to an international level. As an example, the Double Tax Deduction for Internationalisation scheme is extended to March 2020. This makes expenses such as overseas trips to study the market a tax deductible expense. The R&D Tax Deductions Scheme, which provides 50% additional tax deductions on some R&D expenditures, has likewise been extended to March 2020.
National Trade Platform
This is a data system that will replace the aging TradeNet and TradeXchange systems. It will be of interest to logistics companies, who can use it as a one stop platform to exchange critical information.
Programmers take note: it is open innovation, so anyone can develop applications for it.
National Robotics Programme
$450 million will be spent, over three years, to encourage the development and use of robots! A given example was the potential for using robots in healthcare.
SG-Innovate
This programme provides assistance for start-ups, by pairing them with mentors and Venture Capitalists.
SME Working Capital Loan Scheme
This scheme helps Small to Medium Enterprises (SMEs) borrow from banks, up to a sum of $300,000. The government will accept 50% of the default risk. (i.e. if the SME can't repay the bank, the government will pay back half the amount owed.)
This scheme will be in place for the next three years.
Corporate tax rebates
The Corporate Income Tax (CIT) rebates are raised from 30% of tax payable, to 50% of tax payable. The maximum rebate is capped at $20,000. This is valid for 2016 and 2017.
Local Enterprise and Association Development-Plus (LEAD-Plus) programme
This is an extension of the existing LEAD programme. This fosters ties between the government and Trade Associations and Chambers (TACs).
TACs are organisations for developing specific industry sectors (e.g. furniture makers, carpenters, architects.) The government will be working closely with such organisations in the coming years, and supporting them with $30 million in grants over the next five years.
This will give government authorities a better sense of the needs of various business sectors.
Jurong Innovation District as a new model of Tech Park
A "next generation" Tech Park, the Jurong Innovation District, will soon start construction. Unlike older tech parks, which mostly focused on production, the newer versions will also take into account "innovation for enterprise, learning, and living." Picture the Google office grounds.
Scaling down the Productivity & Innovation Credit (PIC) grant
The existing PIC grant will only provide 40% cash payout instead of 60%. The 400% tax deduction remains unchanged. This will apply from 1st August 2016, and PIC will expire on 2018.
Read This Next:
INFOGRAPHIC: Why Your CPF Savings Are Not Enough for Retirement
3 Awful Consequences of Trying to Invest Your CPF Money
---

By Ryan Ong
Ryan has been writing about finance for the last 10 years. He also has his fingers in a lot of other pies, having written for publications such as Men's Health, Her World, Esquire, and Yahoo! Finance.
---