We speak with the founder of The Fifth Collection for tips on making the most cash selling pre-loved designer bags, shoes, and jewelry in Singapore.
A wardrobe full of (past-season) designer clothes, shoes, bags, and no idea what to do with them? Well, that's a conundrum long solved by eBay and a plethora of luxury resale e-commerce businesses from Vestiaire Collective and Singapore-based The Fifth Collection.
The real important questions to ask are: How do you make sure your precious things — which you probably spent a fortune on and no longer wear/use — will fetch you a good resale price? What are the pieces that are likely to sell (something to think about the next time you go shopping!), and which have good track records of their resale value?
It's perfectly fine to treat yourself to something nice once in a while, but if you're going to spend, spend wisely, and turn your Chanel Boys and Birkins into worthy investments.
Now that we've asked the right questions, we turned to The Fifth Collection's founder, Nejla Matam-Finn for some very useful answers.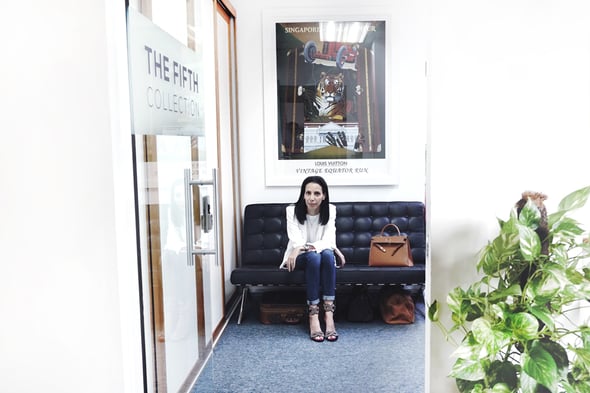 Which items typically sell well on The Fifth Collection?
We are not that different than a classic retailer hence the categories that do very well are handbags, shoes followed by small accessories.
Handbags are like lipstick for fashion — they are an easy way to uplift your look or mood. They tend to be easy to shop both offline and online. If you have gained or lost weight, the chances that a bag (unlike a pair of jeans) will make you feel worse about yourself is close to zero.
The second most popular category are shoes. Women have a special connection with shoes — they simply can't get enough of them and the adage that shoes can make or break a look is on top of the customer's mind. Hence we see many of our collectors splurging on them.
Having said that, we are seeing more collectors spending on clothes. We believe that this trend is here to stay. We believe the main reason is many customers are driven by buying quality versus quantity. We are also seeing more and more purchases that are in the category of "wardrobe essentials" or "basics with a twist.
These new shopping trends seem to be driven by the consumers' conscious choice to own less things but better things, as well as fully embracing the sharing economy.
What tips can you offer on increasing the resale value of pre-loved designer items?
Edit your closet as often as possible. The longer you keep something in your closet, the less likely you will have a demand for it. I would say keep them for two seasons at most. A piece sells well when it is still on top of people's mind. Of course, this does not apply to rare pieces, as they are in a category of their own.
Take care of your treasures. Use them, but be smart about it — for example, use pouches if you're going to carry a pen and make-up to avoid nasty stains. Make sure your closet is humidity-proof. Keep your bags and shoes in shape.
Whenever possible, keep the boxes, dust bags, authenticity card and proof of purchase. These will increase the amount you can fetch for your items.
When buying, think about its future. If you edit your closet often, then yes, you can still do well with trendy pieces, but if you don't, then I'd recommend you pick classic pieces that have an existing track record. In the same way that you would track your trading account to see how your investments are doing, it'd be wise to do the same with your fashion — check often to get a good idea of how the market is.
How should a seller determine the resale price of her precious things in order to reap the most value but not wait forever to make a sale?
We advise most of our collectors on pricing, as this is part of the service we offer under the P.S Service (Personal Seller Service). A lot of work go into the right pricing. We take into account the item itself, the brand, style, category, condition of the item, and then we take into account how the market is responding to this specific item before we advise the collector on the best price.
I would say if you are selling your items on your own, the easiest thing to do is think about whether you would spend that amount for this precise item if you were doing the buying. It is sometimes hard to hear that a piece that you purchased for a fortune is not fetching much on the second-hand market, but go with the mindset that something is better than nothing. If the customer could head directly to the boutique and get exactly the same item brand new for 20 percent more, chances are they will.
Remember that you are not offering any insurance of authentication when you sell on your own, so this will also impact your pricing.
Finally, be fair and you will likely make a sale.
Read This Next:
5 Surprising Ways Your Wardrobe Affects Your Income
How to Afford a Brand New Designer Bag in Singapore Every Year
---

By Karman Tse
Karman Tse is the founder and editor-in-chief of WearOhWhere.com. She is a believer of the Bradshaw-ist philosophy of personal finance — specifically: "I like my money where I can see it: Hanging in my closet.
---