Mutual funds are one of the most popular investment options for novice investors. With ProsperUs, you get access to various markets that are regulated by the MAS.
If you're new to investing, you probably don't know where (or how) to start.
While some investors want to be more 'hands-on' in growing their investments, others prefer to take a more 'hands-off' approach by having a professional to manage their investments.
If you fall under the latter, don't have a high risk appetite, or want something that doesn't require a lot of effort to manage, mutual funds are perfect for you.
What are mutual funds?
Mutual funds, or unit trusts, are a type of investment vehicle where money is pooled from investors and invested in a portfolio of assets including stocks and bonds. The portfolio is structured and diversified based on the investor's objectives and type of investment returns.
---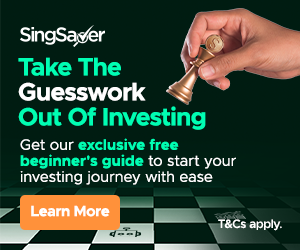 Start managing and saving money like a pro with SingSaver's weekly financial roundups! We dole out easy-to-follow money-saving tips, the latest financial trends and the hottest promotions every week, right into your inbox. This is one mailer you don't want to miss.
Sign up today to receive our exclusive free investing guide for beginners!
---
What are the benefits of mutual funds?
They are actively managed
Unlike passively-managed investments like Exchange Traded Funds (ETFs), mutual funds are usually actively-managed by a fund manager. What this means is that the fund manager is involved in tracking the performance of the assets and making strategic decisions to generate capital gains.
They help you diversify
Additionally, some mutual funds are also diversified across different sectors and markets, which allows you to access different stocks and bonds. In this way, portfolio diversification will help to manage your risks.
They are highly accessible
Compared to stocks, mutual funds are also more liquid; you can easily convert them into cash by selling your shares either completely or partially. This is useful in case of unforeseen events such as an economic downturn or when you need emergency funds.
Lastly, unlike investments like stocks and commodities where it may require more research, investing in mutual funds is easier and more convenient as they're managed by a professional fund manager who will do the decision-making and research.
They don't require a lot to get started
Compared to stocks, where frequent stock trades can add up to the cost, the cost of mutual funds is spread across investors of the fund, therefore the cost per individual is lower. You also don't have to fork out a huge amount of money to start investing, and can start from as low as S$100 per month via the dollar-cost-averaging (DCA) strategy.
How to choose mutual funds

Like stocks and ETFs, there are tons of mutual funds to choose from, and deciding which mutual fund to go with depends on few factors, including:
What is your investment objective and risk tolerance?
Before choosing a mutual fund, you must first identify your investment objectives, risk tolerance, and the duration of your investment.
For example, are you investing for long-term capital gains or to fund your retirement? What is your risk appetite? Can you stomach large swings or do you want a more conservative investment? Do you also foresee that you will liquidate your shares in the future? These are some of the questions that you should consider.
The mutual fund's past performance and the investment team's track record
Don't just look at the past couple of years; if possible, look at the performance data over the past 10 years. Try to compare the mutual fund's historical performance against its benchmark and how it fared during market downturns.
Although past performance does not guarantee future success, it would give you a sense of the fund manager's track record and help you determine the consistency of its returns over the years.
Compare the fees
Last but not least, you should also look at the fund's fee structure. As mentioned, mutual funds that are very actively-managed typically have higher management fees. While it's not necessarily a bad thing, you should also be aware of the ratio of the costs involved against your investment returns.
How to buy mutual funds
There are several ways to purchase mutual funds, including from your local banks or insurers via investment-linked policies (ILP).
However, the easiest way to do this is through an online brokerage such as ProsperUs by GCS-CIMB (a joint venture between CIMB Group and China Galaxy International Financial Holdings Limited).
What is ProsperUs?
ProsperUs is an all-in-one, digital investment platform backed by the CGC-CIMB Group and regulated by the Monetary Authority of Singapore (MAS). This should put your mind at ease as the platform operates under the best practices set by the relevant authorities.
The platform caters to three tiers of investors (based on funding):
Rookies (S$19,999 and below)
All-Star (S$20,000 to S$50,000)
Hall of Fame (S$50,001 and above)
The good news — there isn't a platform fee, and you also won't be charged a commission or performance fee regardless of the tier. In other words, you would only need to pay a management fee, which is typical for actively-managed mutual funds.
Why ProsperUs?
Additionally, if you sign up for a ProsperUs account, you will have access to Fund Ideas, a collection of the best mutual funds selected by CGS-CIMB's proprietary screening tool. Through Fund Ideas, you'll also receive monthly insights on the top-ranked funds across asset classes.
As a multi-asset and multi-trading platform, ProsperUs also offers eight different asset classes across 30 exchanges and 11 markets, including Singapore, Hong Kong, China, the U.K, and Australia, among others. In addition to mutual funds, you'll also have access to other investment options such as stocks, ETFs, bonds, and Crypto FX.
What's more, ProsperUs also provides free educational content for different types of investors, from basic investment topics to more technical aspects of investing for seasoned investors. There are also free webinars on the latest investment insights and opportunities across various markets.
This article was written in partnership with ProsperUs.
Read these next:
What Are Mutual Funds, And How to Pick The Best Mutual Funds In Singapore 2022
New to Mutual Funds? Here's a Guide to Choosing the Right One
5 Questions You Were Too Embarrassed to Ask About Mutual Funds
Unit Trust In Singapore – Complete Investment Guide On How It Works (2022)