A home handed down generations has great sentimental value, but it'll be of no monetary value when the 99-year housing lease runs. So what do you do?
For the uninitiated, a flat that has a high floor, unobstructed views and is within walking distance of the nearest MRT station is of utmost priority, while they often overlook other factors that are equally as important, like the remaining housing lease.
Many often take the housing lease for granted and assume that a 99-year leasehold is more than enough for them to live in their home for their whole lifetime. But if you purchase a flat that does not have at least 75 years left or are planning to make this flat a forever home for future generations to come, you might run into a problem down the road. Though 99 years seems like a long time, it is bound to come to an end.
Whether you're panicking because your flat's lease is expiring soon or are just plain curious, here's all you need to know about the 99-year lease and what will happen when the lease finally expires.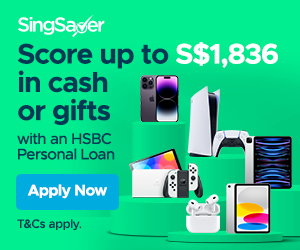 SingSaver Exclusive Promotion: Receive an Apple iPhone 14 Pro 256GB (worth S$1,836) or an Apple iPad Pro 11" WiFi 128GB (worth S$1,260.25) or an Apple iPad 10th Gen 64GB + AirPods Pro 2nd Gen Bundle (worth S$1,047.65) or a PlayStation® 5 Digital Edition (worth S$699) or a Nintendo Switch OLED (worth S$549) or S$50 cash via PayNow when you get approved for a loan of min. S$10,000 with tenure of 3 to 5 years. Valid till 1 October 2023. T&Cs apply.
What kind of lease is my house on?
In Singapore, more than 75% of the land belongs to Singapore Land Authority (STA), while the remaining freehold land belongs to statutory boards like HDB, JTC, PSA and other private owners.
Before you assume that every house in Singapore is on a 99-year lease and start panicking about the impending expiry date, it's important to be very clear on your property's leasehold type. There are three leasehold types: 99-year lease, 999-year lease and freehold.
All HDB flats have a 99-year lease, while private properties are available in all three leasehold types. However, the government has stopped providing 999-year leases and hence the most common lease type is the 99-year lease. Since 999 years is a long time, houses with a 999-year lease or freehold lease are highly sought after.
On the other hand, 99 years may seem like a long time but to put it into perspective, it can at the most house two generations. This is why home-buyers going for a resale flat considers the lease period as one of the top factors when looking for a house, and tend to go for a house that has a long lease remaining (at least 75 years left).
SingSaver's Exclusive AIG Home Insurance Promotion: Receive a Google Nest Mini 2nd Generation when you apply for the 5-year plan NOW! (fulfillment by AIG). Valid till 30 Sep 2023. T&Cs apply.
Under whom would the house go back to after the lease expires?
Simply put, the house reverts back to its original owner once the lease expires, whether it is to HDB, SLA or other owners. Your home will practically be worth S$0 and you are no longer given the right to continue living in your apartment.
HDB flats
Even though there haven't been any HDB flats that have reached the end of their 99-year lease, that doesn't mean that it won't be happening anytime soon. But if you opt for a BTO flat, it is quite unlikely that you will outlive the lease, unless you plan to pass it on to your children in the future.
HDB flats nearing the 99-year expiry will depreciate till it is worth nothing when it finally runs out. HDB will surrender the land back to the State and the flats will be recycled and rebuilt into newer HDB flats for future Singaporeans. You no longer can live in your humble abode.
While you can always try to sell off your HDB flat before the lease expires, don't expect it to sell like hotcakes. It can be extremely difficult to find a willing buyer for your old flat unless your unit is one that has a high floor, is close proximity to MRT stations or amenities like schools or shopping malls. And even if you do manage to close a deal, the value of your property might not be profitable enough for you.
After your HDB turns 39 (with 60 years left), sellers might not consider your unit at all, as CPF usage to pay for the house is restricted and bank loans are tightened.
Private property
Likewise, when the lease expires for a private property, the rights of the home-owner are extinguished, meaning that you no longer have the right to live there. If you refuse to leave, you will be charged for trespassing as the property does not legally belong to you anymore.
For those who are expecting to receive a huge windfall from it, you'll be disappointed to know that SLA will not compensate you at all unless your property is chosen for an en bloc. So if you don't want to be forced out of your own home without receiving anything in return, it's best you sell your home early before you're stuck in a rut.
What options do I have as an HDB flat homeowner?
SERS
If you're nearing the end of your lease, SERS might be your saving grace. The HDB counterpart of an en bloc, old properties are usually chosen to undergo SERS. This happens when the government feels like your plot of land is not efficiently used or is located in a strategic spot and compensates you for giving up your house so that they can repurpose it.
But don't get your hopes up just yet. Though it may be possible for your development to be chosen, The chances are very slim - only around 5% of flats are suitable for SERS according to PM Lee's National Day Parade Rally in 2018. Moreover, the most you can do is be hopeful, as your block has to be chosen for SERS by the government, and not the other way around.
Buying another 99-year lease flat
Before your lease expires, you can always sell your flat early and opt for another brand new 99-year lease flat.
However, if you sell your subsidised flat and buy another (eg. a BTO flat) or an EC, there will be a resale levy imposed. If you're single, you'll only need to pay half of the amount.
| | | |
| --- | --- | --- |
| First subsidised housing grant | Resale levy amount (household) | Resale levy amount (single grant recipients) |
| 2-room flat | S$15,000 | S$7,500 |
| 3-room flat | S$30,000 | S$15,000 |
| 4-room flat | S$40,000 | S$20,000 |
| 5-room flat | S$45,000 | S$22,500 |
| Executive flat | S$50,000 | S$25,000 |
| Executive condominium | S$55,000 | Not applicable |
You'll have to foot the resale levy when you book your second subsidised flat, and it can be paid with cash or with your flat sale proceeds.
If you can't bear to part with the hefty resale levy, you can always consider a resale flat that may cost less if you take into account the resale levy, though you won't be able to benefit from the full 99-year lease.
Alternatively, you can go for a private property with a 999-year lease or a freehold lease if you can afford it.
What options do I have as a private property homeowner?
Lease top-up
For private property owners, things are a little different. There is a lease top-up that you can pay to SLA directly to extend your tenure to 99 years again. For example, if your lease has 50 years remaining, you will top up an amount so that it will revert to 99 years.
The premium for the lease top-up will be assessed by SLA's Chief Valuer based on each case, and some factors that will be considered is the number of years that's remaining in the leasehold.
However, simply asking for it doesn't mean you'll get it. It entirely depends on SLA whether they decide to reject or approve the lease top-up. This is determined by a few considerations, including whether the extension would align with the government's long-term plan for the space, and whether the space is optimally utilised.
If successful, you can continue living in your home. But if it is rejected, you'll have to move out once the lease expires or sell it before the unit no longer holds value.
However, since the total amount payable would normally go up to millions of dollars, most homeowners would rather move out instead of paying the additional lump sum just to continue living in the house.
Unless your house's sentimental value is worth the extra millions of dollars, you'd be better off living somewhere else.

SingSaver Exclusive Offer: Receive an AirWheel SE3T Luggage (worth S$1,270) or an Apple iPad Air 5th Gen 10.9 inch Wifi 64 GB (worth S$887.20) or a Sony WH-1000XM5 Wireless Noise Cancelling Headphones (worth S$575) or a Nintendo Switch Lite (worth S$279) or up to S$1,020 cash when you apply for a CIMB Personal Loan with a tenure of 3 to 5 years. Valid till 1 October 2023. T&Cs apply.
En bloc
Private owners can also opt for an en bloc - that is if a majority of the homeowners living in your development agrees to it. You can initiate an en bloc to a private developer or the government, and upon approval, you can expect to receive handsome compensation in exchange for your evacuation.
Though you will not be allowed to stay in your property, at least you will be given a sum of money in return - undeniably a better deal than having to vacate your home without receiving anything in return when the lease ends.
But because it cannot be suggested on an individual basis and must be done by the owners collectively, it might be quite a hassle. It is also subject to the developer's approval based on the location of the property and whether they think it is worth buying over the land to rebuild into another property that will be even more lucrative for monetary gain.
Can I sell a house if the 99-year lease is running out?
The simple answer? Yes. But will it be difficult? Definitely. Since no one would want to willingly purchase a house and sell it at a loss, selling your house with a lease that's ticking like a time bomb will not be a walk in the park.
There are also CPF restrictions that will further deter a potential buyer. CPF funds cannot be used to purchase a house if the remaining lease is less than 30 years and CPF can only be used if the buyer's age plus the remaining lease is at least 80 years.
Bank loans are also tightened significantly as they'll most likely reject a bank loan for any property with less than 35 years remaining on the lease.
As a rule of thumb, once the house has 20 years left, it has effectively lost its lustre. The buyer is also no longer able to tap on the Lease Buyback Scheme (only for HDB flats) for retirement when a flat is that old. So it's best you start planning for it early so you don't end up at a dead end. You should aim to sell your house before it has 60 years left on the lease.
Is getting a 99-year lease property worth it?
If you're planning on purchasing an HDB flat, you can't run away from the 99-year lease. But you can take control of the remaining years of lease that your next flat has. BTO flats are generally safe if you just want to live in them for life, assuming that you don't plan on passing them on to your children.
You can always choose to sell your BTO flat right after the five-year minimum occupancy period to ensure that it can still fetch you a decent price point when there is a long lease period left (which many homeowners are doing).
As for resale flats, a word of advice is to choose a flat that still has many years left so you don't have to worry about selling it ASAP as the flat matures with you. For those who are looking for a home simply for investment purposes, a flat with a 99-year lease is sufficient even for the long haul.
But if you want to make a generational home out of your next house and plan on passing it on from generation to generation, you should opt for a private property that either has a 999-year lease or a freehold lease to sustain the generations to come. That is, if your bank balance allows for it.


Read these next:
How Much Do You Need To Buy Your First Home In Singapore?
How To Buy A House In Singapore: A Complete Guide (2021)
How Much Do You Really Need To Afford A Landed Property In Singapore
What Happens If Your House Gets En Bloc For HDB?
HDB BTO, SBF Or Resale: Which Should You Pick?