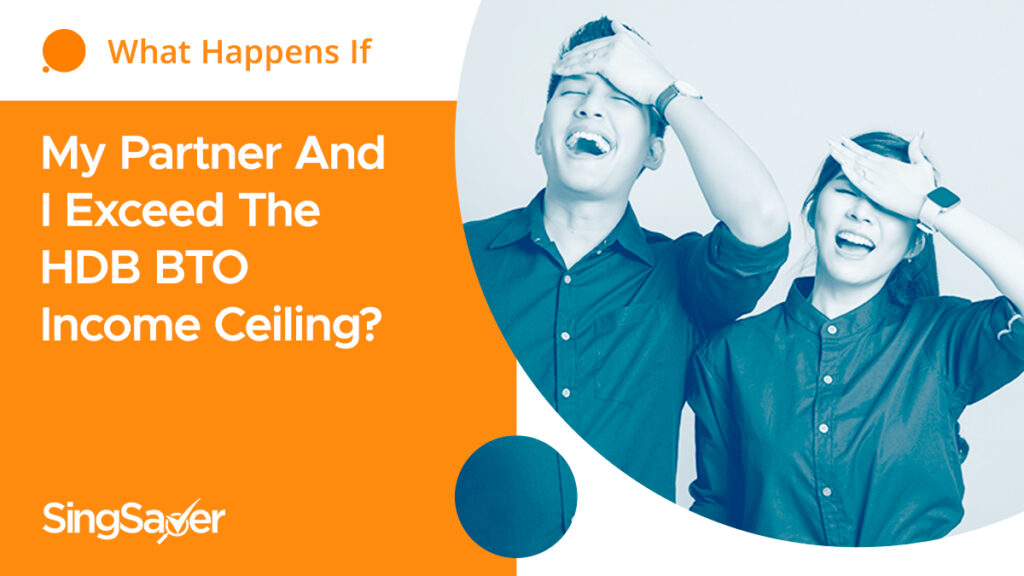 ---
What Happens If, a SingSaver series, lays bare all the likely personal finance scenarios that could hit you at any stage of your life. After all, it never hurts to be prepared.
---
Though exceeding the BTO income ceiling is one of the ultimate flexes for a young couple, it does also mean that you and your partner have one less housing option. So if you no longer have the option of proposing with a mere "wanna BTO?", here are your alternatives.
Correct me if I'm wrong, but the quintessential Singaporean dream goes a little like this: find a girlfriend, apply for a BTO flat, get married and then have kids — in that specific order.
But because of the notoriously long BTO waiting time — especially in this pandemic season — it has now become the new normal to apply for a BTO flat first way before the wedding, even before asking your partner's hand in marriage (cue the disappointed hopeless romantics).
If you and your partner are (fortunate enough to be) earning beyond the HDB BTO income ceiling, you might be sweating a little to know that you're forced to deviate from the standard Singaporean route. But look on the bright side: it's actually a happy problem that not many can experience. With more disposable income under your belt, you won't be that financially bound when searching for your perfect abode.
Here's all you need to know if you and your partner exceed the income ceiling to purchase an HDB BTO:
What is the BTO income ceiling?
BTO flats are considered subsidised housing, which is why there is an income ceiling in the first place. This will prevent those who have a higher purchasing power to buy other flats that they can afford while freeing up more units for those who only have BTO flats as an option.
The income ceiling was initially at an average monthly gross income of S$12,000 but has increased to S$14,000 from September 2019, along with the Enhanced Housing Grant to make housing more affordable and inclusive for all.
Aside from the long waiting time, this income ceiling is also the reason why couples tend to apply for BTOs earlier and at a younger age when their earning power is lower at the early stages of their careers.
The current BTO income ceilings differ for each type of flat, and are as follows:
| | |
| --- | --- |
| Type of HDB flat | Income ceiling (average gross monthly household income) |
| 4-room flat or bigger | S$14,000 or S$21,000 if purchasing with extended or multi-generation family |
| 3-room flat | S$7,000 or S$14,000 depending on the project which will be specified |
| 2-room flexi flat | S$7,000 for 99-year leases, or S$14,000 for short leasers (15 to 45 years) |
This means if you are a student with no income and have a partner who is earning S$15,000, the two of you will not be able to apply for a BTO flat under the Fiance/Fiancee Scheme.
If you're applying for a 3-Generation (3G) BTO flat with your spouse and your parents, the income ceiling is at $21,000. But you and your spouse cannot collectively earn more than S$14,000, and likewise for your parents.
In this case, if you and your spouse earn a total of S$15,000 (exceeding the income ceiling of S$14,000) while your parents earn a total of S$2,000 a month, you still won't be allowed to purchase a BTO flat even though the total income for all four individuals is less than S$21,000.
When is the BTO income ceiling calculated?
The BTO income ceiling is assessed during the flat application, and not when you get the keys. You and your co-applicants will have to submit your income slips for the past three to six months as proof, depending on your employment type, and the gross monthly income will be taken into consideration.
But what if you and your partner are eligible for the deferred income assessment? Will it be a problem if you apply for the flat as students with no income and then exceed the income ceiling when your income is assessed before you get your keys? The answer is no.
Deferred income assessment is only to assess how much and whether you are eligible for the CPF grants or HDB loan, not whether you are eligible to apply for an HDB flat. If you and your partner earned a combined income of S$7,000 during flat application but miraculously manage to increase that by a little more than twofold when you collect your keys, there won't be an issue. The house will still be yours to keep!
Case study: Mr and Mrs Ong
Let's delve into a case study. Mr and Mrs Ong are a couple who are both Singapore Citizens in their late 20s and want to purchase their first house together. They do not have kids, nor are they planning to live with their parents or in-laws.
They both hold respectable jobs and earn S$7,500 each per month, making their combined gross monthly income S$15,000. As such, they have exceeded the S$14,000 income ceiling and are not eligible to apply for a BTO flat. So what are their options?
What options do you have if you and your partner exceed the BTO income ceiling?
If you and your partner are in a similar predicament as Mr and Mrs Ong, it might not necessarily be a terrible problem. Since you are both earning significantly more than the median income (S$4,534 in 2021) of Singaporeans, you have a higher disposable income, meaning that you have access to a wider range of housing options with a higher budget.

You can always purchase a resale HDB flat if you're not one who seeks luxury. To get the best of both worlds, you can opt for an Executive Condominium (EC) that is public housing for the first 10 years and will be automatically converted into a private property after that. If you're willing to splurge on your house, you can get a pretty decent private condominium or landed property with your combined incomes.
Unfortunately, as Sales of Balance flats do also have the same income ceiling, it is not an option for you and your partner.
If you're looking for affordability, an HDB resale flat is your next best option.
| | |
| --- | --- |
| Pros of buying an HDB resale flat | Cons of buying an HDB resale flat |
| Next cheapest option | Not brand new |
| Larger space than BTO flats | Lower leasehold tenure |
| Some CPF housing grants are still applicable | High COV and renovation costs |
| More location options | MOP of five years |
| Can move in immediately | |
Pros of an HDB resale flat
#1 Affordable
Compared to the other options on the list, an HDB resale flat is the next most affordable option as it is still an HDB flat after all. It typically costs around S$300,000 to S$900,000 depending on the size of the flat you want, and the prices are a little steeper than brand new BTO flats.
#2 Larger space
It is not news that older HDB flats and developments tend to have a larger room size compared to the newer ones. Since resale flats are not brand new, there is a higher chance that you will be able to find one that has a sizable room area.
If you're not keen on splurging all your savings on your house, then HDB resales are a great way to lower your costs as you will still have access to CPF grants. However, with a combined income that high, you won't be eligible for certain grants.
Using the case study on Mr and Mrs Ong, they won't be eligible for the Enhanced CPF Housing Grant (EHG) as their combined income exceeds S$9,000. However, they will still be able to receive S$20,000 from the Proximity Housing Grant (PHG) if they choose to stay within a 4km radius of either of their parents, and a S$50,000 Family Grant as they are both Singaporeans and first-time applicants.
#4 More location options
Since BTO launches only happen four times a year, and each launch only consists of about four to five developments, there isn't much flexibility when it comes to the location.
But as for resale flats, you are not bound by location since there are plenty of listings available on websites like Propertyguru or 99.co that would leave you spoilt for choice. And with a relatively high combined income of S$15,000, you will most likely have a higher budget for your house and be able to afford a decent flat in a good neighbourhood, or in a strategic location that's in close proximity to amenities or an MRT station.
#5 Can move in immediately
One of the banes of applying for a BTO flat is the long waiting times that can range from two to six years, especially during this pandemic.
But when it comes to resale, you can technically move in immediately once you find the right unit, settle all the paperwork and start on renovations straight away, without being bogged down by any waiting time. As the unit is already completed, you can even expedite the process to as fast as a couple of months if you're in urgent need of the house, especially if you're keen on getting married soon or if a baby is on the way.
Cons of an HDB resale flat
#1 Not brand new
Unlike BTO flats, resale flats are not brand new. This means that the chances of your resale flat being in pristine condition is relatively low unless the previous owner has put in a decent effort at maintaining it. Look out for signs of water damage or piping issues that may be costly to repair before you decide to seal the deal.
#2 Lower tenure leasehold
As resale flats are not brand new, they therefore come with a lower tenure leasehold (less than 99 years). Though significantly older flats are cheaper when you purchase them, they may be difficult to sell later on.
#3 High COV and renovation costs
Since resale flats are not brand new, they require more renovation works like hacking down of walls, rewiring and repainting if you want a specific aesthetic for your home. Aside from that, there is also Cash Over Valuation (COV) to consider, which has recently been at an all-time high. But despite these costs, resale flats are still the cheapest option.
#4 Adhere to Minimum Occupation Period (MOP)
If you want flexibility, then you won't be too thrilled to know that just like BTO flats, resale flats do have a MOP of five years. This means that once you purchase the house, you are not allowed to sell it only after living in the house for five years.
Resale flats may not be the best option for couples who are constantly travelling overseas for prolonged periods for work as you will be tied down by the MOP.
Always known to be the best option for the 'sandwich class' who exceed the income ceiling of a BTO flat but are not that comfortable splashing out on a private property, ECs might just be your perfect home.
| | |
| --- | --- |
| Pros of buying an EC | Cons of buying an EC |
| Value for money | Income ceiling of S$16,000 |
| Becomes a private property after 10 years | Not eligible for HDB loan |
| CPF grants available | MOP of five years |
| Access to condo amenities | Limited options |
| | Waiting time |
Pros of an EC
#1 Value for money
Since you're essentially getting the facade of a condo and access to all the facilities that your EC has to offer, ECs are actually a pretty value-for-money option as they are generally about 20% to 30% less expensive than private condominiums.
#2 Becomes a private property
The best part about an EC is that it is automatically classified as a private property after 10 years, and considered a form of public housing before the 10 years are up. This makes it a good source of investment as its price will definitely appreciate once it is considered a private property.
#3 CPF grants available
Because an EC is considered public housing, it allows you to access the CPF grants available. Similar to getting a resale, Mr and Mrs Ong will be eligible for both the PHG (provided they live near their parents) and Family Grant if they apply for an EC.
#4 Access to condo amenities
Just like a regular private condominium, you and your partner will have access to all the facilities and security that your EC has to offer. These typically include a swimming pool, a gym and other unique amenities depending on each property.
Cons of an EC
#1 Income ceiling
ECs come with an income ceiling of S$16,000, which is why they are known to be for individuals who belong to the 'sandwich class'. Thankfully, Mr and Mrs Ong are earning a combined income of less than S$16,000 and are hence eligible for an EC.
#2 Not eligible for HDB loan
Another drawback is that applying for an EC will not give you the option of an HDB loan. While bank loans may be a better option in the long run due to the lower interest rates per annum, you will have to fork out a 25% down payment instead of the usual 10% for HDB loans.
#3 Adhere to MOP
With ECs, there is also a five-year MOP to adhere to.
#4 Limited options
Assuming that we're looking at brand new ECs instead of resale ECs, the number of choices you have is extremely low. At the time of writing, there are only seven available EC developments for you to choose from that are not completed, with only two launched in 2019 and another two launched in 2020.
Moreover, EC projects are usually located in outskirt locations that are not near MRT stations, making it rather inconvenient if you rely on public transport. This limits your location options significantly.
#5 Waiting time
If you get a new EC project, you will also have to play the waiting game and wait for your home to be completed.
If you hit the gym or clock in laps on the daily and have a little spare money to splurge, a private condo is great for convenience and prestige.
| | |
| --- | --- |
| Pros of buying a private condo | Cons of buying a private condo |
| Prestige and access to facilities | Expensive |
| No MOP | Small in size |
| Can move in immediately | No CPF grants |
Pros of a private condo
#1 Prestige and access to facilities
With the ever-increasing property prices especially amidst COVID-19, owning a unit in a private condo is no easy feat. Not only does it give you the prestige and affluence that HDB flats do not offer, you'll also have access to the range of amenities available.
#2 No MOP
Because a condo is a private property, you are not bound by HDB's MOP. This means that you can choose to rent out an empty room as soon as you purchase it, or move out any time if you find a better property or downsize to get more cash in case of emergency.
#3 Can move in immediately
You can do away with the long waiting time when you purchase a private property. You have the flexibility of choosing when exactly to purchase a house and move in, which is great for couples who need a place to stay pronto.
Cons of a private condo
#1 Expensive
Private condos may look glitzy, but they can also be really expensive, costing S$700,000 all the way up to millions of dollars. Though you might have a relatively high disposable income, it's best if you set a budget and ensure that your monthly mortgage payments are not beyond your means.
If you don't have enough savings, you can always take up a personal loan if you're confident that you'll be able to pay back the loan on time, lest you rake up debt and add on to your list of financial woes.
#2 Small in size
The size of the unit that you're getting in exchange for the exorbitant price may not be very worth it. Condos tend to be smaller in size compared to HDB flats. So if you value space or are thinking about starting a family, you can either opt for a larger unit at a much higher price or get a bigger HDB flat at a lower price.
#3 No CPF grants
Sadly, private properties do not entitle you to any CPF grants. Unless you're not tight on cash, choosing an EC might be a better option to cut down costs.
Though landed property is one of the most sought-after types of housing, it may not be for everyone. If you want the extra space to start a family and don't mind the hefty price tag, then you can consider purchasing a landed property.
| | |
| --- | --- |
| Pros of buying a landed property | Cons of buying a landed property |
| Large land space | Very expensive |
| No MOP period | Limited access to amenities |
| Can move in immediately | |
| Very prestigious | |
Pros of a landed property
#1 Large land space
Whether you're a hoarder or feel easily claustrophobic, you'll appreciate the larger land space that landed properties offer (the largest, in fact). Perfect for couples who are looking to start a family, landed properties can even accommodate pets if you're an animal lover.
#2 No MOP
There is no MOP that you'll have to adhere to if you're living in a private property. This gives you the freedom and flexibility to sell or rent out your home.
#3 Can move in immediately
With no construction period to wait out, you can move into your landed property almost immediately.
#4 Very prestigious
Whether you're living in a humble terrace house or an extravagant Good Class Bungalow (GCB), we all know that landed properties come with a certain prestige that only the rich are able to afford. So bask in it!
Cons of a landed property
#1 Very expensive
Unless you've got millions stashed away in your savings account, buying a landed property is pretty expensive, even if you're earning decently. On top of the exorbitant property prices and hefty down payment, there's still the annual taxes and maintenance costs that you'll have to factor in, which will amount to quite a large sum.
#2 Limited access to amenities
Unlike ECs or private condos, landed properties don't offer any amenities. Even if your landed property is equipped with facilities in its compound, they wouldn't be as extravagant and extensive as what condos can provide.
So.. which should you choose?
Ultimately, it all boils down to your priorities. If you and your partner are people who are just looking to live comfortably without the steep monthly mortgage payments, then you can consider an HDB resale as it is the next cheapest option aside from a BTO flat. However, do keep in mind that it is not brand new, and be prepared to pay high COV prices.
On the contrary, if you're planning on having a kid or two and might need an extra pair of hands to take care of your children in the future, investing in a landed property will be a good call to make for the long run, so you won't have to worry about upsizing when your baby comes along.
For the best of both worlds, get an EC to enjoy both public and private housing privileges. However, the location might be a problem as there are very few EC developments available, so this option might only be worth it if you already own a car to easily commute from place to place.
Exceeding the income ceiling isn't limiting your options. Instead, it opens more doors to alternative housing options that are way too expensive for the average Singaporean. But if you really want to avoid this problem, you can apply for a BTO flat when you're younger (and drawing a lower pay), so your chances of exceeding the income ceiling are low.
Read these next:
How Much Do You Need To Buy Your First Home In Singapore?
How To Buy A House In Singapore: A Complete Guide (2021)
Latest Home Insurance Promotions And Discounts
How Much Do You Really Need To Afford A Landed Property In Singapore?
HDB BTO, SBF Or Resale: Which Should You Pick?