Dropshipping has become one of the most lucrative e-commerce business models. Here's how it works, and whether it's something you should consider pursuing.
If you're into developing an online business, you may have come across different e-commerce models. Dropshipping is one of them. Technology has revolutionised e-commerce, providing consumers with a convenient and easy shopping experience.
Thanks to the advent of smartphones, the demand for dropshipping businesses has increased. Today, dropshipping is among the highly lucrative e-commerce business models.
So, let's explore what dropshipping is, how it works, and how you can get started.
What is dropshipping?
The common definition of dropshipping is the process where a dropshipper orders products directly from a supplier to the client's house without handling inventory. The dropshipper earns commission by selling products at a marked up price.
Once the supplier receives the orders, they directly ship them to the customer. A dropshipper won't handle products directly, but they can track the goods in transit.
How does dropshipping work?
Typically, a dropshipping business model works where the dropshipper fulfils the orders from a third party. The wholesalers sell goods at a lower price, and the drop-shipper sells the products to customers at a profitable cost.
For example, the price of products from wholesalers can be S$100. The dropshipper can sell drop-shipped products at S$150 or S$200, making a profit of S$50 or S$100.
Step-by-step guide to dropshipping
If you're planning to start a dropshipping business, here is a step-by-step guide.
1. Choose a business niche
It's tempting to sell almost everything, but it's good if you can pick a specific product because what you sell matters. Some may advise picking a niche you're passionate about. However, there is more to that.
If what you're passionate about doesn't fetch you a profit, then it's not worth it. Instead, take time to peruse various dropshipping ideas and you'll grow to love your niche as it starts churning profit.
Another way is to search for trending products that will draw customers to you. Fashion, tech, and beauty are evergreen categories that are popular among shoppers.
To make your niche business a success, it helps to browse popular sites within your category. For example, if you're planning to sell tech gadgets, check the tech stores to find out the fast-moving or less-discovered items.
2. Find a reliable supplier
Choosing a supplier is as important as choosing a niche. While dropshipping is all about making profits, choosing low-ball prices should not always be your priority. Make use of the dropshipper directories to find reputable wholesalers.
Ensure the supplier has been in the dropshipping business for at least a year. You may also work with new suppliers, but start with making just a few orders until you learn more about them. If you're in the tech business, you'll need an experienced supplier who can deal with different components.
The shipping speed can make or break your customer's shopping experience. Check the processing times and how long a wholesaler takes before shipping products.
Frustrated clients can even request a refund and leave negative reviews, so check even nitty-gritty details like the wholesalers' warehouse locations, which also impacts the shipping speed.
3. Conduct competitive analysis
Competition is a necessary force that drives businesses to outdo their competitors. While it's scary and uncomfortable to witness another company outdoing your business, competition can make you get creative. After choosing your dropshipping products, you should educate yourself on who your competitors are.
Conduct research to know what they do differently, how they price their products and where they acquire them. You can also utilise third-party tools like Ahrefs to collect data, as well as websites like Alexa to search for niche competitors.
And, of course, who can forget social media? Search for top brands on social media platforms, and get to know their engagements and how you can emulate them or glean some inspiration from their content.
4. Create a dropshipping store
Dropshipping can be daunting, but it shouldn't have to be. Most people imagine that starting an e-commerce store requires a sizable investment. While it's undoubtedly true you need time, effort, and resources, creating a website is actually pretty easy.
To start with, you need a domain name. (Ensure it's a .com domain, and avoid using your name when creating your store.) Then sign up for Shopify, which is a reliable e-commerce platform. Choose your themes, and when you get stuck, you can ask for help from the Shopify gurus.
5. Market and optimise your business
So at this point, you've chosen a niche, and your store is ready. Now it's time to market your business with everything you've got. Don't be shy to let the world know about your business. Your first sale might take a long time to come by, but the wait is worth it! Facebook Advertising is also a place to consider starting with. But keep your budget low as you keep on experimenting. You may also choose retargeting ads when you're low on budget.
You can also tap into influencer marketing. And if you cannot afford to pay influencers, you can offer them an affiliate commission.
Besides, tools such as Google Analytics or Console help you evaluate your traffic and learn about your store's performance. Set up reports that remind you to analyse these information often.
How to make your dropshipping business thrive
These time-tested tips will help make your business a success.
Don't compete on price only
Competing solely on price can make you lose your business. Undoubtedly, cost matters, but you can also offer something different to stand out from your competition. It can be better packaging deals, various designs, or free shipping.
Provide stellar customer service
Ensure that you're swift with your responses, whether in messages or email. You can also offer personal messages to encourage your clients to continue shopping with you. Be honest with your order and deliver quality as you promise.
Experiment with different shipping rates
Different wholesalers offer different prices. For example, you can choose to incorporate shipping costs into your products and offer 'free-shipping' rates. And if you provide quality products, you'd be surprised to know the extent to which customers can stretch their dollars to get maximum value.
---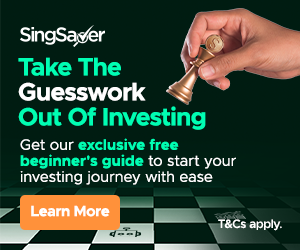 Start managing and saving money like a pro with SingSaver's weekly financial roundups! We dole out easy-to-follow money-saving tips, the latest financial trends and the hottest promotions every week, right into your inbox. This is one mailer you don't want to miss.
Sign up today to receive our exclusive free investing guide for beginners!
---
Read these next:
Starting A Side Hustle In 2021? These 6 Business Ideas Need Little To $0 Capital
5 Best Monetisation Platforms For Content Creators
What Is The Gig Economy, And How Can It Help You Earn Extra Income?
Prepare For These Hidden Costs Before Launching a Side Business
I Am An Artist/e — Here's How I Make Money From The Arts: Chen Yixi