Cryptocurrency payments have taken the world by storm, and it's showing no signs of slowing down. If you're investing in some crypto yourself, check out these businesses to spend your digital coins at.
Metaverse, cryptocurrencies, NFTs… Nowadays, it's becoming increasingly difficult to escape from these topics in the spirit of digital finance. This surge in interest has led to more companies — both start-up and incumbent firms — to adopt more significant stakes in incorporating cryptocurrencies into their business models.
But how viable is cryptocurrency as a reliable, alternative payment option? Given the volatility of these decentralised, blockchain currencies, it doesn't come without considerable risks and opportunity costs.
Nevertheless, this hasn't deterred companies from joining and laying their foundations in this virtual space. Hence, we've rounded up seven businesses in Singapore that'll accept your crypto payments.
Current businesses in Singapore 2022 to spend cryptocurrency at
Maison Ikkoku
Bar
Address: 20 Kandahar Street, #02-01, Singapore 198885
Opening hours: Tues to Thur (5pm to 11pm) | Fri to Sat (4pm to 2am) | Sun (4pm to 11pm) | Closed on Mon
Eden
Address: 20 Kandahar Street, #03-01, Singapore 198885
Opening hours: Tues, Wed, Thur, Sun (6pm to 11pm) | Fri to Sat (6pm to 2am) | Closed on Mon

Tel: +65 6294 0078
E-mail: info@ethanleslieleong.com
FB | IG
The 80-seater, award-winning modern Japanese restaurant and cocktail bar, Maison Ikkoku, has grown a decent following of loyal customers over the decade since its inception.
In celebration of its 10th anniversary, founder-chef-mixologist Ethan Leslie Leong introduced the first-ever Crypto Brunch in Singapore. To accompany this unique brunch concept was a slew of equally interesting and decadent recipes to feast both eyes and mouths on.
The brunch menu consisted of Wen Lambo (S$38), a grilled rack of lamb garnished with crisp, sour onions, and Diamond Hands (S$28) featuring Aburi Salmon with in-house Teriyaki Japanese Mayo.
To date, Maison Ikkoku now positions itself officially as a crypto hub. You can pay for all your Omakase or cocktail experiences through Bitcoin (BTC), Tether (USDT), Binance (BNB), and Ethereum (ETH).
NFT holders are also encouraged to print out their NFT collections on canvas for display on their gallery wall. This is to showcase NFT artworks for appreciation and sale in both the digital and real world.
Be sure to follow their social media to know when their next Crypto Brunch session is held.

Source: ethanleslieleong.com
For example in May, their Crypto Brunch (Happy Hour Edition) is back in action to commemorate their 11th birthday. Themed appropriately as "Enter the Matrix", Maison Ikkoku welcomes all crypto enthusiasts to this Haute Cocktail Networking event to share stories and build connections.
Date: 18 May 2022
Time: 4.30pm to 9pm
Price: Min. spend S$60 (1 cocktail per pax)
Airdrop: Canapes, Shots, Crypto Glasses

Source: ethanleslieleong.com
Another crypto event to look forward to at Maison Ikkoku is their Welcome Blockchain Fest 2022. Following a similar "Matrix Has You" theme yet again, this Haute Cocktail Networking event invites attendees to learn from crypto experts and VIP speakers.
Date: 1 June 2022
Time: 4pm to 9pm
VIP admission: S$60 (non-refundable)
Airdrop: Canapes, Shots, Crypto Glasses
Arranged dinner seating available upon request

Joo Bar
Address: 5 Tan Quee Lan Street, Singapore 188094
Opening hours: Daily from 5.30pm to 10.30pm
Tel: +65 8138 1628
FB | IG
Another restaurant, a Korean fusion establishment called Joo Bar has also hopped on the cryptocurrency bandwagon since 2018. Bitcoin (BTC) is recognised as their only accepted payment protocol.
Their impressive menu spread includes classic Korean staples like Cheesy Tteokbokkki (S$16), Japchae (S$18), Grilled Pork Belly with house-made Kimchi and Sesame Dressing (S$26) or fusion examples like LA Style Black Angus Kalbi (S$28).
Their drinks selection is also top-notch with house pour spirits, beers, shots, soju and makgeolli available. In fact, their speciality lies in their extensive makgeolli flavours offered like green grape, passionfruit, mango, mixed berries, peaches and honey, coconut and much more.
Happy hour is every Sunday to Thursday from 5.30pm till late.
What's more, crypto patrons get extra perks thanks to their exclusive rebates "Bitcoin Back" programme. Earn cashback (up to 5% with min. spend of S$150) and discounts (up to 15%) for all crypto transactions under a single receipt.
Do note that all Bitcoin rebates will be transferred to the specified digital wallet within five days of form submission. Also, the amount received is based on figures prior to GST and service charge. The final rebate amount is calculated based on the formula: (Total Bill Price / 20) Bitcoin Ticker Price.
KOPItech
Address: 107 North Bridge Road, Funan Digital Lifestyle Mall, #B2-24, Singapore 179105
Opening hours: Daily from 8am to 9.30pm
As Singaporeans, I'm sure we can all agree on how integral hawker culture is to us; even the name Kopitiam has become synonymous with air-conditioned food courts found in multiple heartlands and megamalls all around the island.
That said, you might not have heard of the streamlined KOPItech food court in Funan Mall — a fitting rendition in line with the mall's state-of-the-art and futuristic offerings. In this advanced Kopitiam, contactless ordering and payments are made using their 17 accessible self-service kiosks or their Facebook Messenger app.
However, the ultimate highlight has to be Kopitiam's activation of crypto payment gateways as part of this contactless transaction model. Diners can use Bitcoin (BTC), Ethereum (ETH) and Creatanium (CMB) to pay for their bowl of roasted pork rice if they so please.
Amidst the uncertainty and doubt surrounding crypto, Kopitiam supports their vendors by converting their crypto earnings into fiat currency weekly. Moreover, they also help cover potential costs or losses accrued due to decreased currency exchange rates.
---
Related to this topic:
6 Best Cryptocurrency Exchanges to Use in Singapore (2022)
6 Best Ways To Invest In Cryptocurrency On A S$1,000 Budget
Should You Use a Credit Card to Buy Cryptocurrency?

Sarnies Cafe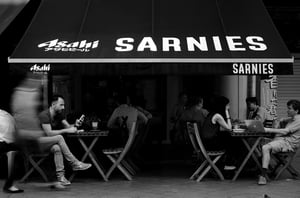 Address: 136 Telok Ayer Street, Singapore 068601
Opening hours: Weekdays (7.30am to 10.30pm) | Weekends & Public Holidays (8.30am to 4pm)
Tel: +65 8284 2146
E-mail: hello@sarnies.com
The eponymous Sarnies Cafe is a cosy coffee and sandwich outpost serving invigorating breakfast platters, hearty lunch meals and wholesome dinner options.
Their expansive menu contains classics like Bacon & Egg Sarnie (S$10), Espressos (S$4.50), Dirty Bird (S$16.50), Grass-fed Ribeye (S$21 for 250g), Mushroom Risotto (S$23) and more.
Coupled with the cafe's comforting yet chic ambience, this quaint hideaway provides much-needed respite and peace away from the hectic CBD area. All diners are welcome to unwind, relax and enjoy a gourmet spread of yummy Aussie/Western servings here.
Since December 2021, Sarnies accepts 10 forms of cryptocurrency: Bitcoin (BTC), Ethereum (ETH), Binance Coin (BNB), Tether (USDT), Solana (SOL), Cardano (ADA), XRP (XRP), Polkadot (DOT), USD Coin (USDC), and Dogecoin (DOGE).
&glazed
E-mail: andglazed@gmail.com
Tel: +65 8814 6947
FB | IG
For our artsy readers that love pottery, &glazed is a unique artisanal marketplace that should be on your radar. Passionate about creating a homely experience for each customer, their tableware products are created with the utmost quality and care.
Depending on your preferred aesthetic, &glazed features 22 pottery series across five themes of dinner plates, bowls and gift sets. For example, their wooden, metal and earthy-toned tableware would complement industrial interiors perfectly.

Best of all, you can purchase your tablewares using any five of these cryptocurrencies: Bitcoin (BTC), Bitcoin Cash (BCH), Ethereum (ETH), Dai (DAI), and Litecoin (LTC).
Brands under A Wellness Holdings: Natrahea, Haach, Body Contour, Physiomed, etc.

Arich Tan, CEO of A Wellness Holdings
Source: BusinessTimes
Besides restaurants and bars, local SMEs are increasingly finding their footing in the cryptocurrency space. A Wellness Holdings is a prime example.
A Wellness Holdings is a homegrown investment holding company operating a network of health and wellness services. Familiar brands under them include Natrahea (chiropractic, functional wellness and TCM provider), Haach (premium spa clinic), and Physiomed (spinal care and pain management clinic).
They've established their own digital wallet in April 2022 and have since allowed customers to make crypto payments. Essentially, you can purchase a spa package using Ethereum or make payment for chiropractic treatment with Bitcoin.
Furthermore, the volatility risks of cryptocurrency do not faze the holdings group. Instead, they intend to accumulate their crypto earnings and not convert them into fiat currency at all in light of their burgeoning million-dollar Web3 platform.
To date, around 5% of the holdings' group revenue was earned through crypto.
EuroSports Global
Moving away from the SMEs, it's time to address the international and high-end brands now. Luxury car distributor, EuroSports Global, has recently announced its move to accept crypto transactions.
Luxury car brands under their distribution include Lamborghini, Alfa Romeo and Touring Superleggera models. Apart from facilitating the proliferation of crypto demands, the company and its subsidiaries also cite less transaction fees, simpler cross-border transactions and protected borderless payments as key incentives underpinning this move.
However, once again, they do acknowledge the costs and risks associated with crypto. For example, a S$250,000 Alfa Romeo car would've cost 3.81 Bitcoin in March but has since risen to 4.57 Bitcoin in mid-April alone.
Despite that, many wealthy millennials continue to invest and build their crypto wealth and luxury brand distributors like EuroSports Global will rise to meet their consumers' demands.
---
Related to this topic:
5 Ways to Buy and Invest in Bitcoin in Singapore
Crypto Scams Have Caused Billions of Dollars in Losses — Here are Five of the Worst Ones
Cryptocurrency Staking: How Much You Stand To Gain (And The Risks Involved)
Future businesses in Singapore 2022 to spend cryptocurrency at
Gucci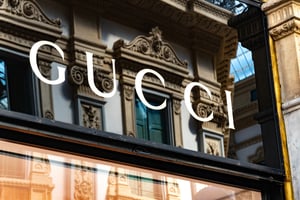 Speaking of luxury brands, Gucci, has started setting the precedent for the unexpected in the fashion industry. The major Italian high-end luxury fashion house has plans to allow cryptocurrency purchases by the end of May 2022.
In fact, the pilot efforts have already been introduced across five outlets: Wooster Street (New York), Rodeo Drive (Los Angeles), Design District (Miami), Phipps Plaza (Atlanta) and The Shops at Crystals (Las Vegas).
Additionally, the range of accepted crypto is by no means limited. In fact, customers can choose from 10 currencies to pay with, comprising Bitcoin (BTC), Bitcoin Cash (BCH), Ethereum (ETH), Wrapped Bitcoin (WBTC), Litecoin (LTC), Shiba Inu (SHIB) and five other stablecoins tagged to the US dollar. Likewise, returns and refunds are available in cryptocurrency.
The remainder of their crypto expansion to all North American outlets will conclude by the end of this summer. So although Singapore's Gucci outlets aren't crypto participants just yet, you can peg this luxury retailer down on your "to-watch" list.
In time, Gucci views this move into crypto payments as a stepping stone to fuse their "existing physical presence with emerging Web3 [technologies]".
Off-White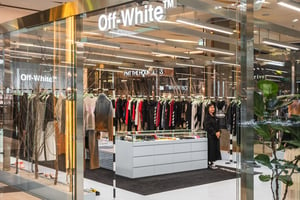 Another fashion powerhouse, Off-White, has also joined the crypto ranks in 2022. Their flagship stores in Paris, London and Milan have begun allowing crypto payments Bitcoin (BTC), Ethereum (ETH), Binance Coin (BUSD), Ripple (XRP), Tether (USDT) and USD Coin (USDC) since March.
Crypto transactions are processed using digital payment token terminals that facilitate crypto-to-fiat conversion based on the best prevailing rates during the transaction. There are no payment limits imposed but store credit refunds using local currency are provided — contrary to Gucci's crypto refunds.
In general, Off-White's decision to leverage crypto honours the legacy of its late artistic director, Virgil Abloh. His dedication and ingenuity blazed the trail for the fashion company's appeal to youth culture and Gen Z consumers.
And evidently so, because sneakers are seen as a popular alternative asset to own by many in the younger generation. Online sneaker marketplaces like StockX, Ox Street, Novelship, and GOAT are e-commerce platforms that are frequented by many each month.
Novelship

Source: Novelship
As mentioned above, sneaker e-marketplaces like Novelship are common hunting grounds for many budding investors. In particular, Novelship presents itself as the top marketplace for purchasing or re-selling hype apparel and sneakers.
You can easily find limited edition drops from big-league brands like Bape, Bearbrick, Fear of God, Supreme, Adidas Yeezy and more. The available apparel ranges sold on these sites also vary according to scheduled pre-releases, secondhand kicks, and others.
Needless to say, Novelship's integration of Bitcoin (BTC), Ethereum (ETH) and Tether (USDT) into their payment model may be a smart move to get ahead of competitors.
---
Looking to dip your toes in the world of cryptocurrency? Check out our definitive investor'sguide to begin your crypto journey with confidence. Alternatively, if crypto is still too volatile for your liking, online brokerages and robo-advisors are popular sources of investments for many too.